Hotel Tugu Bali – A Very Romantic Hotel on the Island of Bali
To understand the uniqueness of the Tugu Hotels, you need to understand the man behind the concept and what he is all about.
This is a story of a man, whose love for the culture and history of Indonesia, and for maintaining this for generations to come, has made him an accidental hotelier.

– A living museum with cultural and heritage significance
– It is about the surroundings and the local area
– The story behind the conception of Tugu Hotel
– It speaks for itself in the uniqueness stakes
– Service – friendly, professional and you are number 1
– Signature Hotel Tugu Dining Experiences
– Excellent locally sourced produce
– Directly next to Canggu Beach, which is a UN of surfers
– Magnificent sunsets

The Story Behind Tugu Hotel Bali
Anhar Setjadibrata graduated from medical school but due to political turmoil in the country could not undertake the final exam to practice in the country. As serendipity happens, he was employed by a pharmaceutical company and sent to many remote villages around and outside of Java. He came to see that local people did not value items that he knew would be of cultural and historical significance for the countries in the future. He started collecting to save these – for us to understand the past of the countries.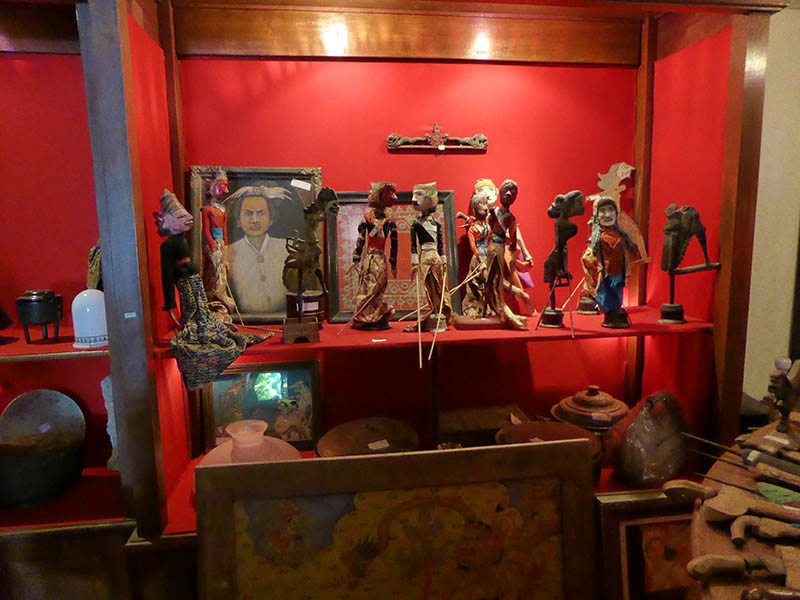 In 1973, he abandoned medicine in favor of law, yet never stopped his quest to maintain the history and culture of Indonesia. The only problem was that as his collection grew, it became problematic for him to store everything. More importantly he did not want them sitting behind closed doors. He wanted people, like us, to see them and to ask questions about the history and the culture of the areas where Tugu Hotels exist.
Setjadibrata met a professor who was studying the legend of the Ramayana. The professor asked Setjadibrata to take him to a place on the island of Bali to meet with a stranger. This place stole Setjadibrata's heart with the Batu Bolong Temple, long beaches, and the green rice field, and this is Canggu, where we are now staying at Hotel Tugu Bali. His vision is tangible everywhere that we look.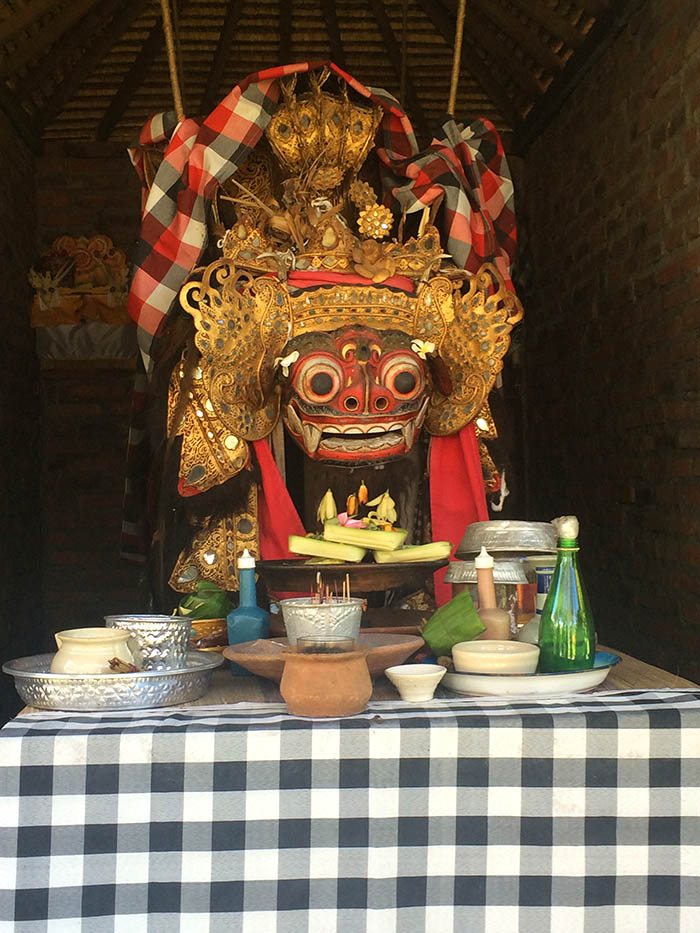 This is what makes this hotel so unique and so special. We are not living in a museum, but we are a part of the rich cultural fabric of Balinese history. The hotel has a presence from the moment you walk in and a large garuda is watching over you. While some people get a little disturbed by the many symbolic pieces, they need not, as this is the history of both Bali and Indonesia. He currently has one of the most impressive collections of colonial antiques and artifacts, and many can be seen in the Tugu Hotels.
In creating the hotels, Setjadibrata, says "We want Tugu Bali guests not only to enjoy a most unforgettable holiday in Indonesia, but also to become involved in Balinese traditions and to experience Indonesia through all their senses."
Our Arrival at Tugu Hotel Bali
As we enter Hotel Tugu Bali, we stand there in amazement, looking at the towering garuda made of 120-year old wood as we find out later. More than this spectacle, are the red and white sheer curtains, which waft with the breeze. Through this color we see the green of the gardens and behind that the vivid blues of the pool and behind that, Canggu Beach. We look around trying to take in as much as we can.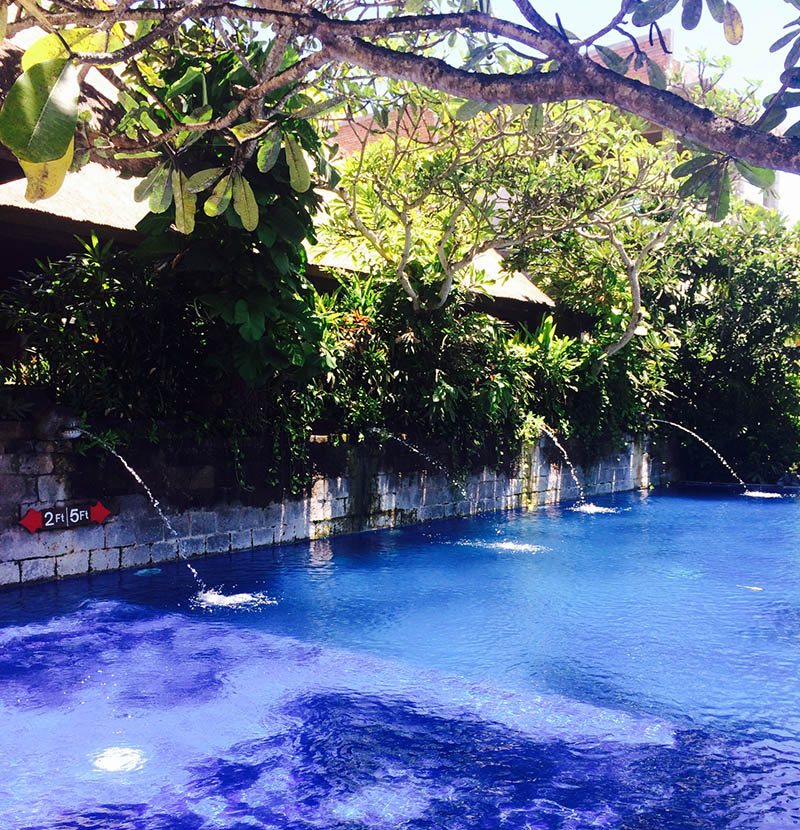 There are imposing columns and art and artifacts everywhere. The furnishings suggest royalty in the vivid purples and reds of the soft furnishings. The woods are dark but that works well as the light that comes in makes for the most show-stopping "lobby", and that is such a wrong word, then we have ever seen. It is actually the majestic Bale Agung.
This is an amazing place but for some reason we feel very relaxed amongst all of this uniqueness. The staff are immediately friendly and welcoming, and we feel good. We are given a Balinese offering and this is a very lovely gesture for our good health and well being.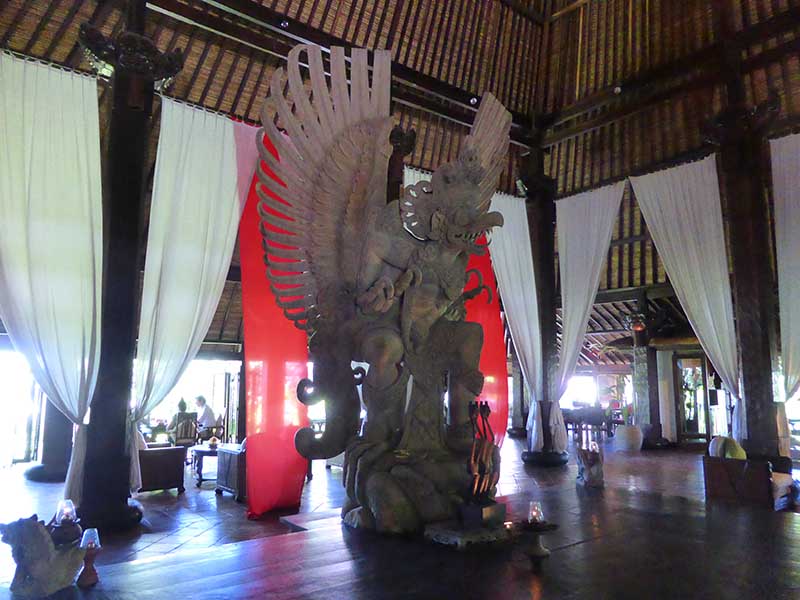 The Dedari Suites.
We were shown to our rooms, the Dedari Suites. We are met with a huge room and with our own private plunge pool, our own front and back garden that leads throughout the gardens to the beach front. There is also an inside-outside bathroom, and we have koi carp to talk to as we bathe. Our four-poster bed looks over our pool and garden. Yes, we are feeing right at home in Tugu Hotel Bali.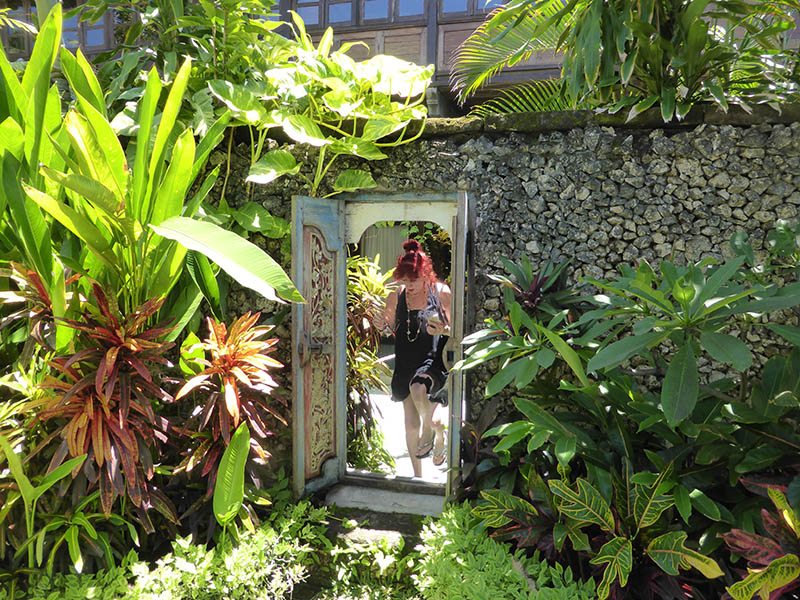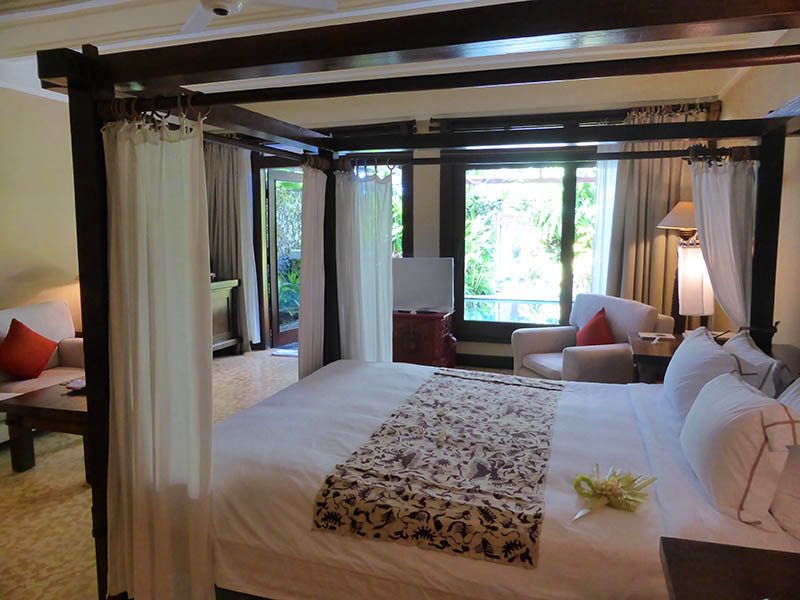 I suspect that Anhar Setjadibrata is quite the romantic also. Tugu Hotel has been chosen as the most romantic place on the island of Bali and is a bit of 'paradise on earth'. There are 21 villas are within the grounds of Tugu Hotel Bali.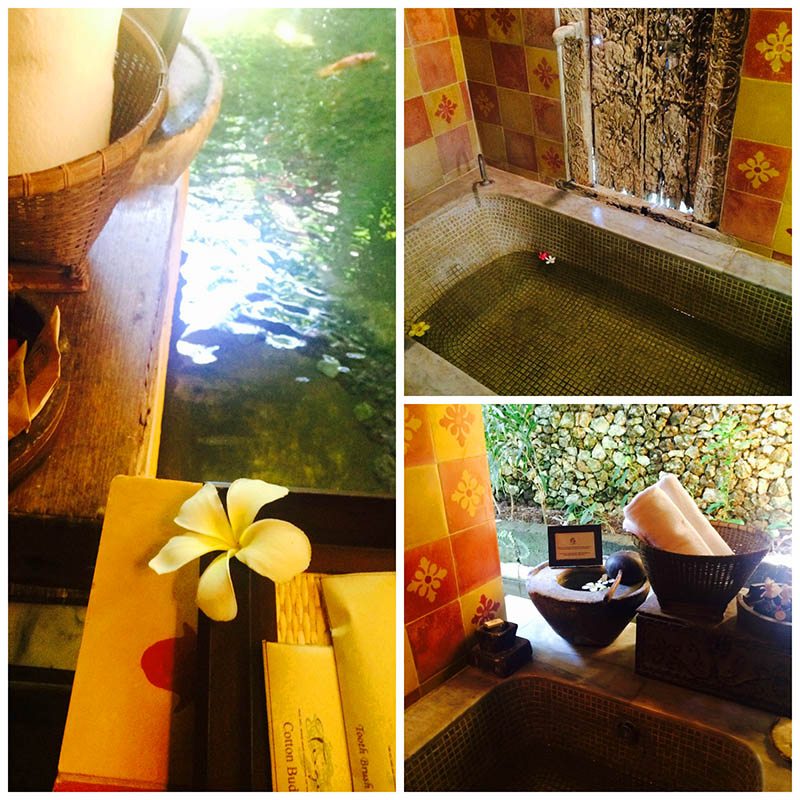 Pur Le Mayeu Villa
The signature villa is Pur Le Mayeu Villa is considered to be the most romantic place in Bali. It covers an area of 200m2 and floats above its own 700m2 natural lotus pond. This villa was inspired by a love story between a Belgian artist Adrien-Jean Le Mayeur de Pres and Ni Polok a famous Legong Dancer. A love story.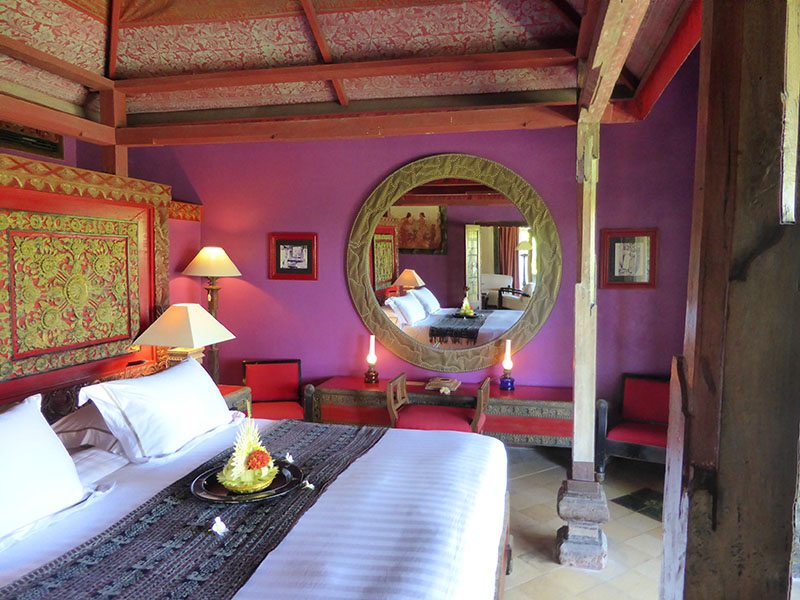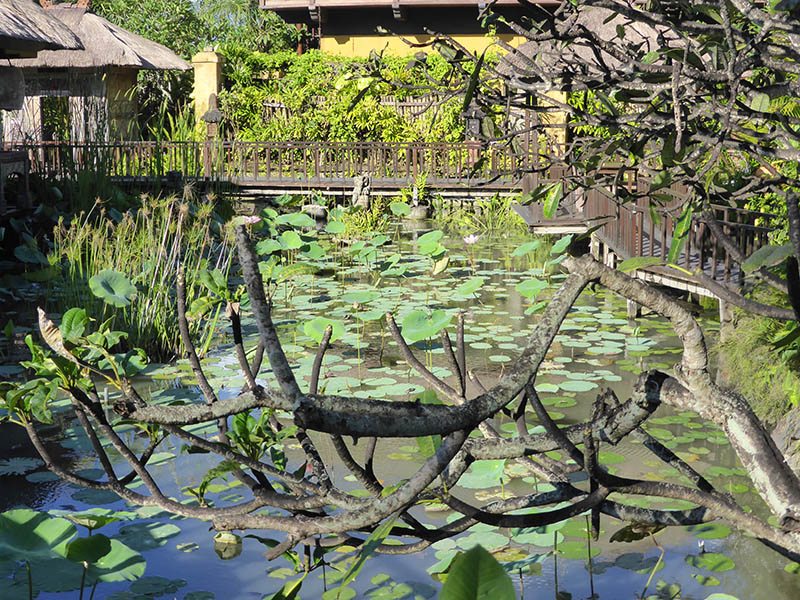 The Walter Spies Pavilion
The Walter Spies Pavilion is another signature villa where one is transported to the art deco era of Java in the early 20th century. It is dedicated to Walter Spies who was a German artist who lived in Bali and shaped the development of Balinese art from a westerner's perspective. It also has an air of romance with art deco pieces from central Java. It also has a number of Dutch architectural elements as the Dutch had a very big influence in these parts of the world.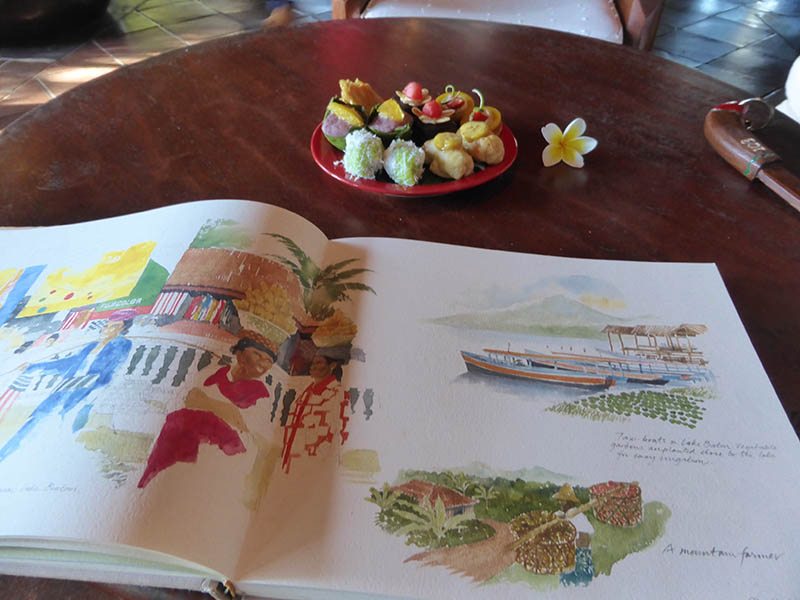 Dining at Tugu Hotel Bali
Dining at Tugu Hotel Bali is also unique. You can dine anywhere that takes your fancy. In the magnificent grand area, at the beach, in the garden or by the lotus pond.
Tugu Hotel Bali has a signature and unique dining experiences that can see you being served by .
Cultural Evening with Tugu
The Cultural Evening with Tugu is in the majestic Bale Agung. Here we were treated to a lavish Tugu style dining experience. This is designed to evoke romantic eras of Indonesian history. The evening is about food, history and heritage and as with anything at Tugu Hotel Bali, is conducted with a lot of class and a lot of friendliness. The dancers and the musicians take you for a journey, as does the food.
Some of the amazing food that you can select:
Nasi Tumpeng rice cones, where the largest cone is meant for the oldest person at the table and the shortest cone is presented to the youngest.
Sate Lilit grilled fish on lemon grass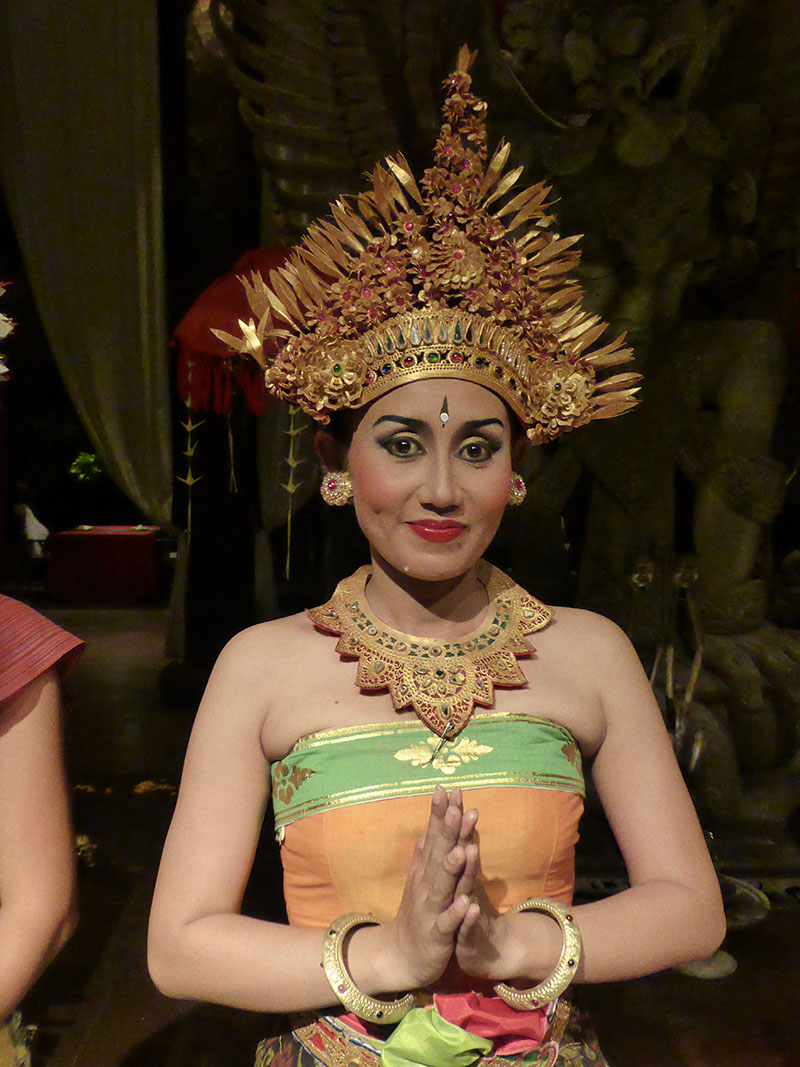 Some of the beautiful areas to dine and relax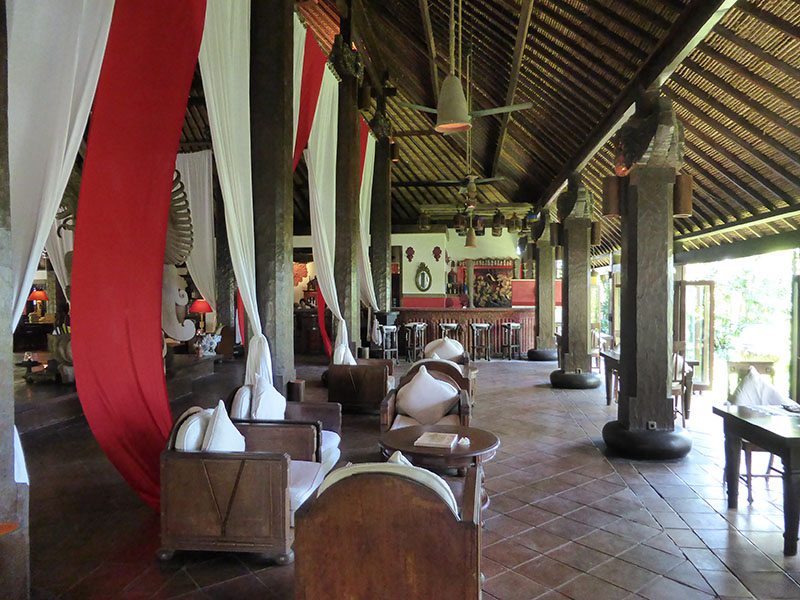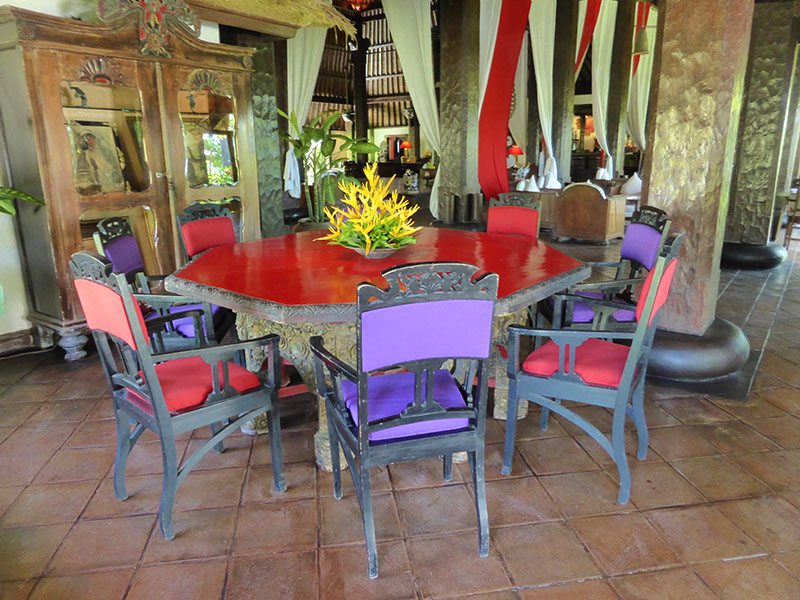 High Afternoon Tea
Authentic Balinese and Indonesian treats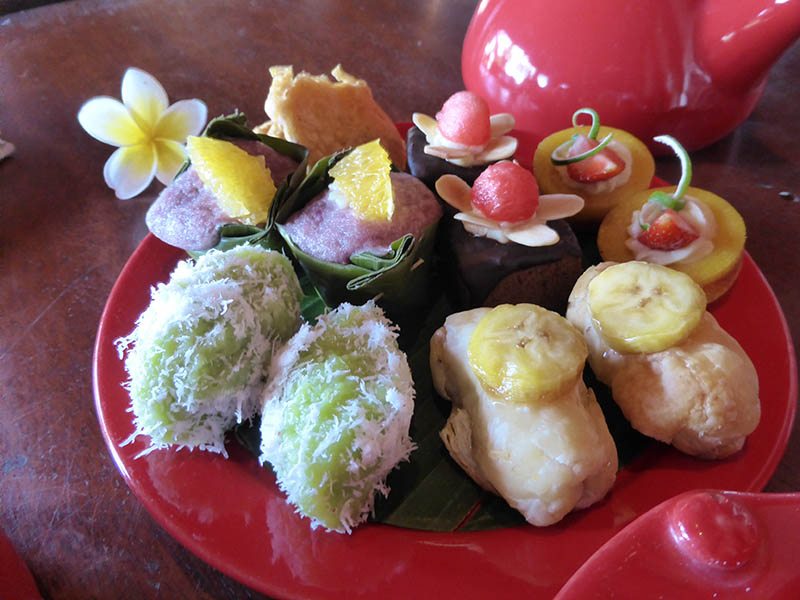 Breakfast
You can probably see that we did a lot of quality eating here at Tugu Hotel Bali during our 3 night stay. We did opt for simple breakfasts, but there was a menu that was pages long covering every manner of breakfast that you could think of.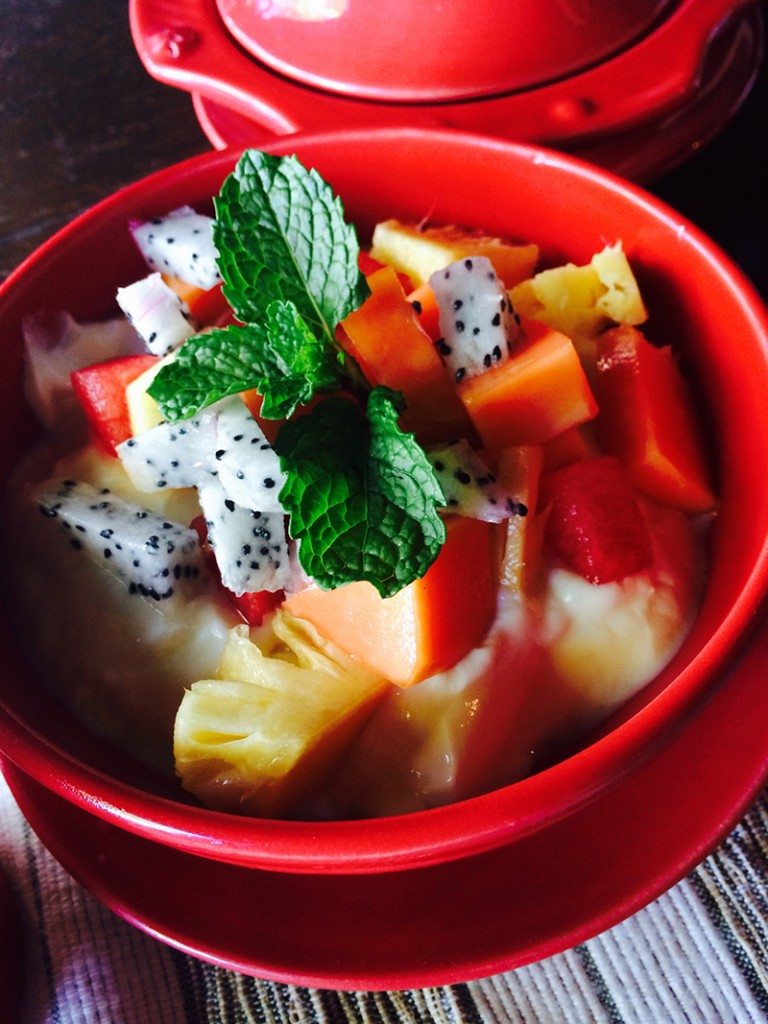 Many More Activities at Tugu Hotel
Take a Djamoe class, which  is an ancient art of herbal healing from Java.
Yoga
Floral arrangement
Balinese Dance Class
Cooking Class
Bendi Art Journey –  bend is a vintage local horse-drawn carriage and an amazing way to see the village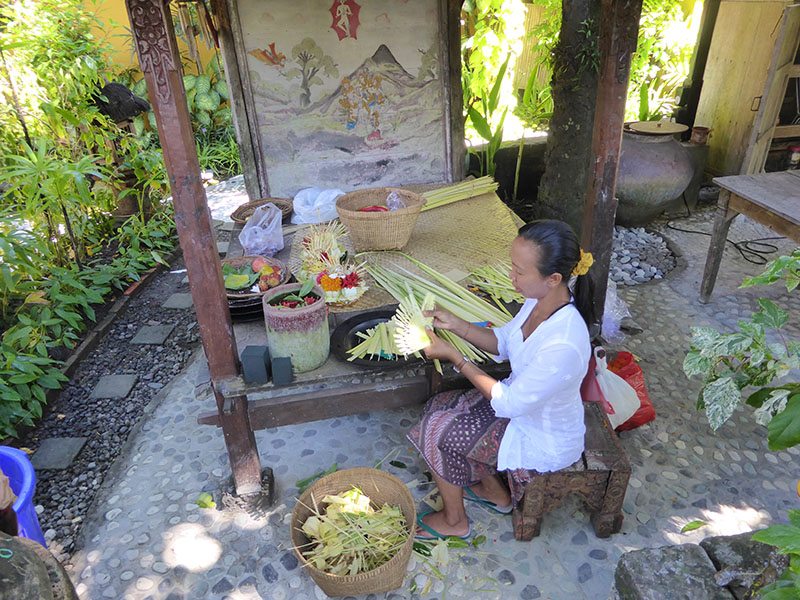 [clickToTweet tweet="Romance permeates the air at Tugu Hotel Bali. " quote="Romance permeates the air at Tugu Hotel Bali. It must be something about its beachside setting, the aura of history and culture past."]

We thank Tugu Hotel Bali for our 3 night stay and for your hospitality. We loved our experiences  as your media guests. Our words and views are always our own.

Read also about  Hotel Tugu Lombok, another very unique and amazing property.
This post is linked to Travel Photo Thursday from Budget Travelers Suitcase and Weekend Wanderlust.