Maastricht has its 'own' time schedule.
Where is Maastricht?
We have been in Maastricht, one of the oldest towns in the Netherlands, for nearly a week and are discovering a lot about the place particularly since we know people here. This is what we have discovered.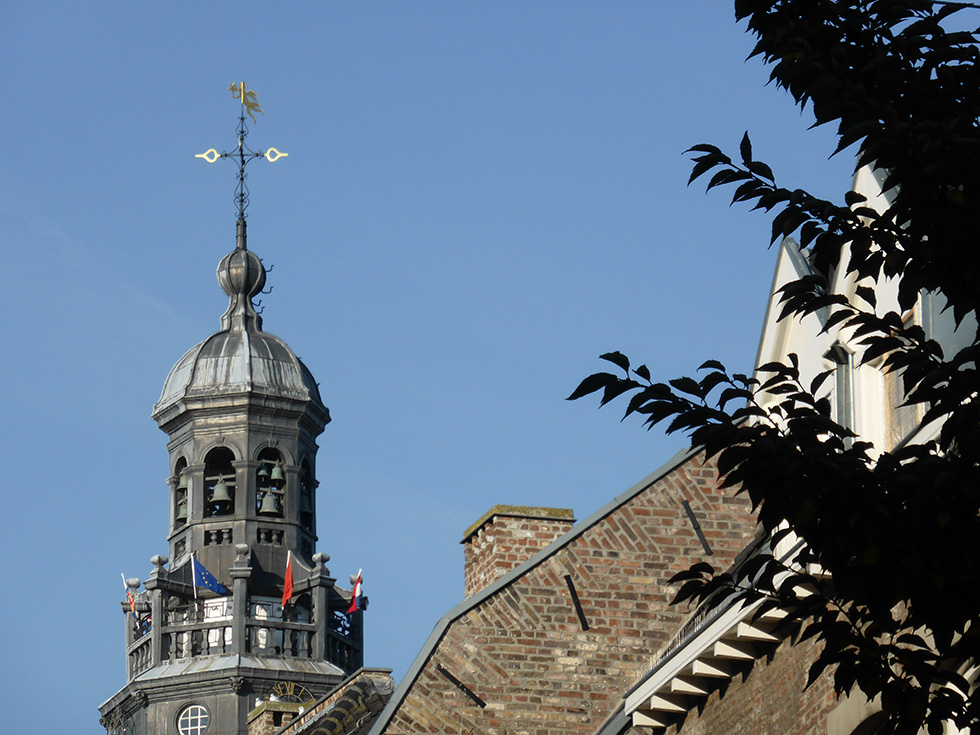 Maastricht is on its own time schedule.
It seems to sleep on Monday, yawns and wakes a bit more on Tuesday and really wakes up on Wednesdays when the fresh food market is alive and kicking. Unless of course the weather is dismal, then they just stay inside some more. Come Thursday, Friday, Saturday and half of Sunday, the place really takes off with people from the next door neighbours Germany and Belgium coming to town, not to mention other people from the Netherlands. In saying that though, nothing really opens until after 10am, mostly after 1pm.
Exploring the City of Maastricht
So after a good sleep it is time to explore and then do some serious people watching, and have long long languorous lunches in one of the many side walk cafes. We generally had lunch at about 3pm and finished about 5pm. We are still acclimatizing as this was a bit quick. The food is seriously good in this city, and the people watching is an art form, that we seem to have adapted to well. Then comes Sunday afternoon and it is time to sleep for a few days in preparation for the next 'onslaught' of wining, dining and watching.

Andre Rieu was born in Maastricht
When Andre Rieu comes to town, so do the big crowds. When he comes to his birth town of Maastricht for a series of concerts, this delightful historic and cultural city goes right off. Not only do the people of the Limburg region converge on the town, but so does a lot of the world. I would doubt whether he plays on a Monday or a Tuesday however.
I read an article on what a typical day in Maastricht was for him when he is able to get home. He gets up about 10, has a coffee and walks the dog. Goes for another coffee at one of the coffee houses in town, wanders around and then heads somewhere for a long long lunch and some people watching. It is what is done here. He is after all a Maastricht boy.

By the way the coffee is not great, but the biscuits you get with them are. Many locals apparently judge a place not on the coffee but on the biscuit that accompanies it!
Maastricht University
Maastricht is a lot more however than its famous son. Andre Rieu. It is a renowned international University City as well as being an outdoor living museum, claiming to be the oldest Dutch city. Maastricht was once a Roman fortress, a religious capital, which is obvious with the amount of churches, as well as a fortified city and an industrial centre. Today it is totally vibrant, hip and cool when it is awake, and there are constantly activities occurring here from stunning light shows to highly impressive opera performances and avant garde art, theatre and music shows for a start, always in the afternoon or evening.
Maastricht – a City of Festivals
Maastricht is a leading light when it comes to culture and to festivities. The city is host to some amazing epicurean festivals as well as music festivals, fashion shows and the over the top Carnaval, where the more bizarre the outfit the better. This is apparently when they bend their own time rules a little, because if the party is on, they are there.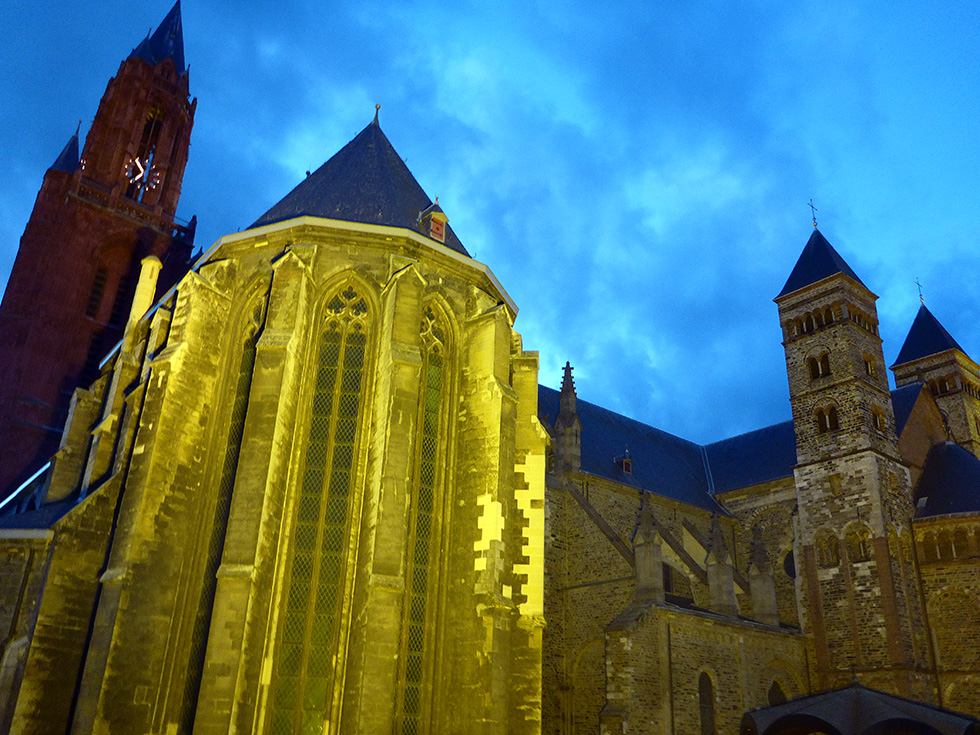 Vrijthof Square
For centrality, space and charm anything near the magnificent Vrijthof Square, centre of the historic section of Maastricht is perfect. Flanked by a Protestant church, Sint Janskerk, and a Catholic Church, Sint Servaas, it is claimed that if you walk between the two your sins will be all absolved. The bells peel throughout the day, and not as alarm clocks.
Food in Maastricht
Vrijthof Square is also where there are a serious amount of cafes and there is earnest people watching to be done. We are yet to work out the pecking order of where you sit, but it appears that the closer to the back you are is better than the front row, and never inside, the opposite of Paris. There is no such thing as rushing a lunch or dinner. The waiter or waitress will come to you when they are ready. They do not rush you out when you are finished. Quite the opposite. You can sit for hours on the one coffee and no one minds at all. Very different to other countries that I have been to, including our own. This is where we also spent a considerable amount of time trying to fit in and become one with the locals. It was not hard at all, as it is a procession of people and a lot of food to be tried.

The Dutch are able to eat. They eat what I consider to be absolutely huge meals, yet are not over weight. We found this at both Zandvoort and in Amsterdam also, and come to mention it Ghent and Brussels. I have decided that with the bike riding and the climbing of all of the interminably steep steps that this is the fitness regime that works well to eat a lot and not to put on weight. I don't ride a bike and I can't climb the stairs with a broken leg, therefore …..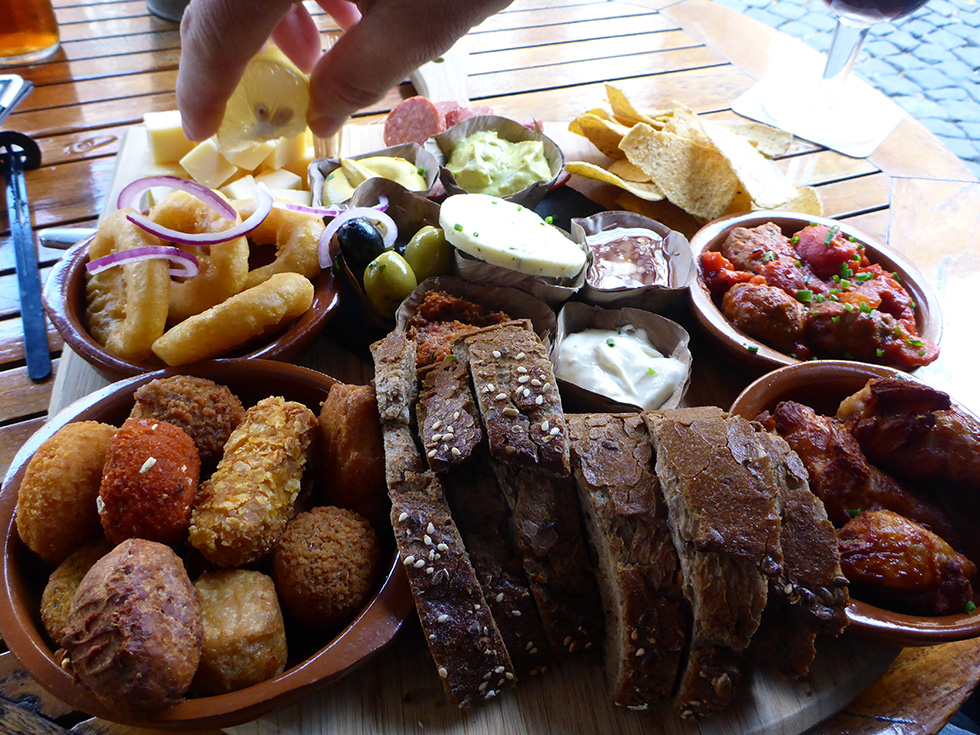 So Maastricht has its 'own' time schedule. No wonder that they have the most part time workers of any other region in the Netherlands. It is not dissimilar to Fiji time in many ways. You just have to take it a bit easier here and forget your watches. It is not that hard to do really.