This week was all about the importance of networking and building relationships in the travel industry. These are keystones for being successful travel bloggers, and really for being successful in any business, and life actually. Not only were we networking online through our social media platforms, but we were also networking and building relationships in person. I spoke about building relationships in the last newsletter, attached here. Networking in a face to face situation with brands and fellow writers is an excellent opportunity for building these unique human relationships that you just cannot achieve online.
Featured image: The ANZ embrace Mardi Gras with their Gaytm in Oxford St, Sydney
So what did we do this week?
Mardi Gras Special – behind the scenes
We attended the Mardi Gras Special – Behind the Scenes Walking Tour in Sydney, which was organized by Travel Massive. This walking tour was a history of how Sydney came to be one of the friendliest LGBT cities in the world. "From the first priest, who was found in a hammock with a man, by his wife, through to Mardi Gras, it looks at seldom told stories"; and we learned a lot.
We finished this fascinating tour with champagne at the friendly gay pub – The Stonewall, where "The History is Remembered.. The Future is Here".  This was a unique opportunity to network and build relationships.
This was a walking tour organized by Travel Massive and run by Urban Adventures. If you are not already a member of Travel Massive, you should join for the opportunities it gives you to network and to build relationships in real life. See the previous link to join, their are chapters all over the world.
The International Media Market
We attended The International Media Market held at Sydney's new International Convention Centre (ICC) in Darling Harbour. It was an excellent opportunity for travel writers from both the digital and traditional print media, to network with people from the travel industry. This international event was organized by TravMedia and hosted by Brand USA. There were exhibitors from Las Vegas to Tasmania, from treks in US National Parks to 5-star resorts in Patagonia, and from airlines to river cruises, and lots in between. It was a unique opportunity to meet and network with people in the industry who we will potentially work with in the future. It was about building industry relationships, and building relationships amongst each other.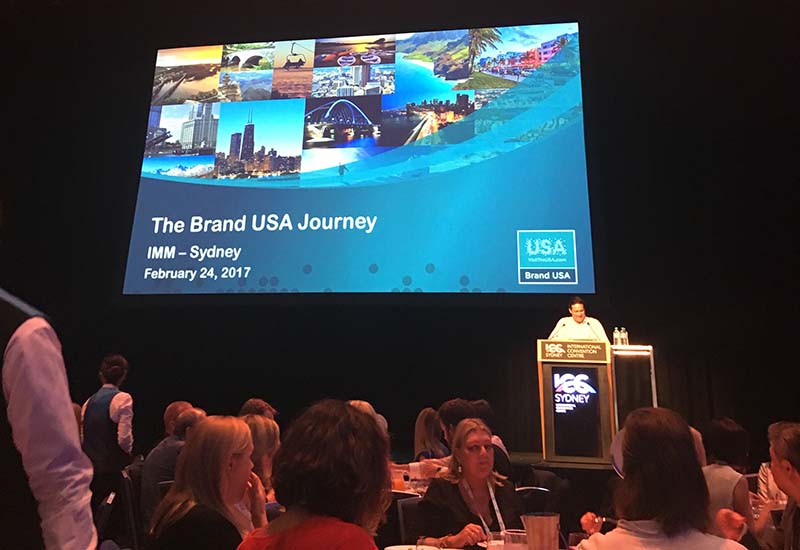 The day was organized like a speed dating conference, where we were able to pre-book appointments with the industry people we wanted to see, and to discuss opportunities that would work for our readers and them. There were further occasions during the day and the evening cocktail party to talk and network further.
The cocktail party was held and generously hosted by the Hyatt Regency Sydney. If you want to see a class act, then this newly opened hotel is it. It reminded us of the stunning Hyatt City of Dreams Manila in that there is was so much attention to detail and the needs of the guests. Over champagne and 6 different varieties of oyster, we were able to start our conversations. We then meandered through 5 more food stations, building more relationships, and making new friends from around the world.
We are now synthesizing all of our experiences, and understanding more about the importance of networking for travel bloggers and for any business actually.