For some reason once you have been to Nozawa Onsen in Japan, you can't stop yourself from coming back. Am I speaking the truth here people?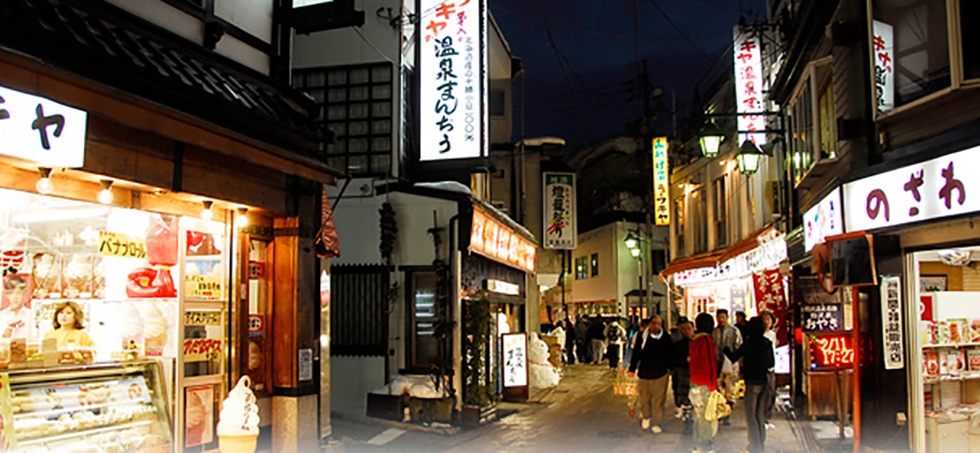 Why Nozawa Onsen?
We like to ski, but even more than that we like the bonhomie and the camaraderie that is inevitably found in any ski area, but particularly here. Five years ago we decided to venture out of Australia and ski overseas. It was only a fluke occurrence that we read about one of Japan's foremost fire festivals that occurred at a little village outside of Nagano, called Nozawa Onsen, named after the many hot springs found there.  What this also revealed was that this was a magnificent ski area. The powder was deep and the runs thigh burningly long and that it had onsens to relax in after a day on the slopes and was a traditional Japanese village.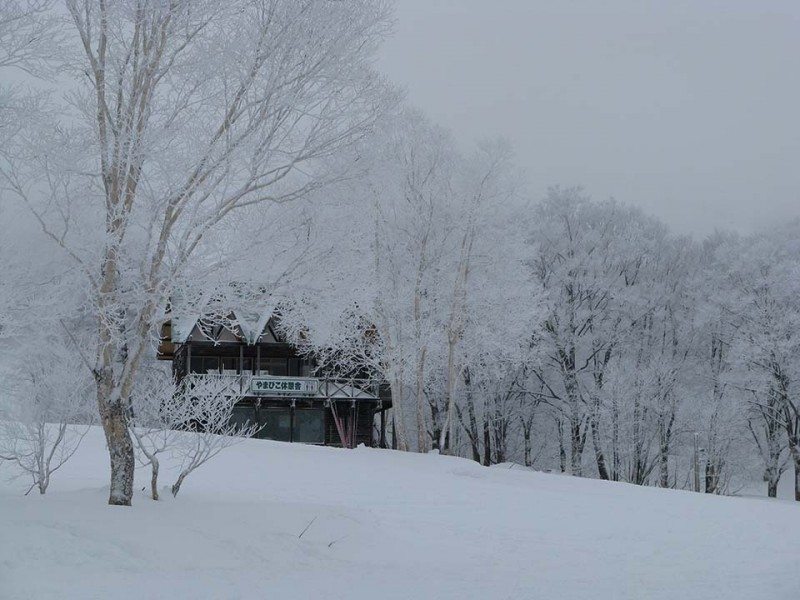 At this stage information was hard to come by, because Nozawa was not on many people's radar, being eclipsed by Niseko, Hakuba, and Sapporo. What our search did reveal, however, was that we might just be onto something that was a little different and a little special, and better still, not overrun by tourists.
Our 1st impressions of Nozawa Onsen
On our arrival, we were met by a lot of snow falling and lying on tops of the houses, cars and trees. People were on top of their houses and shoveling the snow off, as they continuously do throughout the season. There were little cobble stone streets, lanterns fluttering and the smell of beautiful food wafting through the air. The backdrop of the Mt Kenashi-yama (Mt No Hair) and the long slopes coming down, made it magical actually.
History of Nozawa Onsen
Nozawa Onsen is considered to be the oldest ski resort in Japan. It was started by an Austrian in 1911, and another Austrian, Hanns Schneider introduced his Arlberg skiing techniques in 1930, which was to change the face of skiing. Nozawa Onsen also was home to the biathlon events of the 1998 Nagano Olympics, so it has some serious street cred.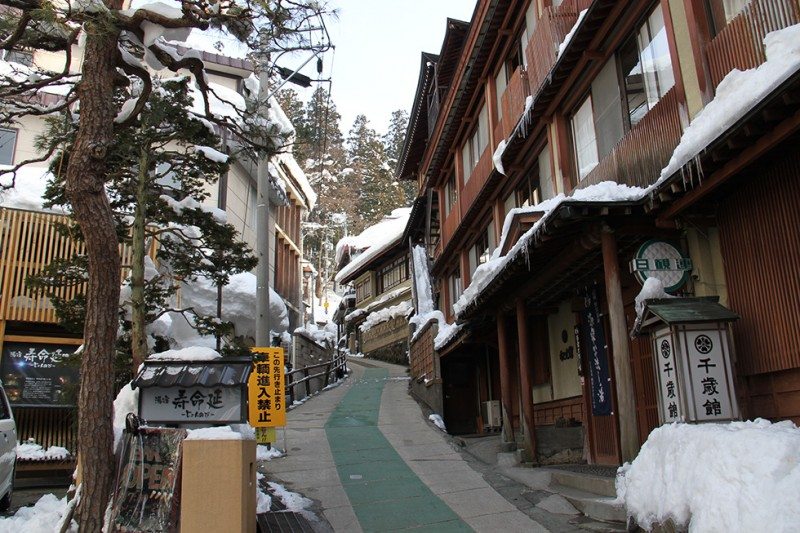 About the ski fields of Nozawa Onsen
The villagers run the slopes and ensure that it is a very friendly and comfortable environment. The ski area is actually one of the largest in Japan covering some 298 hectares with 50 runs suitable for all levels, and a bonus is that there is guaranteed snow, with an average depth of 3.5 metres of mostly powder. There is also a vertical fall of 1085metres making for some very long runs. One of the runs for beginner to intermediate levels is actually 10kms. Snowboarders and skiers have a lot of choices and going off piste is really popular with daredevil skiers. Powder hounds are loving Nozawa.
Many of the runs are very wide and the slopes are not at all crowded, though a little more so on the weekends when the people from Tokyo arrive. It is rare to get a queue of more than a couple of people however.
On piste, there are many traditional Japanese cafes. What we found here is that the villagers are very welcoming people which creates a really good atmosphere. The Japanese have a great approach to après life. They go in for lunch, eat and then lie down and have a sleep right in there in the café.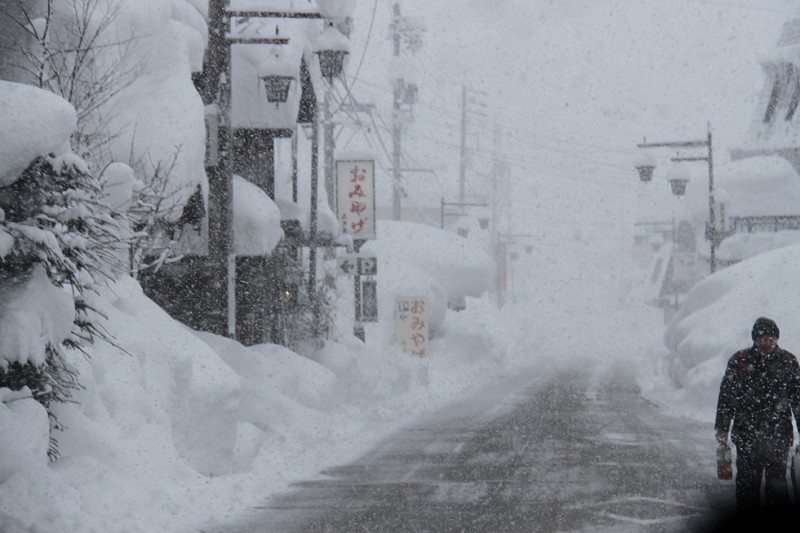 Why we keep retuning to Nozawa Onsen
Nozawa Onsen keeps calling us all back. Is it Mr. Yakitori and his lovely wife who serve 3 dishes only (don't touch the brown one, stick with the yakitori and potatoes) while he drinks copious amounts of water (!), and only feeds you when he feels like it. Is it the sashimi, the ramen noodles, the okonomiyaki or those wonderful steamed buns that you get in the main street? Perhaps it is the quirky little bars where there is spontaneous music by locals and visitors alike.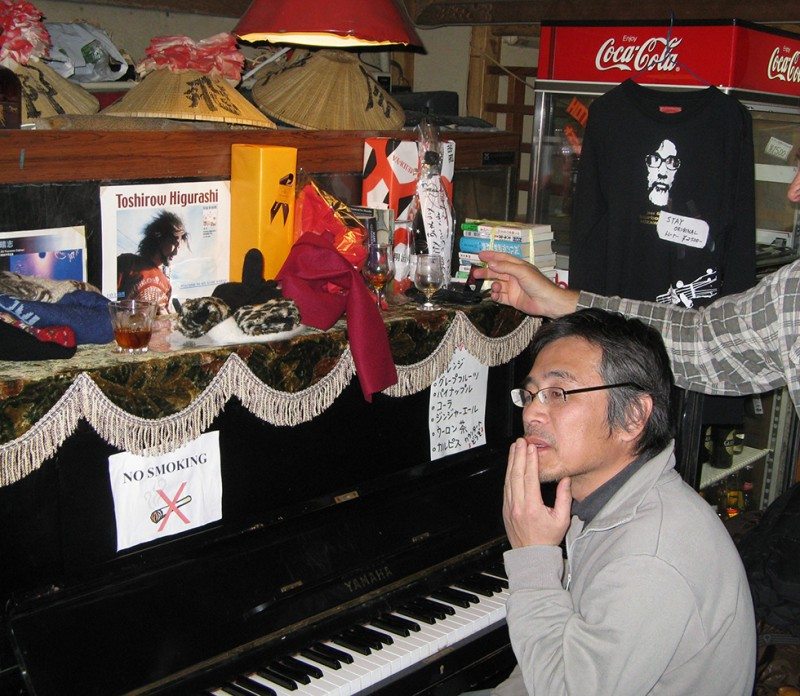 Onsens in Nozawa Onsen
Is it those damn hot onsens that scare the daylights out of us because the etiquette is hard to remember and they are bloody hot, but we all love them regardless. Is it the onsen eggs that you cook in the foot onsens along the streets? Maybe it is the powder skiing, because the snow is brilliant.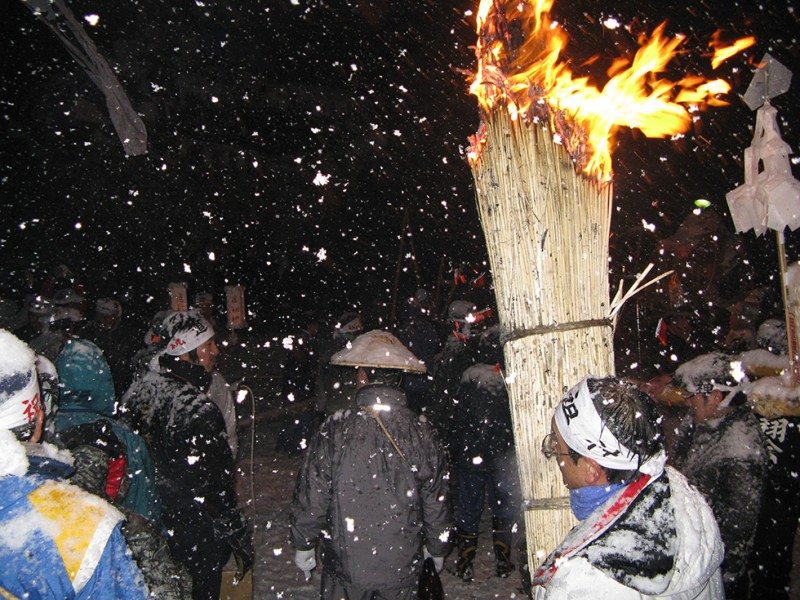 Dosojin Fire Festival in Nozawa Onsen
Is the Dojosin fire festival, one of the 3 main fire festivals in Japan, that keeps beckoning the reckless back, as we watch the ritualistic festival where 25 year old and 42 year old men (the unlucky ages according to Shinto beliefs) are expected to show their bravery whilst building the shrine. The 42 year olds then climb the shrine and sit there with their saki and sing songs as they try and protect the shrine from the marauding 25 years who ram the shrine with lit faggots and burn it down. This serves to ward off bad luck and to assist in a good harvest for the year. This festival is fuelled by a lot of saki, and I am talking barrels that are bigger than me, and it appears that when the saki is finished the shrine goes up and the fireworks go off. For such gentle people it is pretty brutal, but in maintaining their generosity of spirit (yes it is a pun) they share the saki with we, the reckless onlookers.
Snow Monkeys of Japan
Is it the snow monkeys of Jigokudani that we can catch a bus to see?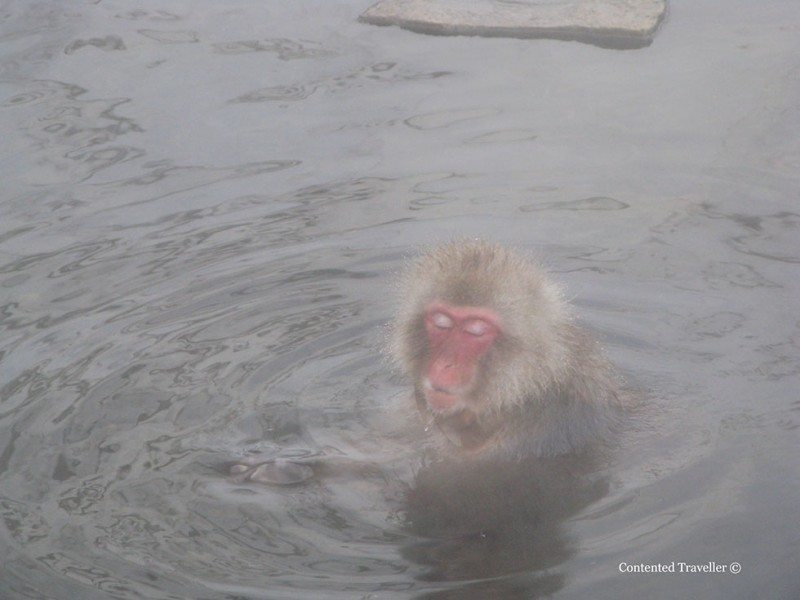 I can't put my finger on any one thing, because Nozawa Onsen is a total package – of surprise, friendship and a deep feeling of loyalty. Most people who go once, return every year, it has that strong an impact on you.  Despite Nozawa Onsen becoming more popular, it still retains that small village charm that I doubt will ever disappear.
See you soon everybody.