There is a reason that Paula is at The Paul Hotel NYC.
They called my name.
Why The Paul Hotel NYC
We were looking for places to stay in New York City, as this was our first trip to this city and indeed to the US. We knew we wanted to play tourists here because of our virgin status, so we decided to look for hotels in mid-town. That is when I found this,
Are you named Paul, or Paula, or Paulo, or Paulie, or Jean-Paul, or Paulogrino, or some other amazing variation of the great name Paul? Well, today is your day, my friend. The Paul Hotel would like to invite you to stay at our fine establishment in New York City.
As you lovely loyal readers know, we believe in serendipity, so that seemed to be one of those moments. We then proceeded to explore their website and what the hotel offered. Now many of you will know that NYC rooms are synonymous with shoe-boxes in size, and we are not talking Manolo Blahniks here. However, what caught our eye was that The Paul Hotel NYC had good sized rooms with balconies, that are rarer than hens teeth in this city and is in a trendy area, NoMad.
The Paul Hotel NYC also appealed because it certainly has a great sense of humor.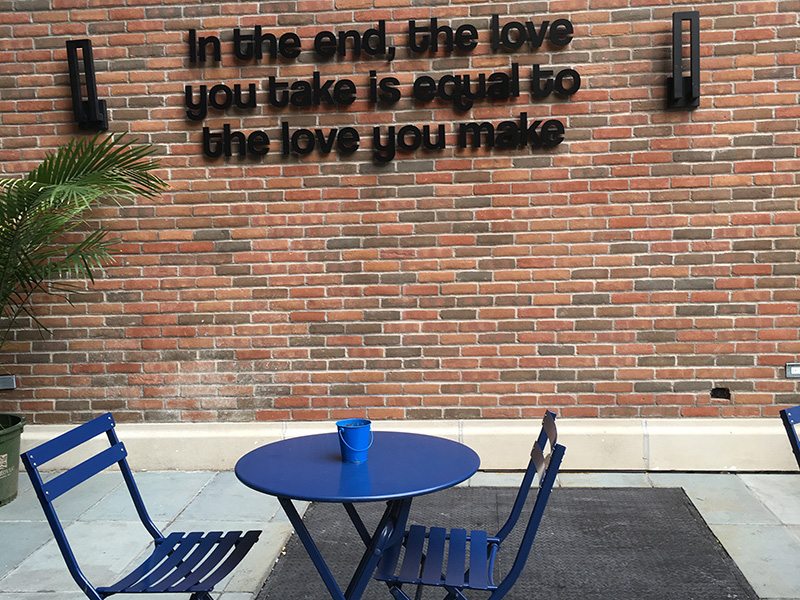 Arriving at the The Paul Hotel NYC
This is how we came to be working with this new hotel, The Paul Hotel NYC for 5 fabulous days and nights. We wanted to share with everyone what the hotel was like, and they wanted us to share our honest opinions on how they are doing in this city that attracts millions of visitors, and these millions, need a representative hotel to lay their weary heads.
Gordon started the trip off well when we arrived by taxi from JFK after an unexplained flight delay with Delta Airlines from Quebec City. It was not the best of weather as it was raining pretty heavily. As Gordon was paying the taxi driver the preset amount of $59 (includes the toll to Manhattan), I grabbed the suitcases from the trunk. It was torrential as I dragged them into the foyer. Gordon arrived dripping wet and asked where his/our computer bag was. I hadn't remembered that he had put it into the front seat of the taxi. Off he runs chasing the taxi down the street, a street he knew nothing about, in the pouring rain. He found him 2 streets away at the traffic lights.
That is why people say you should take a photo of the id of the taxi driver in NYC, so if you do something like this, you can call them. I believe however that when the cab driver found it, he would have returned it to the hotel. Perhaps I am naïve but I don't think so.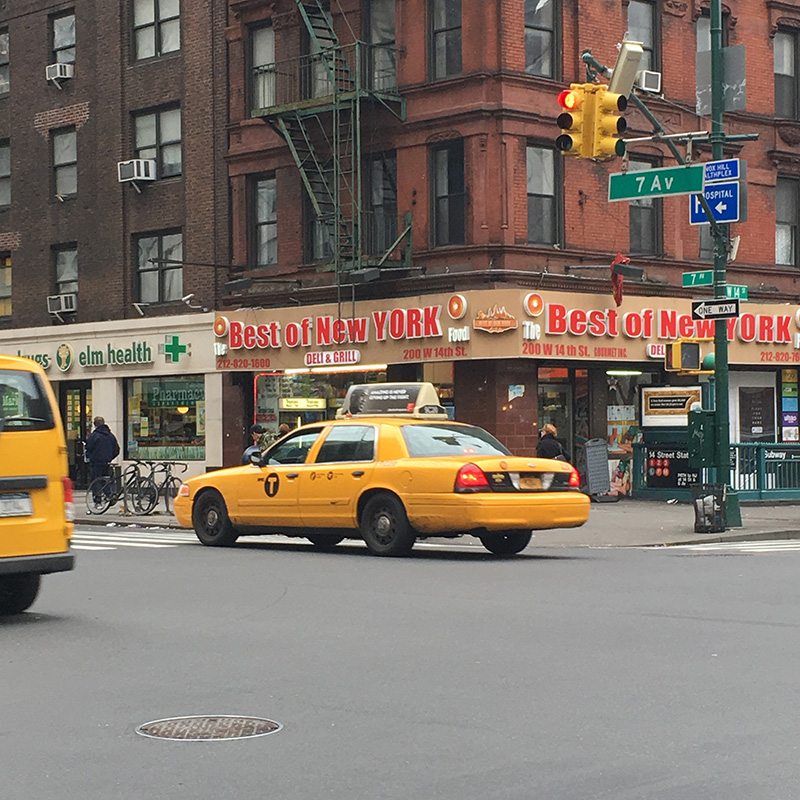 Checking in
Meanwhile I was checking us into the hotel and quite frankly the lady, and I were having a bit of a laugh about the situation. The Paul Hotel NYC is located on 32 West 29th Street, and as we found out, is ideally located to walk to many places, or if necessary to grab a subway or a taxi.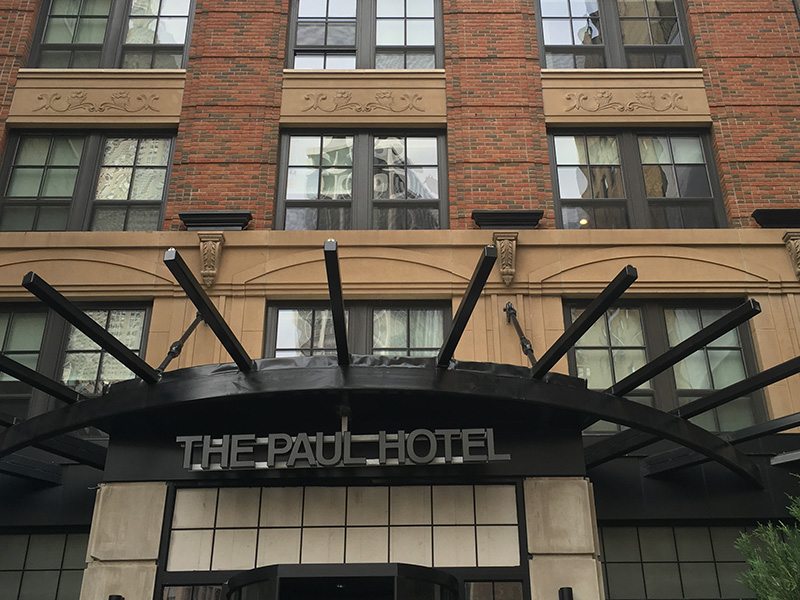 Our Rooms
We checked into our rooms, both very wet but one more so than the other, and were very very pleasantly surprised that not only were the rooms bigger than a shoebox, but we had a large balcony. These rooms are called the Terrace King.
There was a knock at the door and here was a man from the hotel with dessert and coffee for the dumb man who was seen running down 29th Street, and his wife I think. Apparently the receptionist had explained the situation, and it must have been a male bonding type situation to stick up for the wet man.
We had very good internet access, loads of pillows, a separate bathroom, coffee and tea making facilities. There is an interesting storage solution. Along with the cupboard and some draws, there is a note for Paul, "the beds were designed with luggage space, so feel free to store your bags underneath". You know what, it makes the room look cleaner than open suitcases. Shove them under the bed and slide them out when you want something.
We were far enough away from the honking and sirens of NYC city to sleep very well and were able to wake up to sunny.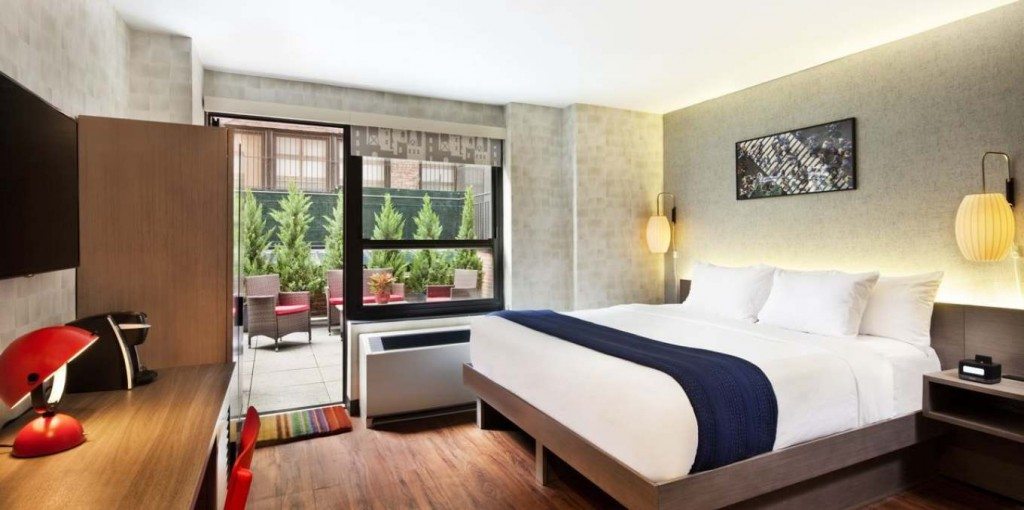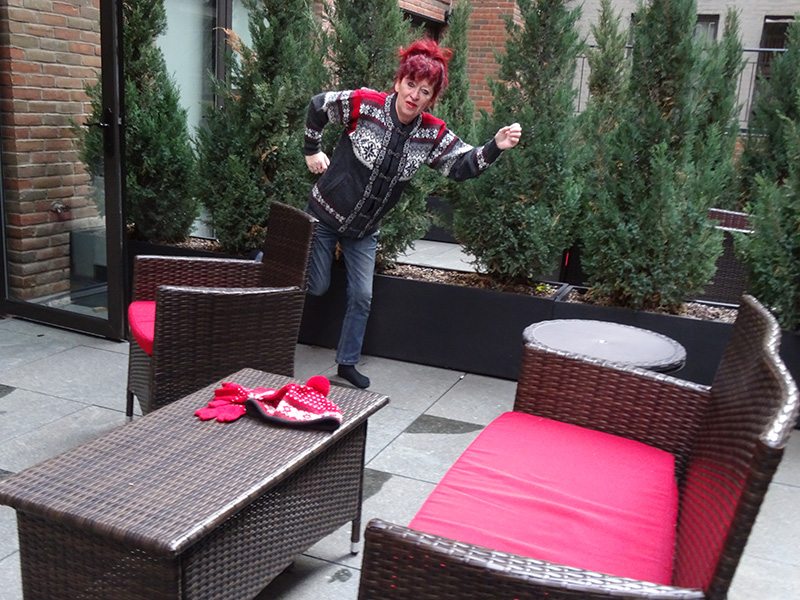 Design
The design of its 122 residential-style guest rooms with expansive loft-style windows impart a light and airy atmosphere offering dramatic and unparalleled views of The Empire State Building to the North and The Freedom Tower to the South. All of PAUL's guestrooms are custom designed and softly integrate the urban landscape of the local neighborhood in unexpected and playful ways. The interior design team was led by Ronica Sharma of Sharma Group Development.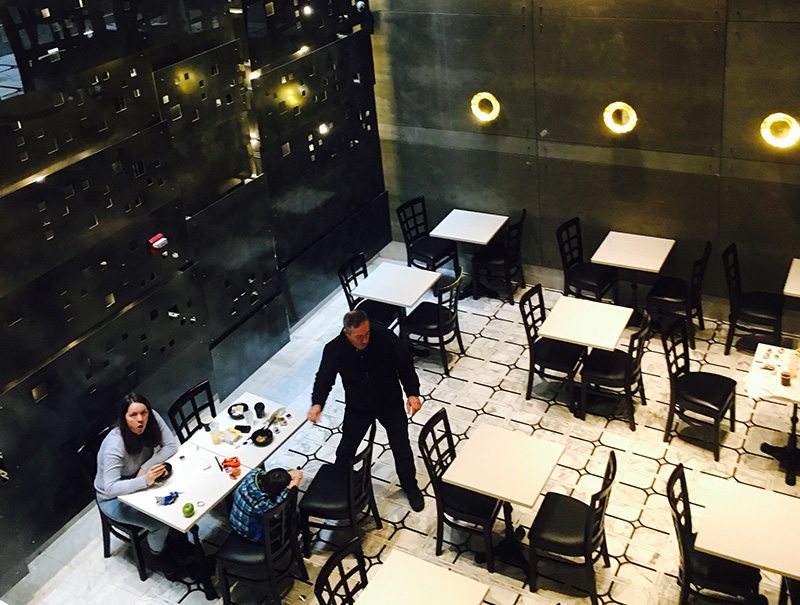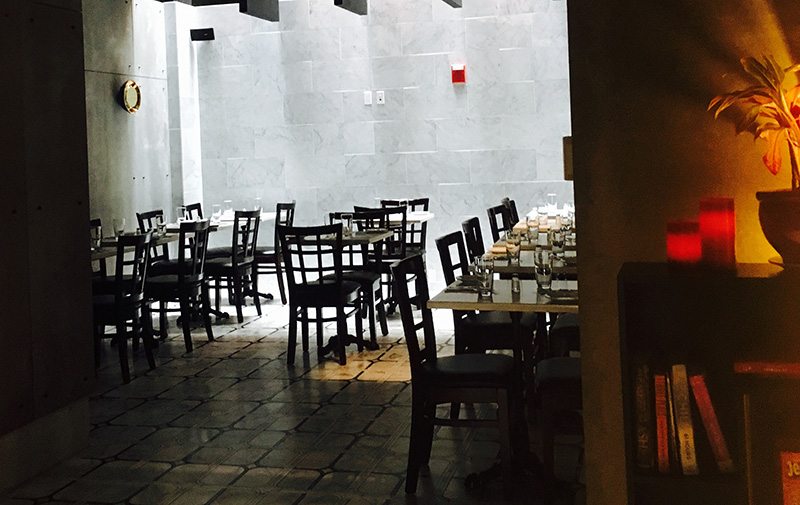 Why Marketing is important
The Paul Hotel NYC talks to 'you'. There is a generic welcome note, but generic as it may be, it is a lovely touch. Here is how it starts,
I'm sorry I couldn't be there to meet you personally; my nomad adventures have taken me on my next excursion. But have no fear, I've left you in great hands; my Paula Family is more than capable and will make sure you are ease while in my home" and it continues, and signs off with ..

Welcome to the family,
your friend
Paul
I don't know about you, but personalizing an experience is exactly what we all want when we travel. I don't want to be another nonspecific guest, and even though in reality I probably am, I can think that I am special, and that is exactly the atmosphere that is being created.
Location
As I have said before, Paul is a gifted person. He says that as "A native New Yorker, PAUL recently settled down in New York's hottest NoMad Neighborhood." It is nestled between Madison Square Park and the Flower District. The New York Times coined the District's name in 1999 after NYC formally established the Madison Square Park North Historic District, which lies in the center of No (North) Mad (Madison Square). The streets are steeped in history and lined with handsome buildings, world-class hotels, wonderful restaurants, exciting nightlife, and unique retail shops. It is close to subways but actually everything is very walkable from here. It is an ideal place to base yourself to be a tourist in NYC.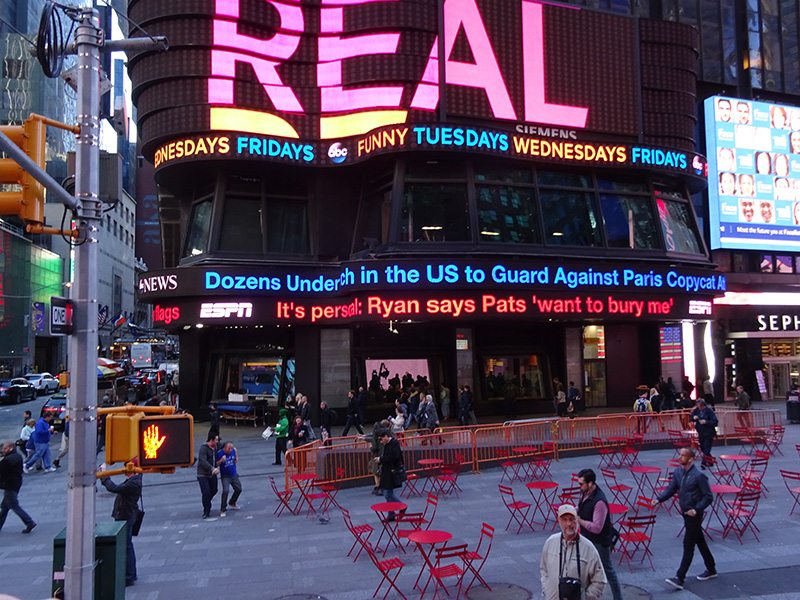 Partnerships
The Paul Hotel has partnered with some very avant-garde artists and designers to bring this hip and eclectic hotel to us all.
Brendon Dawes is a London based designer and artist exploring the interactions of objects, people, technology and art using an eclectic mix of digital and analog materials. Cinema Redux is an attempt to make a physical representation of an entire movie, not just a certain scene, or even a single frame. Instead, it presents the entire film, represented in a new visual form, a kind of cinematic DNA. Brendan Dawes work can be seen in the guest elevators at THE PAUL.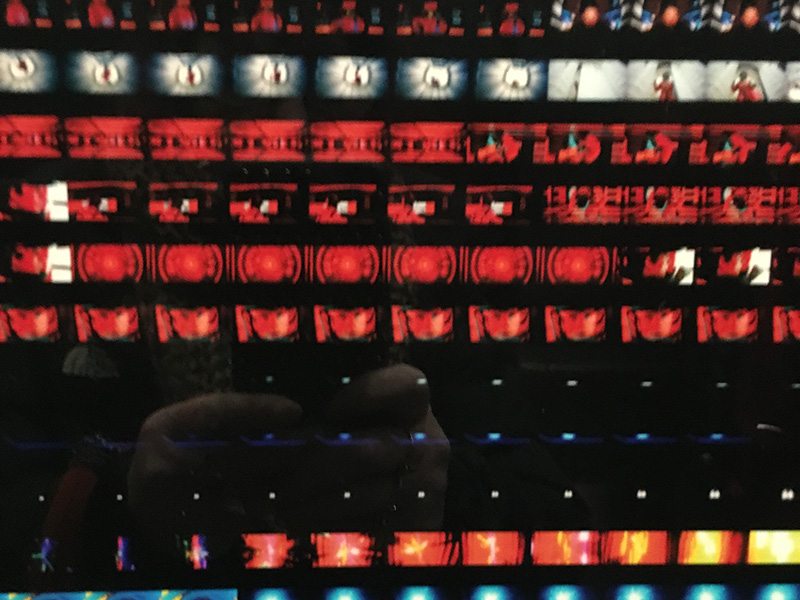 James Zwadlo sees the urban landscape as a found painting. He paints pedestrians from an aerial point of view, a concept that originated while he was working in New York City office buildings. "I look for what I call a 'found choreography' in which the people seem just a little poised, maybe a bit off-balance, but in an obvious state of energetic movement." James Zwadlo's works can be seen in the guest rooms at THE PAUL.
His painting is the featured image
Michael P. Sincavage wants to capture the world in his sketchbooks. "I imagine what the world would be like if everyone pulled out a sketchbook to capture their thoughts and experiences instead of their camera phones." His drawings can be seen in The Paul Journal, which can be found in the guest rooms at THE PAUL. I seriously love his humour and his work.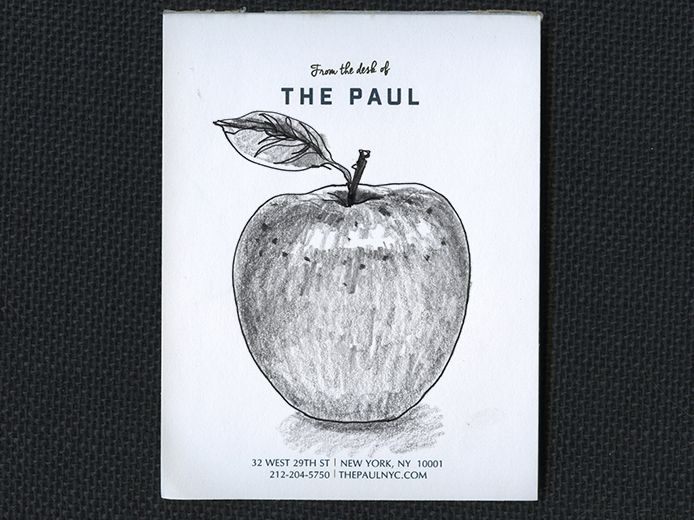 Evan Yu is an aspiring photographer born and raised in New Jersey. He constantly seeks to intertwine his passion of music with his photography. Evan uses music to inspire how he views subjects and composes his shots. He leads a tortured existence as a fan of the Mets, Knicks, Eagles.
Eat and Drink
Breakfast is pretty typically a low-key affair in NYC, or so I have been told. This is also the case at The Paul Hotel if you just have the standard continental breakfast that is included. Frankly, this is an area that I think can be improved. With so much effort on very good marketing, excellent spacious and spotless rooms, the breakfast can be enhanced to reflect that this hotel is special. I would love to see just a little bit more class here. I think that this is a case of teething problems and perhaps is to be addressed.
However, if you order off the very reasonably priced cooked breakfast offerings, then it is different case altogether and the food is pleasing with a definite Mexican influence. The menu breakfast is probably the cheapest you could get in Manhattan.
La Mesa de Paul is the hotels new restaurant on site and is again in its growth stage but with a lot of potential. It is an American-Mexican Menu with some very good cooking. It has a lot of potential.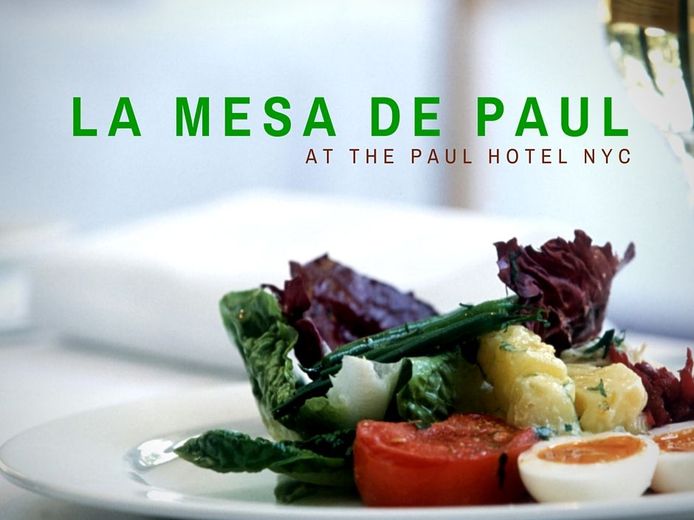 The Paul Hotel is a member of the Ascend Hotel Collection in New York. These are one-of-a-kind, upscale hotels, and that is exactly what The Paul Hotel is, a one-of-a-kind gem in this incredible city.