Entering the Kornhauskeller restaurant  in Bern Switzerland was a shock of the very best kind. In the middle ages, the vaulted cellar was common for the storage of goods to keep things cooler in summer and at an even temperature in winter. The Granary of Bern, where the restaurant Kornhauskeller is now located, is on one of these vaulted cellars.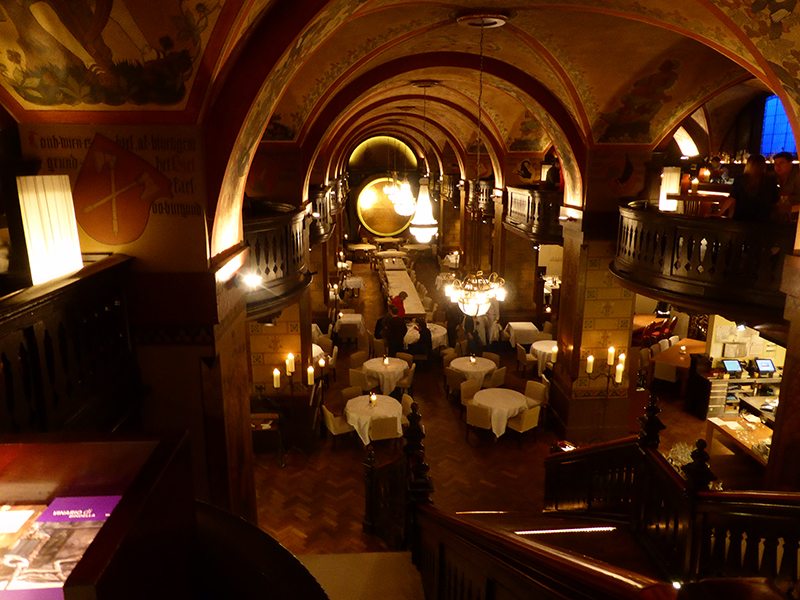 We had met a friend to have dinner at the Kornhauskeller, and as a local, she knows the best places to eat. This was such a bonus in understanding more about the uniqueness of this city and the restaurant.
What the Kornhauskeller restaurant in Bern, Switzerland looks like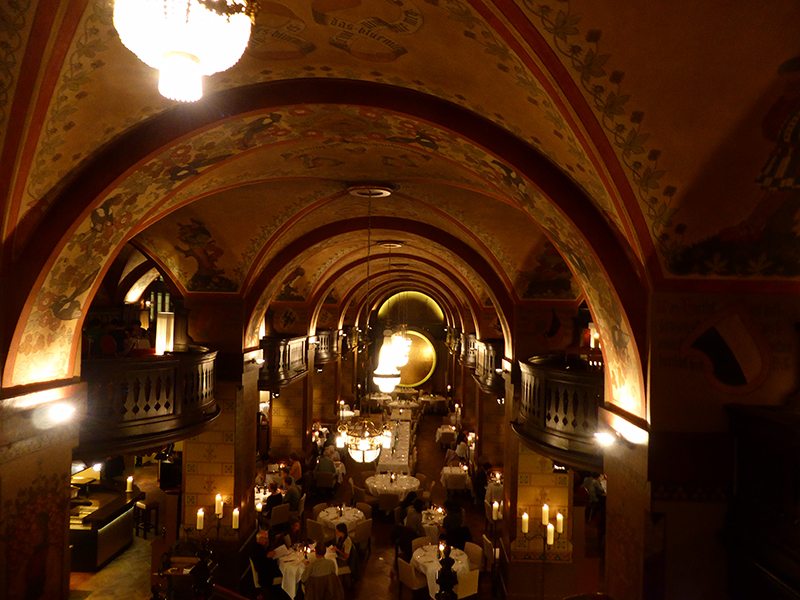 We were expecting a hole in the wall, but were literally overwhelmed by the fact that we seemed to be walking into an ornate and baroque underground cathedral.
This is one of Bern's most impressive public spaces and actually one of Switzerland's. It sheer size leaves you opened mouthed and then you see all of the beautiful colours and murals on the walls.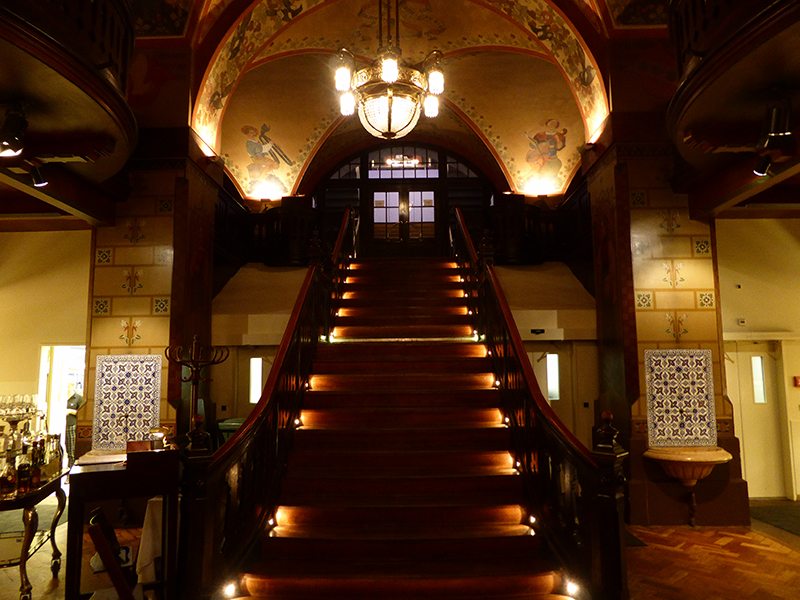 The Kornhauskeller in Bern, Switzerland
The Kornhauskeller in Bern, Switzerland is one of the most popular restaurants in the city of Bern and with good reason. The setting is magnificent. You arrive at a grand stairway, worthy of a ball dress, and descend to a cavernous space that is stunningly lit, giving the entire space a golden glow. It does look and feel as if you are entering a grand ballroom.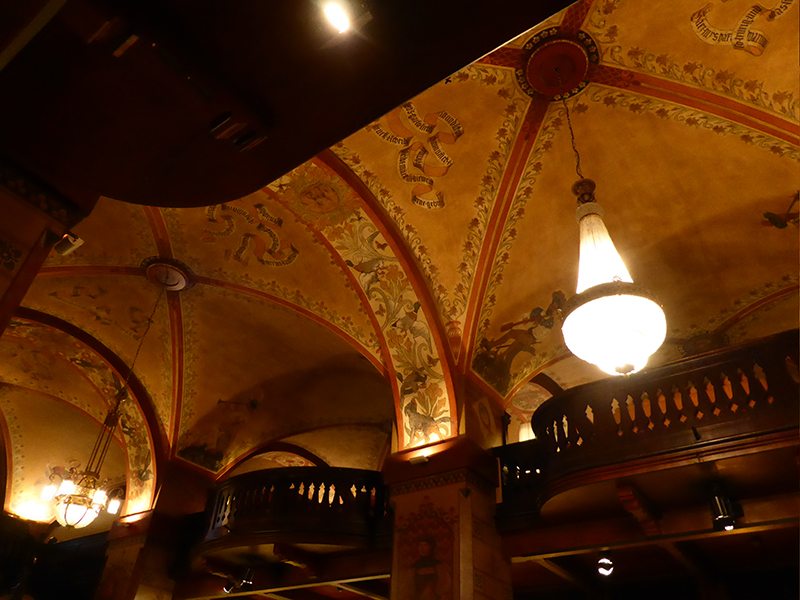 As you start to descend into this cathedral like chasm, you note the 12 pillars that support the ceiling vaults and you start to take note of the murals. Helped by our friend, we found out that these were painted with folk images of women in traditional Bernese costumes, while the spaces of the vault are decorated with mythological figures of mermaids, dragons, some ringed with musicians in Renaissance type costumes.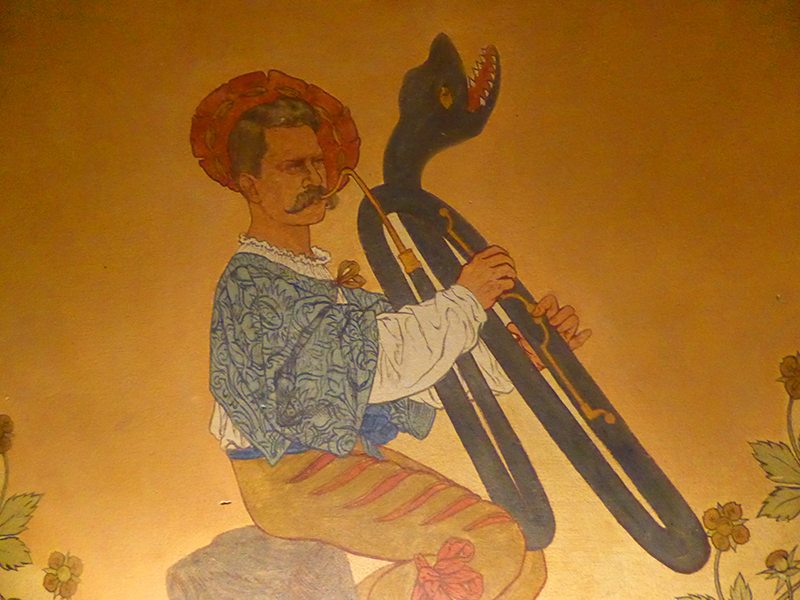 At the end, where one would expect to see an altar, there is a showstopper piece – a massive keg. Legend has it that Napoleons' troops attacked the keg, and many drowned due to what they had consumed and the sheer volume of what was in the keg… when busted open, literally drowned them.
Eating at the Kornhauskeller restaurant in Bern
This restaurant looks magnificent, and it is a restaurant that is for all people. Much like Bern, the Kornhauskeller restaurant, does not have an elitist bone in it, making it accessible to all people. The staff is highly professional and delightful and the atmosphere is very happy. Lots of big family groups are enjoying a meal, couples dining by candlelight – it just seems to work on all levels.
Now it was the foods turn. It was as magnificent as the setting of the Kornhauskeller in Bern, Switzerland. We could not fault the food or the lovely service, though at times we were so busy finding new murals on the walls that we were distracted. The Kornhauskeller specializes in Mediterranean and Bernese cuisine, and the food we ate was fresh, well executed and very easy to enjoy with the lovely company that we were with.
What we ate at the Kornhauskeller restaurant
For starters was a mixed leaf salad, with an excellent dressing.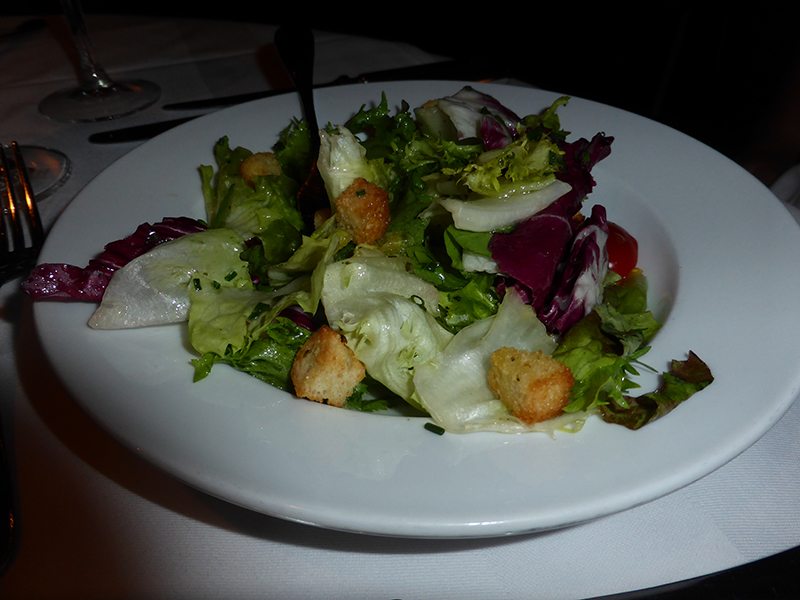 This was followed by a corn fed chicken breast with olives, shallots, lime and tarragon with roasted potatoes and a jus to die for.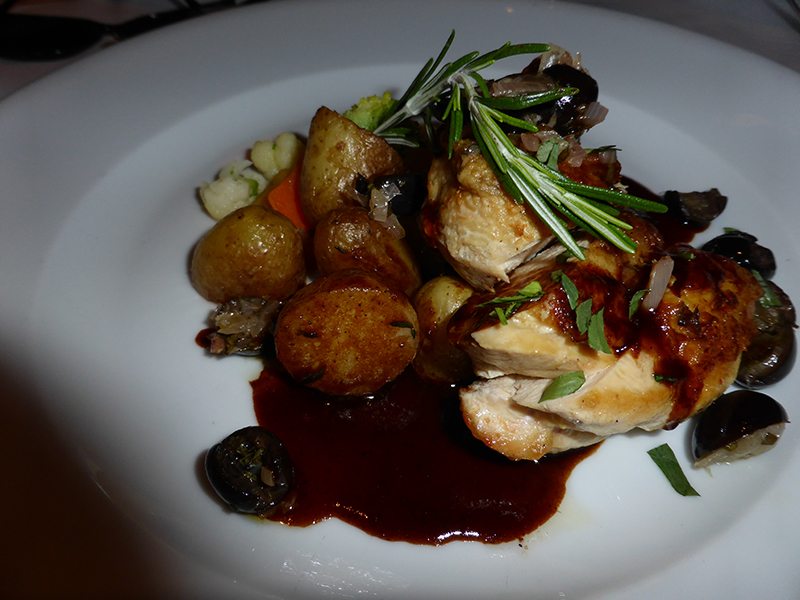 We were then given a sampler plate of Kornhauskeller's specialty deserts. Needless to say, that none remained.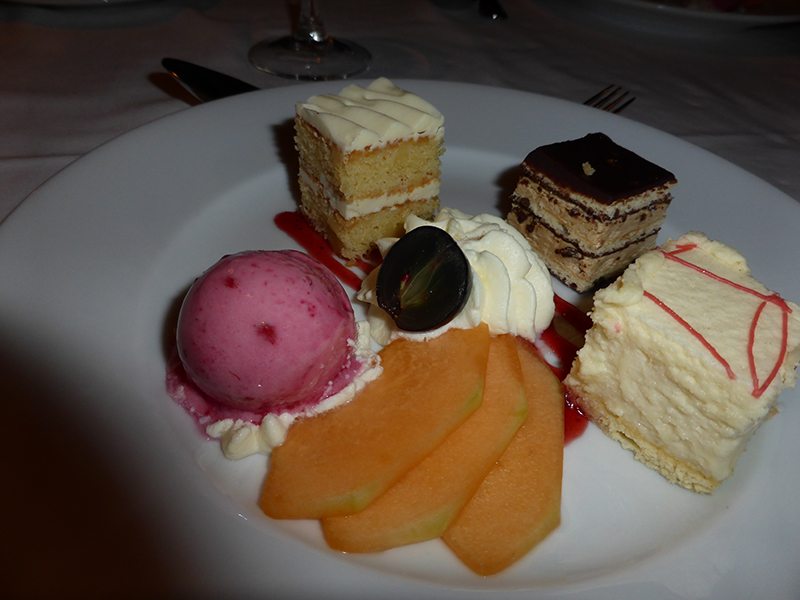 Bern is a delightful city, with lots of gastronomic delights and lots of very interesting things to see and to do.
All in all, the Kornhauskeller restaurant in Bern, Switzerland is a spectacular architectural space, a convivial atmosphere and just happens to have superb food.
Kornhausplatz 18, 3011 Bern
Open:
Mon.–Sun. 11.45 am–2.30 pm / 6 pm–1.30 am
(on Sundays 11.30 pm).
Midday opening hours are extended on weekends during the winter months, while in the summer, the Kornhauskeller remains closed during the day on Sundays.