I think I would have to say that St Petersburg in Russia was not at all what I was expecting, and Spending 2 days in St Petersburg in Russia revealed that all that glitters, is not necessarily gold. The city is perplexing to say the least.
Yes, we arrived at the port to see the surrounding communist style apartment blocks, but upon driving into the city, it all changed and honestly confused me a lot. St Petersburg in Russia has wide boulevards and is not dissimilar to Paris, or many western European cities. It has amazing and immaculate pastel buildings, and the city is very clean. The difference was that we could see gold .. and the theme for the 2 days was gold, gold, and more gold … everywhere.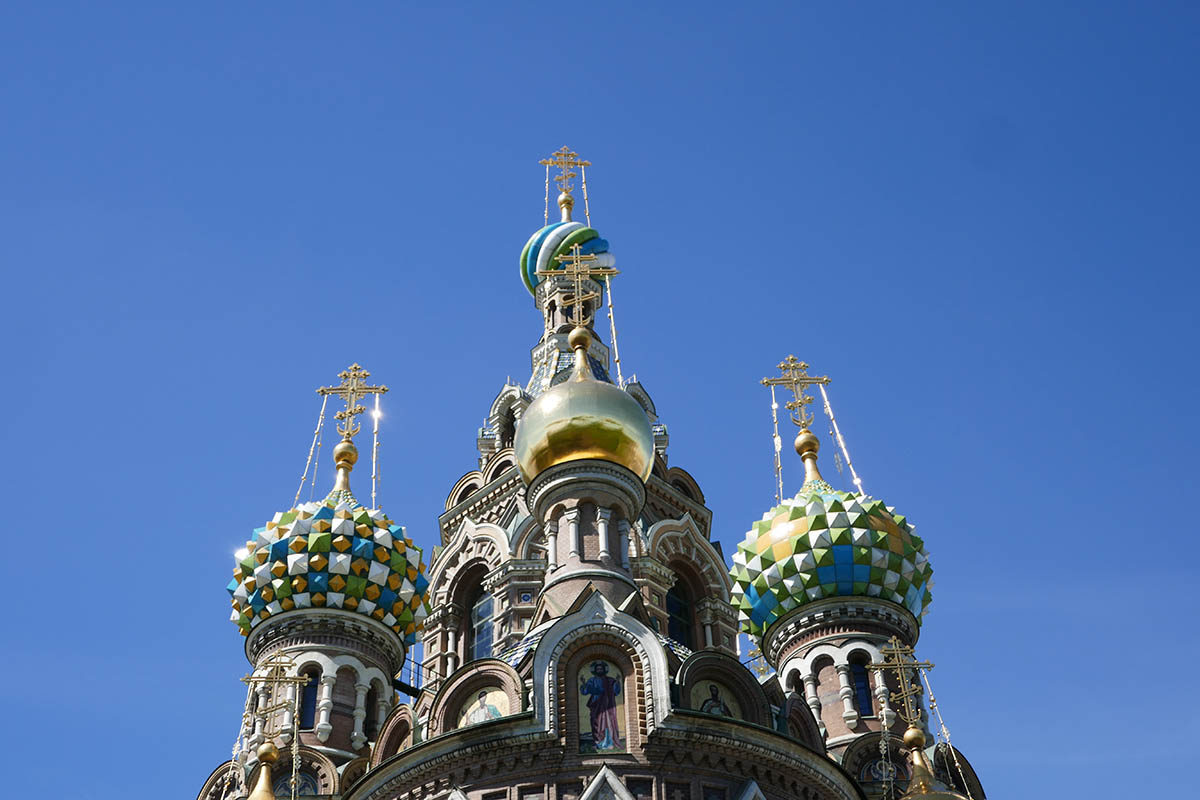 How we were able to be Spending 2 days in St Petersburg in Russia
We are not great people at doing organised tours because we have an aversion to being told what to do, and where to go. We had signed up to do a 29-day cruise through the Greek Islands, and then on to Spain (loved Cadiz and Cartagena) and Portugal (read about Lisbon), and we loved it discovering new and different places.
When we found out that the m.s. Koningsdam was continuing on to Norway, Russia, Sweden, Finland, Denmark, and Germany; we decided to sign on for another 21 days to see these amazing destinations. For cruise virgins, we did a 50-day cruise. Go figure. Read about what we learned on our first cruise.
You need a visa for Russia – we didn't have one
The reality for us doing a shore excursion, an organized tour; was that we didn't have a visa to enter Russia. The only way around this slight hiccough was to do an endorsed tour, ergo a shore excursion with the ship, or a Russian approved travel company which included a paperless Russian visa for us. As a rider, however, another lady in a similar position was denied entry to Russia, and while most of the time it is an easy way to get into the country ..apparently it doesn't always work.
That is why we ended up following the guide with the sign or number of our group held regally above the head, and had the chance to spend 2 days exploring St Petersburg in Russia. On the weekend we spent in St Petersburg in Russia, it was the National Birthday of the city, celebrating 100 years since the Russian Revolution started in St Petersburg. It was a big weekend in this city.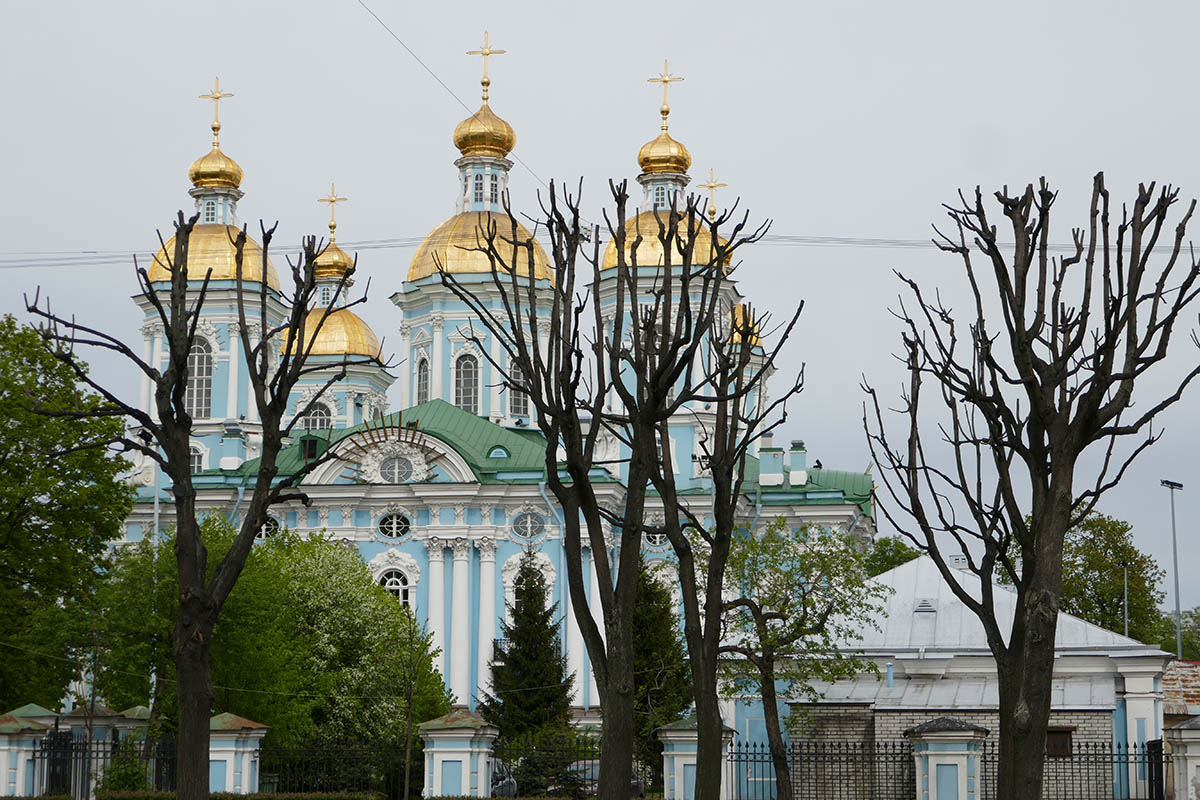 How St Petersburg in Russia came to be
The city St Petersburg in Russia was indeed modelled after European cities, particularly Amsterdam…though it looked a little like a lot of other European cities had influenced its design.
Fyodor Dostoyevsky called it the "most abstract and premeditated city in the whole world".
In the early 1700s, Peter the Great, inspired by a trip to Amsterdam, laid out his city in a grid plan with canals. It was once a swamp, but now is a showpiece of aristocratic opulence. It is a manmade city and judging from what we saw over the 2 days, everything in St Petersburg must be perfect and the best of the best.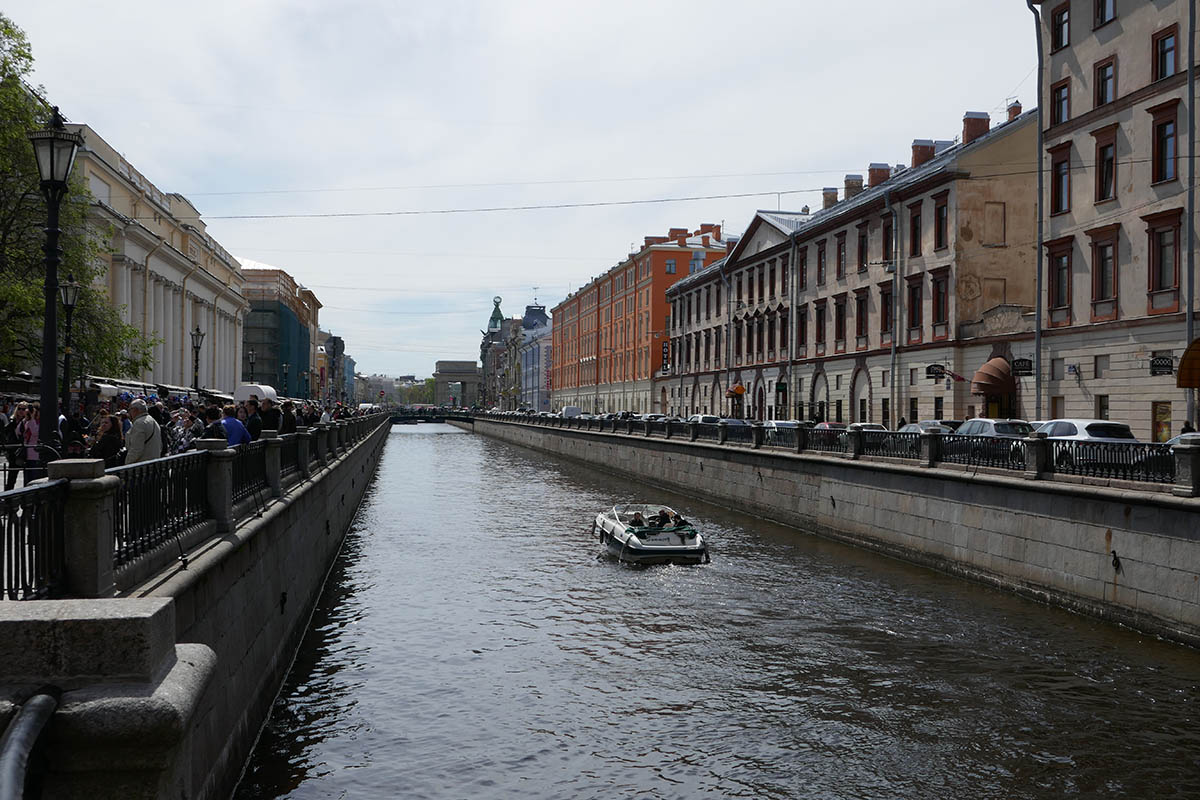 Where did we go in St Petersburg in Russia?
We visited the Hermitage Museum, the Church on the Spilled Blood, and the Yusupov Palace as well as Catherine's Palace in Pushkin. We explored and often marveled aghast at the grandeur of Peterhof, the summer residence of Peter the Great. We went to Peter and Paul Cathedral, and Saint Isaacs Cathedral and a few more elaborate buildings. In trying to synthesize our experiences in St Petersburg it took a few shots of vodka to try to figure this place out, and I doubt that 2 days was sufficient time to get a real grip on it. Suffice to say that it was an opportunity to see the city, and an exhausting yet exhilarating experience regardless.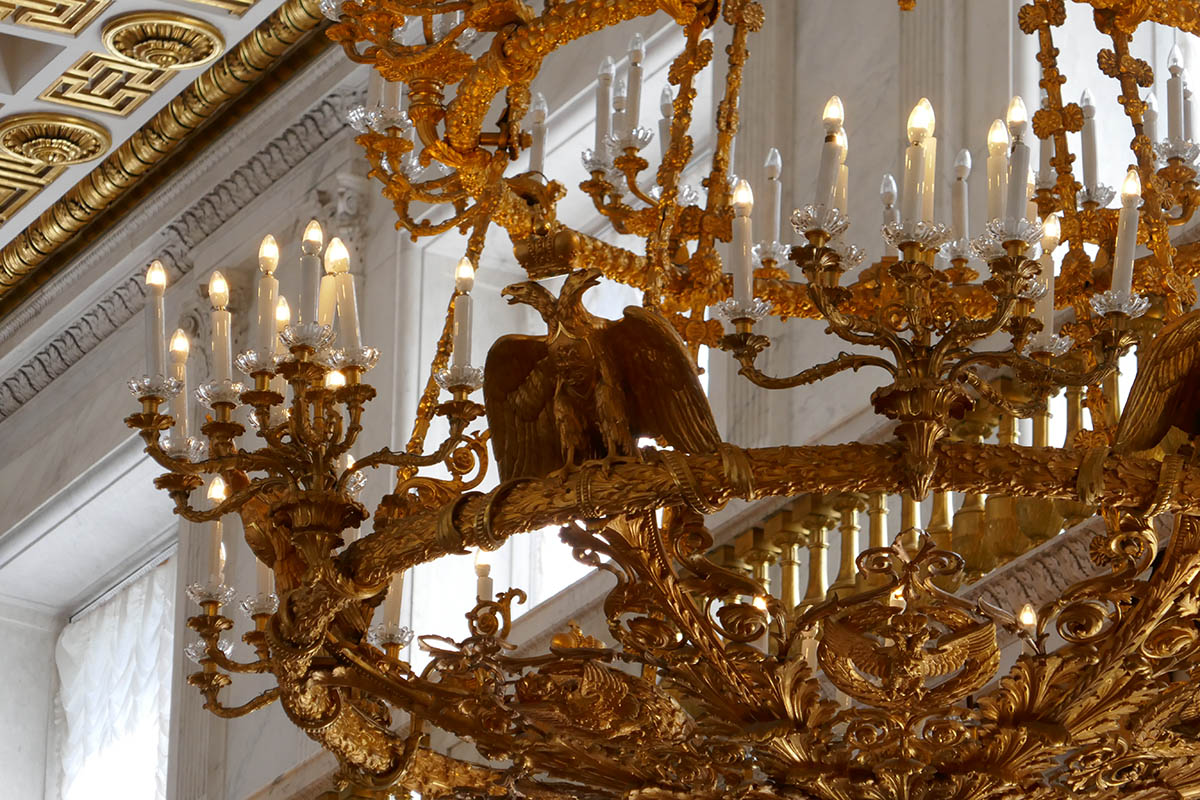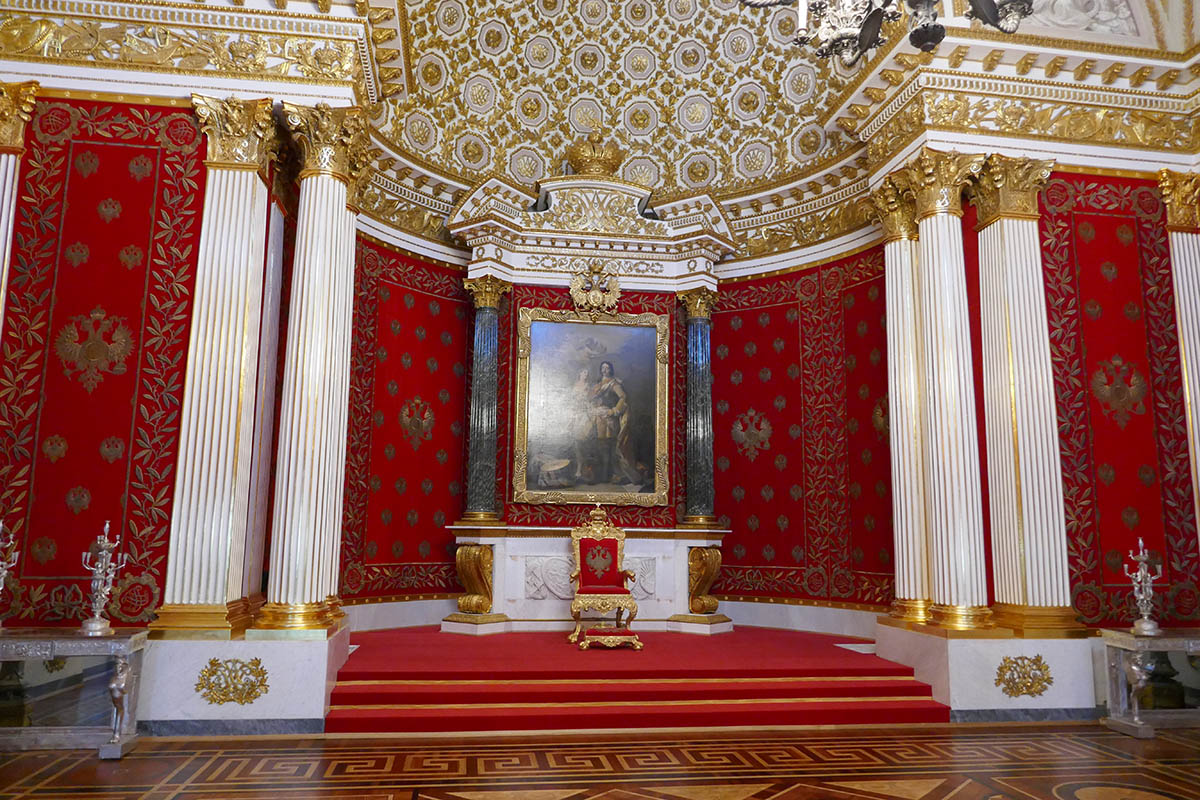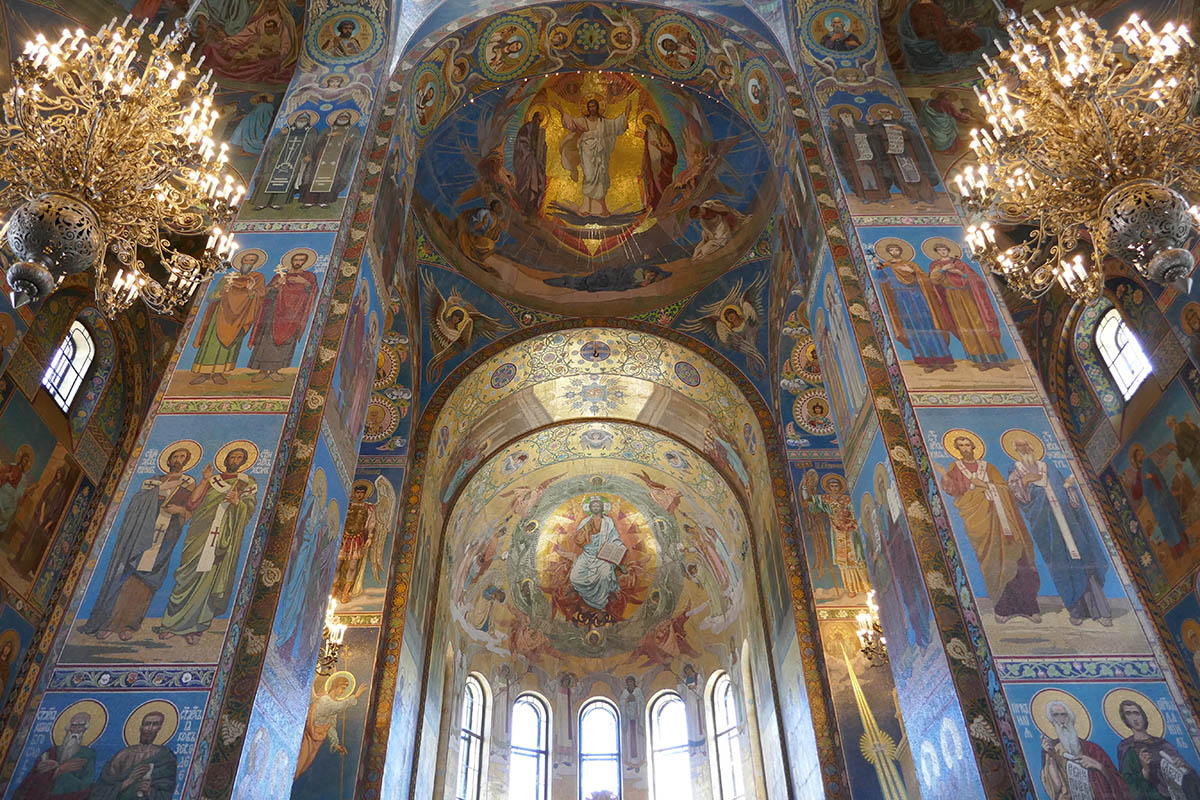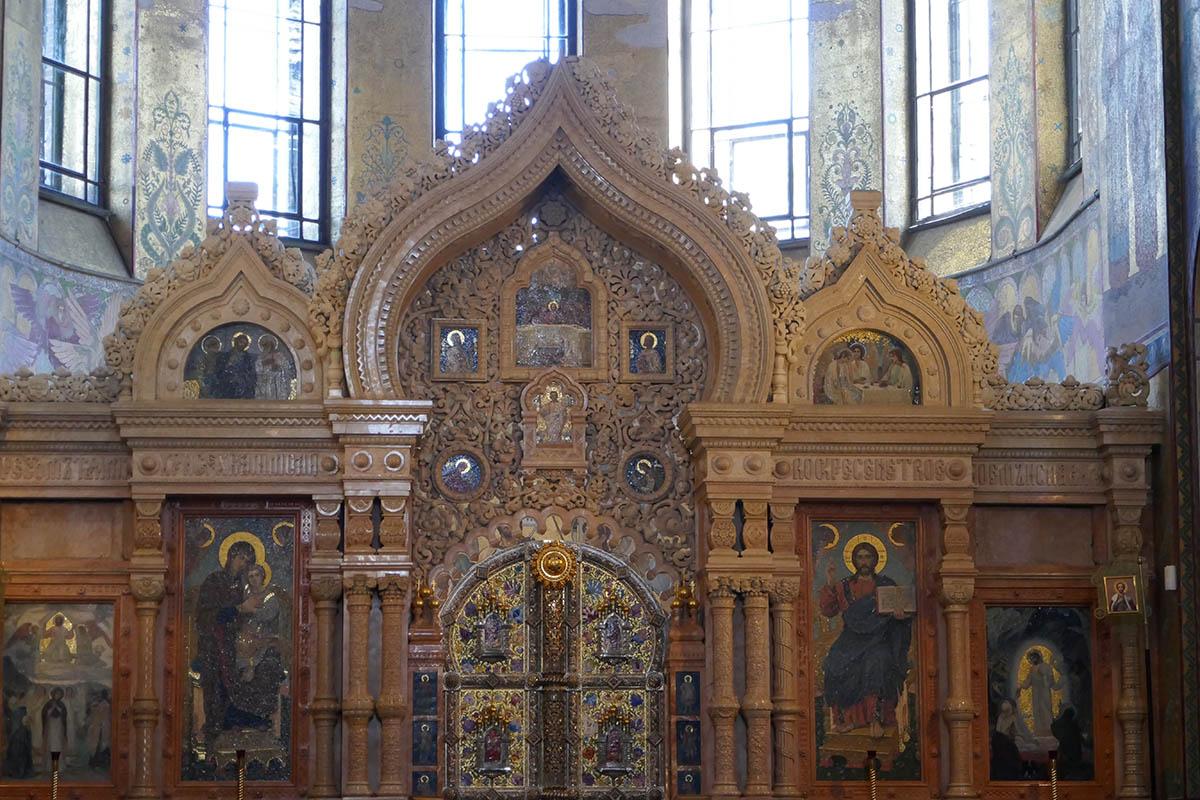 vulgar, ostentatious, beautiful
I think following the overdose of gold and gold leaf; I felt the best description I could come up with was how very overwhelming, vulgar, ostentatious, beautiful … and I wondered if, "All that glitters is not gold," had a very real meaning. In saying that, the city is without doubt very beautiful, with restored palaces, gardens, statues, and bridges arching over waterways, and of course the main river, the Neva River. Did I mention the gold and the domes and the onion domes, visible all over the city?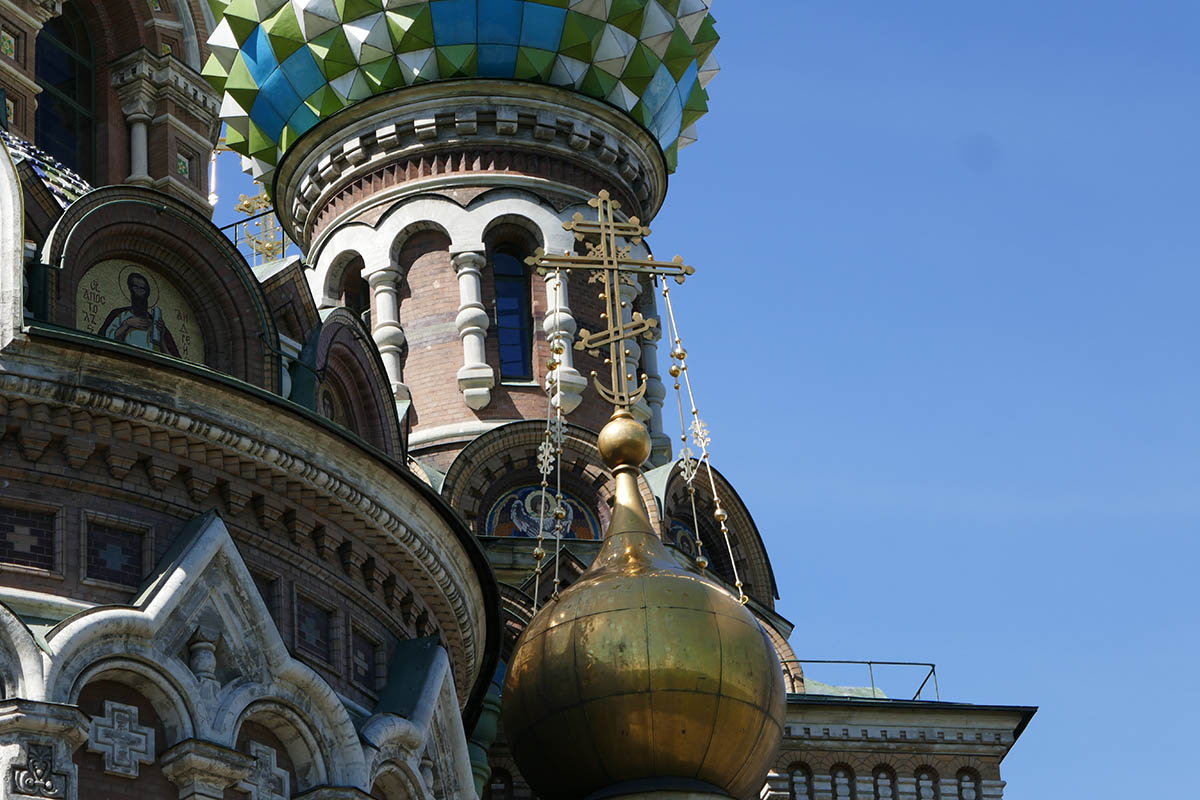 St Petersburg has not always been St Petersburg 
St. Petersburg has had many name changes. It was changed to Petrograd in 1914 at the start of World War I because its original name sounded too German. In 1924, after Lenin's death, the city was given the name Leningrad. The citizens have always called their city, just "Peter".
St. Petersburg was the capital city of Russia from 1712 until 1918. The obscenely wealthy Romanov czars and czarinas were in power for all of that time, and they liked to have the best of the best. I have watched some of the modern shows about the wealthy Russians in London, and nothing seems to have changed. This need to impress with sheer opulence seems to be a predisposed genetic inclination .. for some, but obviously not for all. The 1917 revolution was probably based on very solid ground, yet does not seem to have changed anything from our cursory visit.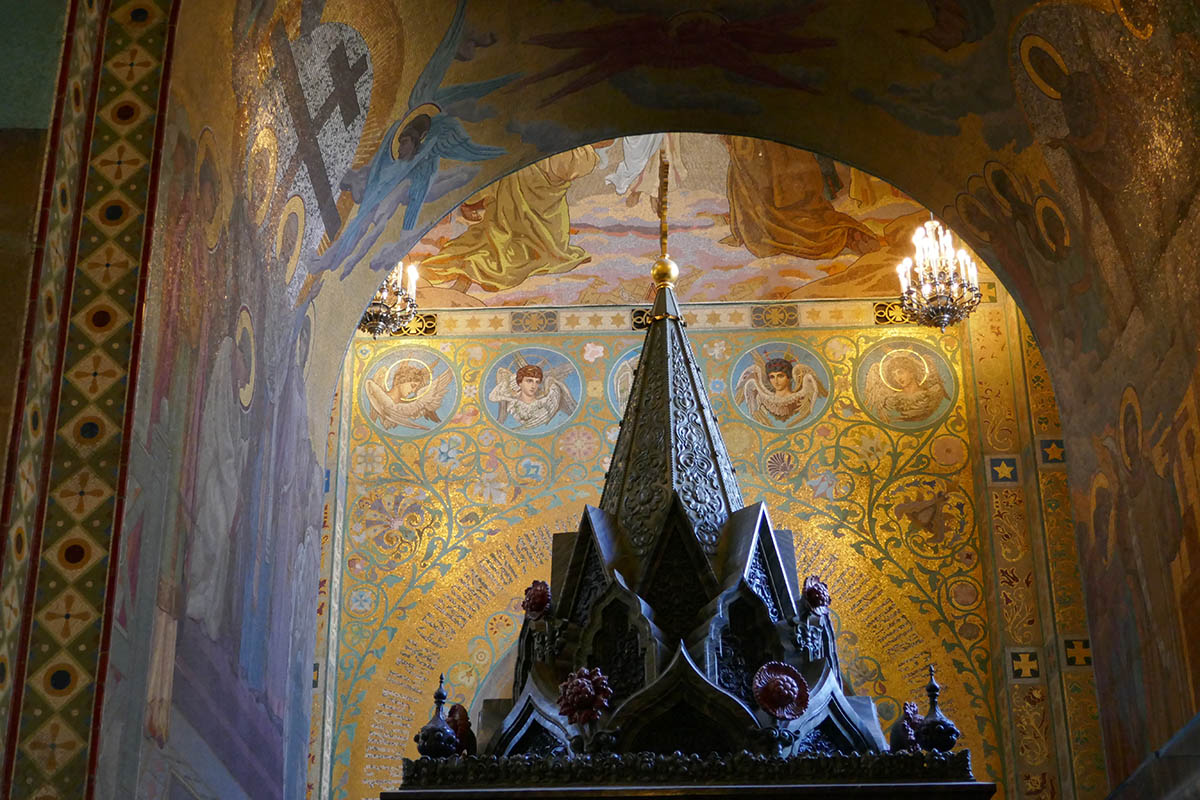 What did we see in 2 days in St Petersburg in Russia?
We had a different guide each day on our small group tour. Our first guide was excellent. Our second guide seemed to be very bitter to us, and this is sort of is how it must be in St Petersburg in Russia. Some people have a lot, and others do not. I am sure she was in the second category, but regardless she was not a nice guide nor a particularly informative one. I get it. She thinks cruise passengers are wealthy materialistic jerks and she is probably right about some, but not all. The only time she opened up, was when someone asked her how Russians felt about Gorbachev – idiot, who talk, talk talks, and all Russians hate him, but we Westerners apparently love him. Yeltsin – idiot, we hated him. Etc etc. etc. Apparently, all Russians hate all their leaders.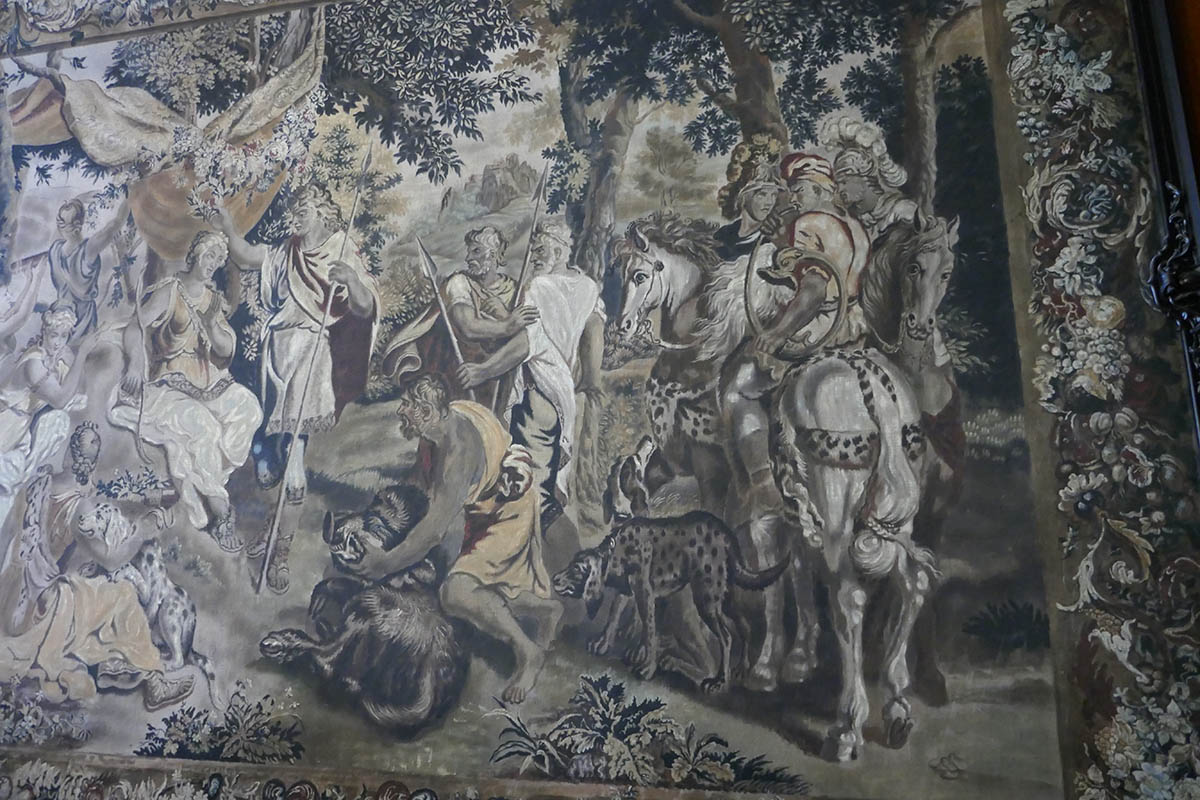 However, these are the highlights of what we saw in 2 exhausting yet exhilarating yet complexing days in St Petersburg in Russia?
The Hermitage Museum
We have been to The Louvre, The MET in New York and many other museums around the world. You would have to put The Hermitage Museum right up there as one of the most amazing museums in the world. It would take you 11 years if you stopped at each of the exhibits, and they are magnificent. It was founded in 1754 by Catherine the Great.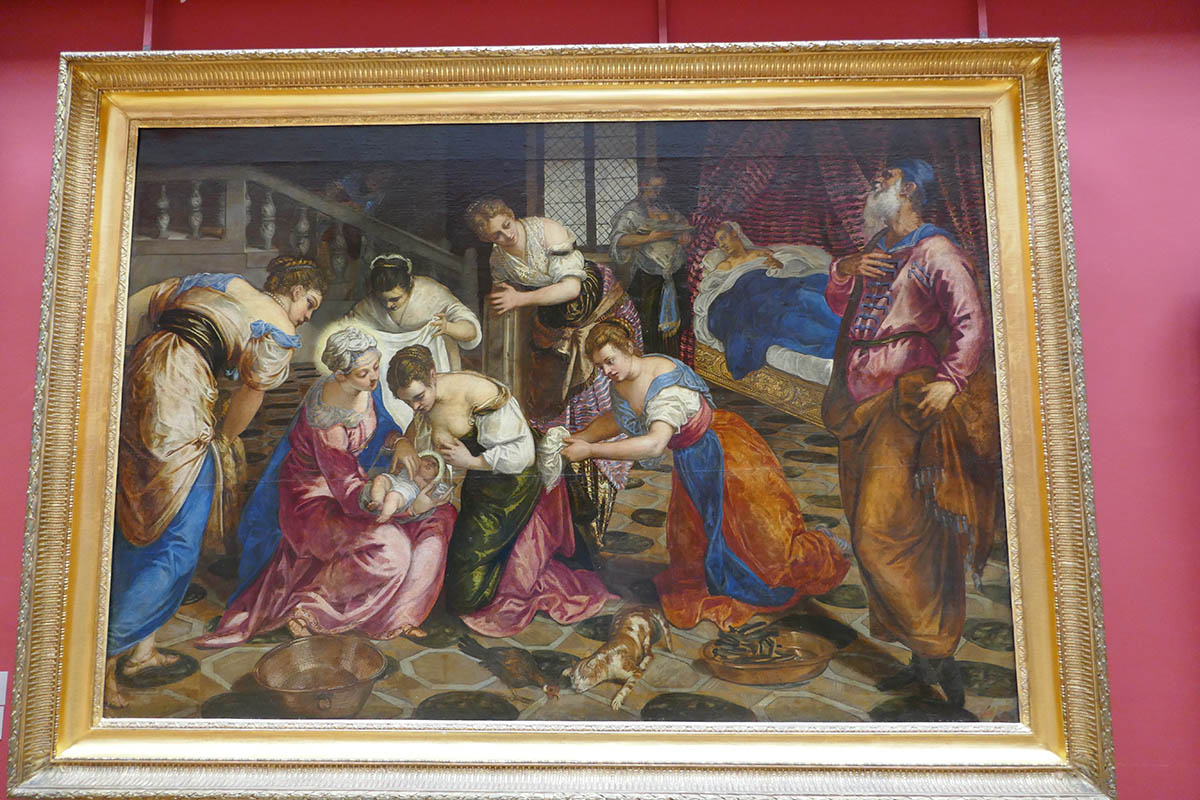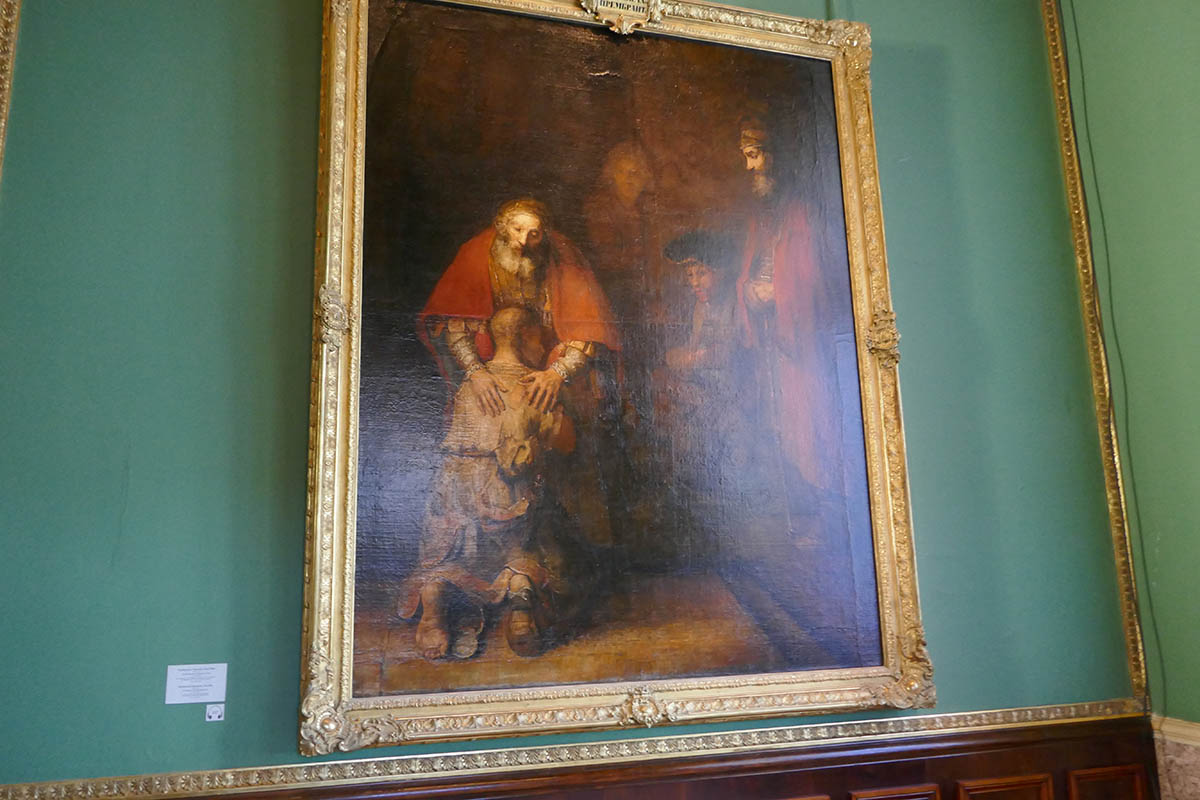 Church on the Spilled Blood
Who doesn't love onion domes? And who doesn't love a church that is full of tiled mosaics that reads like a story book of religion? The Church on the Spilled Blood was constructed in the early 20th century on the site of the 1881 assassination of Tsar Alexander II, during the Second World War. The Soviets used it to store potatoes, but the church was finally reopened to the public, after extensive renovations, in 1997.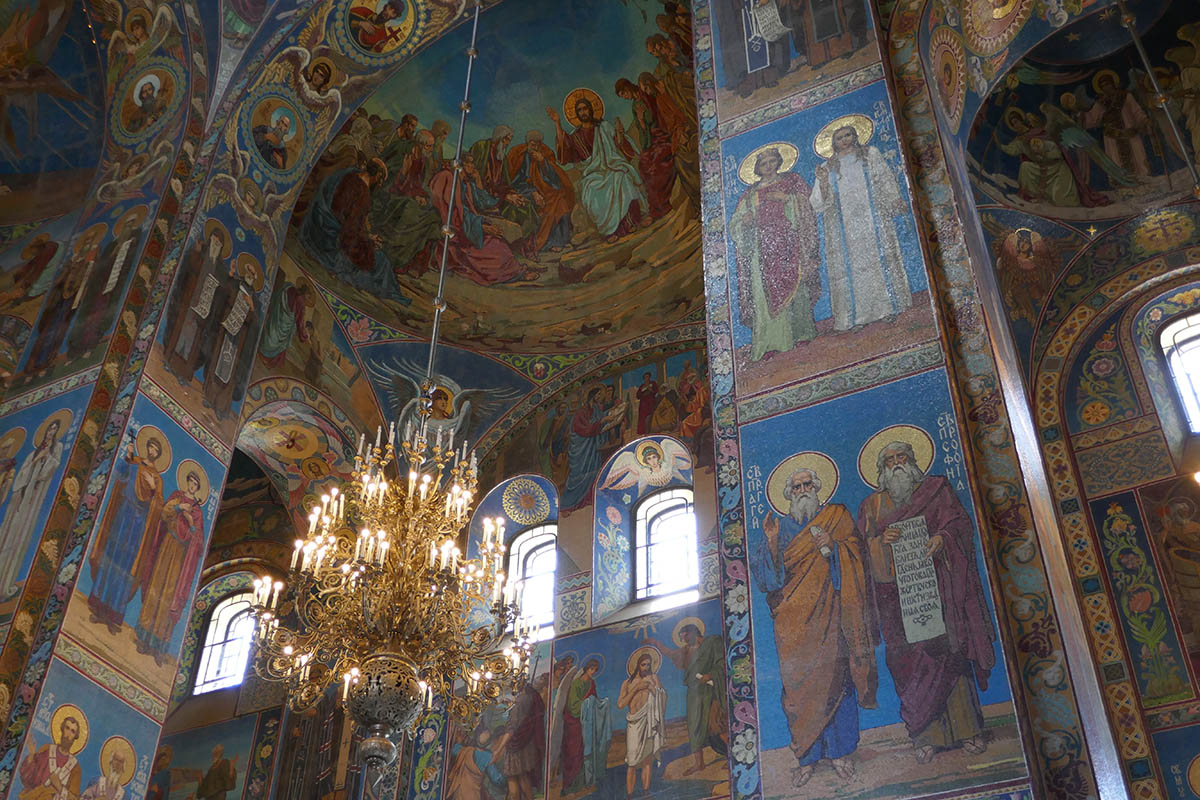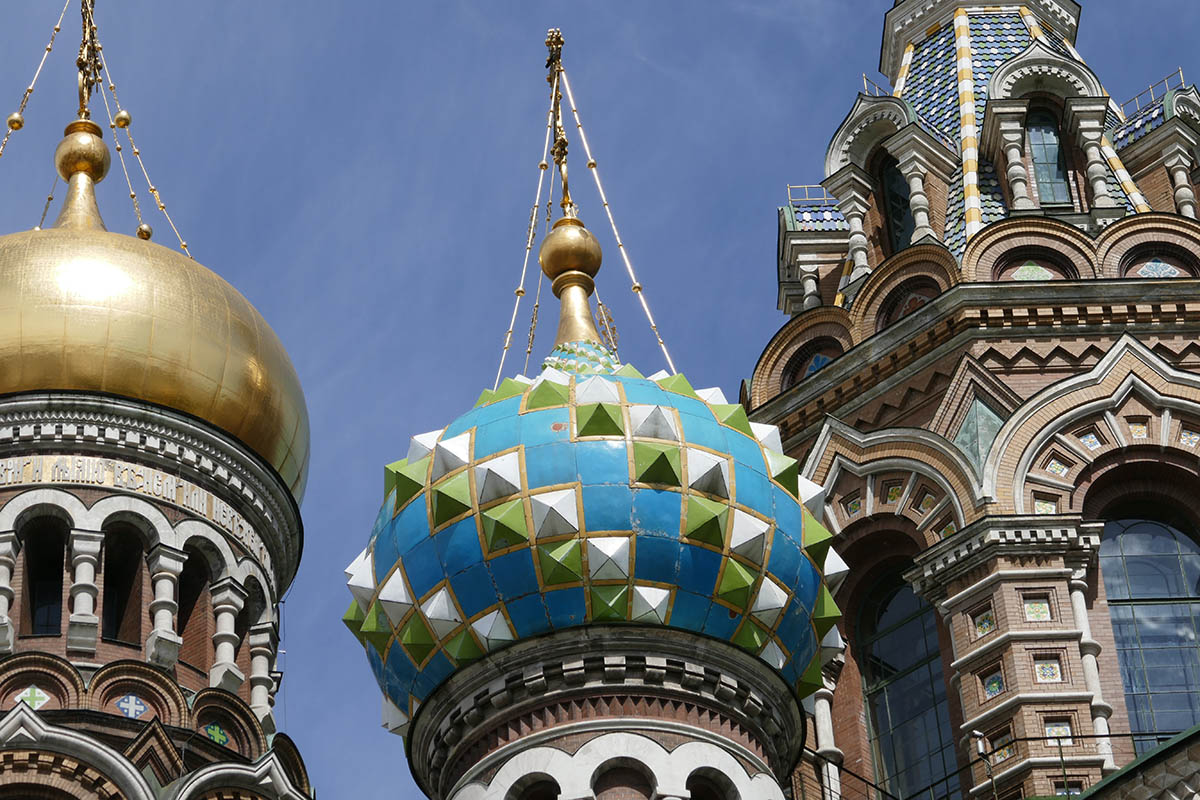 Moika Palace or Yusupov Palace
This is the palace of the ridiculously wealthy Yusupov family and where Rasputin didn't quite die there, but many attempts were made on his life. It was in this very spot that it was attempted to kill Rasputin, but he did eventually drown nearby – after surviving poison, being shot and stabbed, and yet he ended up drowning from his wounds in the river. Go Figure.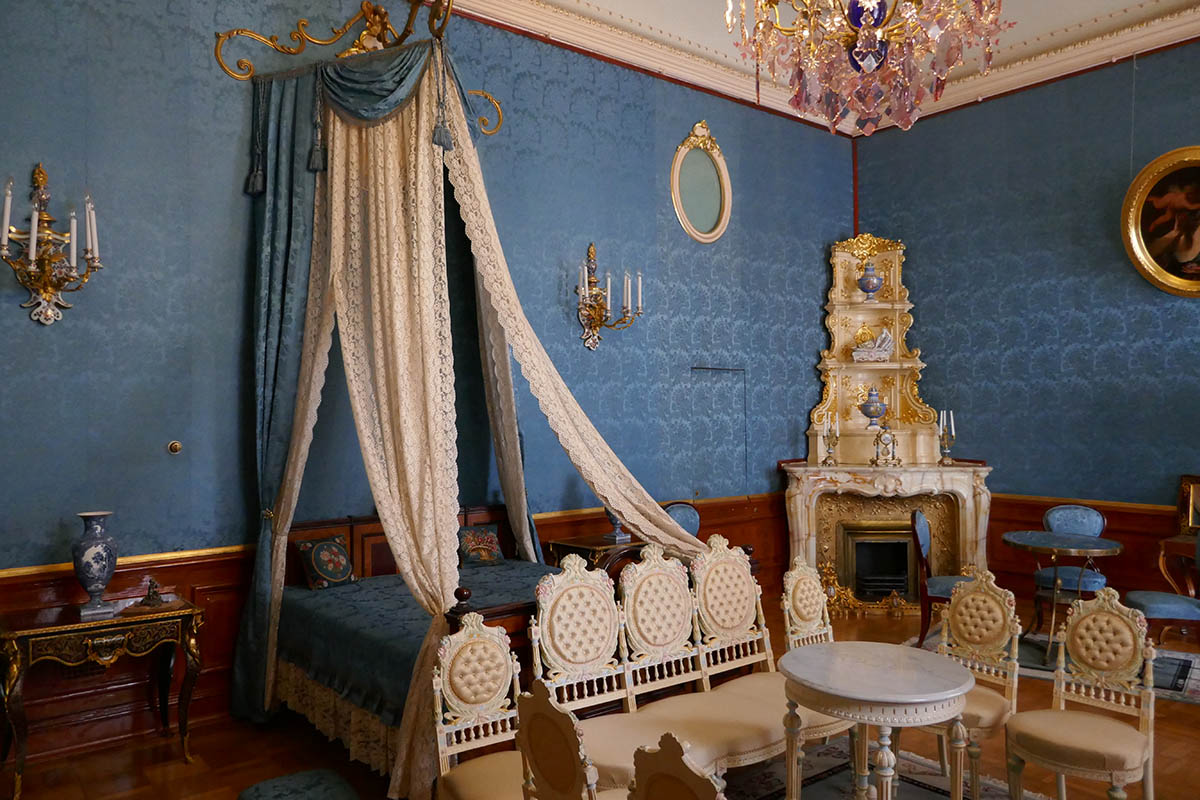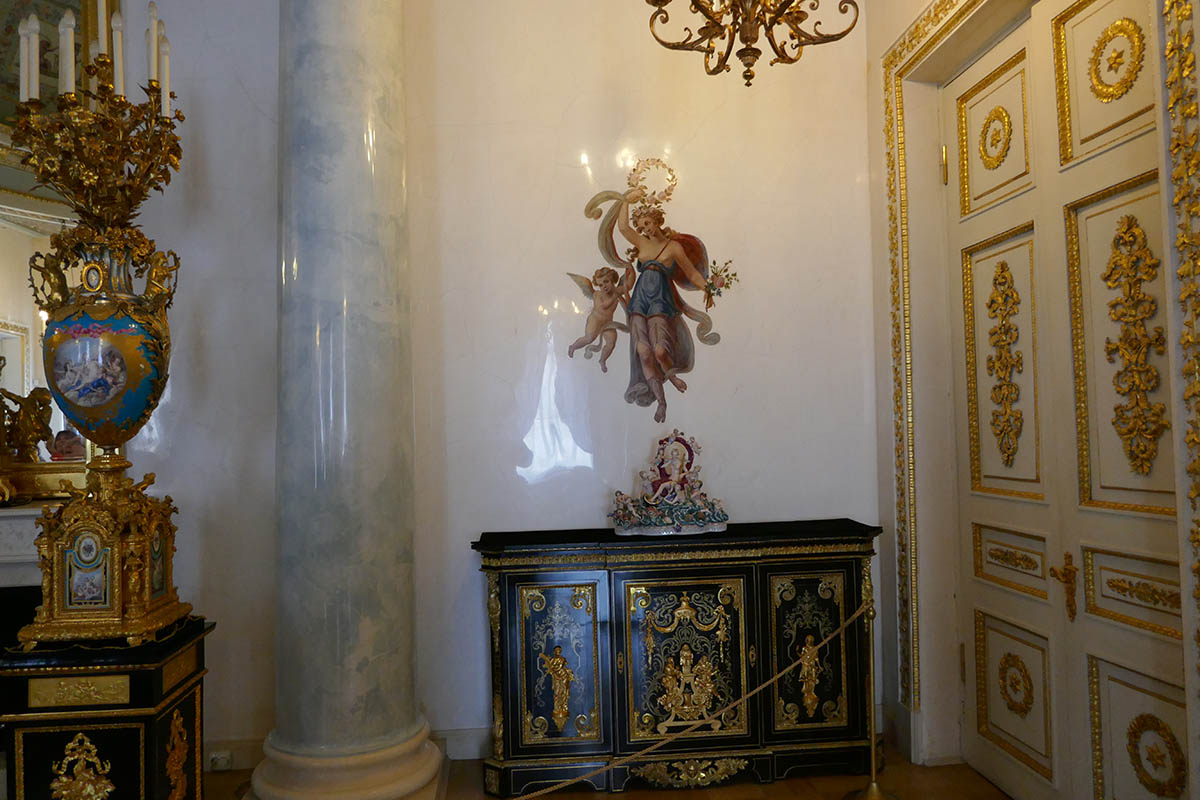 Peterhof
The elegant gardens, fountains and grand palaces of Peterhof, which is about 25 kms from St Petersburg were influenced greatly by Peter the Great's visit to Versailles in 1717, and the estate is a testimony to the tsar's well-known love of all things European. There is nothing like admiring and seeking to be like others, and this seemed to be a theme of our visit to St Petersburg. We left Peterhof by hydrofoil back into the guts of the city, which took about 30 minutes.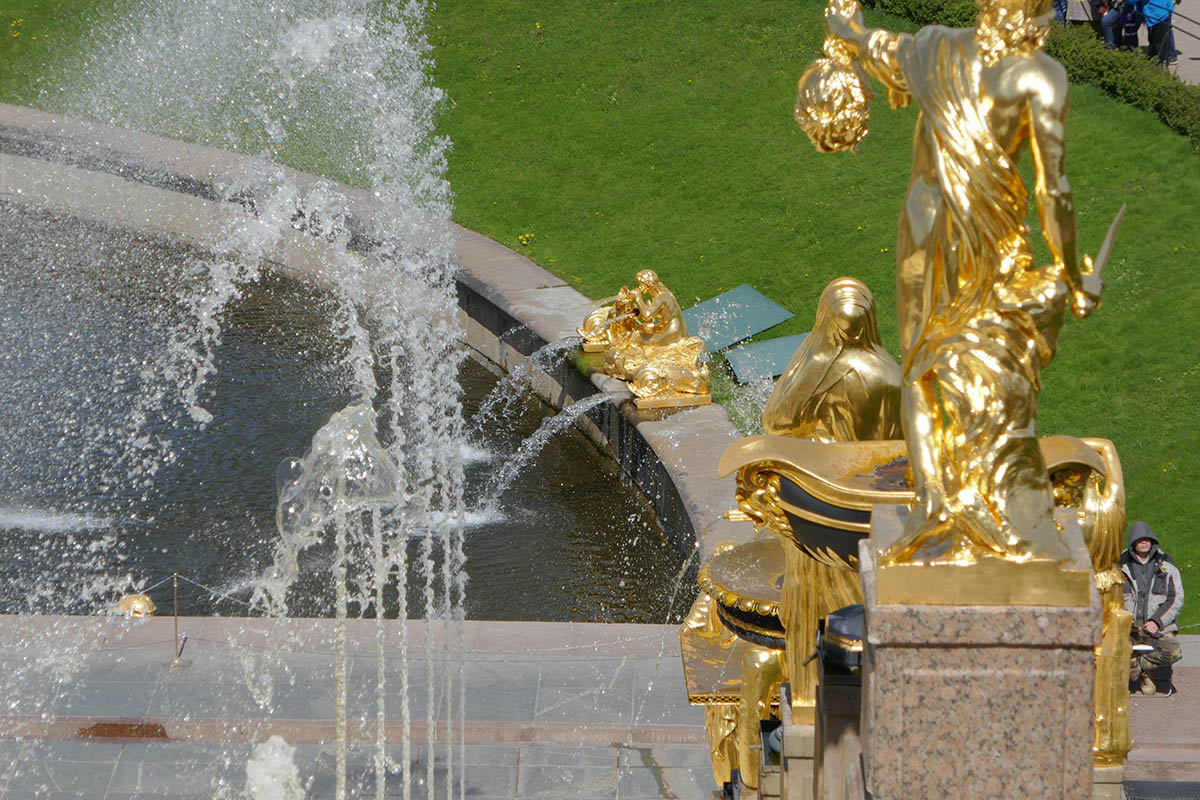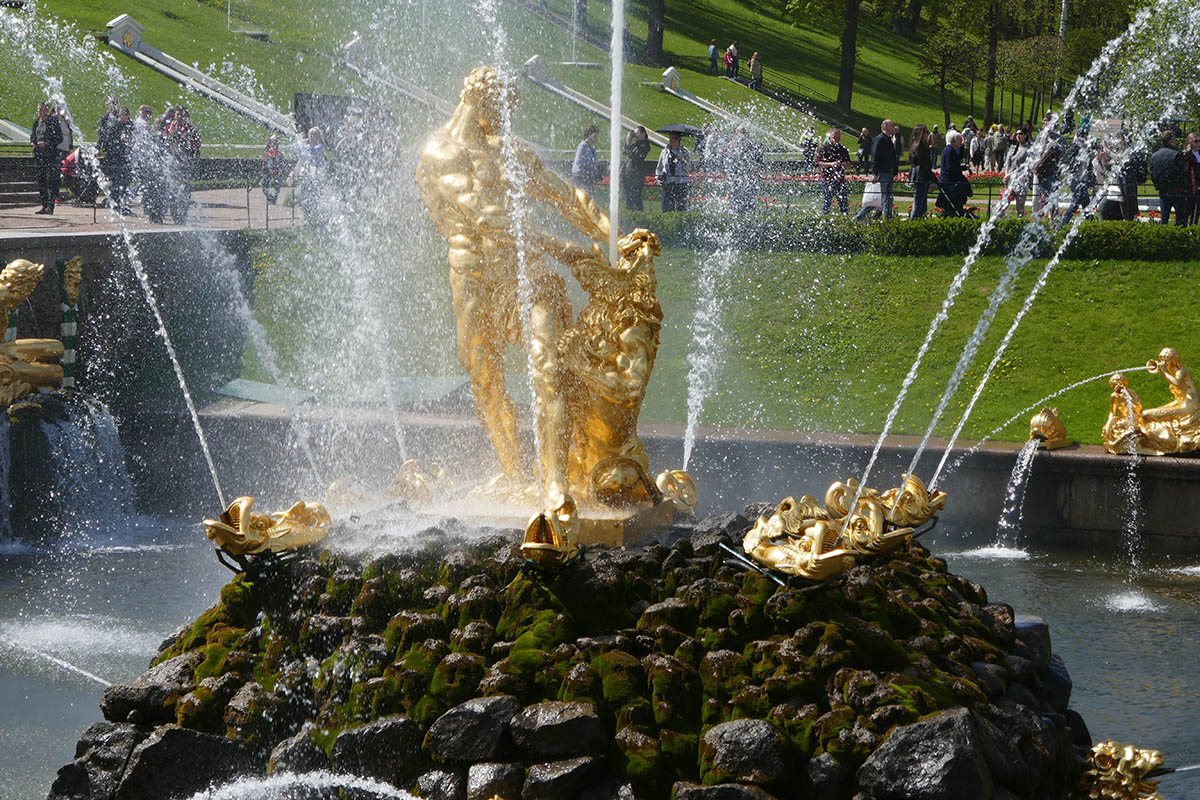 Peter and Paul Fortress
The Peter and Paul Fortress houses the tombs of many of the Imperial Russian rulers, including Peter the Great, Catherine the Great, and the last Russian monarch Nicholas II, and his family. Peter and Paul Fortress was built in 1703 and was one of the first buildings to be erected in St Petersburg. There is also a working mint where Russian roubles are made, and also the cells where Tsarist-era revolutionaries were held.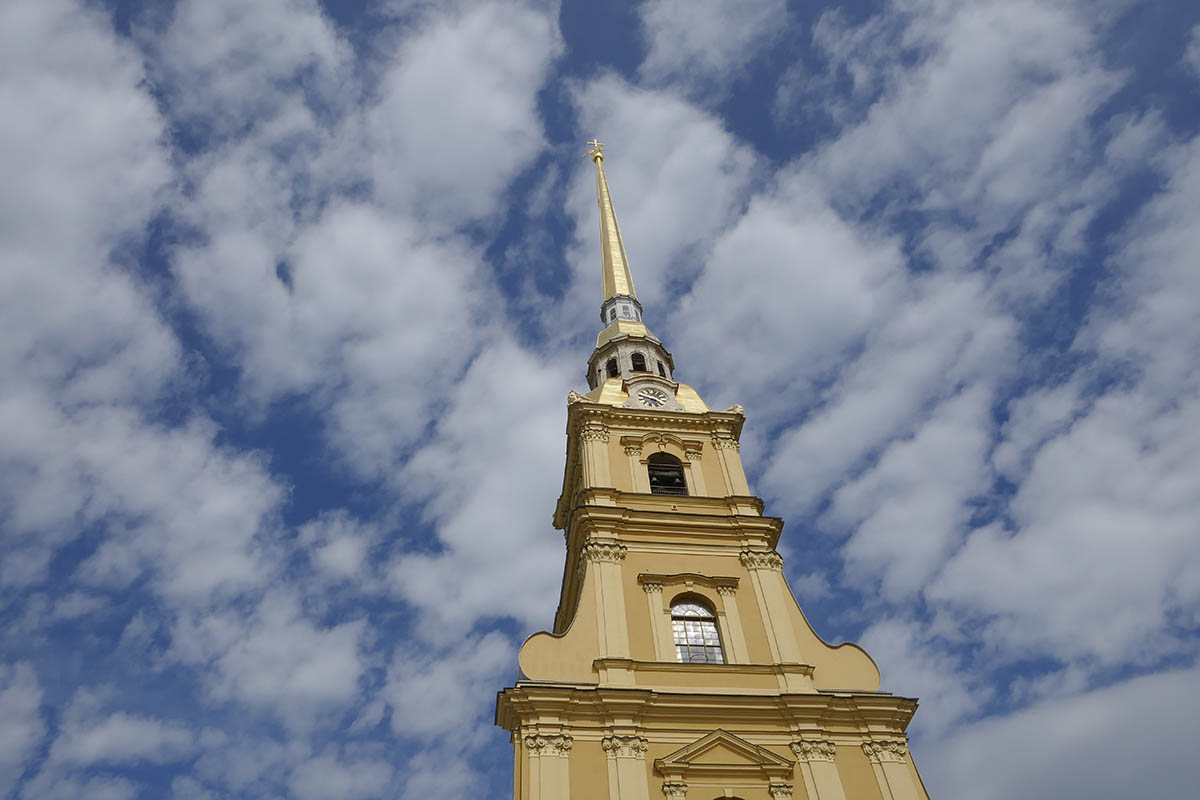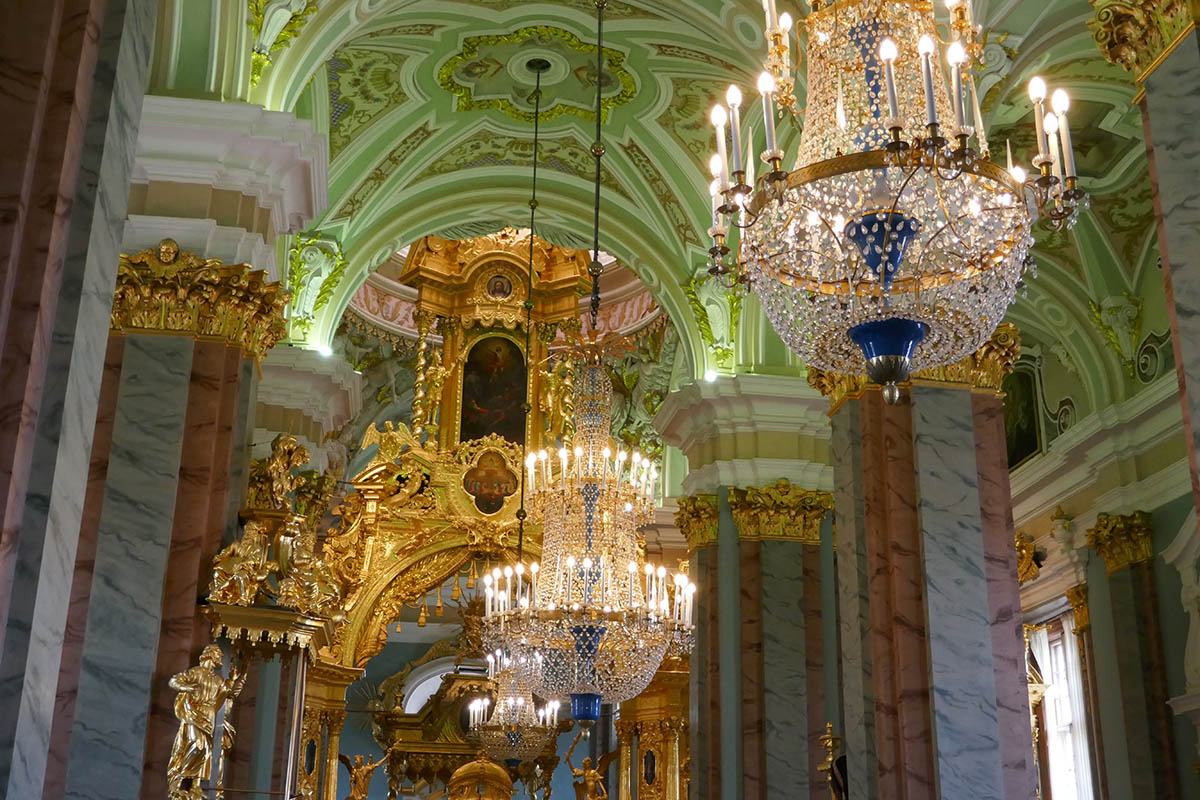 St Isaac's Cathedral
The 19th-century gold-domed, St Isaac's Cathedral is one of St Petersburg's most famous landmarks and offers wonderful views of the city. The cathedral was used as a museum of atheism in Soviet times and remains a museum today.
Catherine Palace in Pushkin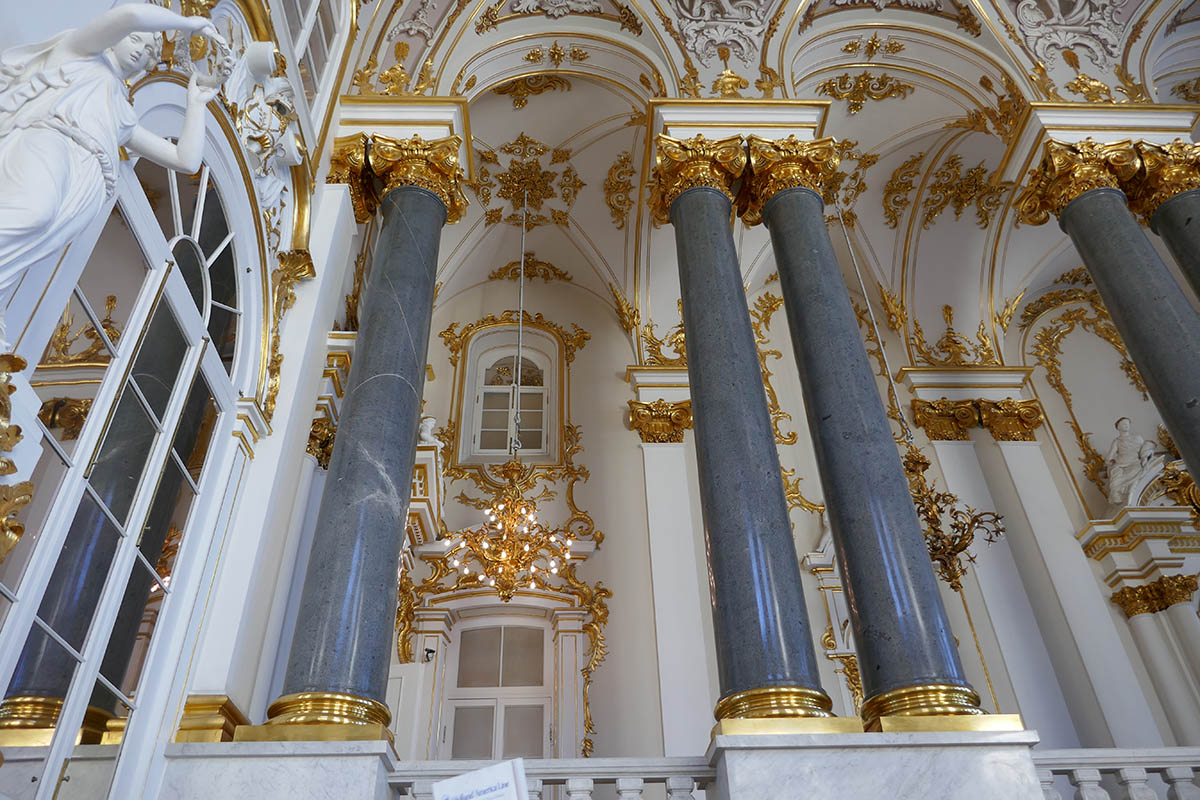 25 minutes from St. Petersburg is the attractive and forested city of Pushkin, named after their beloved national poet Alexander Pushkin whose famous work is The Bronze Horseman, which describes the disastrous floods of 1824. Trust me, all we heard about was Pushkin. There was barely a mention of any other person of significance in Russia. I wanted to ask about Solzhenitsyn and a few others, but I refrained.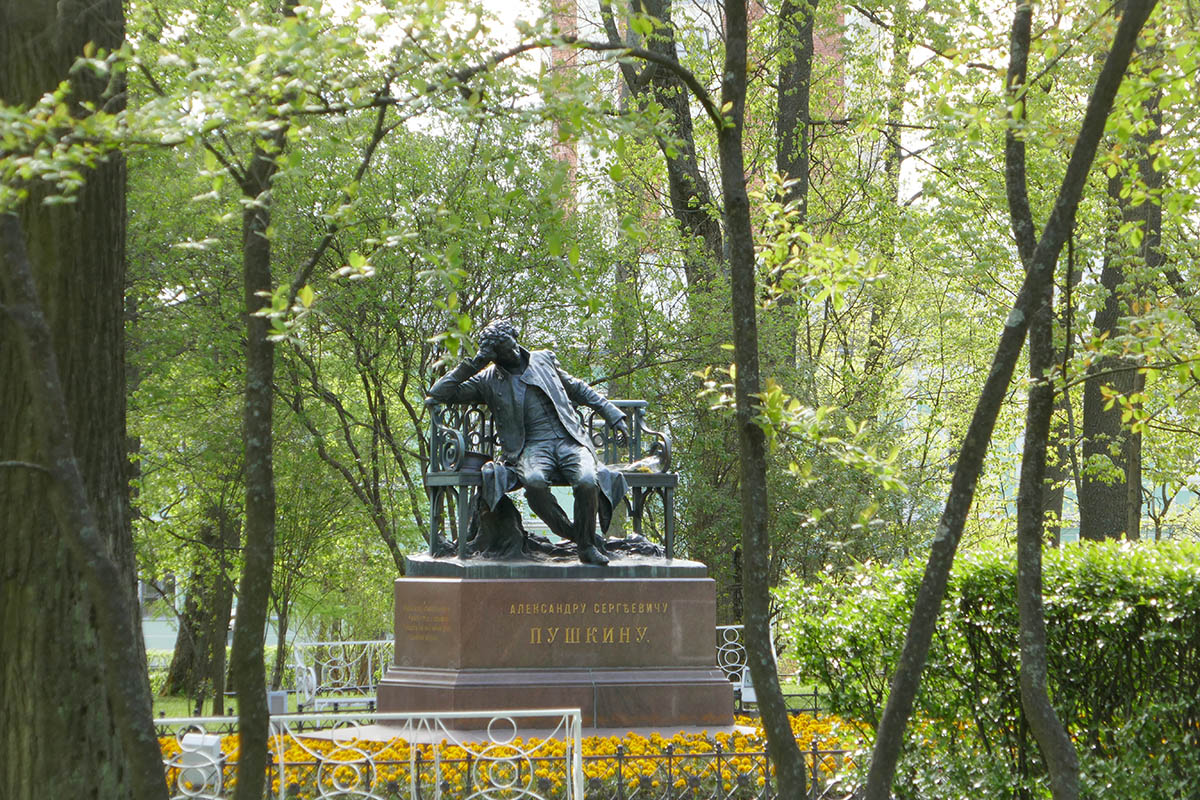 Catherine Palace is the perfect place to see the total extravagance of the Russia's Imperial rulers, and the chance to be blinded by the gold and the gold leaf that abounds in the Palace. People flock to the palace to see this opulence and the famous Amber Room, which cannot be photographed, even if you try and take a cheeky shot.
Palace Square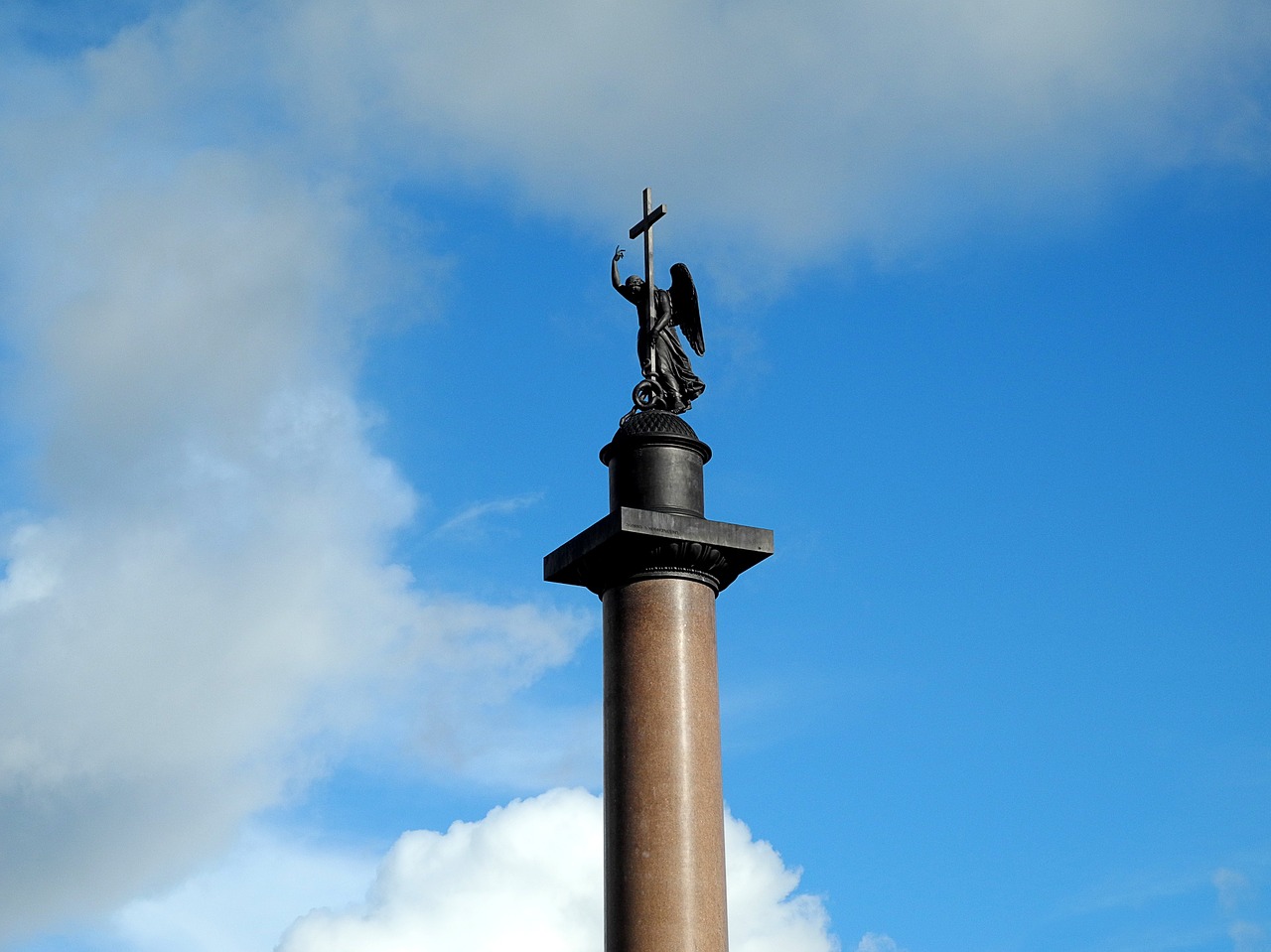 The famous Alexander Column is located at Palace Square, which is a celebration to Tsar Alexander I and his victory over Napoleon. It is surrounded by the Winter Palace which houses The Hermitage Museum
Nevsky Prospekt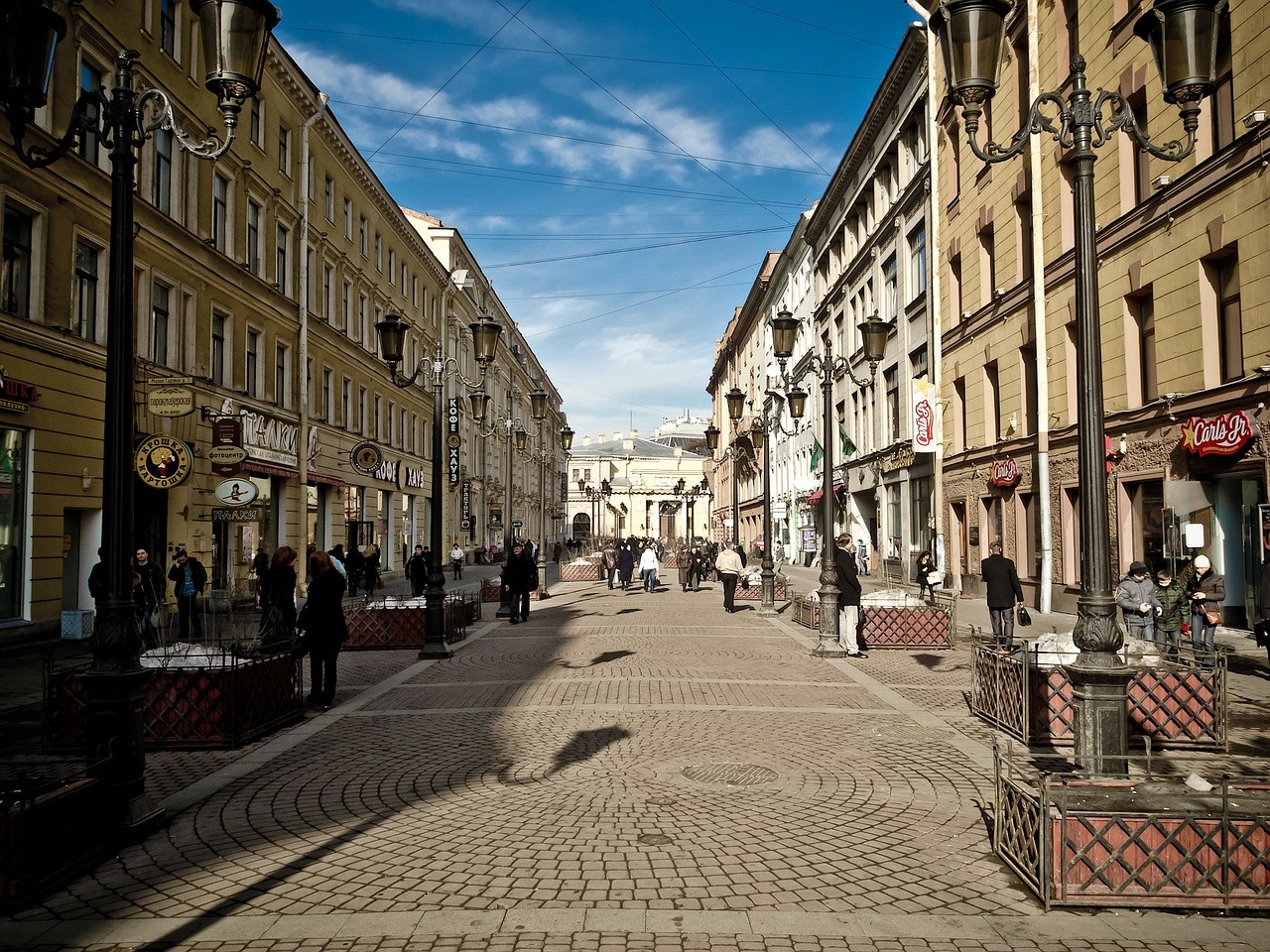 This is St. Petersburg's main boulevard with high-end shopping and restaurants, and grand palaces and museums. We drove up and down there a few times, but I am figuring that most of the action in St Petersburg occurs within the buildings. This is probably due to the climate and the fact that people need to be indoors a lot. It was very difficult to see what was what. It appears you would have to go with a local to find something non-touristy – a luxury we didn't have because of said visa situation.
The Strelka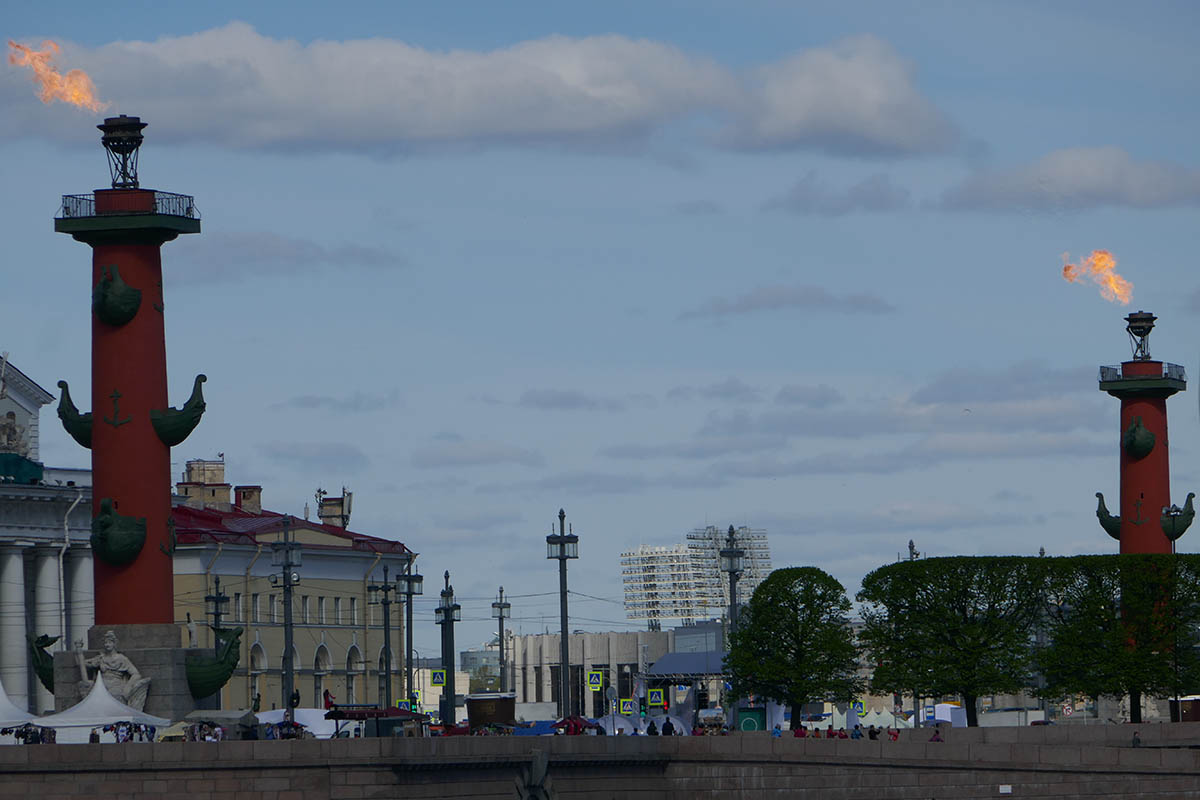 The spit of Vasilevsky Island is the historic economic heart of St. Petersburg and has twin red rostral columns which are lit 5 times a year, and were lit while we were there in celebration of the National Birthday of St Petersburg. So yes, we got lucky.
Also at midday, a freaking loud shot is fired across the city to say that it is noon. Suffice to say that we all ducked for cover just in case …
What we didn't get to see was the Opening bridges of The Neva River.
This is done after midnight, and during the White Nights, the rare and much-appreciated summer nights when the sun doesn't feel like setting. The Neva River connects Lake Ladoga to the Baltic Sea, and during the summer navigation season, cargo ships need to get into the city. The bridges all open across the Neva River, and crowds gather along the embankments to watch the raising of the bridges and drink vodka because that is what you do in Russia.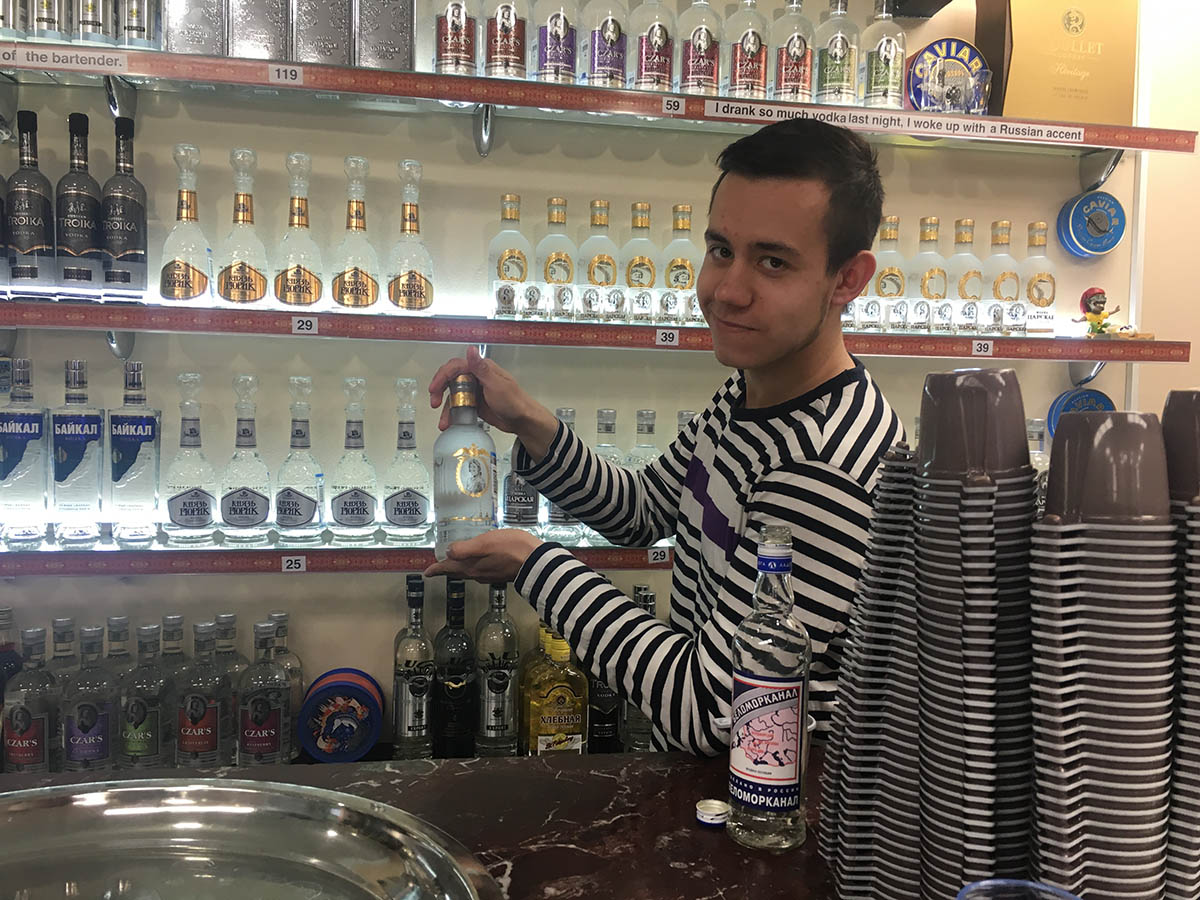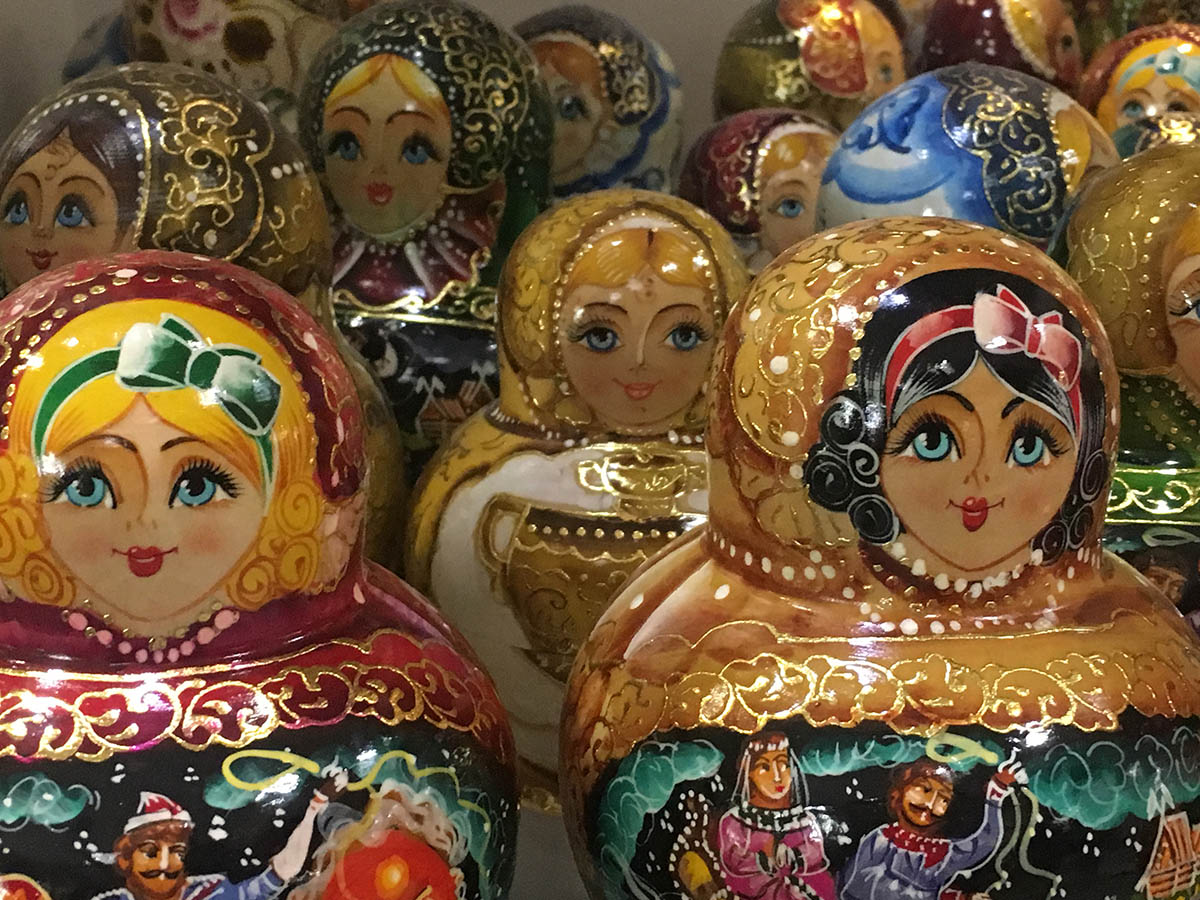 Our 2 day trip to St Petersburg in Russia revealed a very beautiful, albeit manufactured city. Yes, we saw the overt opulence and wealth of the aristocracy. We saw a lot of gold and gold leaf as I may or may not have mentioned. We drank some vodka, saw some matryoshka dolls, ate some disgusting bus tour food, and never did get to see the other side of life in St Petersburg, more is the pity.
My overall impressions were of a very attractive city, but spending 2 days in St Petersburg in Russia is where all that glitters … is definitely not gold.