There is no doubt that Killarney is a popular destination, and we share the Top 30 Things to do in Killarney, Ireland from our recent trip to this beautiful Irish town. From the cute coloured main centre, to the surrounding Killarney National Park, and it's close access to the Ring of Kerry, Killarney is about the great outdoors, the jaunting carriages, the plethora of pubs and cafes, and a whole lot more.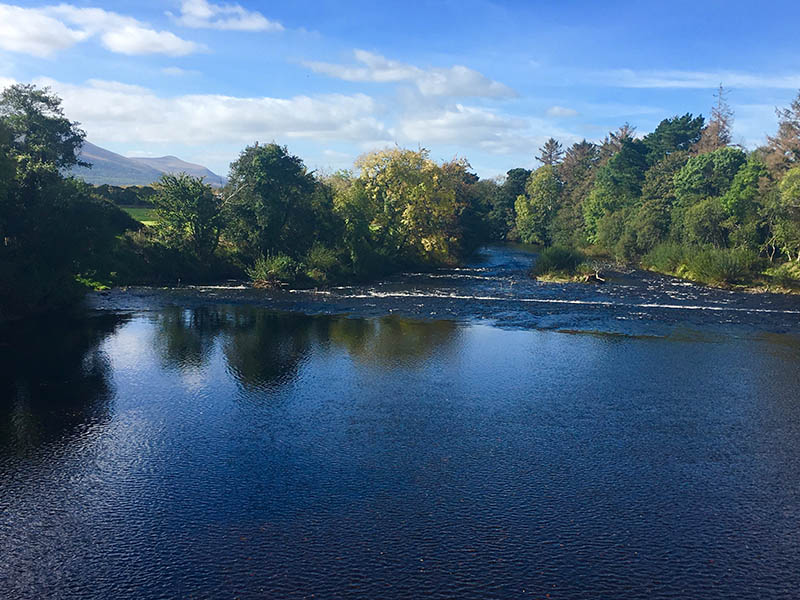 Killarney is in County Kerry, and if you don't think the people of Kerry are proud of their county, then think again. There appears to be a friendly rivalry between the counties, but Co., Kerry claim they are the best.
Killarney became popular in the mid-eighteenth century, when Lord of Kenmare, invited dignitaries to this green oasis. Queen Victoria visited in 1861, and that put Killarney well and truly on the map.
Where is Killarney?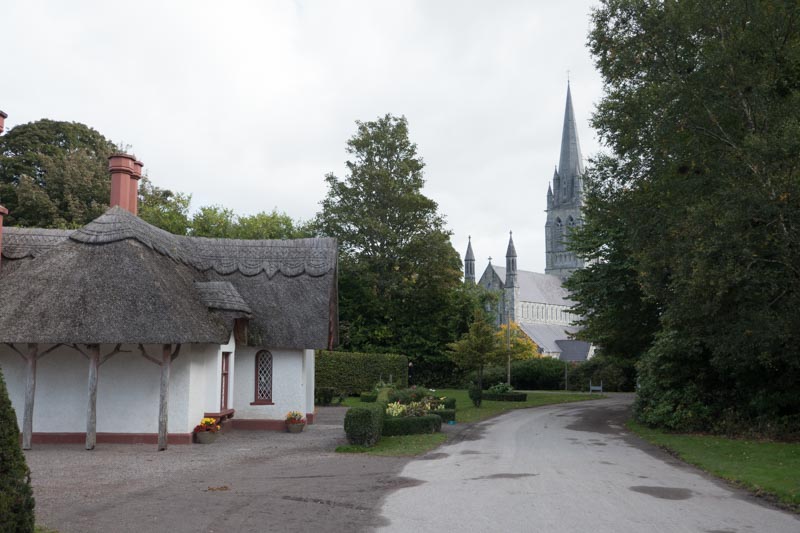 Killarney is located on Ireland's West coast and is known as the Gateway to the Ring of Kerry. It is 3.30hrs from Dublin, and 1hr and 45 minutes from Shannon airport by car. There are trains from Dublin to Killarney and a bus service that also runs from various places in Ireland. Our recommendation, however, is to hire a car and give yourself the freedom to explore Ireland, because Ireland was made for road tripping.
Driving in Ireland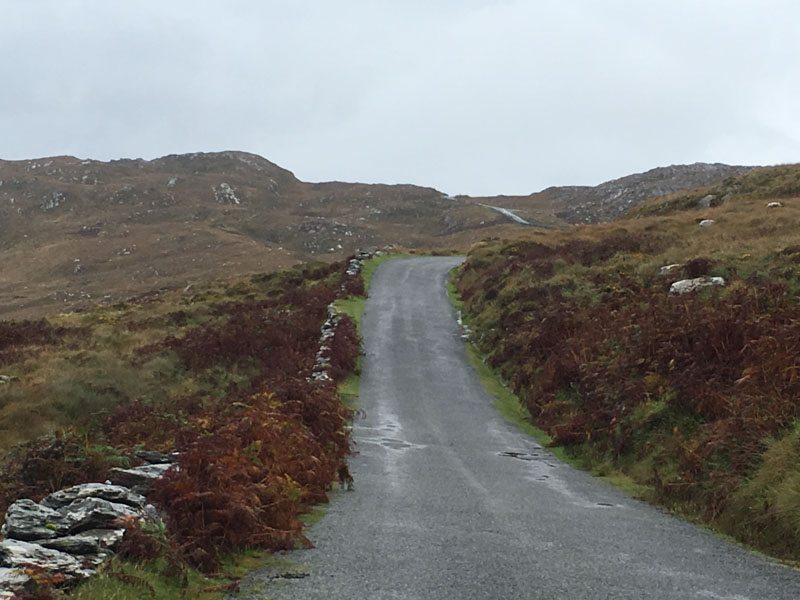 Ireland, like Australia, drive on the left hand side of the road. Many of the rental cars are stick shift or manual, and you will appreciate this feature when you navigate the small lanes, and the winding roads around places like the Ring of Beara, Valentia Island, and the Ring of Kerry.
Also worth noting is that the Irish drive fast. Even the little one way lanes have a speed limit of 100km's per hour (yes the Irish do metrics), but the locals exceed this speed limit. Don't. In fact go slower than this speed because you don't know the roads, and you don't know when some Guinness truck will hurtle around a corner – though I guess there are worse ways to go.
Weather in Ireland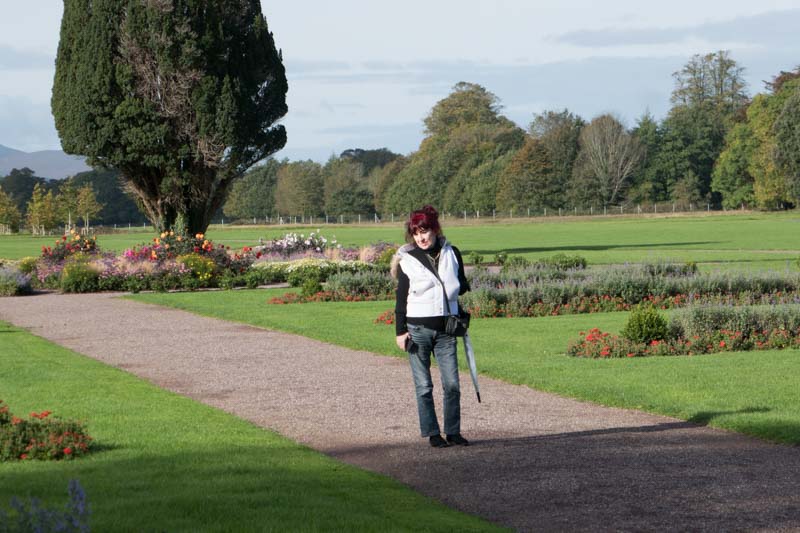 The weather is not nearly as bad as what people say. Yes, it rains, but not constantly. It is that misty rain designed to ruin your hair immediately, and then the sun comes out. As one taxi driver told us, 'if you want to know the weather in Ireland, wait 5 minutes'.
What to pack for Ireland
In saying that, the weather is a little all over the place, so make sure you do have a raincoat, a see-through umbrella (so you can see things – seriously I love these umbrella's), and waterproof shoes. You will need a waterproof backpack also to keep these things in, when the weather changes back in 5 minutes. It wouldn't hurt to have a jacket, but as in many places like Ireland – layers, layers, layers.
How to get around Killarney?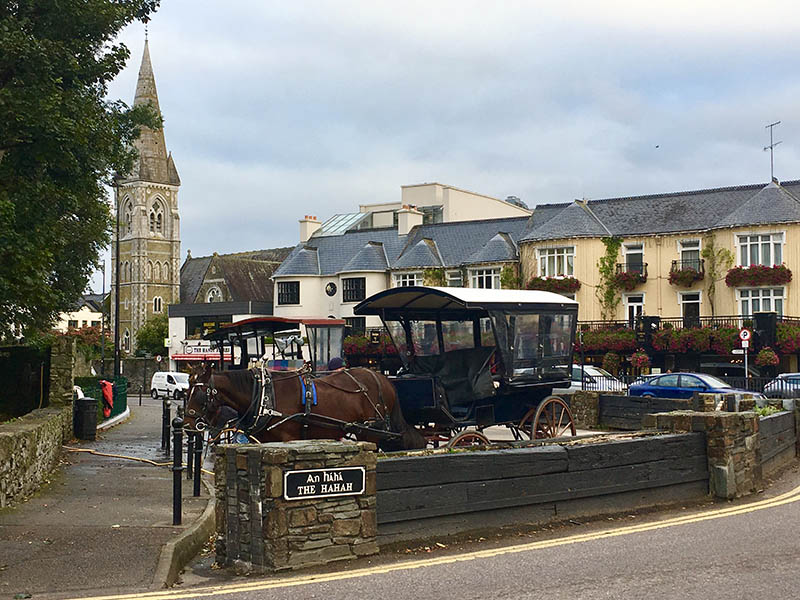 One of the best ways to really explore Killarney and the Ring of Kerry is to hire a car so that you can enjoy complete freedom and stop at your leisure. However, if you'd rather explore Killarney on foot, many of the local sights are within walking distance of the centre, or hiring a bicycle to get around is another convenient option. Parking can be an issue in Killarney, and often we just left our car and took a taxi to the conference centre, where we attending the TBEX (travel bloggers conference) as they are cheap.
Top 30 Things to do in Killarney, Ireland
What to see and do in Killarney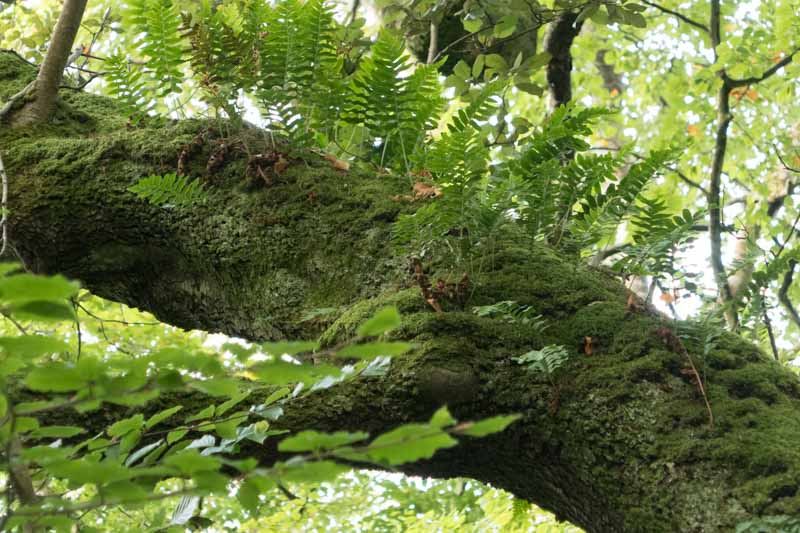 1. Explore Killarney National Park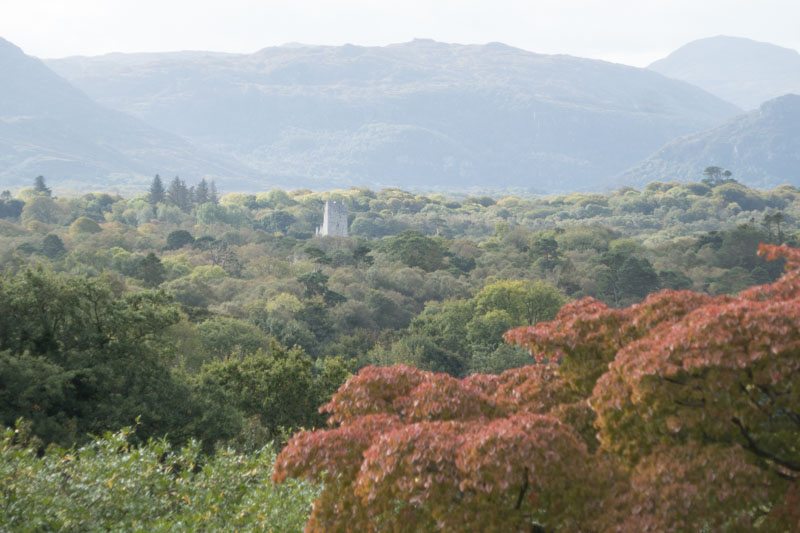 Just a few miles from the town centre, the Killarney National Park can be accessed by bicycle, jaunting car, on foot or by car. Follow the many walking routes which cross green, lush woodland, and explore the vast lakes with their spectacular mountain scenery. While visiting the park, you shouldn't miss the 20m high Torc Waterfall which carves through the dramatic landscape over huge boulders surrounded by lichen-covered trees in an indescribably majestic setting. Try the Killarney National Park and Lakes of Killarney Boat Tour
2. Take A Jaunting Car Ride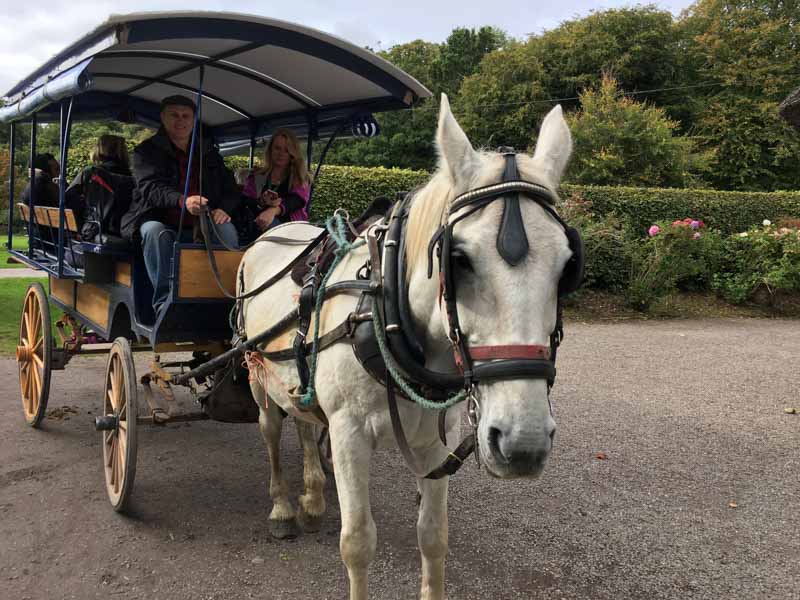 Jaunting Cars are the traditional way to see the town. The jaunting cars are the horse and cart. The driver and guide are called the Jarvey. Expect to believe half of what you hear, but know that you will have the best time as you listen and explore Killarney. You can hire one from the centre of the town and choose where to explore. It is a lovely way to explore Killarney National Park, and beyond. As a side note, the horses only work every three days and only work mid-March to mid-October. These are family businesses and the Jarvey's love their horses.
3. Explore Killarney House and Gardens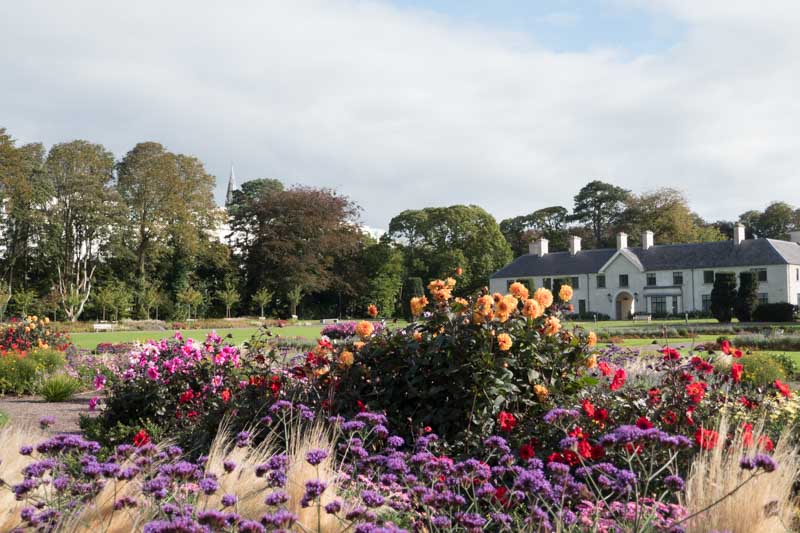 In Killarney National Park you will find Killarney House and Gardens. A €7m has been invested in the restoration of the house and formal gardens reflecting in part the style of 18th-century French chateaux and 20th-century Edwardian properties. Work is still continuing on the house and gardens, once home to the Earls of Kenmare. Exploring the gardens is peaceful and quite surprising as you discover how many nooks and crannies there are in this pride of Killarney's gardens.
4. Visit the two St. Mary's Churches in Killarney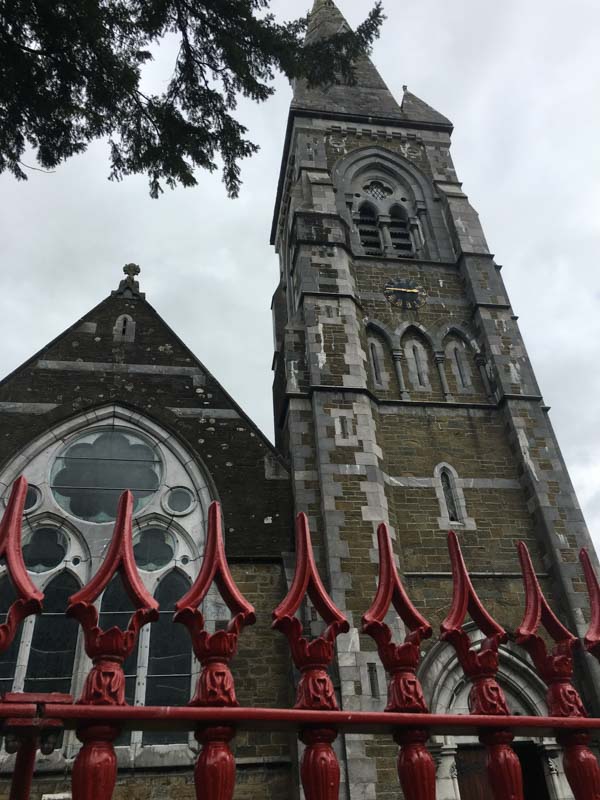 There are two St Mary's Churches in Killarney. One is Catholic and the other the Church of Ireland. Both are worth visiting. Killarney's Roman Catholic cathedral serves all of County Kerry and is a nineteenth century gothic Revival church. St. Mary's Church of Ireland is located on the corner of Main Street on the left in the middle of the town.
5. Discover Some of the Heritage of Killarney – Muckross House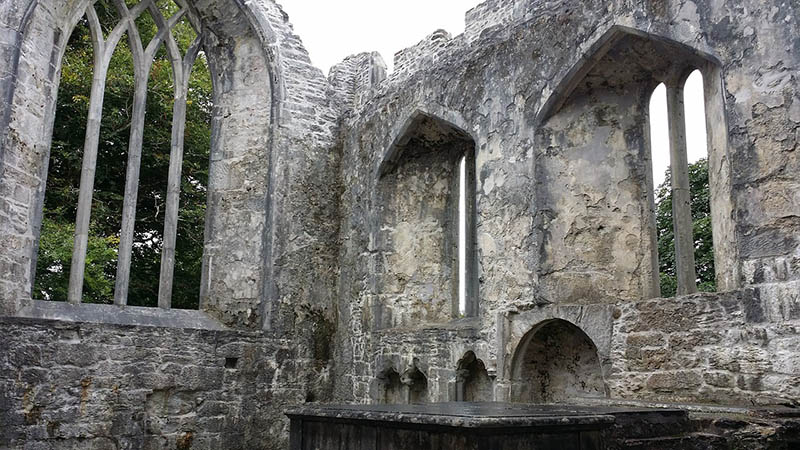 Those with a passion for history will love the 65 room Tudor mansion, Muckross House, which enjoys an amazing view over Lough Leane and Muckross Lake. Once the home of famous beer magnate, Arthur Guinness, the estate now belongs to the people of Ireland, and the gardens and grounds can be explored free of charge, although there is a charge to tour the house itself. Just one mile away, you'll find the 600 year-old Muckross Abbey, which is still amazingly well-preserved. Wander through the graveyard and see headstones which date back to its earliest days to get a sense of the heritage of this magical place.
6. Visit Ross Castle, and go kayaking on the lake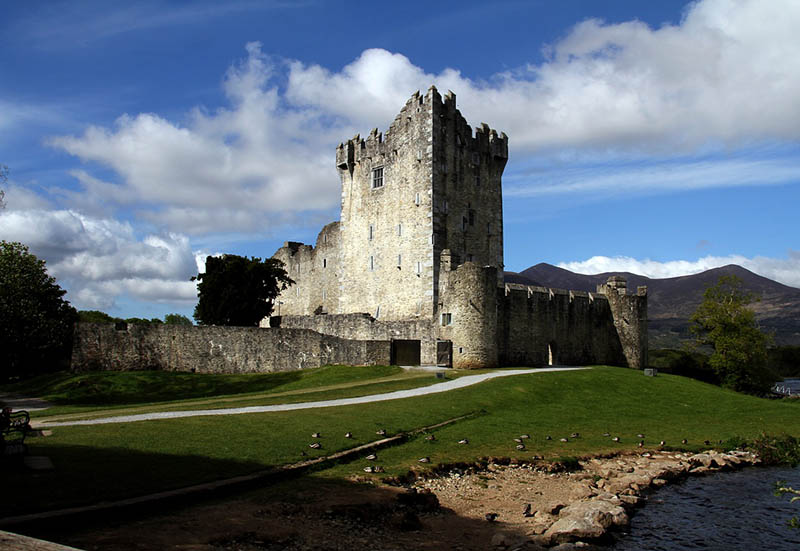 Ross Castle was built in the 15th-century, and sits on the shores of Lough Leane. It has been restored, and the public are welcome to wander the grounds. There are some beautiful rowboats in the canal, and these can be hired for a paddle around the lake. Alternatively, you can hire a kayak and explore this peaceful part of Killarney at your leisure.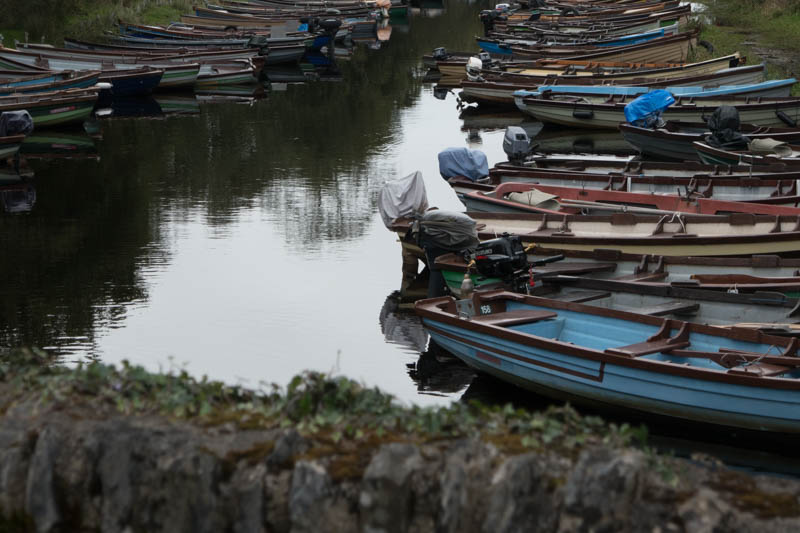 7. Go to the Killarney Racecourse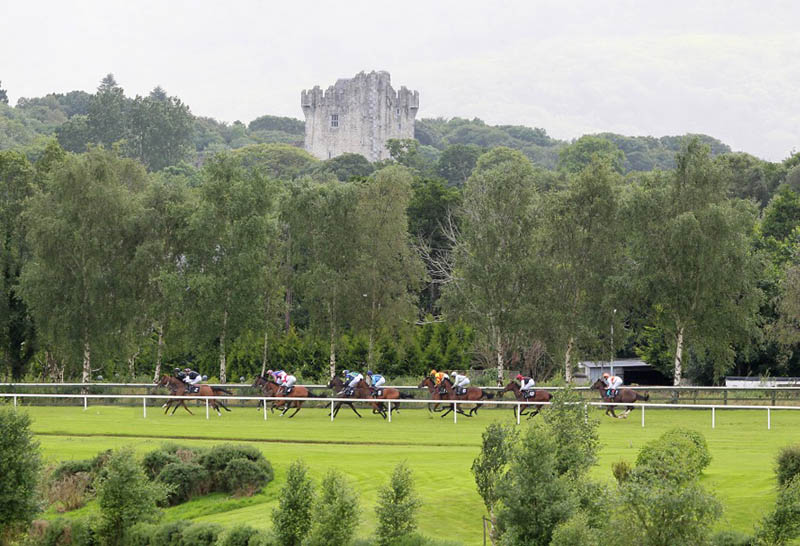 One of the greenest places you have ever seen, this is a unique racecourse, and one worth attending on race day. Billed as Ireland's Most Scenic Racecourse, they are not wrong. We were there as the sunset over the lush green race course, while we watched Irish Dancing.
Image courtesy of Go Racing Ireland
8. Explore the City Centre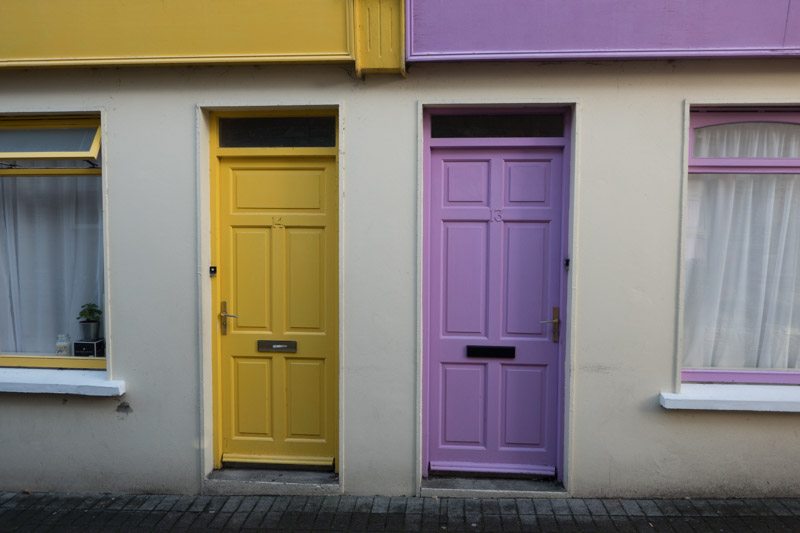 Killarney is a pretty and iconically Irish city, with its colourful buildings, different coloured doors, and flowers everywhere. Just walking around you will see all of the pubs, with the original publican's names above the doors. You will also see kegs sitting casually outside of many of these watering holes. It looks so Irish.
9. Shopping in Killarney Town Center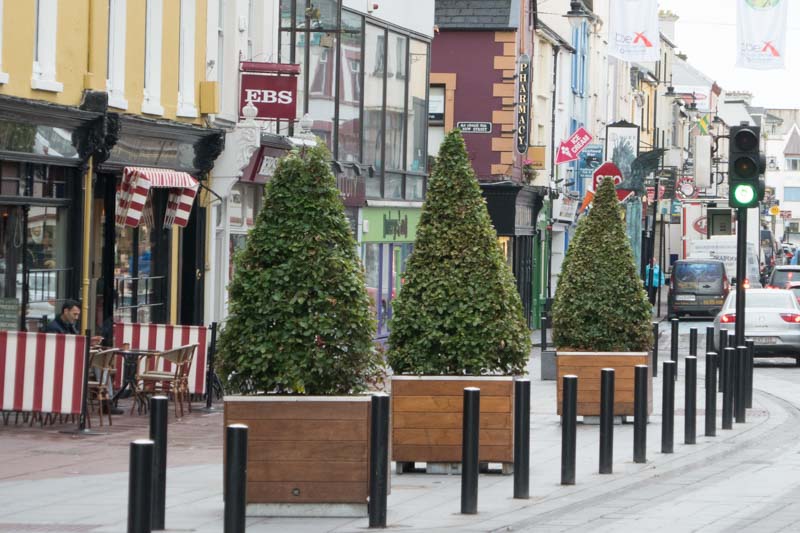 Killarney is definitely on the tourist trail, but there is good reason for this. Accordingly, you will find many different shops and boutiques all over the town.
10. Do the Original Killarney Ghost Tour
Killarney has a fascinating history, and therefore one or more haunted tales top be told. Add to this, that the Irish are the penultimate storytellers, and then you should go on this Killarney Ghost Bus tour and have the bejesus scared out of you. Details here
11. The Hugh O'Flaherty Memorial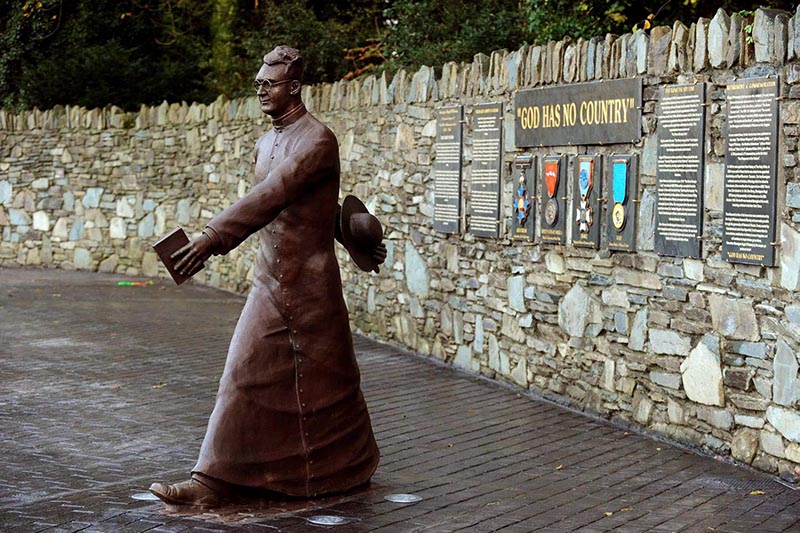 Known as The Scarlet Pimpernel of the Vatican, Monsignor Hugh O'Flaherty, a Kerryman, organized an escape organisation for Allied POW's and civilians. When the Allies entered Rome, he and his colleagues had saved over 6,500 lives. You can read more about him here. http://www.hughoflaherty.com
12. Drive the Ring of Kerry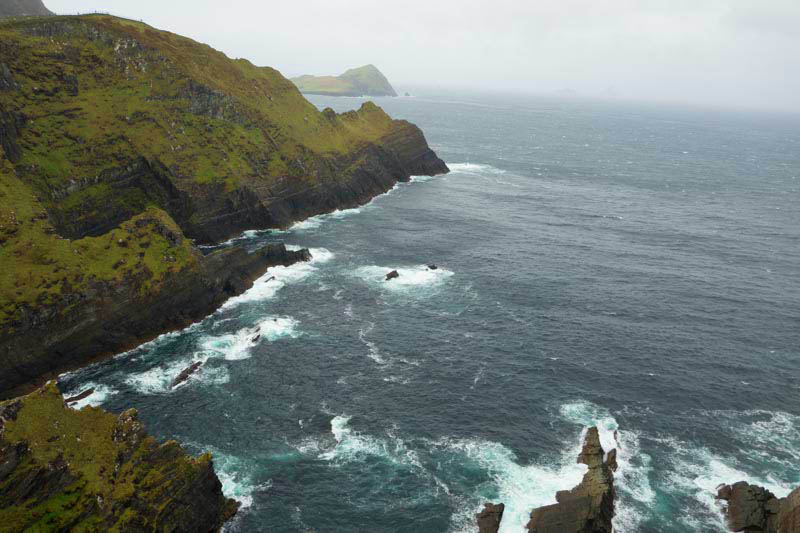 The Ring of Kerry is one of the main reasons that tourists flock to Killarney all year round. If you drive around you can stop at your leisure, and see all of the sights of the Ring, including its beautiful beaches, ancient buildings, panoramic views, and dramatic mountains and valleys.
13. Explore Torc Waterfall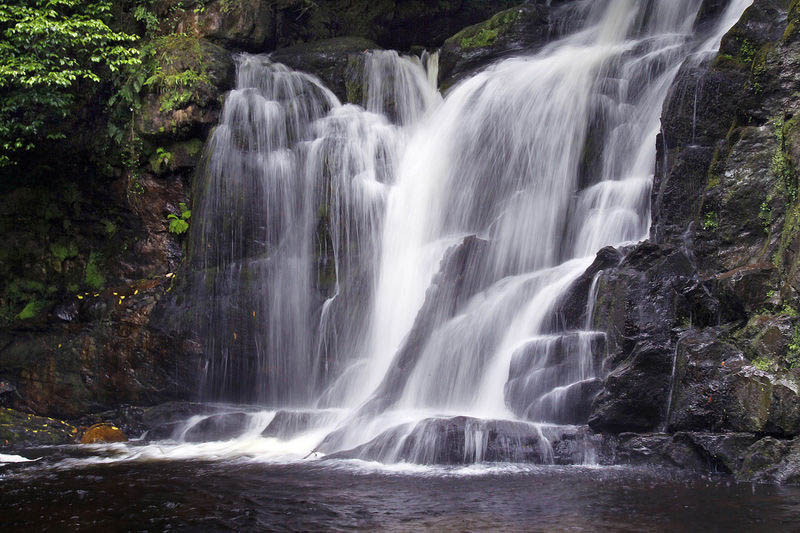 Torc Waterfall is a waterfall at the base of Torc Mountain, about 8 kilometres from Killarney in County Kerry. It is an easy 5 minute walk from the car park, to see these often thundering falls.
14. View the Gap of Dunloe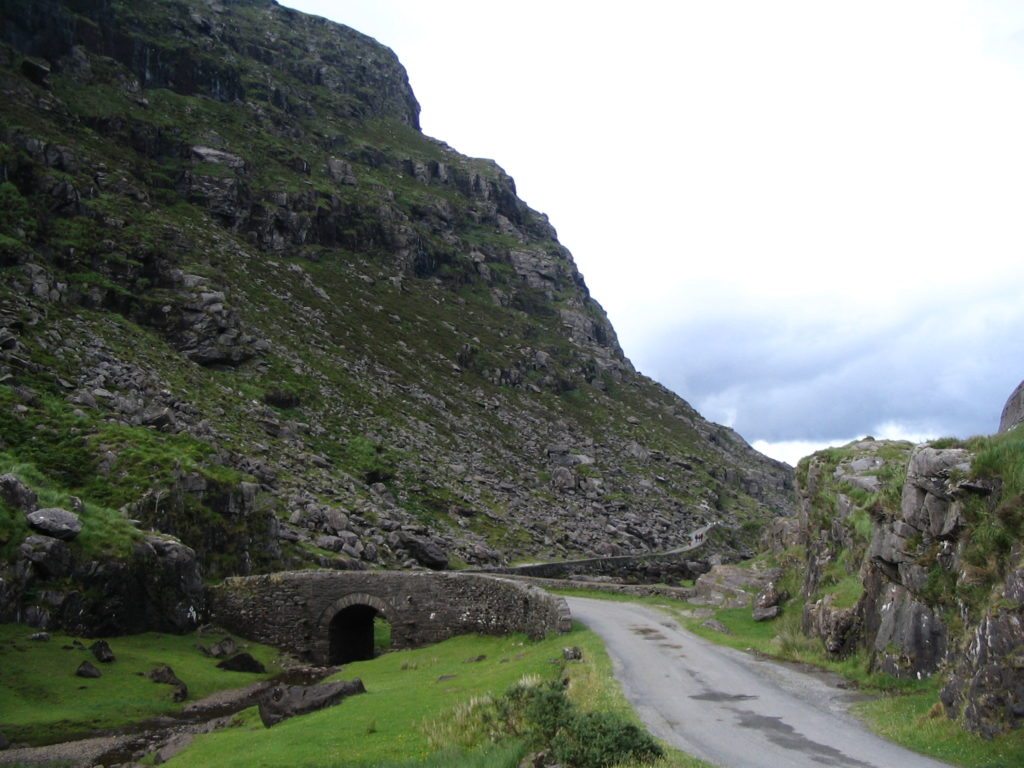 You can you take a jaunting car, or you can walk up through the mountain pass (10 km) the Gap of Dunloe, formed by two million years ago by slow-moving ice.
15. Play a round of Golf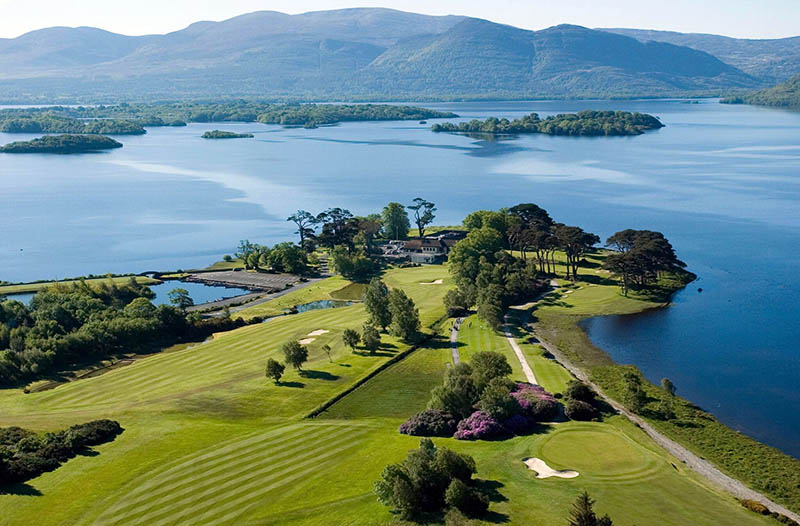 There are many world famous golf courses in and around Killarney town. There are nine holes, 18 hole and 36 hole courses including Killarney Golf and Fishing Club, Ross Golf Club, Dunloe Golf Club, Beaufort Golf Club and Castlerosse Golf Club.
Where to drink in Killarney
That is like an oxymoron in Killarney and Ireland. Just saying.
16. Irish coffee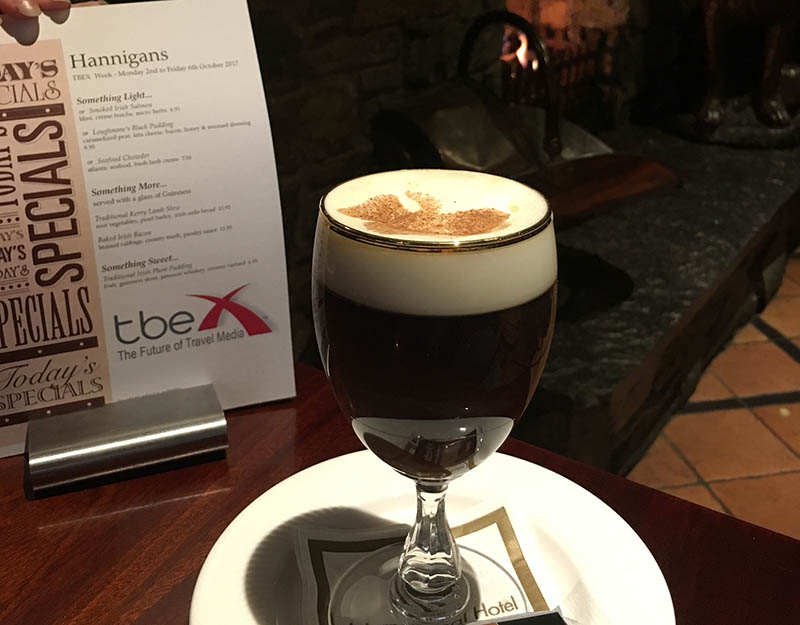 You cannot go to Ireland and not have an Irish coffee. Do NOT stir the Irish coffee; the layers are there for a reason. Part of the fun in Killarney was sampling Irish Coffee which is sold everywhere and becoming connoisseurs at how each was prepared.
17. Celtic Whiskey Bar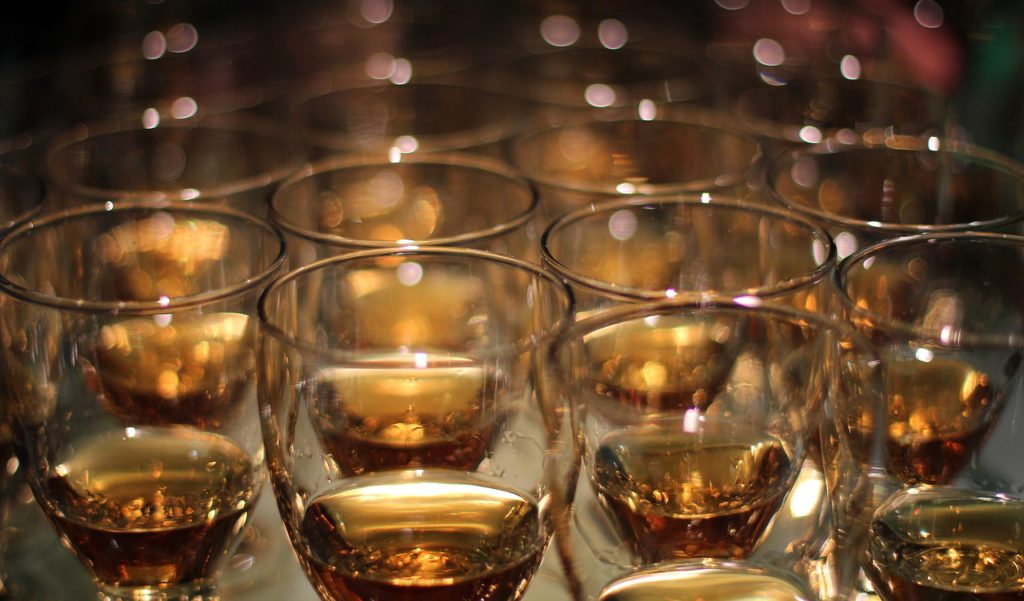 With over 80 whiskeys on hand, and food that is equally delicious you would be remiss not to drop into the Celtic Whiskey Bar in Killarney.
18. Drop into the Killarney Brewing Company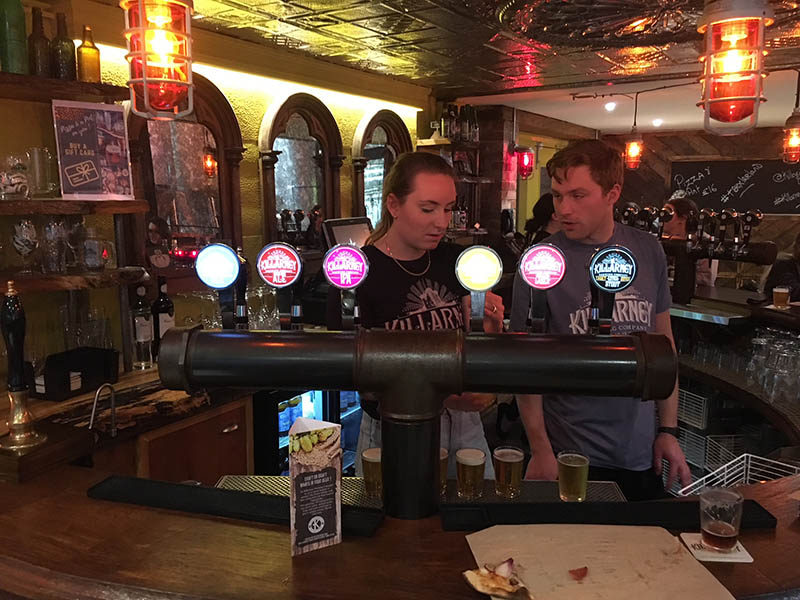 With craft beer on the rise in Ireland, it would be remiss not to visit the Killarney Brewing Company, and taste some of their latest ales.
19. Do a Gin course in Killarney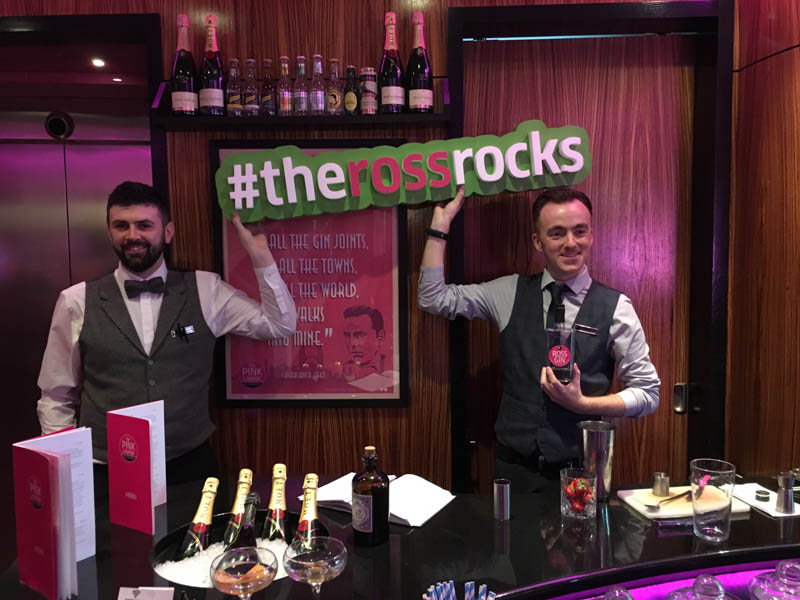 We first tried gin at the Dingel Food Fest. in south western Ireland, and this was the start of a love affair with gin. Next, to beer, gin is the most consumed alcohol in Ireland …. ahead of Irish whiskey. Do a gin course at the pink lounge at The Ross Hotel in Killarney, and start to spread the word about gin.
20. Go to John M. Reidy's pub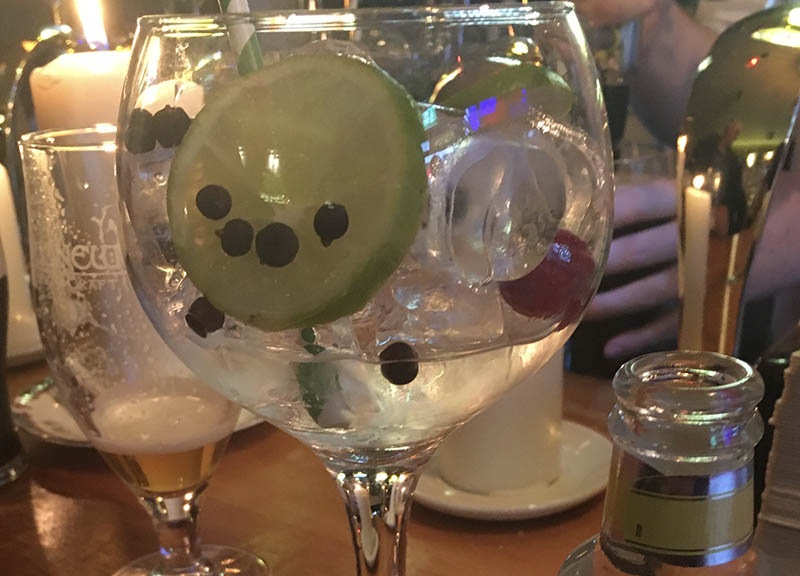 This was once a candy store and bakery by day, owned by a brother and sister. It was then sold and turned into a labyrinth of bars, and an open-air courtyard. Too much fun. And get yourself a Dingle Gin cocktail.
21. Trad Courtney's Bar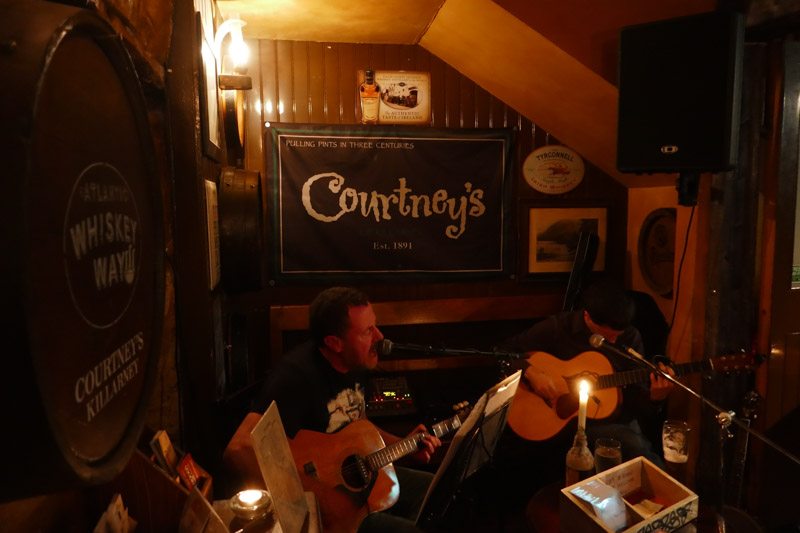 For trad Irish music in a trad Irish pub, it is hard to go past this very Irish looking attractive pub.
22. Get scared at The Shire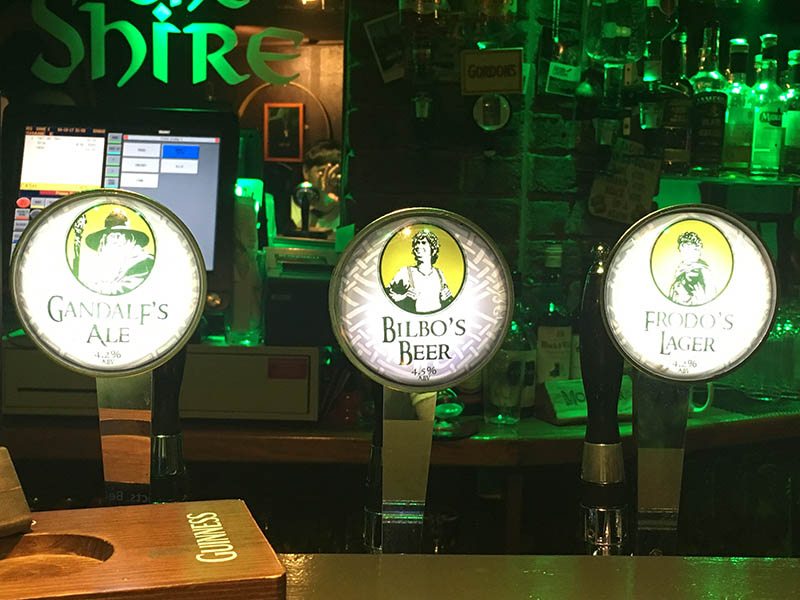 The Shire is a themed Tolkien fan pub, and worth the visit for the crazy critters that wander around, and it is just great craic – the Irish word for fun.
23. Killarney Grand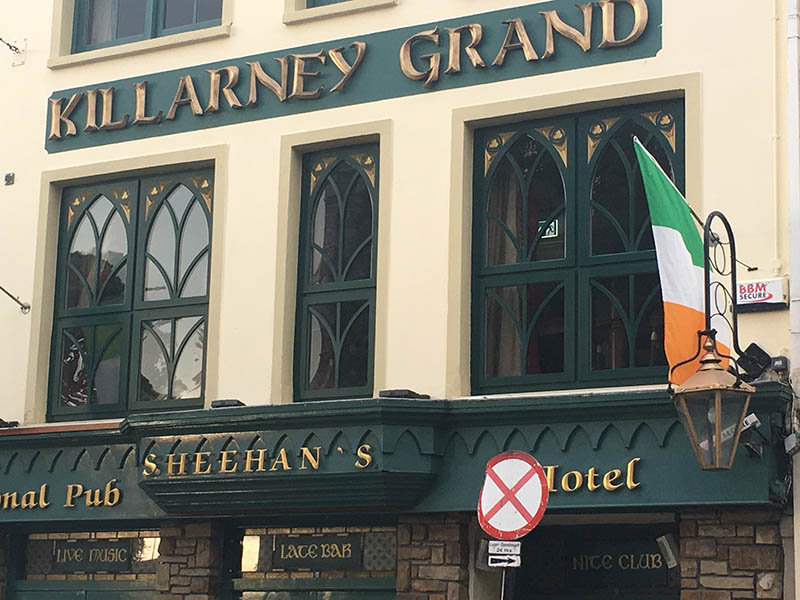 Another institution in Killarney is the Killarney Grand, a pub offering traditional music, pub grub, and a great Irish atmosphere.
Where to eat in Killarney
Wherever you go in Ireland, particularly along the Wild Atlantic Way, you can never go wrong with seafood chowder.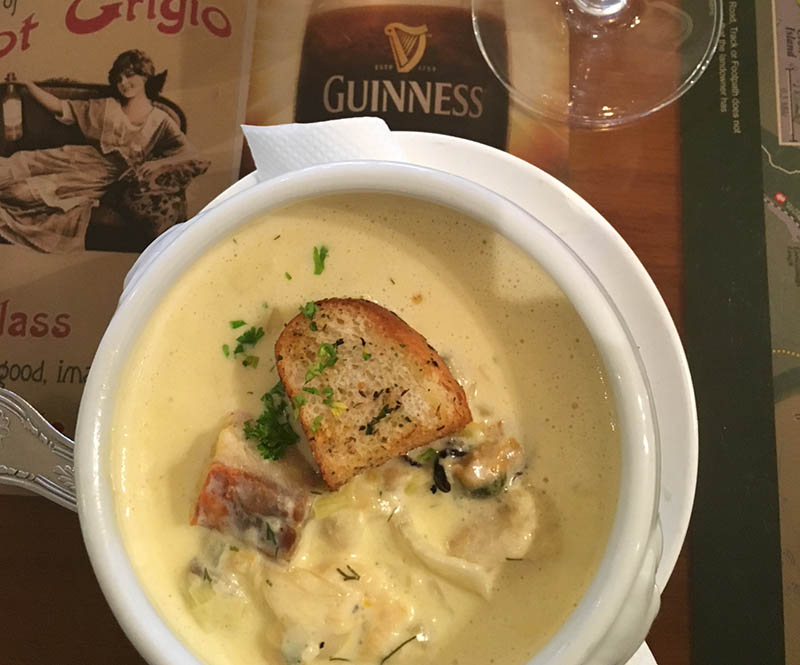 24. Cafe du Parc
Have coffee at the trendy Cafe du Parc, close to the jaunting cars. It is located on the ground level of at the Killarney Plaza Hotel
25. Murphy's Ice Cream
Ice cream made by hand and originating in Dingle, Ireland. You can even get a gin flavoured ice cream, and why wouldn't you.
26. Quinlan's Cafe
Visit Quinlan's for good old home cooking and good old great service.
Where to Stay in Killarney
Killarney has a lot of hotels, and lots of B&B's/ These are our recommendations based on where we have stayed or friends have.
27. The International Hotel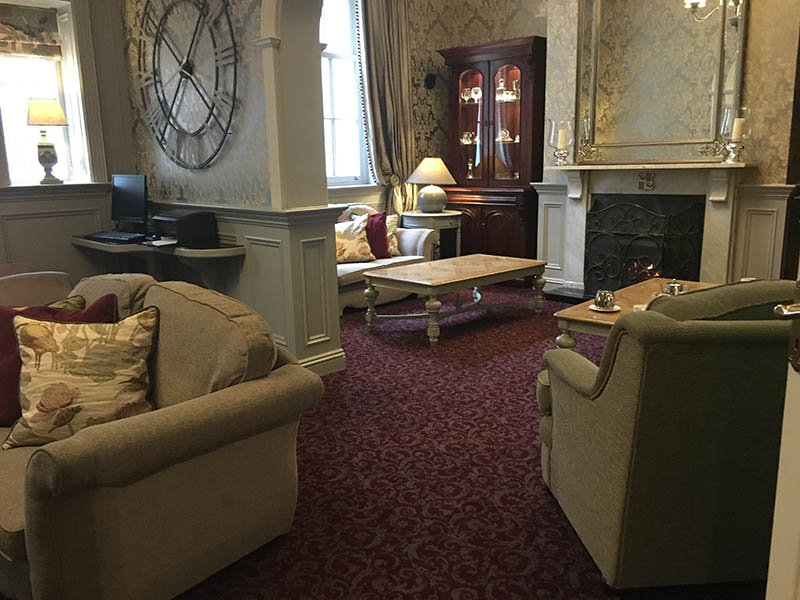 We stayed here for 6 nights, and it has the perfect location in Killarney, making it one of the best places to stay at a reasonable rate.
28. Splash out and stay at Muckross Park Hotel & Spa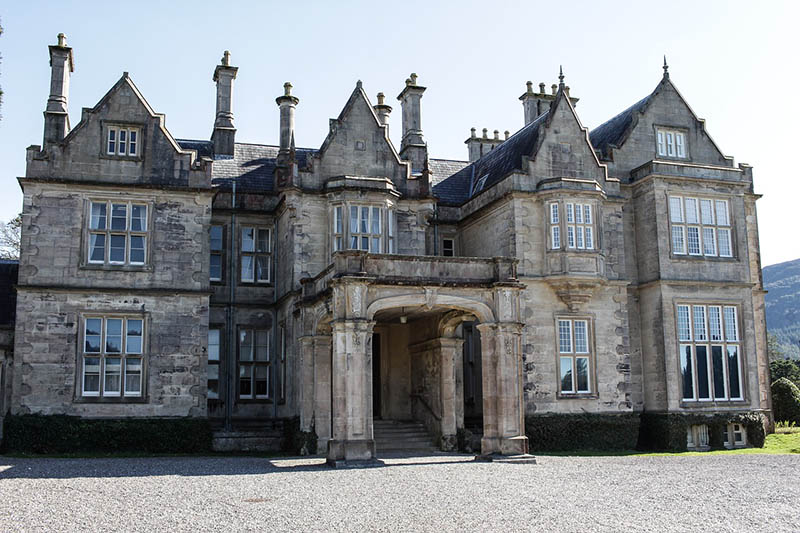 29. The Brehon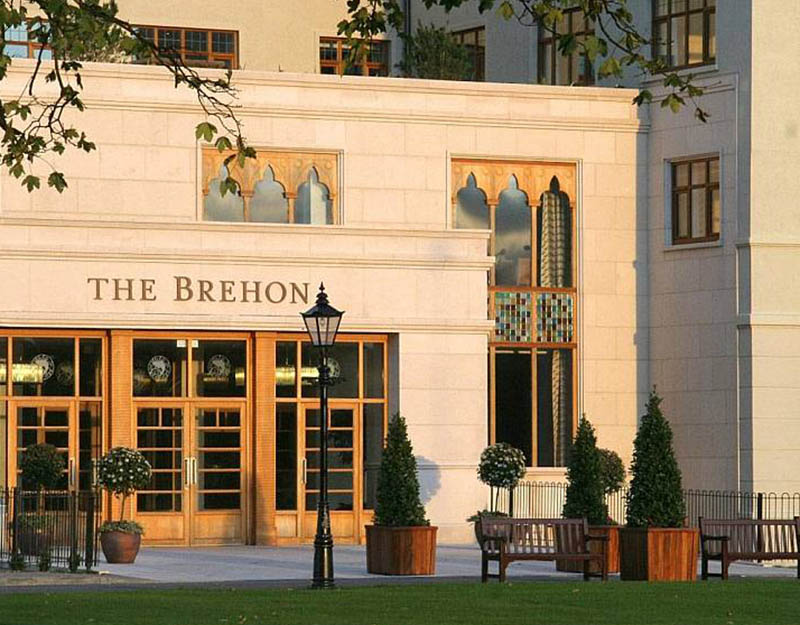 The Brehon is 500 metres from the INEC ( the International Conference centre, and overlooks Killarney National Park.
30. The Malton Hotel
The Malton has been a very popular hotel for over 150 years
Hope you enjoyed our Top 30 Things to do in Killarney, Ireland