To be quite honest I had never heard of Valentia Island in Ireland. When we were planning our road trip of 3 weeks in Ireland, we knew we couldn't do everything because Ireland is really just like a tardis. It keeps on giving and giving. We knew we had to get to Dingle for the food festival, and then to Killarney for the TBEX conference, and then up the Wild Atlantic Way to Donegal. So, we opted to go from Kilkenny to Cobh which we should have given a miss, to Kenmare and the amazing Ring of Beara. From there we had choices. The reason we chose Valentia Island was because of what their tourism board said on their website "You can do Ireland in a day, but you really only do Valentia properly in a lifetime." Now that's marketing for you.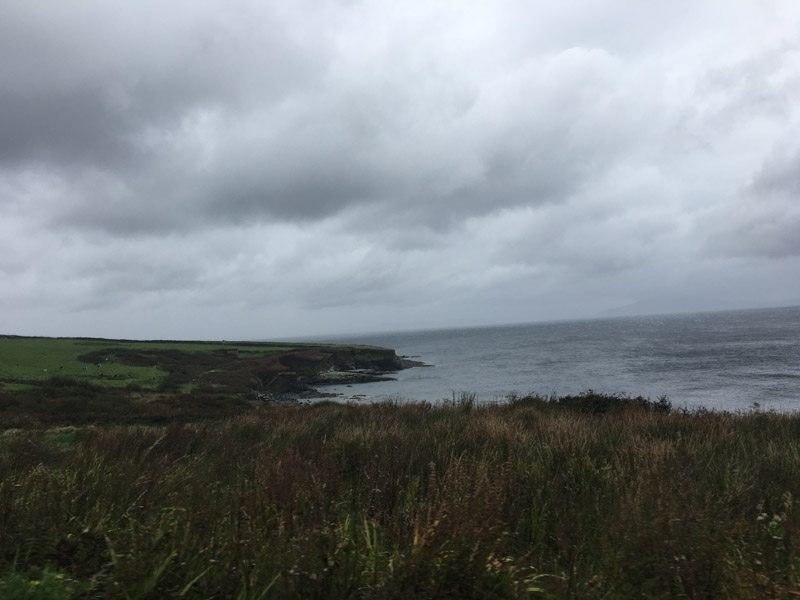 They went on to say, "Come on in and discover a place where ocean, landscape, and people meet in a symphony of natural beauty and shared experience along The Wild Atlantic Way… welcome to Valentia Island!"
That sealed it. We wanted to see this island that not a lot of people visit.
The Cliffs of Kerry
On our way from Kenmare to Valentia Island, we stopped at The Cliffs of Kerry on what must have been a day of near cyclonic weather. It was spectacular yet scared the hell out of us. We literally had to hold on to the posts to save ourselves from being blown out to Skellig Michael. The wind would die down completely, and it all went silent ..but …we knew that the next wind gusts were just waiting. It was amazing actually in a bizarre and terrifying way, and the views, well OMG,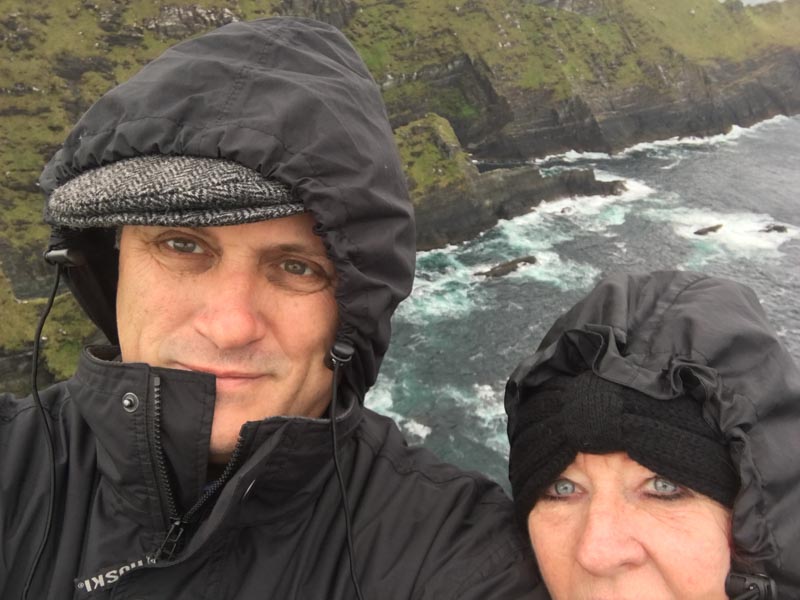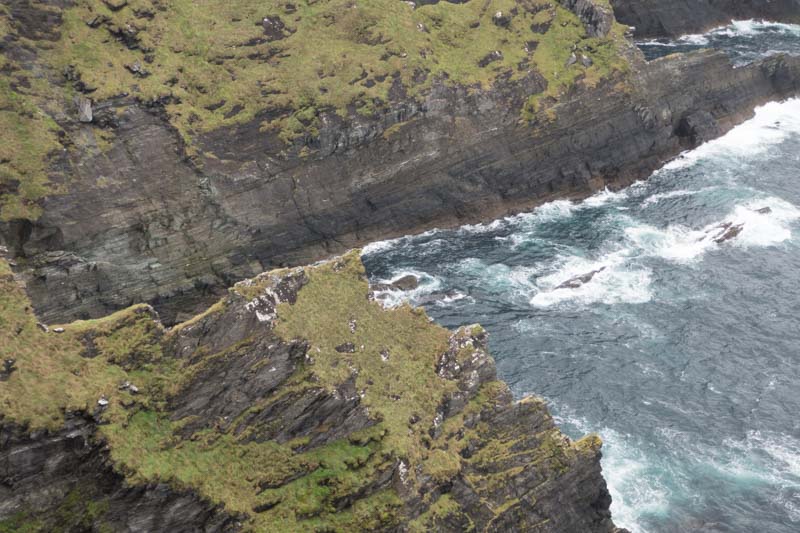 We then went into the little village of Portmagee to dry out and have some lunch, before crossing the bridge to Valentia Island. We could have taken the ferry, but our car hire license said we would void our insurance if we took our rental on the boat. Gordon is a good boy, so we drove across to start our exploration of Valentia Island. But the weather had other ideas.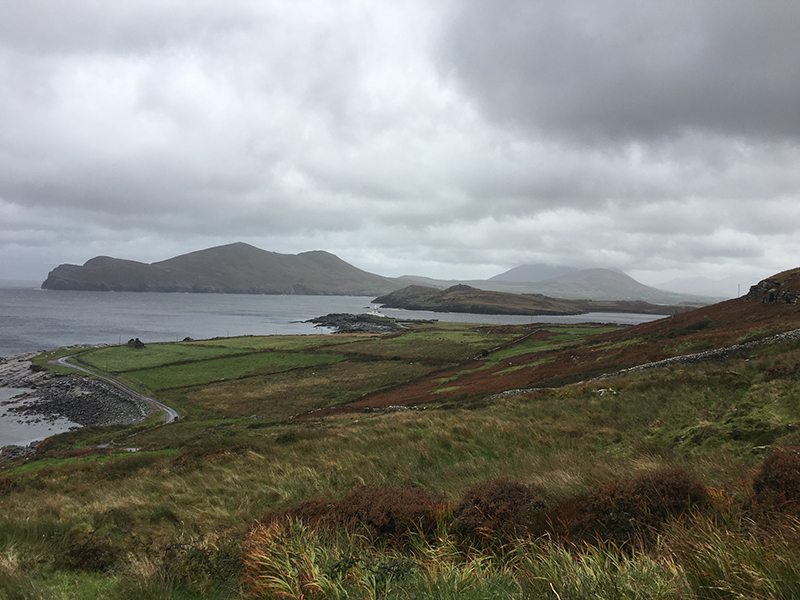 About Valentia Island?
Valentia Island is one of Ireland's most westerly points. It lies off the Iveragh Peninsula in the southwest of County Kerry. It is 5 hours from Dublin. The island is 11km (7miles) long and 3km (2miles) wide. Knightstown is the main town, and it is very small, with a distinctive Town Clock structure.  We were heading here to The Royal Hotel.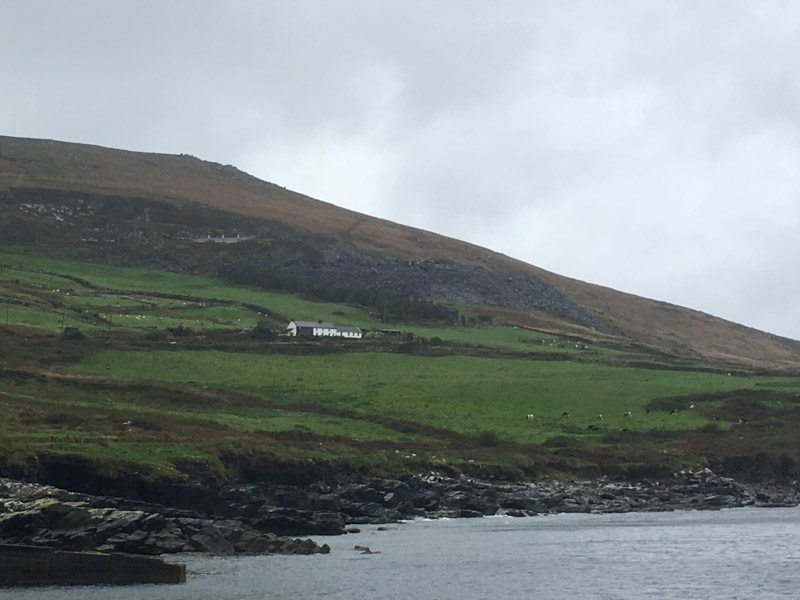 What we wanted to do on Valentia Island
We had intended to go and explore Skellig Michael of Star wars fame, but the weather had other ideas. We had been having very good weather in Ireland, but this day was not one of them. As we tried to circumnavigate the small island, we could barely see where the small roads were leading. We made it down to the Cromwell Point Lighthouse, where you can see the point where the first Trans-Atlantic Cable first hit shore in 1866 and is known as the birthplace of modern telecoms…but the Wild Atlantic Way had other ideas, so we headed to The Royal Hotel in Knightstown.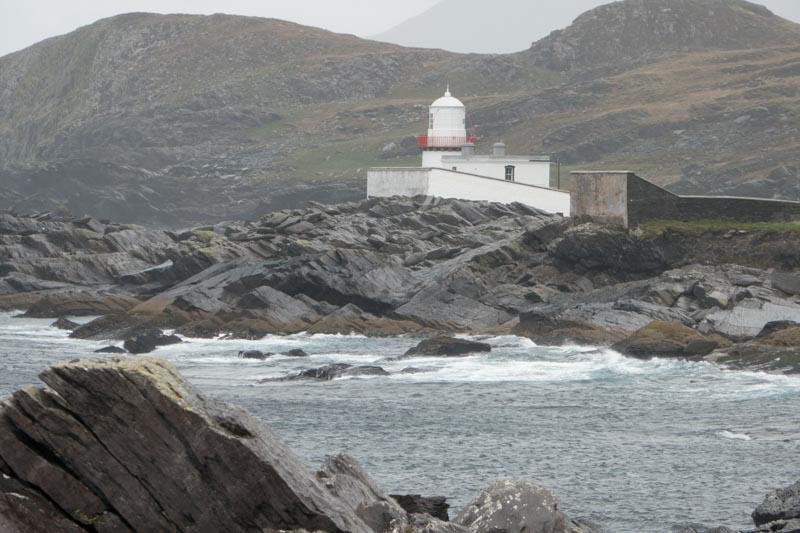 The Royal Hotel, Valentia Island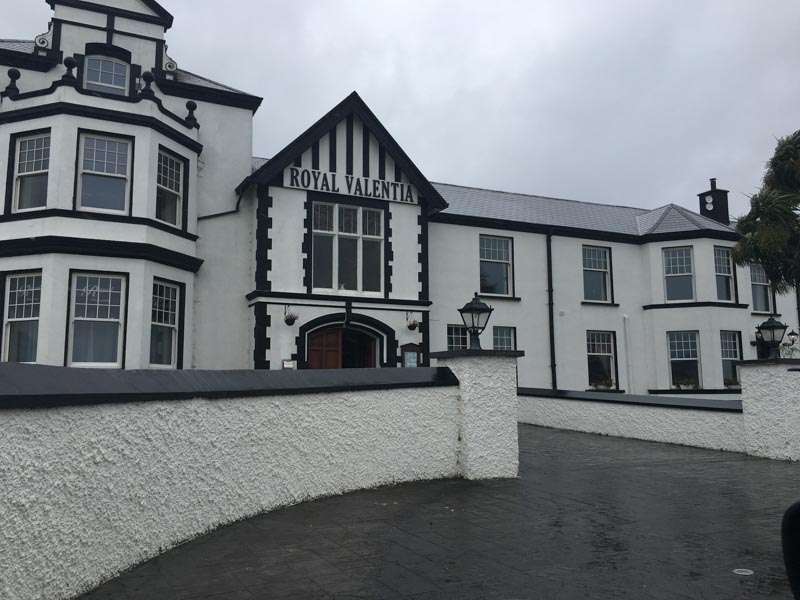 As we tried to walk against the wind and the pelting rain to the foyer of this grand hotel, we could hear the wild Atlantic having a field day in the harbor behind us.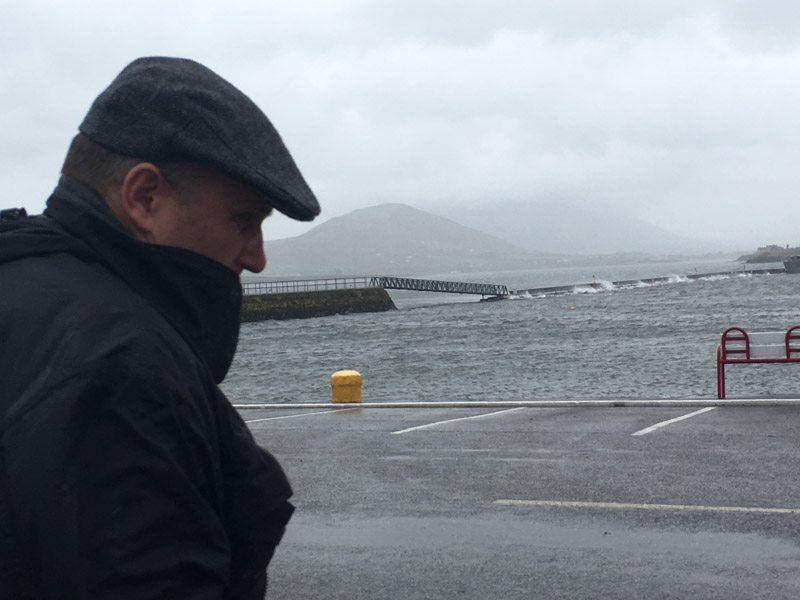 Ensconced in our superb room, I was able to site on the window sill and watch the dangerous sea pummeling the breakwaters, and catch up on some work. I was safe, and I was dry, and I was in a lovely hotel to watch mother nature throwing a tantrum.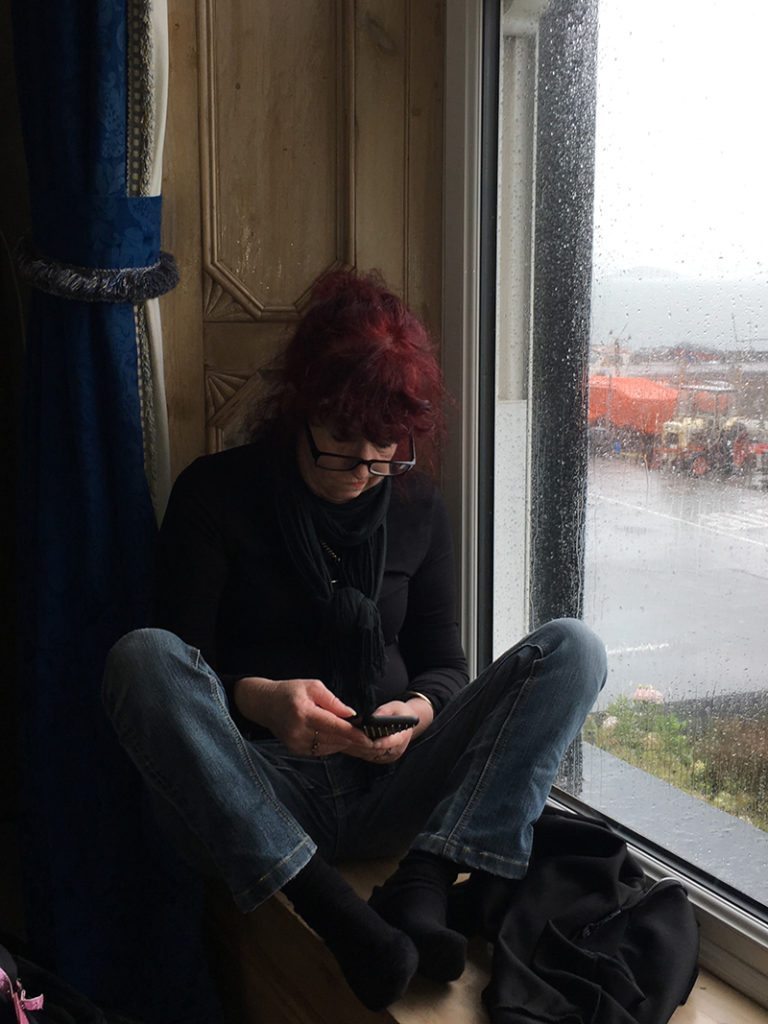 The Royal Hotel Valentia is one of the loveliest hotels in South Kerry and has been welcoming guests for almost two hundred years. When Queen Victoria's son, Prince Arthur visited at the end of the 19th century, they added 'Royal' to the hotel name. It sits on the quayside, overlooking Valentia Harbour. The hotel is stunning, and I guess a little unexpected in such a remote location. We could not have wanted more in our Deluxe Four Poster Room with our views over the angry Valentia Harbour and Portmagee Channel.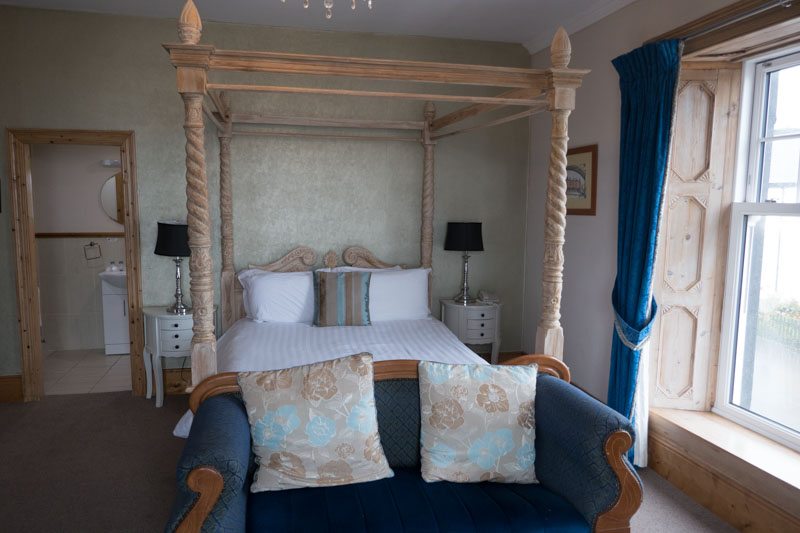 We headed downstairs to Royal Bar and Restaurant because we were cold and needed a drink. The staff was welcoming and friendly.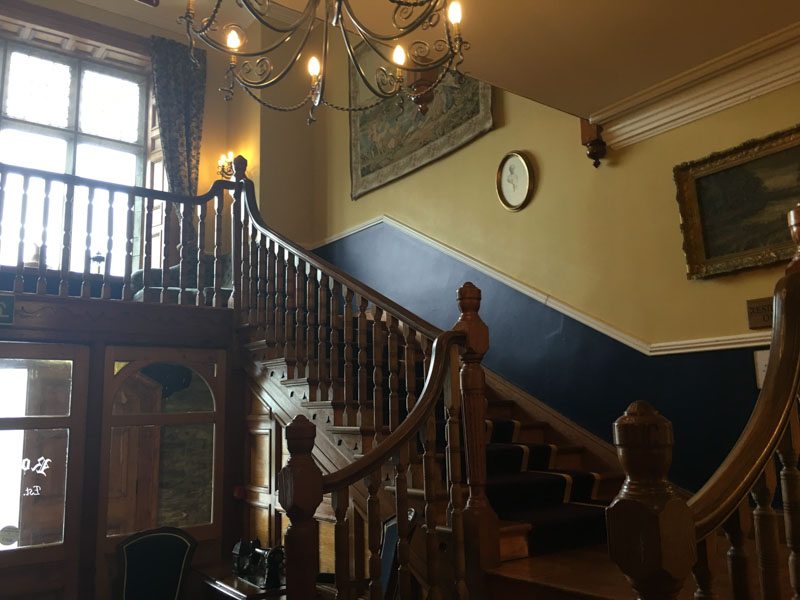 The next morning the weather was a little more forgiving, and we did get to walk around, but while we might not have got to see the 350 million old Tetrapod footprints on Valentia Island, we did get to sample the hospitality that Valentia Island tourism told us about.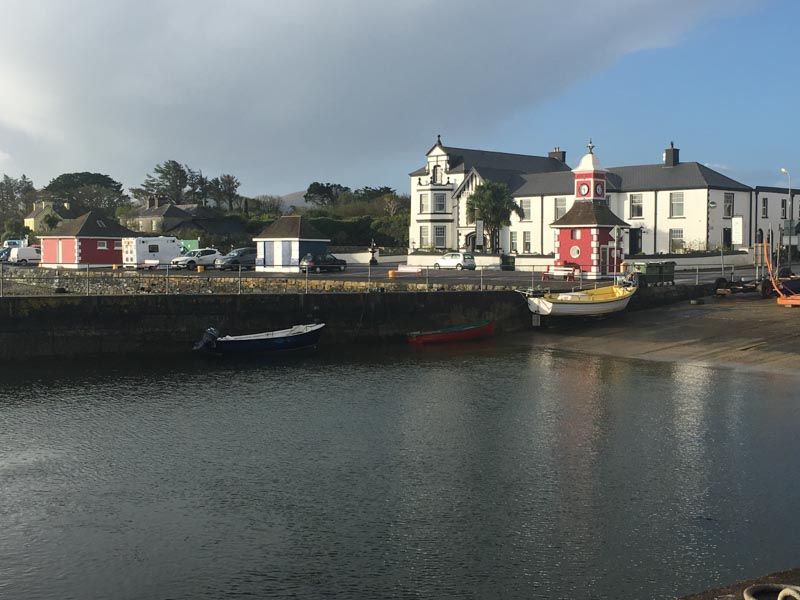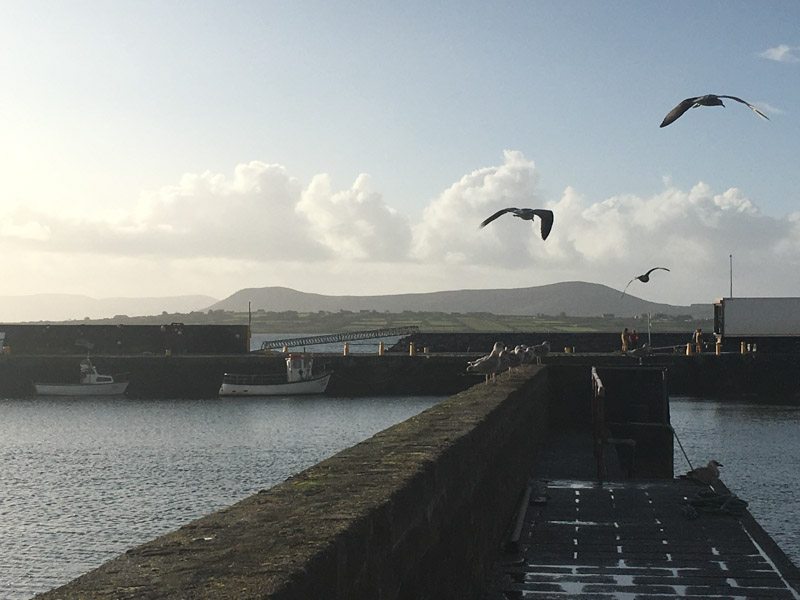 Visiting Valentia Island in Ireland was worth it. It is unique and different, and gave us a great introduction to the Wild Atlantic Way.