Following on from the very successful
we are now presenting Part 2 of the Best Coffee Shops in the World.
UNITED STATES
Philz began in San Francisco 20 years ago and is famous for its made-to-order drip coffee and investors that include Snoop Dogg.  This Berkeley branch has baristas that I think sometimes can be a tad too cheery, but it doesn't stop customers from coming in for a stint sidewalk-side when the weather is nice or upstairs inside when they can find an empty seat there.  The don't-miss here is the yummy iced mint mojito coffee.  The thick hot chocolate and red velvet cupcakes are pretty good, too.
Address: 1600 Shattuck Ave., Berkeley, California, USA
CANADA
The New Amsterdam Cafe is my favourite spot to visit when I'm in Vancouver! Despite marijuana not currently being legal in Canada, this café has been around for fifteen years, and the police just don't seem to mind as long as you keep it inside. The atmosphere is always fun and relaxed, with huge tables allowing you to join in with a group even if you come alone. You never leave this café without having made at least one new friend. As an added bonus, they serve up delicious, organic, and fresh food and smoothies, although I personally always go for a homemade brownie! If you're keen to check the café out, but don't want to hang out in a cloud of smoke, the café is smoke-free until 5 pm.
Address: New Amsterdam Cafe: 301 W Hastings St, Vancouver, BC, Canada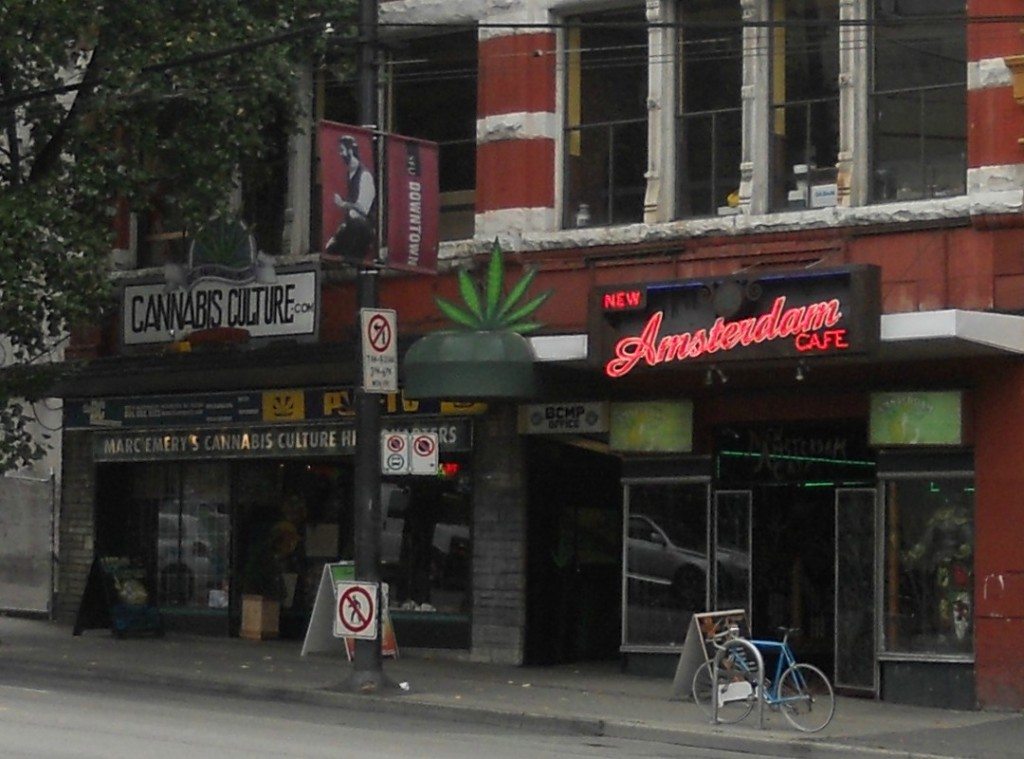 AUSTRALIA
We have many beautiful cafes in Coffs Harbour, but my favourite place to take visitors is Shearwater for coffee and brunch. Not only do they serve a great Latte but I think by far they serve the best eggs benedict in town. They never fail my taste buds and it is always so fresh and is making my mouth water just writing about it. The atmosphere takes in our beautiful Coffs Creek where you can sit and enjoy the passing parade of stand up paddle boarders, kayakers, and the never ending gaggle of birds and not to mention the fish you can see swimming below who know if they are lucky that they may get a feed from the owners. That's if the cheeky Pelicans don't get to it first.
Address: The Promenade, 321 Harbour Drive, Coffs Harbour NSW 2450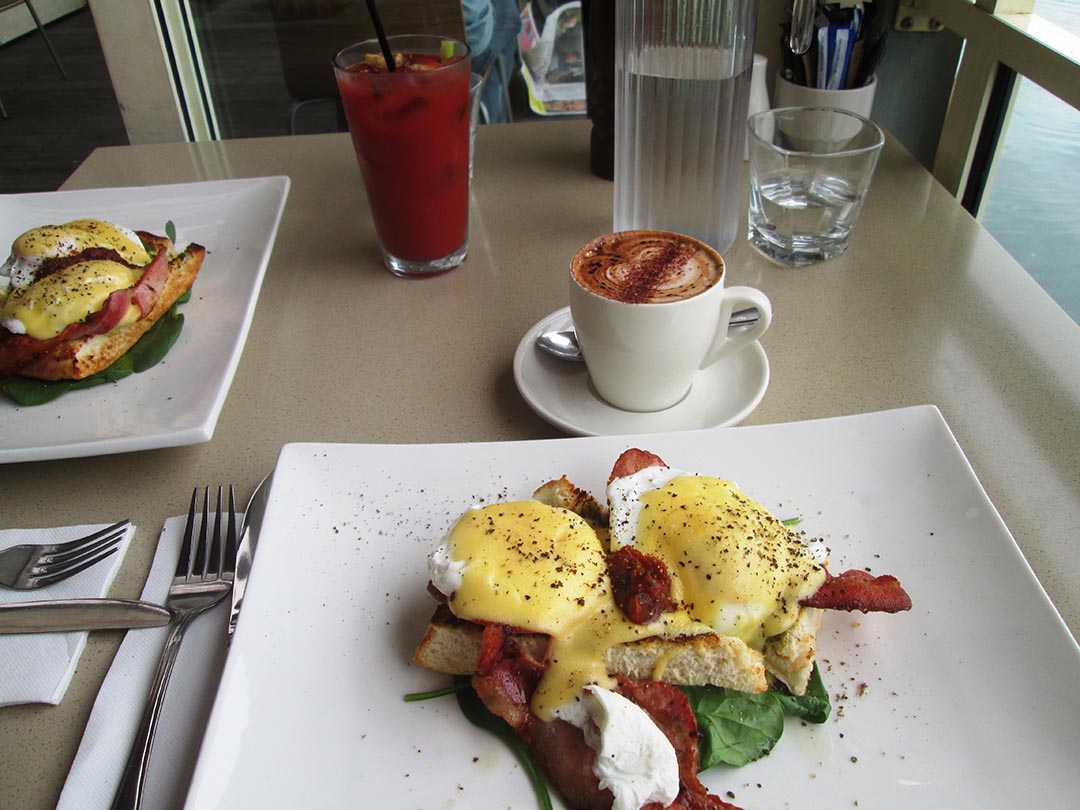 Canberra, Australia by Travel-Ling 
Canberra is a city of coffee snobs. In fact, we boast to have the World's Best Barista, Sasa Sestic, whose coffee is served at The Cupping Room. The staff here are passionate about coffee and you can definitely taste it in every cup. The coffee is smooth, rich and worthy of being the world's best. For any fellow chocoholics, the mochas (brewed with 70% cocoa) don't disappoint either.
Coffee isn't the only drawcard for The Cupping Room. The food is fantastic, and the customer service is exceptional. No matter what time of the day you go, the place is always busy with coffee lovers and foodies alike.
Address: 1/1-13 University Avenue, Canberra, ACT, 2601. (02) 6257 6412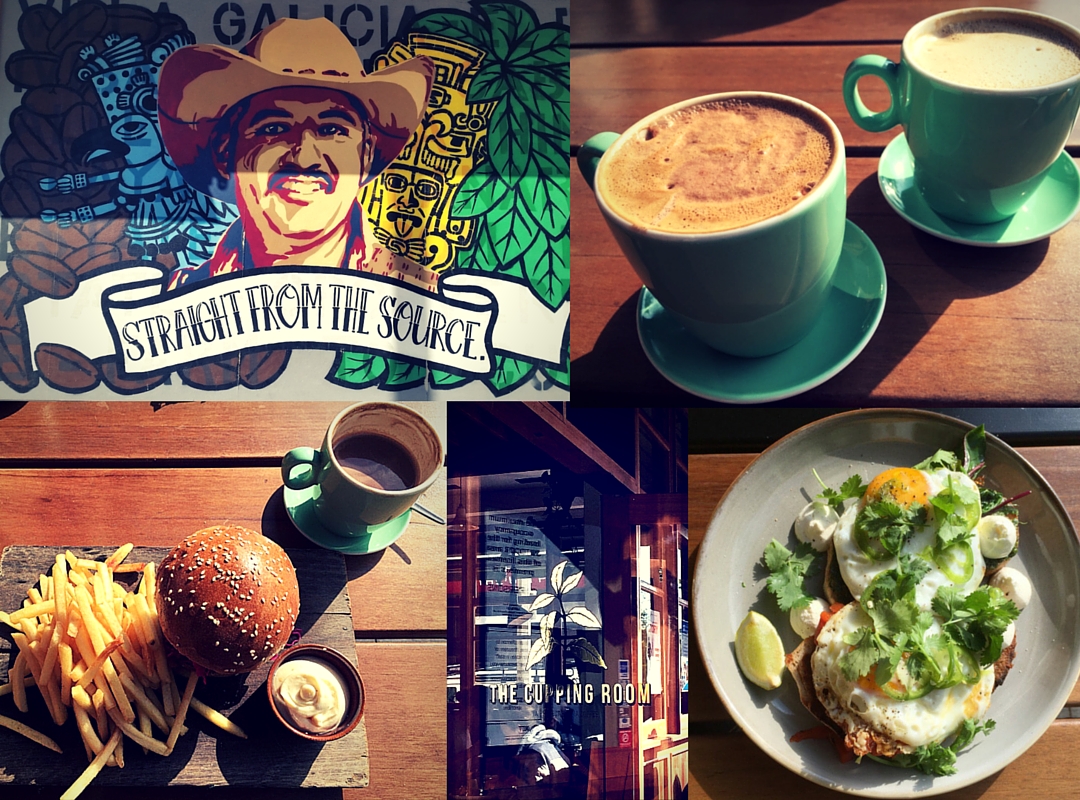 Author Note: Australia is a Nation of Coffee Snobs.
…. because our coffee IS that good. As the capital city of our country, Canberra is no exception. Please Read about it right here.
EUROPE
Café New York is one of the oldest and grandest cafes in the Budapest dating back to 1894.  The glorious frescoed ceilings, chandeliers and marble columns compete for attention with the delectable array of cakes and pastries on the menu. My companion chose a delicious chilli chocolate drink to ward off the cold (we rated it Madras on the curry scale). To accompany she ordered the cafe's namesake; New York Chocolate cake which arrived bedecked with roasted cherries. I ordered a classic cappuccino and indulged in the famous Hungarian 'Dobbos' cake – a layered chocolate extravaganza topped with a crispy caramel glaze.  Both were delicious and we left feeling somewhat euphoric by both the experience and the sugar rush which was worth every Forint.
Address: Budapest, Erzsébet krt. 9-11, 1073 Hungary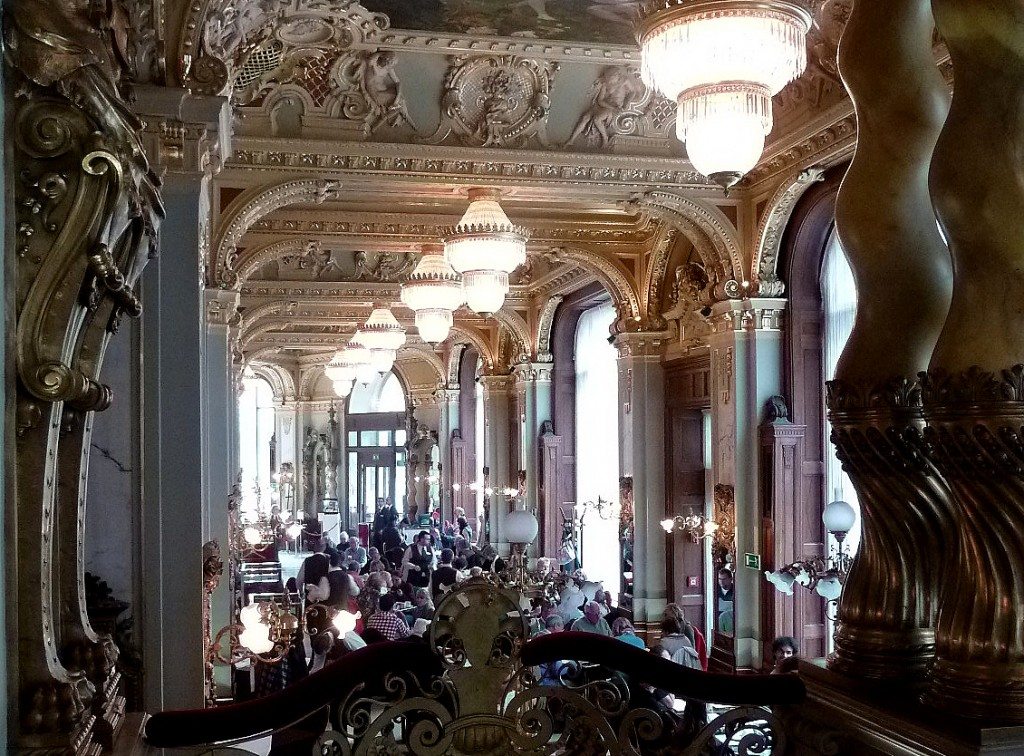 Bar Pintoxo is located in the El Mercat de Sant Josep Market in Barcelona Spain just off La Rambla. Bar Pintoxo is a Barcelona Icon and main stay of the market.The bar man is an old school waiter who still dresses in his best black pants, white shirt, vest and bow tie. At Bar Pintoxo they make an amazing cappacino in a high shot glass. This is something i have never seen anywhere before.The coffee was amazing, the service was fantastic, Bar Pintoxo is great place to sit drink coffee and take in the vibe of the market scene in Barcelona.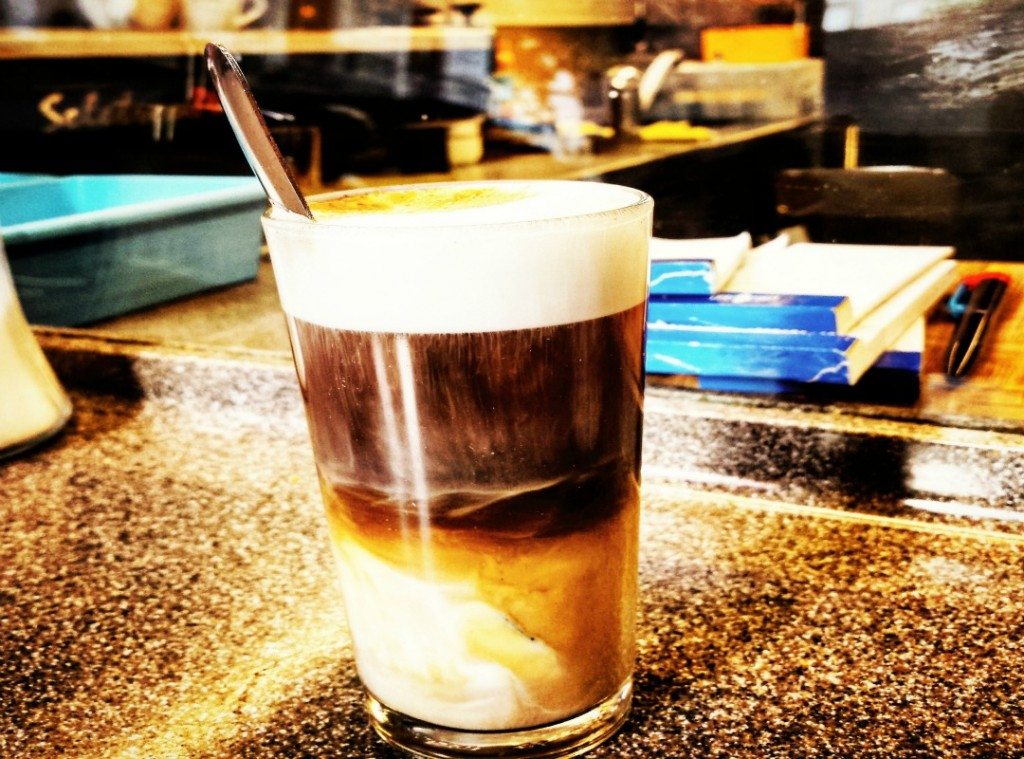 Istanbul, Turkey by

This café, located in Beyoğlu district, is a haven of coolture. Contrasting with the traditional Turkish coffee houses, it is a modern and spacious coffee shop-turned-bookstore – or is it a bookstore-turned-coffee shop? After quite a few visits to the place, I still can't decide. The name translates "Turkish-German Bookstore", and the place sells mostly books in German, with themes as varied as philosophy and chemistry. The spacious lounge on the first floor is filled with Turkish and German clients sipping coffee, chatting, working and eating one of their delicious cakes – I highly recommend their lemon cake.

Address: 481, İstiklal Cad. – Nearest Stations: Şişhane (metro) & Tünel.

Winkel 43 is the go to place when you are going to the markets on Saturday morning in the Jordaan area of Amsterdam…. Or any day for any reason really. Amsterdam is renowned for apple pie and the deep-dish apple pie at that. Winkel 43, will have you addicted in no time. There is no best time to go, but it appears to be an institution to go to either to both the Lindenmarkt and the Noordermarkt on a Saturday morning, followed by apple pie and coffee at Winkel 43.

The Lindenmarkt or Lime market is a funky alternate market, located on the Lindengracht Canal. This is also where you find the farmers market, the Noordermarkt or North market. It seems that this is where people go followed by a trip to Winkel 43. This is the café with the green and white striped awning and the one with the queue out the door if you don't get there early enough. Even if you are faced with a queue, Winkel 43 is worth it, for the ridiculously amazing apple pie with cream.

Address: 

Noordermarkt 43, 1015 NA Amsterdam, Netherlands

ASIA

Hands down the best coffee in Kyoto. No matter if you're there for an espresso, latte or ice coffee, I'm sure you won't be disappointed. You can find % Arabica shops in two very convenient locations. One in Arashiyama – that's where you go to the famous Monkey Park and bamboo forest. The other one in the beautiful Higashiyama – near Kiyomizu-dera, Yasaka-no-to Pagoda, Kodai-ji and other beautiful temples and shrines. Both shops look sleek and modern – lots of white, concrete, glass with a touch of wood. Very pleasant, calm spaces. Big table at the Higashiyama shop also makes for a good place to meet fellow coffee lovers from around the world.

Address: % Arabica Kyoto Arashiyama, 3-47 Sagatenryūji Susukinobabachō, Ukyō-ku, Kyōto-shi, Kyōto-fu 616-8385
% Arabica Kyoto Higashiyama, 87 Hoshinochō, Higashiyama-ku, Kyōto-shi, Kyōto-fu

The Espadana Cafe in Isfahan, Iran.  It's a little unexpected to find a bustling coffee shop in the middle of a traditional bazaar in a country of world-champion tea-drinkers, Iran. As a tourist, if you are jonesing for some espresso, here is your fix. The bulletin board behind the counter is a scrapbook of the foreign visitors who leave their business cards (they put mine right in the middle!). Just a nook nestled into the labyrinthine historical and architectural centerpiece of Isfahan, the Imam Square, you can find interesting and worldly folks to talk with, or take your coffee to-go and stroll the fascinating covered bazaar.

Address: Espadana Cafe is located in Saray e Espadana, to the left of Sheikh Lotfollah Mosque, Naqsh e Jahan Square

This is Wheeler's Yard a very Instagrammable location in Singapore, one that has people on a non-stop stream coming in to take photos.

Wheeler's yard is a cafe and a Bicycle Atelier. Door by door to the bicycle shop is the cafe area, with bicycles hanging from the walls and separating the customers on either side of a long communal table. It is permanently full.

It is not just the pretty surroundings that bring the place to life, the food is great too. The waffles are a main drawcard and they have a proper brunch and dinner menu with overflowing burgers.

SOUTH AMERICA

Rio de Janeiro, Brazil by
If you mention Confeitaria Colombo to any Carioca, you will see a mix of nostalgia and pride in their eyes. It is the city's most traditional coffee house, with over 120 years of history. The place is buzzing day and night with locals and tourists drinking their cafezinho (a tiny cup of strong filtered coffee) or eating one of their pastries and traditional biscuits, some of which follow the same recipes as a century ago. Despite all its pomp, the atmosphere is very casual – after all you're in Rio!
Address: Rua Gonçalves Dias, 32 Centro – Rio de Janeiro, Brazil – Nearest Station: Estação Carioca
Research has shown that people who follow us on Facebook are much happier than those who don't. You can't argue with questionable science like that.