We asked the Top Travel Writers to Name the Best Coffee Shops in the World, and to share these gems with you. Coffee shops are art and parcel of many people's lifestyles and are integral to travel.Whether you like coffee or not doesn't matter. They are those welcoming places where you can just watch the world go by, listen to local people fixing up world issues, or just absorb the site and the sounds of a place. From my perspective, it doesn't hurt if that coffee is outstandingly good and that it has character. Don't forget that hotels are lifting their game with coffee, and you can check this out when making an online hotel booking.
Coffee Shops have a rich history
Famous artists, poets, philosophers, musicians and authors have all found much of their inspiration from that special little coffee shop. There is something in that for all of us.
Cafe La Rotonde was one of the most famous Parisian cafes during the great American literary ex-pat era, and is featured in Ernest Hemingway's The Sun Also Rises. F. Scott Fitzgerald and T.S. Eliot were also patrons there. You will see it is also a favoured coffee shop of one of our travel writers.
Address: 
105 Boulevard du Montparnasse, 75006 Paris, France
Famed Russian authors Chernyshevsky and Dostoevsky found their inner muse at St. Petersburg's Literary Café.
Address: 
Nevsky Prospect, 18, St Petersburg, Russia, 191186
Les Deux Magots was favoured by Hemingway, Jean-Paul Sartre, and Picasso.
Address: 
6 Place Saint-Germain des Prés, 75006 Paris, France
Address: 
Via dei Condotti, 86, 00187 Roma, Italy
We asked our Top Travel Writers to name their favourite coffee shops. Where they couldn't decide between two, we invited them to share both, because these people are our modern day influencers.
EUROPE
London by Travel With Kat
One of the quirkiest settings for a coffee shop that I've ever come across, the Attendant is a former Victorian gentleman's public toilet dating back to around 1890. It has been restored, keeping many of the original fixtures and fittings, to create a cosy little café, overflowing with character. The Attendant, however, goes way beyond being simply a novelty act, their coffees, teas, cakes and light meals being of the highest quality. The scrumptious taste of their salted caramel brownie still lingers in my memory. And possibly always will.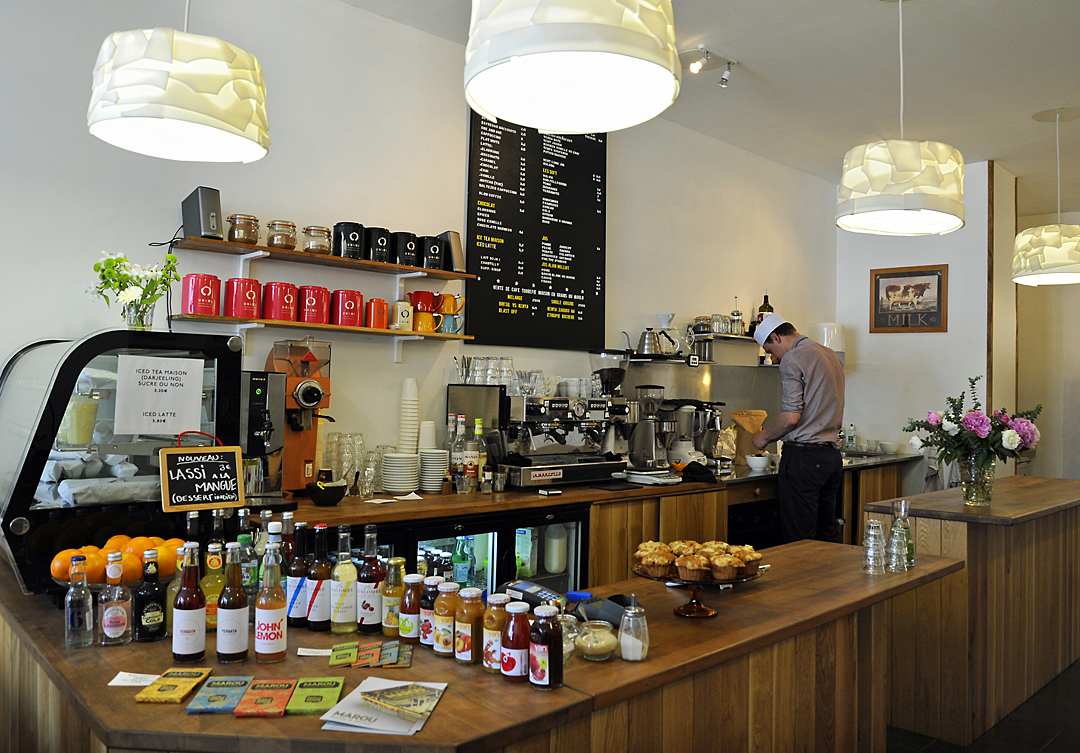 Address: 27A Foley St, London W1W 6DY
Vienna has a long-established coffee culture with the first coffee house opening way back in 1685. Today, for a great coffee you can visit more than 2,500 coffee houses in the city but my favourite is Café Sacher, part of the Hotel Sacher, which has stood opposite the Opera House since 1876.
Sipping my cappuccino and eating my Sacher-Torte (for which the hotel and café are named), I could almost believe I was back in the heady days of Vienna's coffee culture. The rich red furnishings of Café Sacher give it a classy but old-world feel and the coffee was one of the best I've ever had.
Address: Café Sacher Wien, Philharmonikerstrasse 4, A-1010 Vienna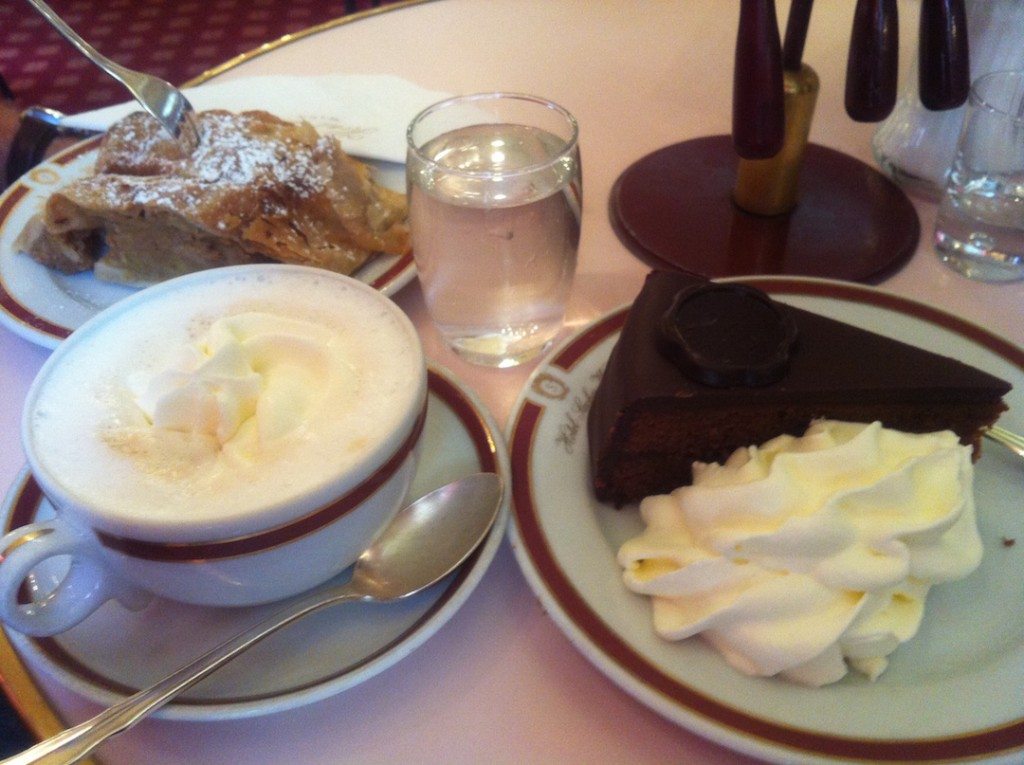 La Rotonde – Montparnasse, Paris
 by Nomad Women
Paris is Café City. They're everywhere, and everyone has a favorite. Mine is La Rotonde in Montparnasse, in the 14th Arrondissement. Perhaps it's the sense of history that calls me. Everyone from Hemmingway to Picasso, Gertrude Stein to Gershwin hung out at La Rotonde in Paris' intellectual heyday. Inside you can sit on red velvet under amber-shaded lamps, but really it's the red rattan chairs on the sidewalk you want. Order a café crème and you can sit all day… musing, watching the world of Montparnasse, or writing your own Great Novel, like the young woman in the photo may be doing.
Address: 105, Boulevard Montparnasse  ph: 01 43 26 48 26.
Open daily, noon–5 p.m. and 7 p.m.–11 p.m.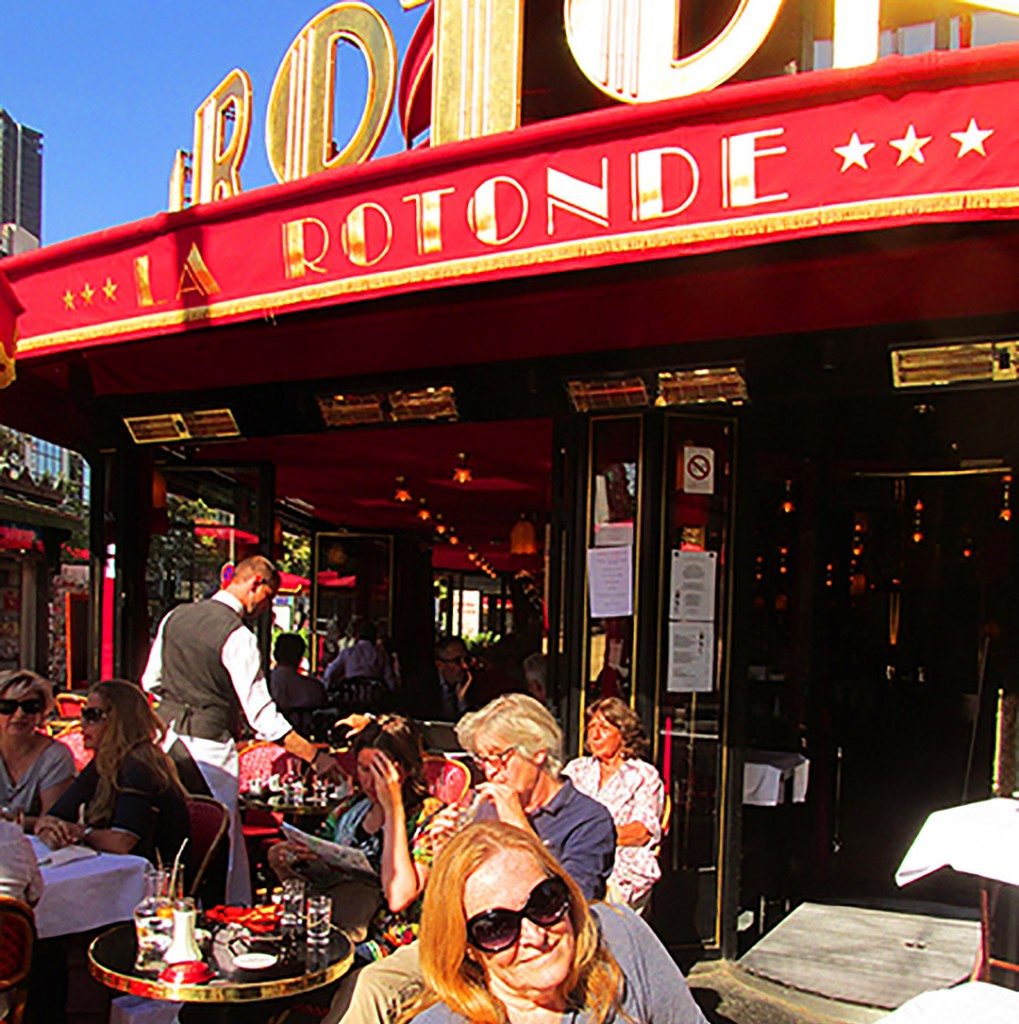 Urban Space in Bratislava, Slovakia
by Kami
During 
my visit in Bratislava
 in June I randomly found the most perfect cafe ever – Urban Space. The interior was the best I've ever seen – a modern architecture clashes with rusty elements and wooden tables stand next to the bookshelves. The atmosphere is amazing too, sort of laid-back and super creative! The place might be a little bit too hipster for some but for me it was love at first sight. To my great happiness I also discovered the younger sister of Urban Space – Urban House and it was equally amazing! If only I had these cafes in my hometown I'd spend hours there, for now I just have a really good reason to return to Bratislava!
Address:
Námestie SNP 488/30, 811 01 Bratislava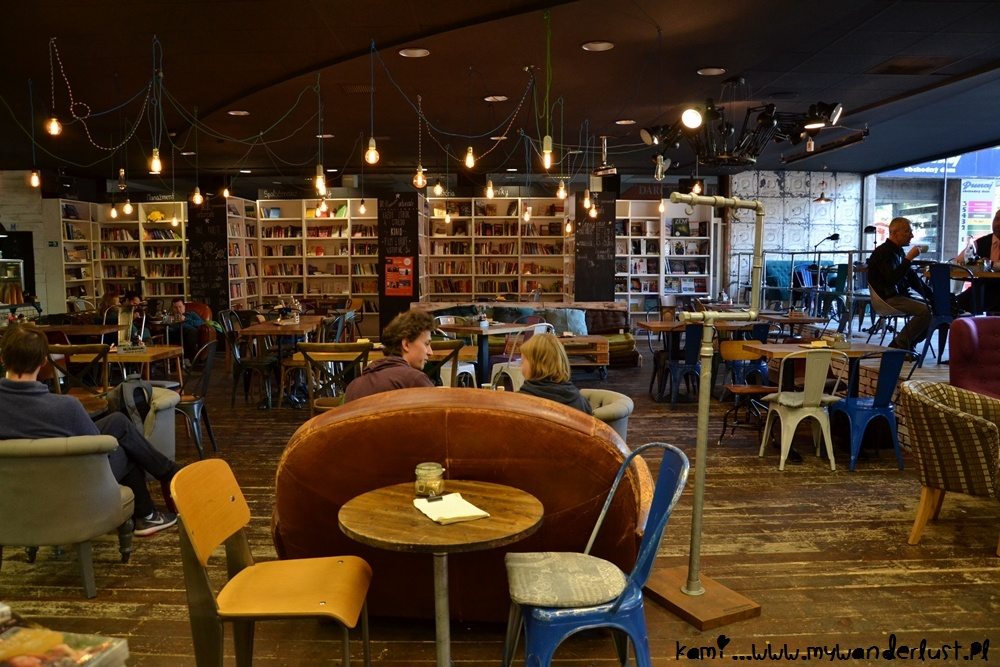 People Watching at Cafe du Centre Paris, is nearly a hobby. People watching, cafes and Paris work together beautifully. The 2nd arrondissement is one of our favorite places in Paris, and one of our preferred streets is Rue Montorgreuil. This street is a mix of visitors and locals, who go about their daily activities, do their shopping at the markets and sit and have coffee, wine and a chat.
Cafe du Centre is right in the middle of the action. There is the fishmonger who calls out, the fruit and vegetable stall, which is directly across the road and always busy with people bargaining and the green grocers plying their trade and the latest stock. There are butchers and cheese shops as well as flower shops. It is also nearly next door to the oldest patisserie in Paris, and well worth stocking up on some of their amazing products.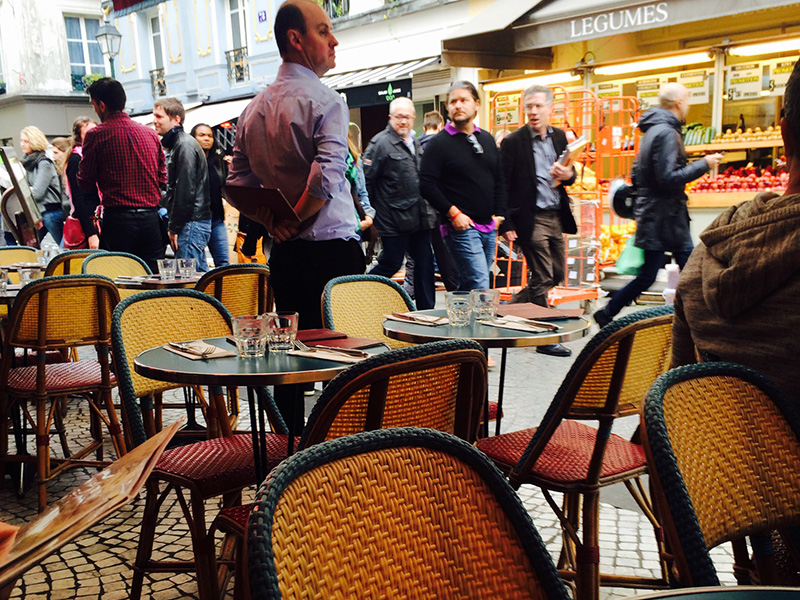 This is another reason that we like the 2nd arrondissements, it is full of real people and not just tourists like us.
Address: ‪57 Rue Montorgueil,75002 Paris
Reputedly serving the best coffee in town, Coffee Makers is a laid-back, welcoming café with a fabulous variety of coffees on offer including one of the most unusual I've ever stumbled across the Maltesers coffee. This naughty but nice treat is served with a mound of whipped cream decorated with Maltesers with yet more chocolate surprises in the coffee itself. They also serve seriously good sandwiches and cakes that are without doubt a cut above the rest. Read more about the cakes and cafés of Lille in Kat's post An homage to the cakes of Lille.

Address: 151 rue de Paris, Lille
>Book Cafe (Lotz Terem) Budapest, Hungary
by Pack Me To 
Hidden behind stacks of books for sale is one of the most beautiful coffee houses in Budapest. From the ground level, you think you're just walking into any regular bookstore, but those in the know, head straight upstairs where you're welcomed into a beautiful room with high arched ceilings and lavish decor. This is the hidden world of Book Cafe (Lotz Terem). I love how it's like you're walking into a secret society as the rest of the world just rushes past and yet, the atmosphere is unpretentious. Just regular Hungarians (with a few tourists thrown in) enjoying cake with a cup of coffee or indulging in one of their thick hot chocolates, a favourite of mine. Regardless of your choice of drink, you'll leave feeling like royalty back into the real world.
Address:
Andrássy út 39
Budapest, Hungary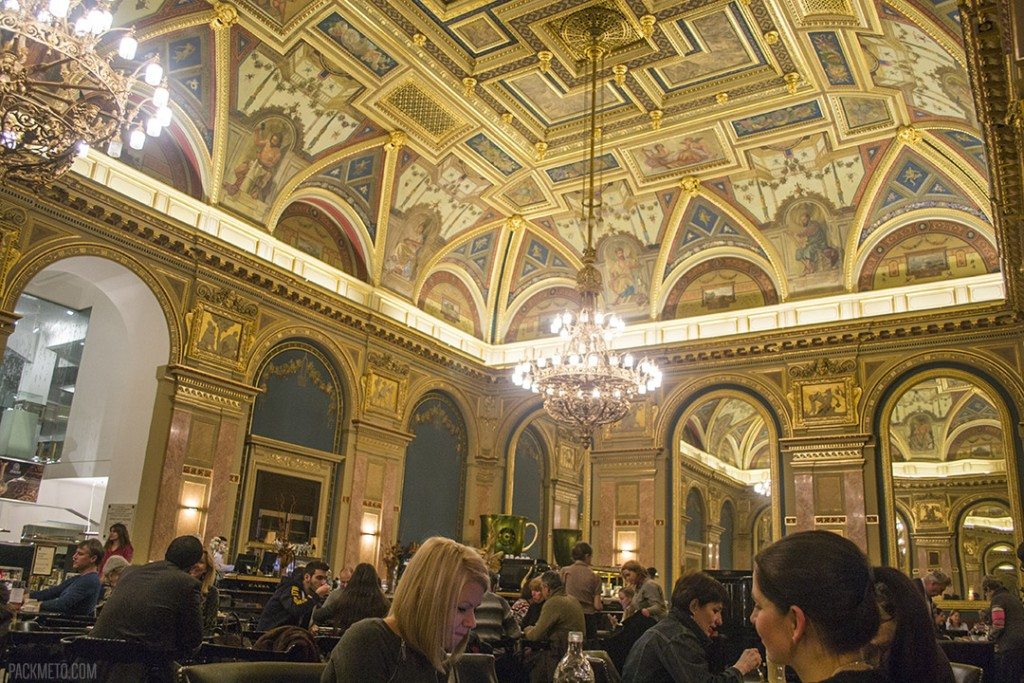 THE AMERICAS
Located in the heart of the relatively quiet South Main Arts District, Bluff City Coffee is the perfect spot for a relaxing espresso beverage in Memphis, Tennessee. We stumbled across this hidden gem during one of our recent trips and immediately fell in love with both the architectural design on the outside and the décor and ambience that grabs your attention as you walk inside.
A simple café latte with a hint of Ghirardelli caramel is my perfect choice, but even if you are not a coffee lover the raspberry shake is to die for (Heather can certainly attest to this). On your next visit to Memphis also known as 'Bluff City', be sure to hop on the Main Street Trolley from Beale Street and take a trip to a coffee shop named after the city itself – you will not be disappointed!
Address
505 S. Main Street,
Memphis, TN 38103
(901) 405-4399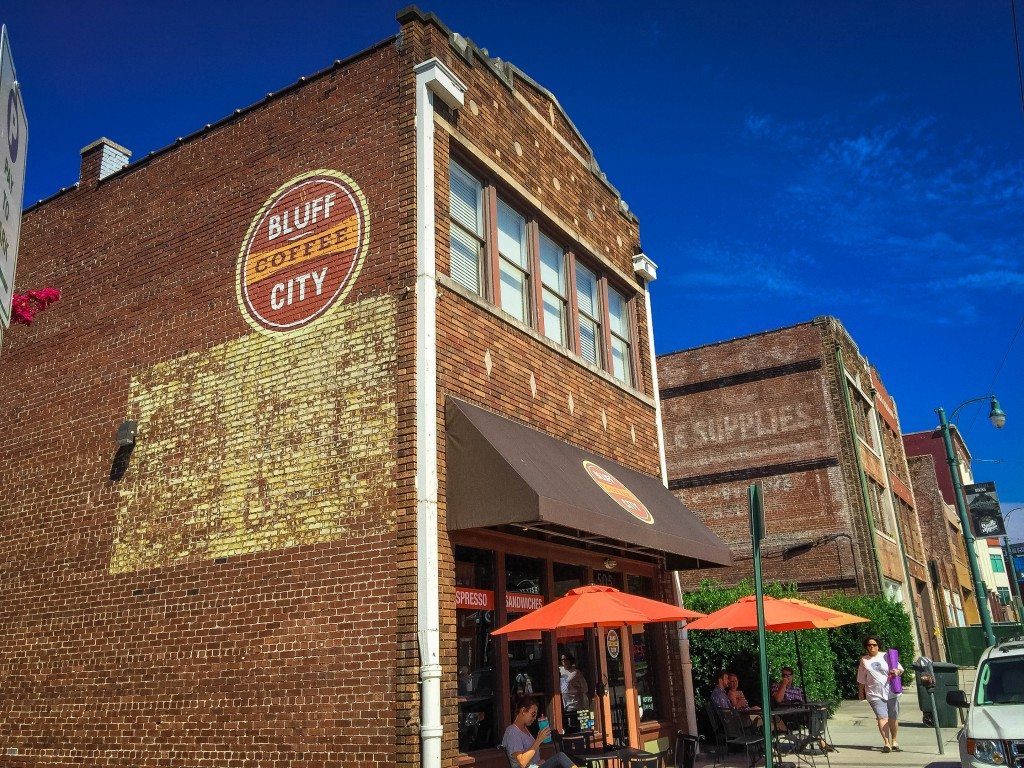 One of the most iconic coffee shops in the United States is Café Du Monde in New Orleans.  Since 1862, this institution has been serving café au lait and beignets to tourists and locals alike.  Open 24 hours a day (except when a hurricane rolls through town), Café Du Monde is the place where New Orleans meets to socialize and read the paper.
Peet's in Berkeley is where the revolution of dark-roasting whole coffee began in the U.S.  This is the original location in what is now a chain, and which at one point spun off into Starbucks.  This is still my go-to coffeehouse when I get the urge to sit and savour.  I usually order a blended light vanilla Javiva, and on my birthday I have walked around the corner to get a cupcake.
Address:Peet's Coffee and Tea, 2124 Vine St., Berkeley, California
Cafe Monet, Mexico, San Miguel de Allende
by Nomad Women
There are dozens of popular cafes in San Miguel de Allende, all wonderful for different reasons. But one of my personal favorites is Cafe Monet. I like its coffee and I like its food, but mostly I love its ambience, its Old-World elegance with a distinctly Mexican accent. You can sit at a table or relax on a comfy leather sofa, stay as long as you want, enjoy the colorful range of art on the walls or work on the free wi-fi. It's a great place to meet friends and gets a nice mix of ex-pats and Mexicans.
Address: Zacateros 38, San Miguel de Allende;   ph: 415 154 8348
Mon, 7:30am-3:00pm, Tues-Sat, 7:30am – 9pm, Sunday, 8am-2:30pm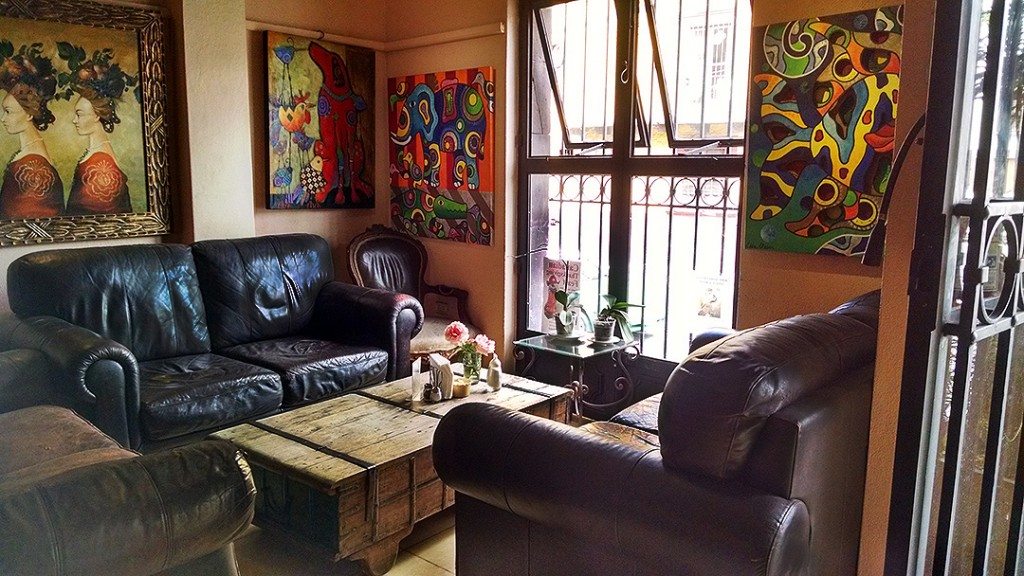 Pergamino Café, Medellín, Colombia
Pergamino Café is quite the surprise. Nestled in hip neighborhood of El Pabaldo in Medellin, it is really a shock to stumble upon. Unlike most coffee shops in Colombia, Pergamino has the quality of coffee beans that are normally exported. This means delicious cappuccinos and accompanying decadent pastries. Take a seat on the outdoor patio, and it will remind you of even the most upscale cafe. Fortunately, after you finish downing your coffee, your day has just begun — you are in one of the biggest cultural capitals in all of South America!
Address: Cra. 37 #8A-37, Envigado, Antioquia, Colombia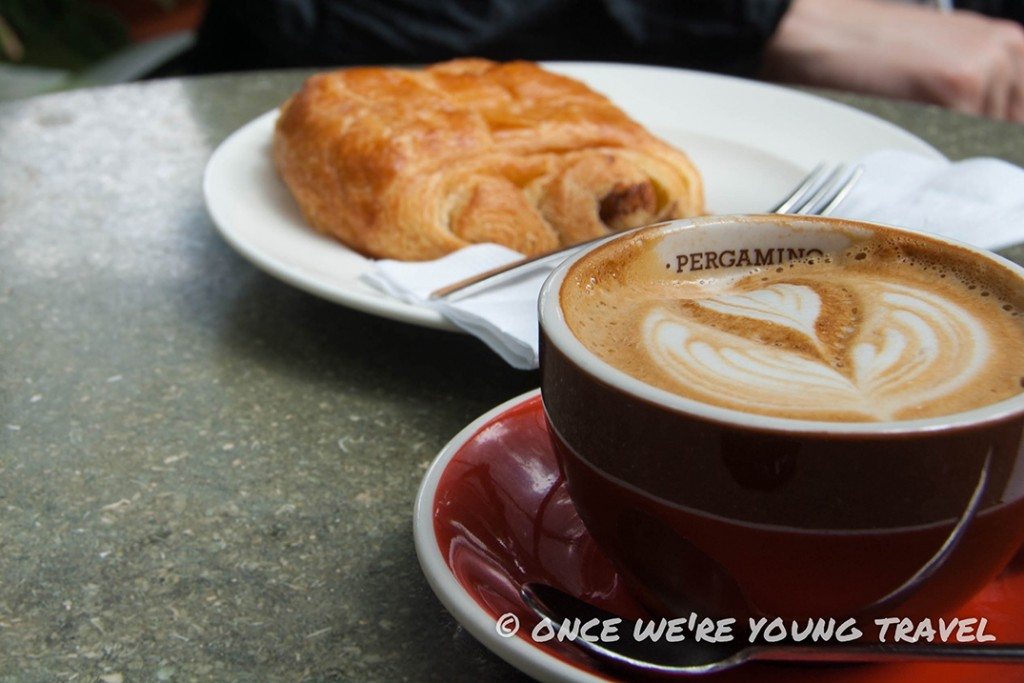 Miel Café, San Jose, Costa Rica
by Savoir There
I arrived in San Jose on a national holiday, Mother's Day. The streets were deserted, everything was shut – but I'd been travelling all day and I hadn't even had a coffee yet. So imagine how happy I was to discover that this perfect little cute little coffee shop turned out to be the only place open – and it was opposite my hotel. I think I actually jumped up and down with joy.
Café Miel is the perfect place in which to hole up when your plans go awry, serves non-dairy milk alternatives (hello soya latte!), the service is super friendly and the clientele are a young cool crowd. And on my visit I was even given free homemade heart-shaped cookies to celebrate Mother's Day.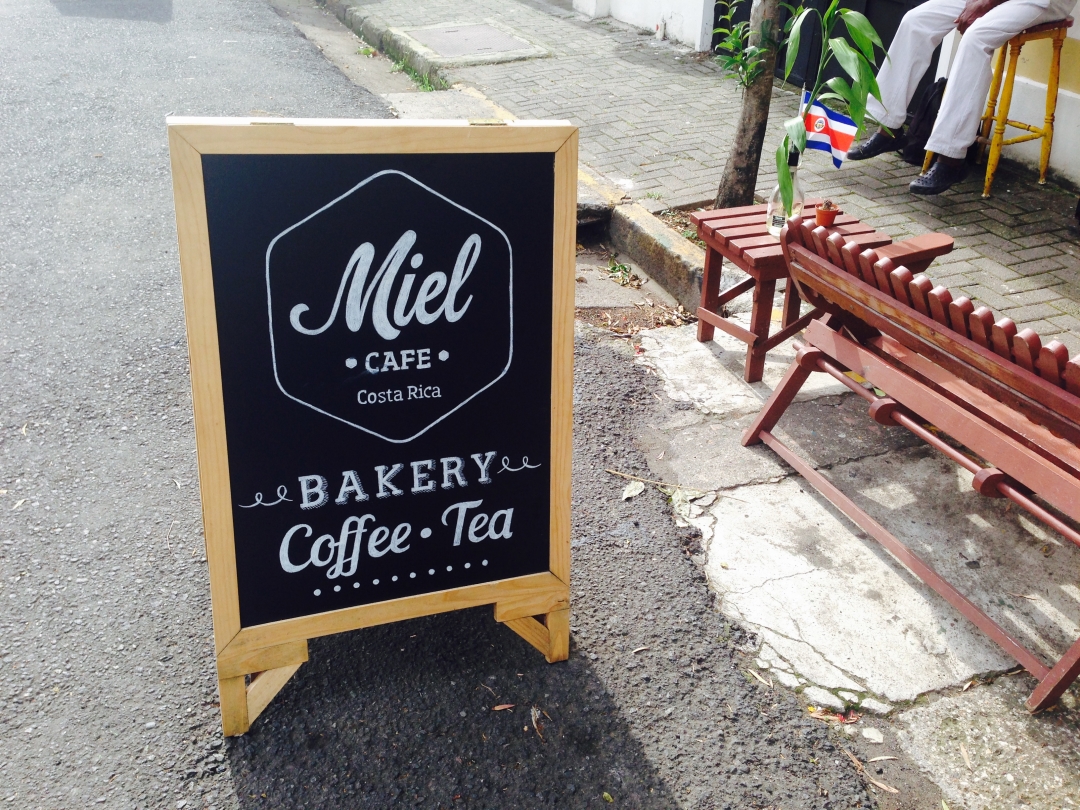 Address – Avenida 9, San José, Costa Rica.
ASIA
Caffeine Chemistry Coffee combines the science of liquid-versus-solid states and the experimentation of flavours to invent interesting culinary and caffeinated creations! We not only loved the great coffee and delicious food, like their homemade desserts, we also had a blast seeing the new truly inspired creations, like the "coffee caviar" (bubbles of coffee made to look like fish eggs as a garnish)! The atmosphere is warm and inviting with quirky touches in the decor, like beakers, flasks and chemical formulas. With amazing coffee, good prices, a unique concept and some of the best WiFi in Penang, it was next to impossible for us to find a better coffee shop on the island!
Address: No 13, Chime Heritage, Jalan Bawasah, 10050, Georgetown, Penang, Malaysia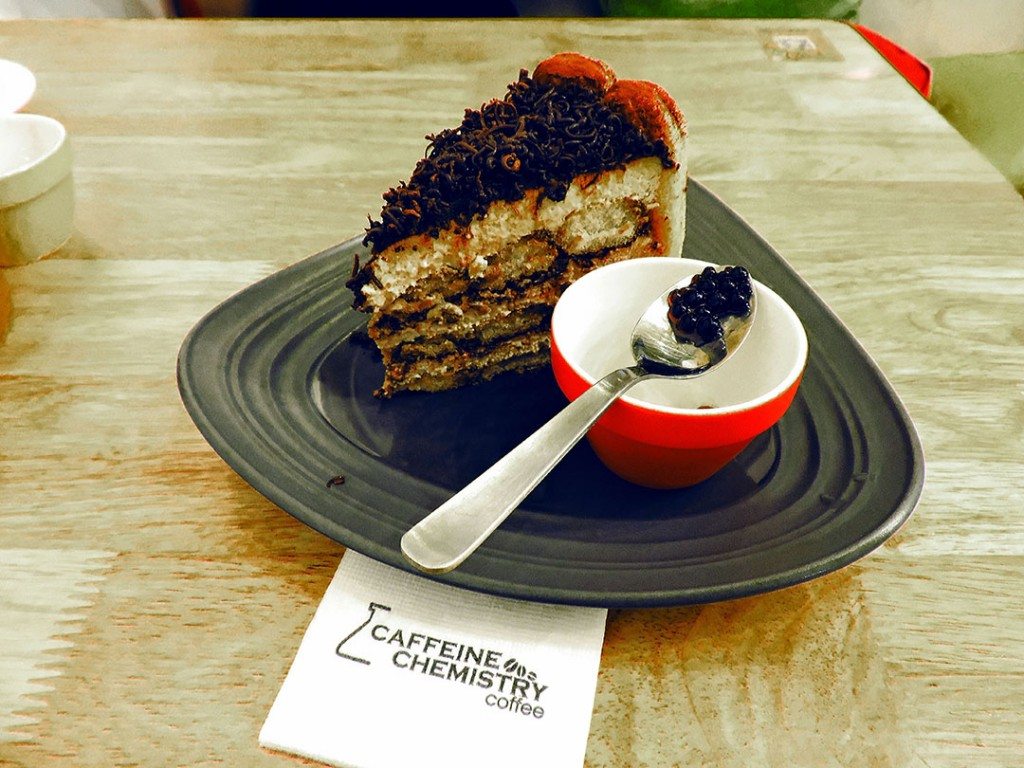 Namton's Chiang Mai, Thailand
When we first walked into Namton's, we were looking for a hit of caffeine and maybe something to eat. What we found was some of the best coffee and food we've had throughout our travels. We fell in love with its relaxed vibe, classy yet unpretentious décor and mouthwatering food created by a self-taught chef who works flavours and ingredients with passion and skill. Hidden just outside of the busy centre of Chiang Mai, a province known well by coffee lovers, we found this quiet oasis to feed our bellies and satisfy our caffeine cravings. It is a place we talk about often and hope to one day visit again!
Address: 196/2 Chiangmai-Lumpuhn T.watgate, Amphoe Muang Chiang Mai, Chiang Mai, Thailand 50000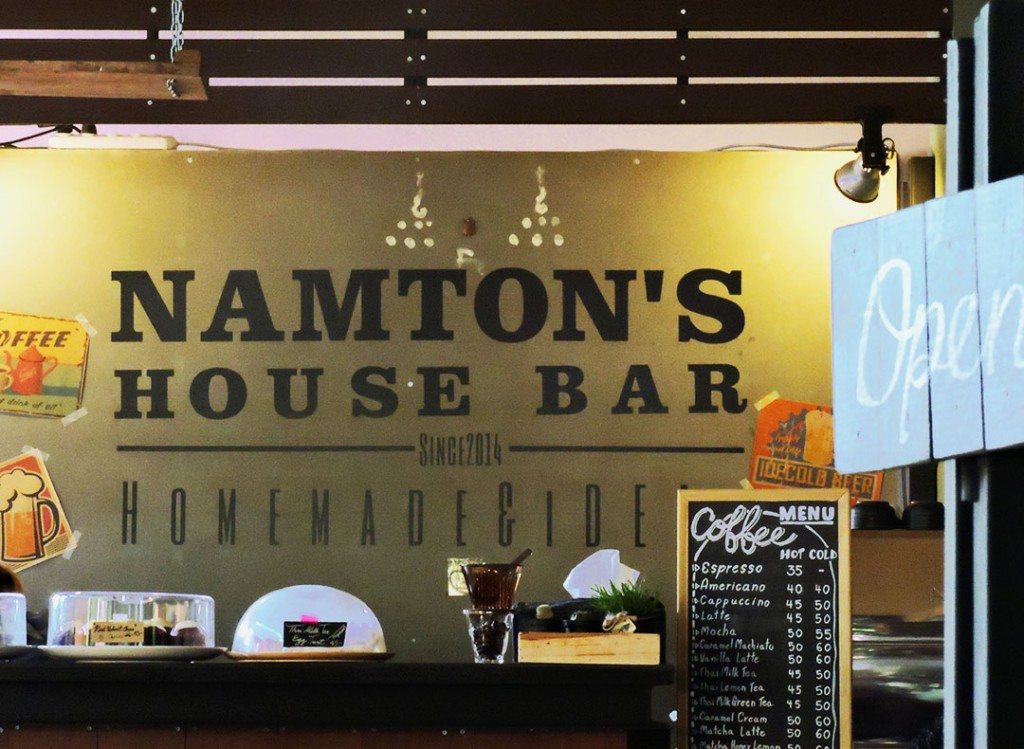 Weasel coffee in Hanoi, Vietnam. From the moment I touched down in Hanoi, I was dying to get my hands on some famous Vietnamese coffee. When a group of local students told me about a coffee shop that serves Weasel Coffee, I knew I had to visit. What is Weasel Coffee? In the wild, weasels will select only the best coffee beans to eat, but their bodies can't digest the beans and they poop them out whole. Weasel Coffee is a Vietnamese delicacy that uses only these "special beans".  Huong Mai coffee shop will let you taste test different varieties of slow drip Weasel Coffee. Be sure to grab a bag as a souvenir on your way out the door!
There are 3 different locations in Hanoi, all run by the original owner's sons:
Address: 15 Hang Manh – Hoan Kiem – Hanoi 58 Ma May – Hoan Kiem – Hanoi, 49 Lo Su – Hoan Kiem – Hanoi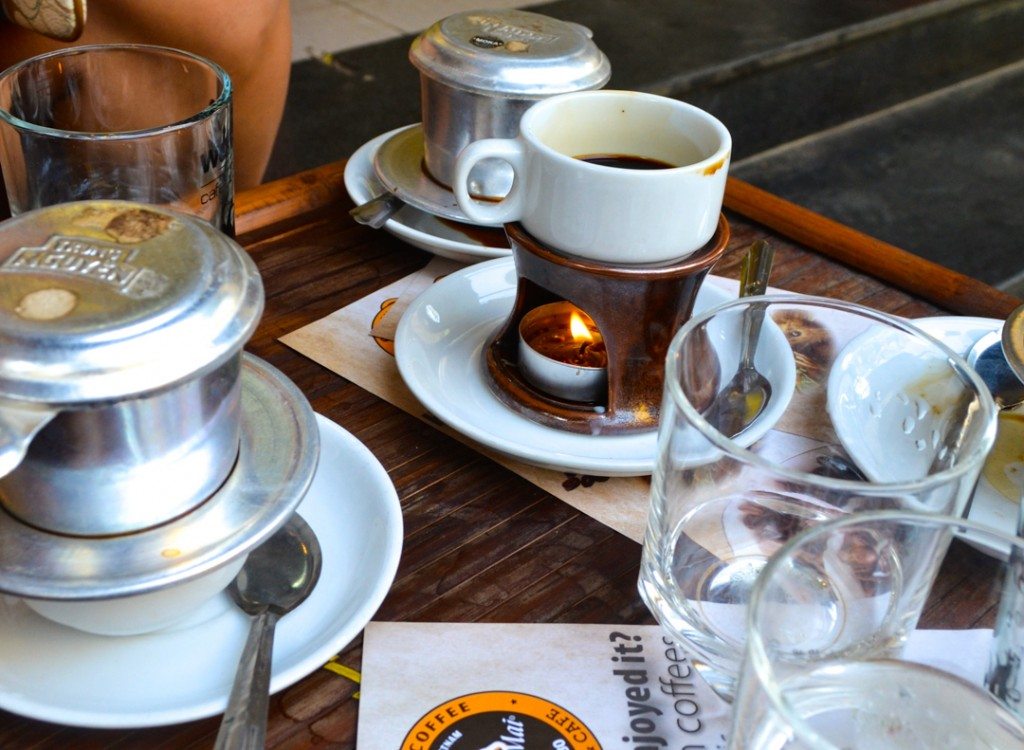 We returned from Vietnam yesterday and one thing that surprised me about Vietnam was their coffee culture, now this is a big statement, as where I live in Melbourne, Australia has one of the biggest coffee cultures in the world! Vietnam's second largest export item is coffee beans, bet you didn't know that! I didn't either. Vietnamese coffee is served in a dripper that drips into a tall glass sitting below. Once an expresso sized shot has dripped through the dripper, it is removed and condensed milk is added to the shot, if you like your coffee hot just stir and drink, no sugar required. What is interesting is that people drink their coffee full of ice over there. Ice is added to the brim of the glass and then the condensed milk is added.This is a change compared to 12 years ago when we last visited, coffee was served hot then. They drink it pretty strong, so a single shot is plenty. Full disclaimer here, I don't drink coffee but Craig, my husband, considers himself quite the connoisseur! I do love the smell though.
Photo was taken during a coffee making demonstration at the An Lam Resort, Ninh Van Bay near Nha Trang, Vietnam.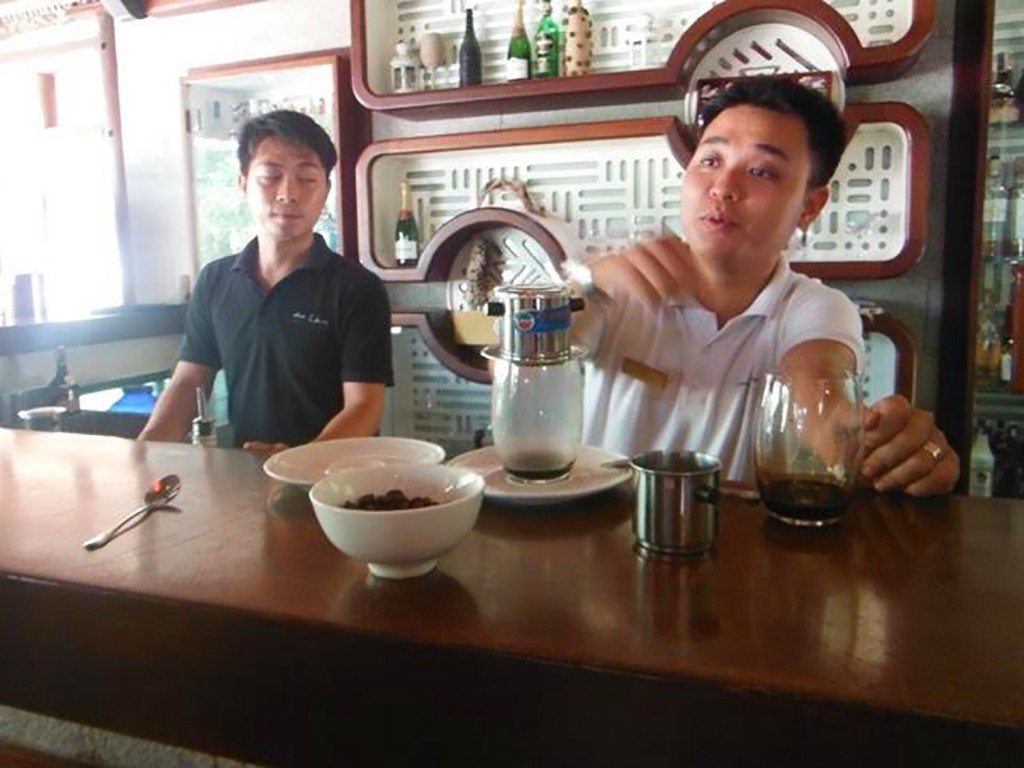 AUSTRALIA
Artificer at Sydney, Australia
Our fave coffee shop in the whole of Sydney is Artificer in Surry Hills. As self confessed coffee snobs, this place is amazing because they only do coffee. No tea. No muffins. No brekkie. Just amazing coffee. These guys roast and grind their own coffee beans on site and they take a lot of pride in their craft. Dan and Shoji make it easy to love this place, it's chilled vibe, delicious coffee and old school tunes make it the perfect place for our daily caffeine hit. These guys roast and grind their own coffee beans on site and they take a lot of pride in their craft. You'll find us in the window seat basking in the sun!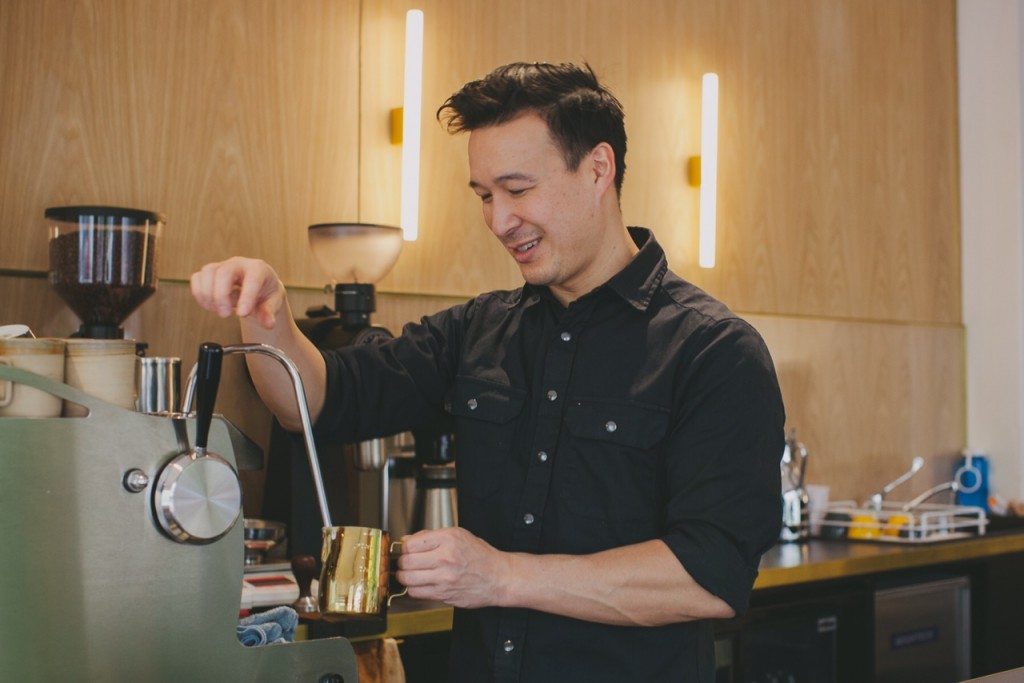 Photo Credit for Artificer, courtesy of The Freedom Fighters friend,  Elize Strydom
Address: 547 Bourke Street, Surry Hills, 2010
Litani's, Wollongong AUSTRALIA
This is our go to coffee shop. Every morning that we are home in Australia, we walk along the beach to Litani's. They know us, know our order and we just feel very comfortable here.  Litanies is a very multicultural coffee shop,  and it is here where you here regulars discussing the world at large, where others sit having business meetings, while others just sit and socialize or read a paper. The outside area is very popular and is a typical al fresco café come restaurant.
There is a sense of community at Litani's, which is very appealing. Litani's is a Lebanese Mediterranean Restaurant and the owner is part Samoan and many of the regulars are Greek, Macedonian, Lebanese and the patrons are from everywhere, reflecting the cosmopolitan demographic of Wollongong region.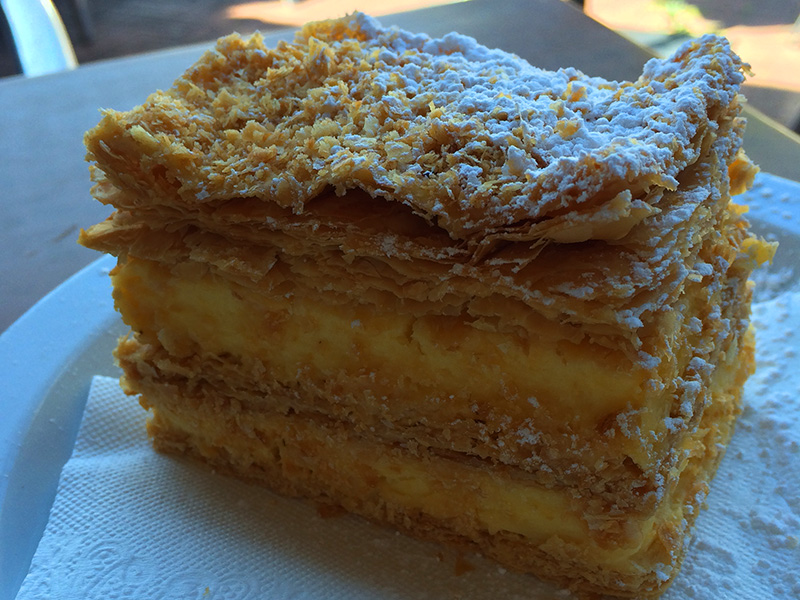 Address: 120 Corrimal St, Wollongong NSW 2500
Best Little Coffee Shops is our companion site.
If you want to win my heart and my undying love forever and ever, then it is easy. Great coffee, say all day breakfast, and give me the best eggs benedict, the best coffee and a place to watch the people go by. Gusto Deli Cafe At Five Ways in the uber cool Paddington in Sydney and it does just that. As one of the most beautiful cities in the world, Sydney Australia knows its coffee shops.
Paddington is and always has been a trendy little place even when I lived it there ages ago. This is where you will see lots of very trendy and boho chic people and it has that village atmosphere within the bustling city of Sydney, Australia. People watching is a sport here and Gusto Deli Café is at the perfect vantage point at 5 ways, where the road goes off in, yes, 5 directions. There is not that much car traffic, but lots of people and cycle traffic. Here you can see remnants of the hippie era as well as their fair share of quirky locals.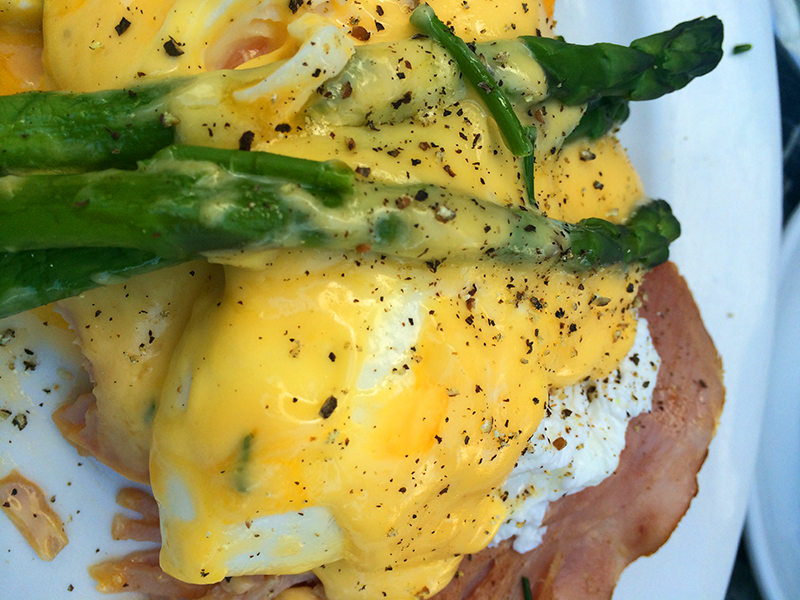 Address: 2A Heeley Street
Paddington, New South Wales
Top Travel Writers have shared the very Best Coffee Shops in the World. I hope you find some here that will enhance your travels.
Do you have a favourite coffee shop that we should add to this list?
Let us know and we will do another post about these fabulous places that we all love.
Catch up with Top Travel Writers Name the Best Coffee Shops in the World