It doesn't matter where you travel to, but one of the major questions you need to address is how to get around a city or town, and in this article, we look at What's the best way to get around Copenhagen, Denmark? Another important question is what are the top things to see and do in Copenhagen.
This vibrant capital city of Denmark is a city that you do want to explore, so choosing the best way for you to get around Copenhagen is an important decision.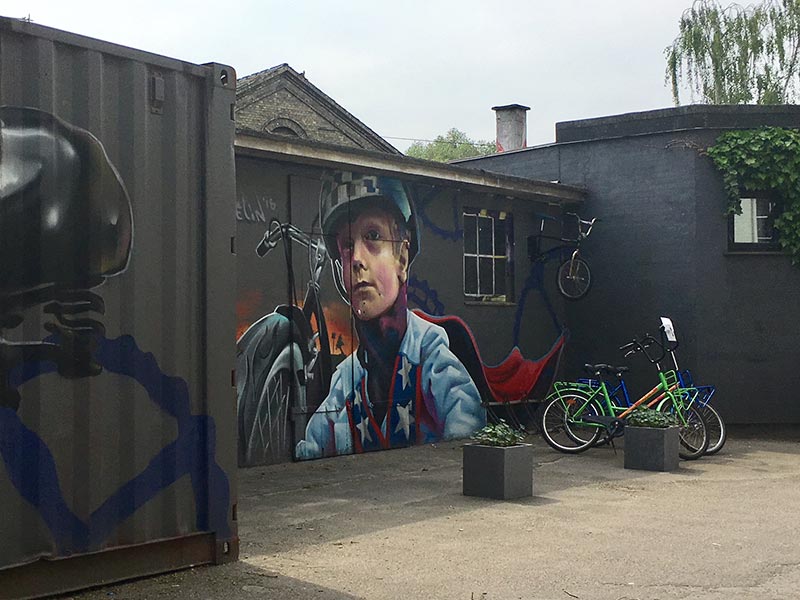 Top Things To See And Do In Copenhagen, Denmark.
You might also like to read the first timers guide to Copenhagen.
Visit the The old harbor of Copenhagen, Nyhavn
the colorfully renovated townhouses from the 18th century are beautiful. Don't eat here, however go on over to Papiroen.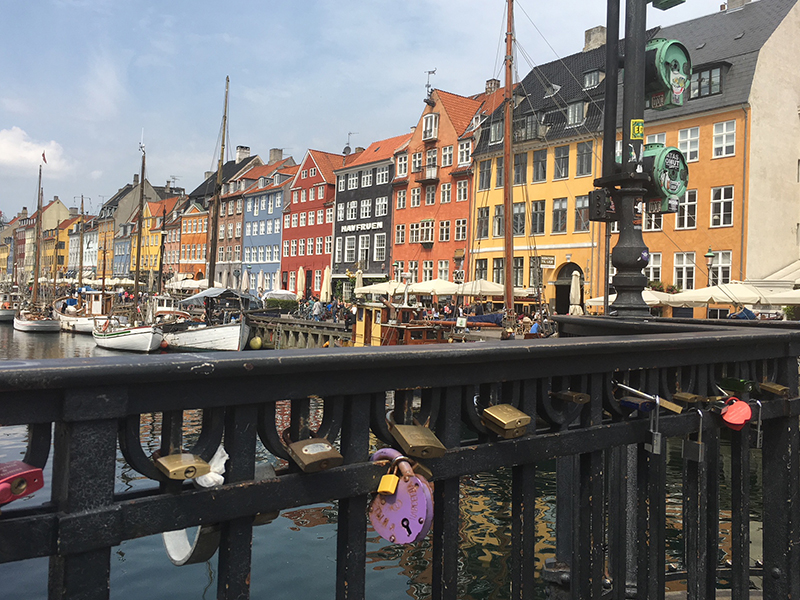 See The Little Mermaid
Inspired by a fairytale from the most famous children's storyteller of all time – Hans Christian Andersen – the Little Mermaid is one of Copenhagen's most famous tourist attractions, and is always crowded. But you can't come to Copenhagen and not see her, even though the Danes are not fans.
Visit Tivoli Gardens
This theme park's fame that some people come to Copenhagen just to visit Tivoli Gardens.
People watch at Strøget
One of the largest pedestrian malls in the world, great for people watching and more.
Explore the Nationalmuseet
Learn all about Denmark's history, and see Trundholm Sun Chariot. It's a Bronze Age item, dating to 1400BC, with a bronze statue of a horse pulling a gold disc representing the sun.
Visit Christiansborg Palace
On the tiny island of Slotsholmen is the Danish seat of government and an attraction that should be top on any visitor's agenda.
Climb the The Round Tower (Rundetårn)
The Round Tower (Rundetårn), a 36-meter-high structure built as an observatory in 1642. From the top are panoramic views over the city. A new attraction is the glass floor, 25 meters above the ground where you can peer down into the castle.
Definitely visit Christiania
It started out as hippy settlement more than 40 years ago, and controversial area is well worth a visit. It was initially commenced as a social experiment and is now owned by the residents. Christiania is one of Denmark's most loved tourist attractions, and each year, this 'freetown' attracts up to a million visitors. Highly recommended, just be respectful when they ask you not to take photos of the daily drug transactions. Read more about visiting Christiania in Copenhagen.
.
Getting around Copenhagen
Having recently explored Copenhagen ourselves, we asked Guest writer Ritch of Heelside Chill to share his tips for exploring Copenhagen. Here are his ideas on exploring the Danish capital city of Copenhagen.
Guest writer Ritch prefers longboarding the streets of Copenhagen. Longboarding is just like skateboarding but faster.
Getting around Copenhagen was fairly simple for me, and to make it simple for you too, here we go! Metro, bus, cycling and my favourite – longboarding – put simply in the next paragraphs.
Catching up with professional travel writers, Gordon and Paula of Contented Traveller, I got invited to give tips on my latest trip to Copenhagen, the great city holding one of one of the last European monarchies.
(Editor note: with a Tasmanian princess also, I will add also that walking around Copenhagen is a great way to experience this beautiful, beautiful city…and  also add not miss the smørrebrød of Copenhagen, at street food capital, Papiroen, as you will need some great local food during your journeys.)
back to Ritch ….
Cycling around Copenhagen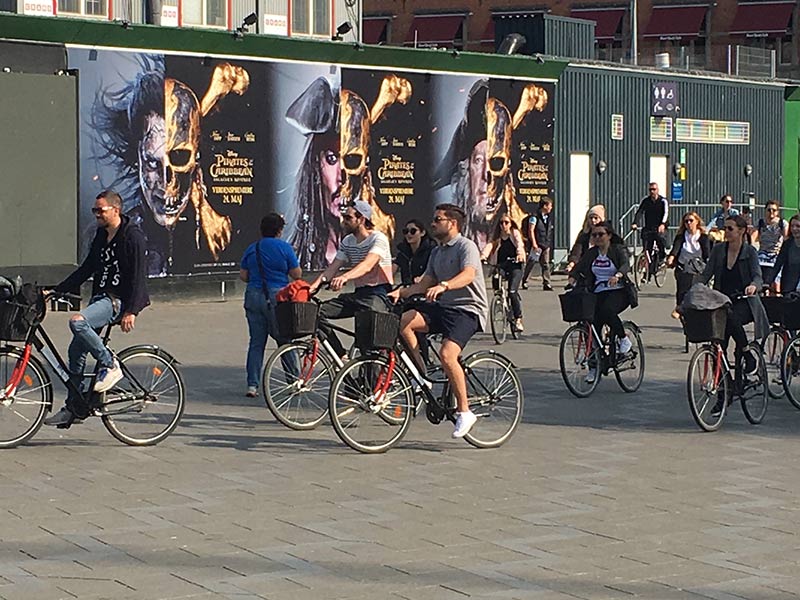 When I think about Copenhagen, I cannot help but see "Borgen" Sidse Knudsen on bike rolling to the Christiansburg to lead the Folketing. With Danes being so eager to cycle and the infrastructure being extremely developed, that is certainly a sin not to rent a bike and stroll around the city during your stay in Copenhagen.
Bycyklen (The City Bike) is synonymous with Copenhagen. The Bycyklen bikes are available all over the city and are easy to use. The city bikes are intelligent electric bikes that are available 24/7, 365 days a year. Each bike has a touchscreen tablet which can be used for navigation, payment and guidance to points of interest in Copenhagen and Frederiksberg. Source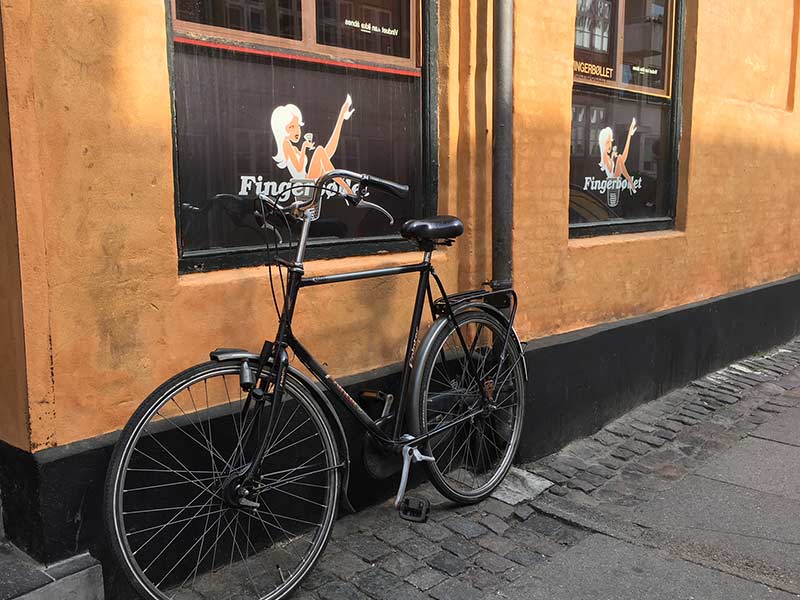 Not only you will be more open to the city vibe, but the community cycling is something to enjoy, and the rental prices are rather affordable. Although many suggest wearing a helmet (and I do, too!), I had noticed when rolling around the city the majority do go without any helmets allowing the fresh spring breeze to play with hair.
It would be a good thing not to risk your pride though, especially with all the bike design boutiques offering you super stylish options.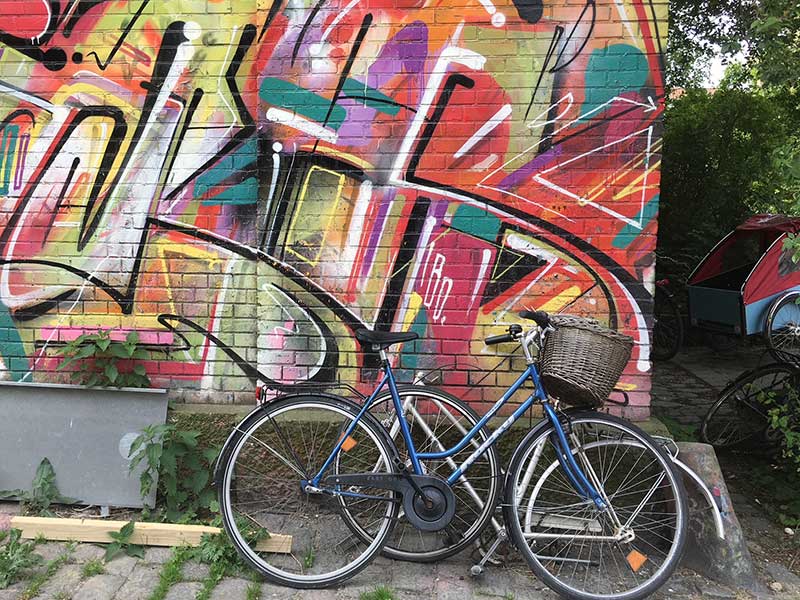 How to Use Public Transport in Copenhagen?
Public transport in Copenhagen is extremely convenient if you want to come to the city in wintertime or simply do not feel like walking or cycling for miles. There are three most regular options, namely S-tog, metro and bus, and boat on top of that.
Understanding the Copenhagen Metro
From the airport to the city
As most of the cities, Copenhagen offers metro lines, which unlike many are easily understood and simple to use. You can take a metro from the airport, as they run every 4 minutes, and 2 minutes in peak hours. Read about your options from getting from the airport into Copenhagen
Catching the Metro when in Copenhagen
Even at night, you will not have to wonder how to get from the party back into your hotel bed, as the night metro runs with an interval of 15 minutes. But please be more mindful than me; as metros do not have drivers, the door closes automatically, without waiting for everyone to enter. So, if you see, there is no space (as I did,) be smarter and wait the additional 2 minutes, and not try to squeeze in just to get cramped into already full wagon and given sights by Danes.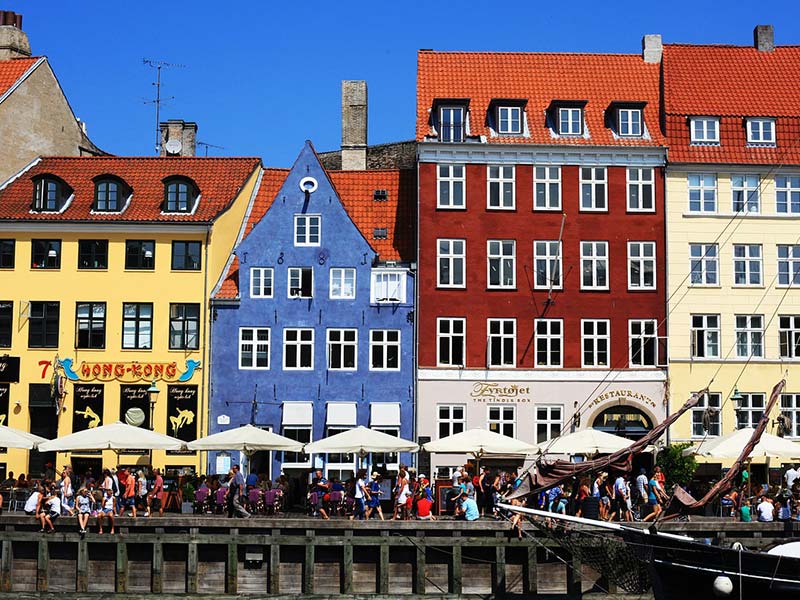 The Danish S-bahn
If you wonder what S-tog stands for, it is simply put a Danish S-bahn. These are urban-suburban rail serving the Copenhagen urban area, with the notable exception of Amager.The red trains are clean and have WiFi hotspots. If you want to get to the other side of the city, are not late and do not want to be squeezed between everybody else, that is a good option. S-tog runs with an interval of 10 minutes during the day, and 20 minutes in the early morning and late night. Also, notice there are no night trains, but as I already said, you can always get into the metro.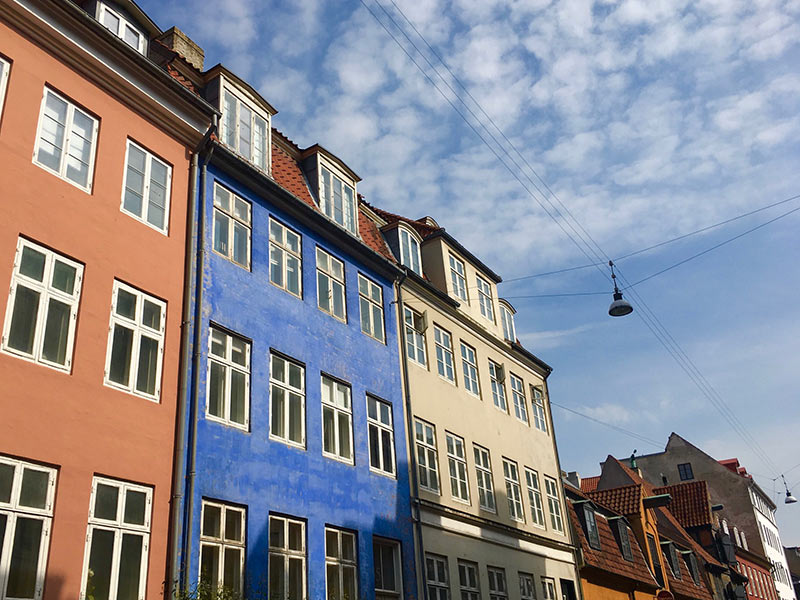 Using the bus in Copenhagen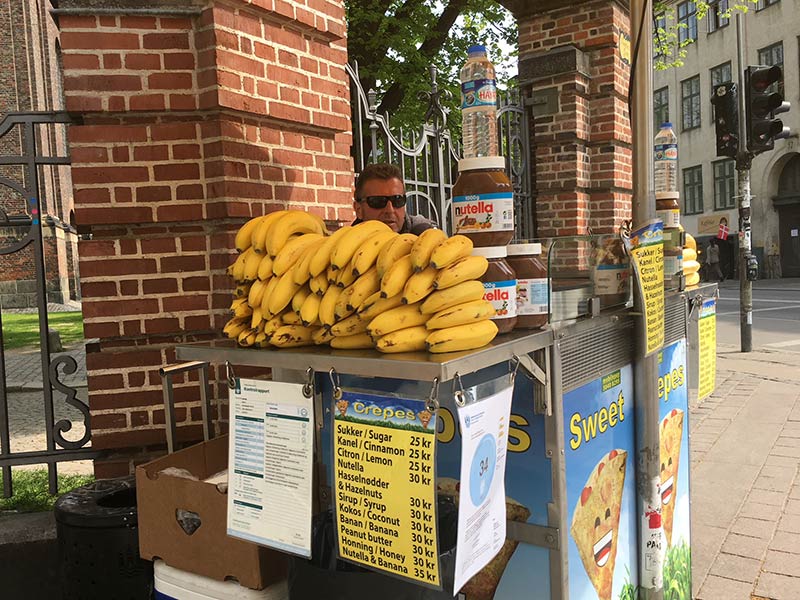 If you are using the bus in Copenhagen, it can take twice the time than it does on the metro to go the same distance, but in my opinion, is always worth it. You get a window view and a moving picture of Copenhagen life while just getting around! However, without extensive planning and researching before, the system is quite troublesome for foreigners.
The special codes of busses hold a meaning of their types. For example, regular buses have only their number, while A buses are the main network without any schedule departing every 2 to 6 minutes, S buses are express buses to faraway suburbs, and E buses are express peak-hour buses for commuters mostly. If you are a party goer, you may want to note the N buses (night buses) operating from 1AM till 5AM.
Public Transport Cards in Copenhagen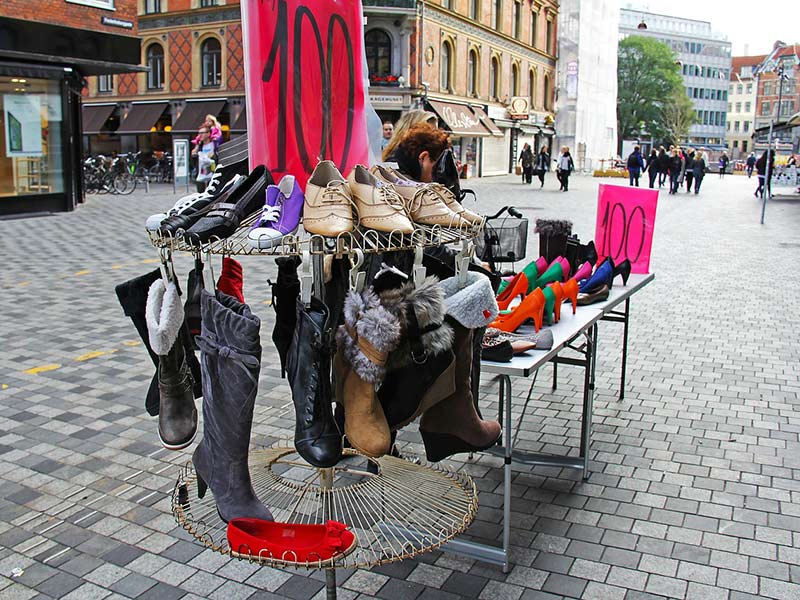 Just like any other larger city, taking public transport in Copenhagen is probably the best (financially and time-wise) option if your hotel is located further away from the city centre.
Either getting to the centre in minutes or simply arriving in winter when the weather is harsh, you may want to go for underground train.
In Copenhagen, just as in most of the other cities, the public transport operates by zone system, with tickets starting from 2-zone ticket for both buses and metros. Additional zones can be added and measures in around 7 minutes for metro and 15 for a bus ride.
Get the Copenhagen Card
If you are coming to Copenhagen for a weekend, I would suggest getting the Copenhagen Card (24 and 72-hour options.) Not only you can take both metro and bus, but use any transport in the region and get into 60 museums for free. However, if you are in Copenhagen on Sunday and Monday, be aware that it may be less valuable, as the museums are either free or closed on those days.

Getting Rejsekort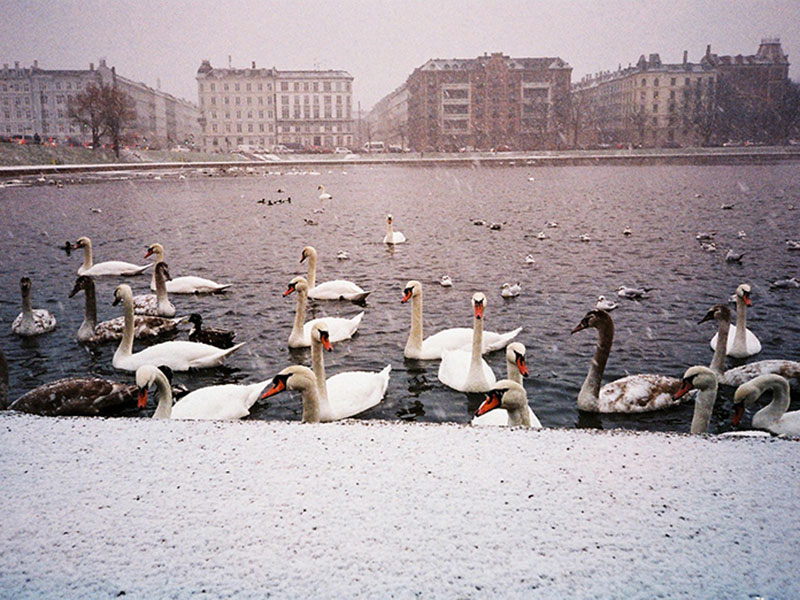 Also, a friend of mine I stayed with in Copenhagen always gets a Rejsekort to travel, allowing for adding credit as you need to. "Rejsekort is an electronic ticketing system for travelling by bus, train and metro. Rejsekort unites the different transport operators, travel zones, ticketing systems and discount schemes into a common system, which makes it easier for passengers to use public transport services in Denmark"
When using transport, you must check in at the beginning and the end of the trip, and also at every switch of the transport. If you go to Denmark and Copenhagen for more than a weekend getaway, it is a good option to consider, as it is less costly than buying a bunch of single tickets. Mind that you want to get an anonymous travel card ("Rejsekort Anonymt",) as the regular one requires you to have a permanent address in Denmark
That's about the convenient card offers of public transport. The public transport is tidy and timely. Just pick the right option for your travel goals.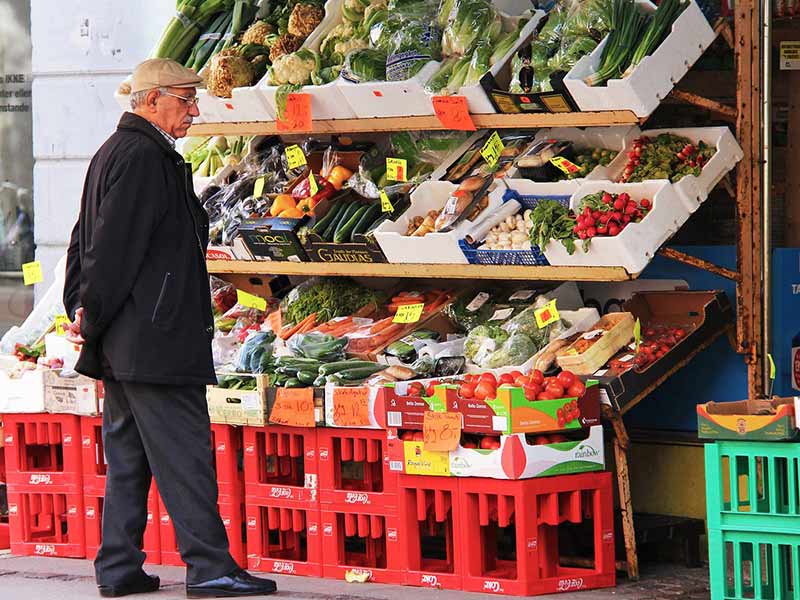 City Sightseeing buses in Copenhagen
If you are into sightseeing, there are certain buses besides hop-on hop-off and "City Sightseeing" tour bus. The city has its own sightseeing tourist-targeted line 11A, which I took this time and must say it was well worth it! Running the circle in the city centre, you won't miss out of the main attractions. Also, if you are into green living, Copenhagen as a sustainable city has an eco-friendly electric bus running every 7 minutes.
Sailing in Copenhagen
You could also choose to sail around Copenhagen on its extensive waterways.
Longboarding the streets of Copenhagen, Denmark
It's about the Boards and Breeze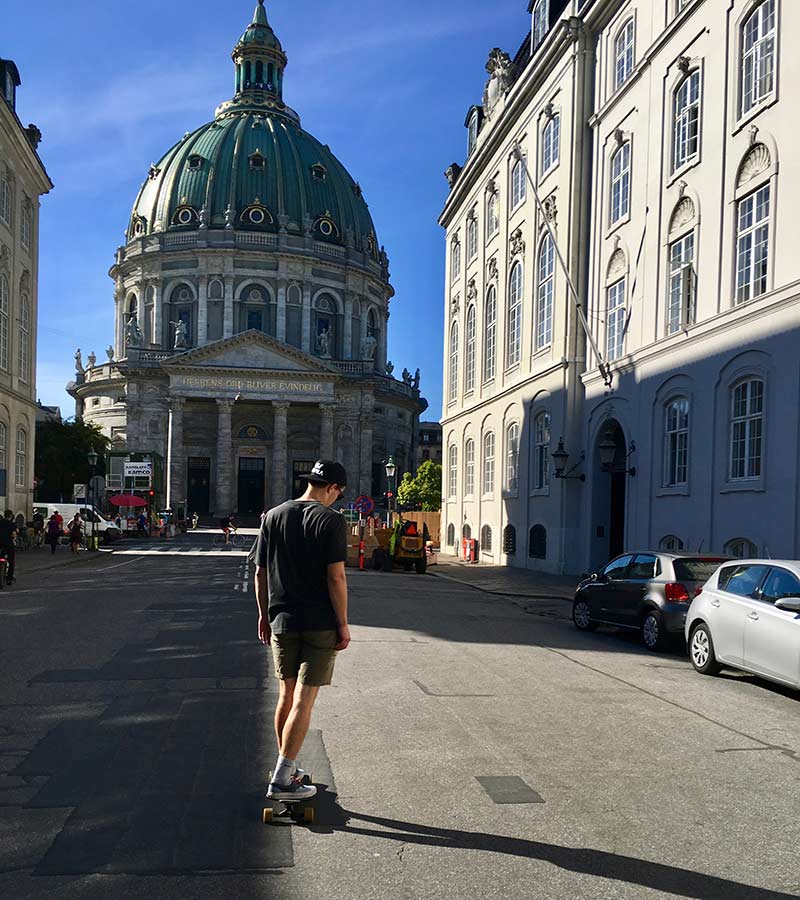 After years of enthusiastic backpacker travels, I got into longboarding and discovered a completely different way of discovering the cities, communities and a way to get around with a breeze in my hair. Hardly the most popular transportation mode when you think about Copenhagen, but longboarding is my personal favourite. Although not so well looked at by cyclists, and just so by pedestrians, the skater community is large and growing there, and you will find your crowd in a moment.
Good places to visit to meet others are Amager Beach Park, which is also my personal favourite. Especially on summer nights! It is not only the most convenient (especially in the dry season,) but also cheaper and a much better way of connecting with the local people. Do you want to have a coffee in that particular café? Just stop by, not thinking about where to put your bike and not being taken a kilometre further to the next public transport stop. (Editor note, we recommend, that you go to Cafe Wilder in Christianshavn in Copenhagen.
What better way to arrive in hippy town, Freetown Christiania– Copenhagen's Hippie Town than on a longboard.
Want to go to the far away suburb or another city? Drop the longboard in the backpack, and off you go! Not mentioning the convenience of no planning on rentals, ticket offers and finding bus stops, the board can be taken with you in a hand luggage (been doing this for years now!) And the best longboard brands aren't even that expensive. You can bring one with you or buy one here in Copenhagen. (Makes a great souvenir).
All in all, Copenhagen will raise no problem for you to get around. Either you are going for a weekend getaway to see the high art, museums and touristic spots or just going with friends for a summer or winter holiday to connect with new people and discover what city nightlife has to offer.  Transportation in Copenhagen will be easy for you.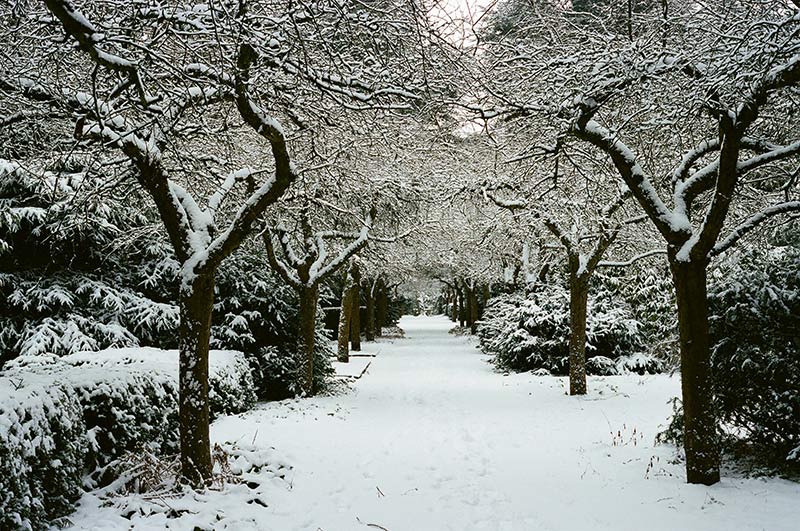 If living far away, then the metro is the option; if you rather prefer seeing the city around you, S-tog and bus are the best. Want to get from spot to spot, from museum to museum? Hop-on-hop-off bus, the usual tourist black horse is, by all means, available in Copenhagen. If you like something a little more genuine and a "local-like" experience is important, getting on a bike or a skateboard is the best option. And thus far, my total favourite.
These are the best way to get around Copenhagen, Denmark.