We were very privileged to be the guests of Conrad Bali in Nusa Dua, Bali for 4 magnificent days. This is a resort that has everything going for it. It is magnificently set on the Indian Ocean with total beach frontage. More importantly though, it is the undisputed beauty of the grounds in this resort.
We want to share with you our 4-day itinerary that was put together by Conrad Bali for us. Before this though, we have reflected on what made Conrad Bali so very special.
The location, the grounds, the rooms, the restaurants and the facilities are all amazing.
However, it really comes down to one thing and that is all of the people who work there. The staff want to be there. They are happy to help and there is not a fake smile or greeting to be found.
The people and the service is unparalleled.
Conrad Bali should be exceptionally proud of themselves. In a competitive market, it pays to play to your strengths and the hotel does just that by employing people who love the place as much as we did.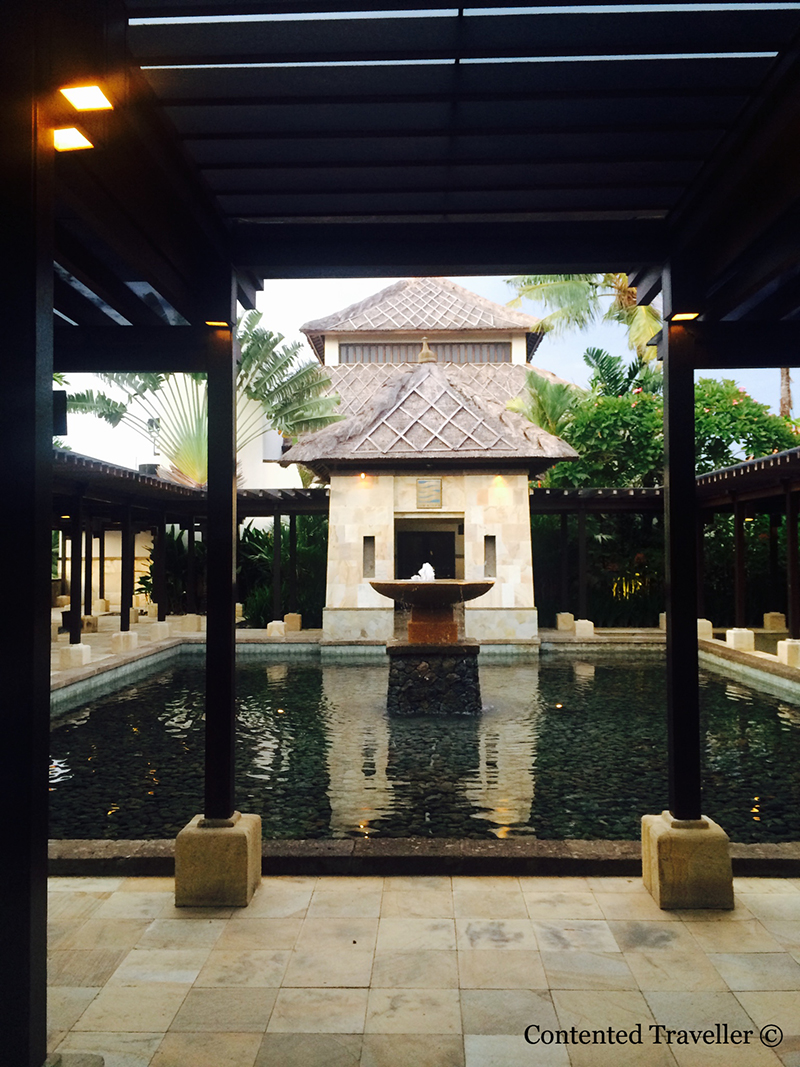 Getting there
Getting to Conrad Bali is easy with the new and schmick airport Ngurah Rai International Airport just 18 minutes away. The new toll way, the Benoa Toll Road/Mandara Toll Road makes it a quick and easy trip there. This tollway is very popular with the Balinese and expats. There is a separate lane for motorbikes and if you have been to Bali, you will know that these are everywhere and it is a chance for drivers to put the pedal to the metal and run the risk of the police catching them..and they do.
Check in
Conrad Bali had a driver waiting for us, and after a seamless check-in, we were taken to our rooms, and treated to Balinese hospitality of a cold towel (it is a humid country) and a welcome drink. We had been given the spacious and lovely  Conrad Suites, which is the grown up area of the resort. This gave us access to high afternoon tea at the RIN Restaurant, as well as access the Conrad Lounge for cocktails and canapés at sunset. Yes, we are well aware that they spoilt us a lot.
Our Conrad Suite
Our rooms were enormous, and our view was onto the private pool for Conrad Suite guests only. This pool is surrounded by curtained cabanas and huge frangipani trees in bloom. Poolside service was available. In fact, regardless of our privileges status, services of every description are afforded to all guests over this vast 7-hectare property.

The Look of the Elegant Conrad Bali
Conrad Bali appears to be the grand old lady of Nusa Dua despite being a relatively young resort. The sheer size and attention to every aspect of this resort is staggering. This is exactly what you imagine a tropical paradise resort should look like.
The frangipani trees are everywhere, the lawns are immaculate, there are lagoons and pools and bales and bridges and statues and fountains. Are you getting the picture? This is one huge and very special resort.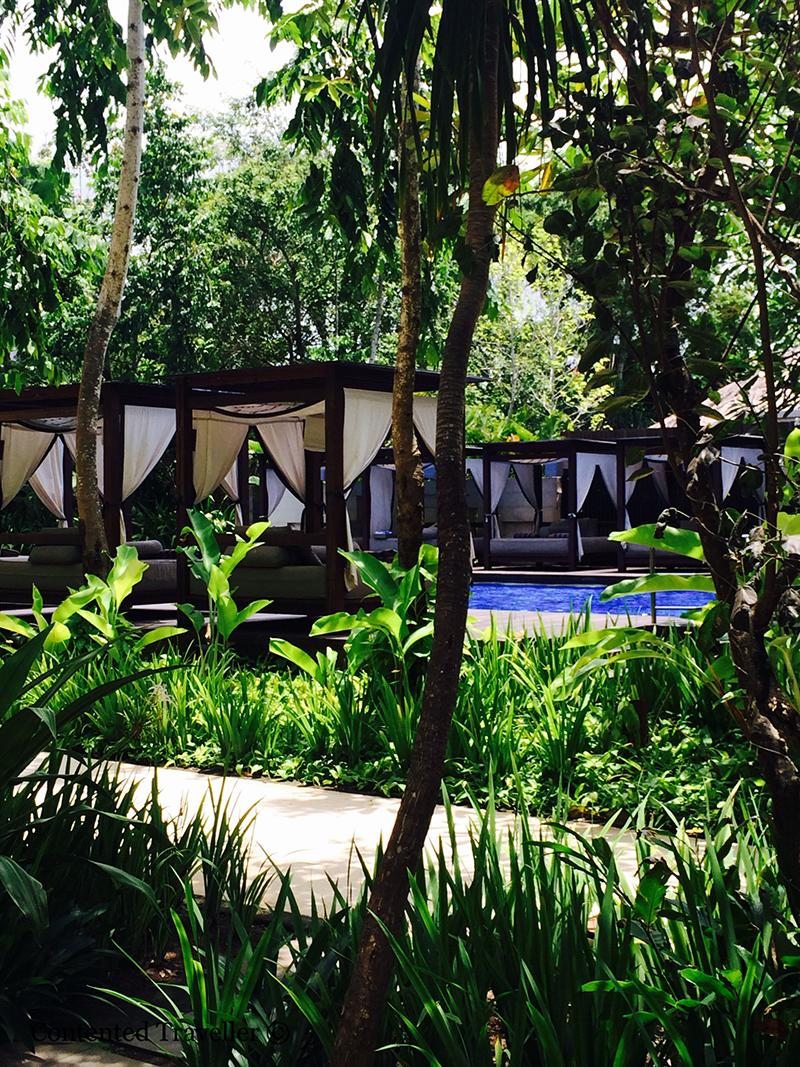 Our 4-day itinerary at Conrad Bali
Day 1 at Conrad Bali
After checking out our Conrad Suite rooms we met with Imuthia Yanindra Marketing, PR and Communications Manager for Conrad Bali to have lunch at Eight Degrees South, one of the restaurants within the resort. This restaurant earned its name, because Bali is eight degrees south of the Equator. Clever I think. Imuthia was charming and the lunch was magnificent.
This was prepared by Taufik Hidayat, Sous Chef at Conrad Bali. Taufik is an immensely talented and passionate chef, having been the runner-up in Masterchef Indonesia, 2012. He has serious street cred as a chef, having worked in prestigious restaurants in Europe and most recently in Abu Dhabi and Dubai.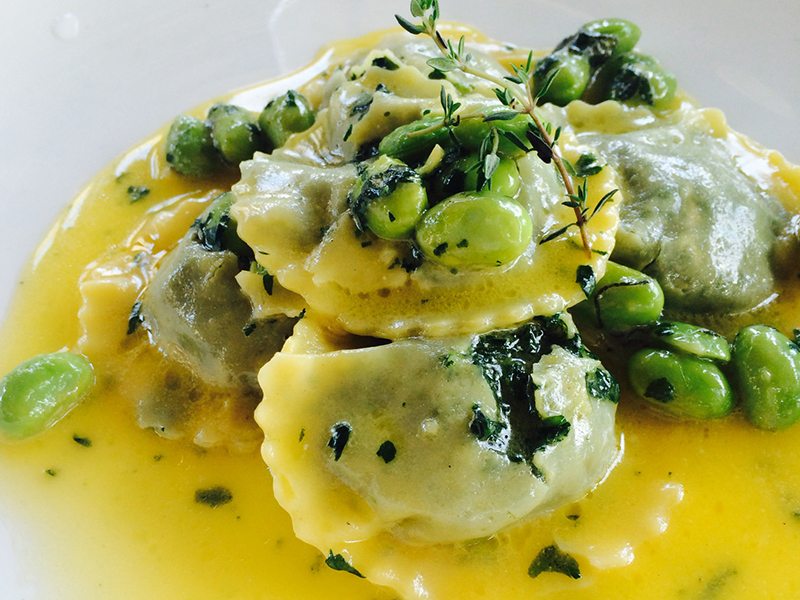 That afternoon we explored this vast resort.
We then went to the Suite Lounge for cocktails and canapés as the sun set. This was very chic and sophisticated and just a little nice, especially when the sea turned a golden pink colour.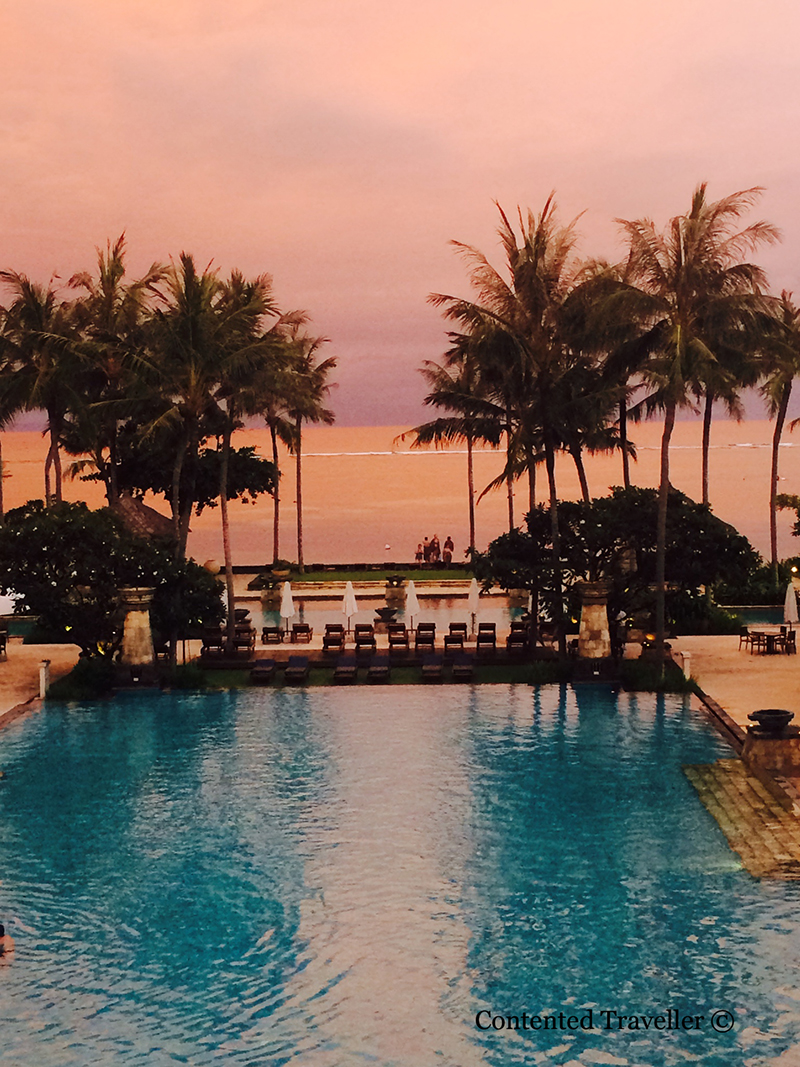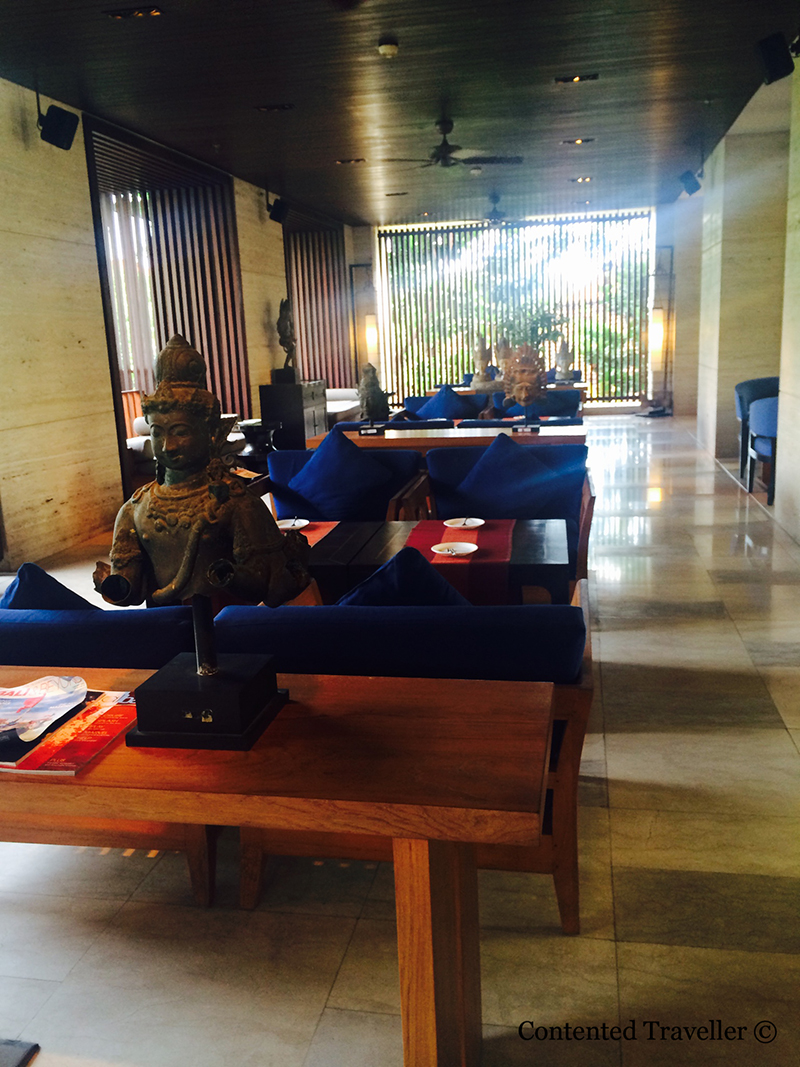 That evening we dined at Suku Restaurant, which fronts onto the mains swimming areas and lagoons. We did a lot of eating at Conrad Bali.
What we have noticed since we were last in Bali, is the dramatic improvement in the cuisine on the island. We noted it wherever we went. Not only are the Balinese proud of their own cooking and style, but also we saw a lot more of fusion cuisines everywhere. Bali has grown up a lot and is a destination that has changed a lot and all in very good ways. We have been more that pleasantly surprised at this stunning island. We always liked Bali, but we are seeing more openness with the people and they remain as friendly as ever.
Day 2 at Conrad Bali
We started off with breakfast at Suku where there were cuisines from all over the world available. Bali does breakfast better than any other country we have been to. Conrad Bali has a lot of Indonesians guests (there is a whole lot more to Indonesia than Bali), Chinese, Japanese,  a few Australians and we did hear a number of American voices around as well.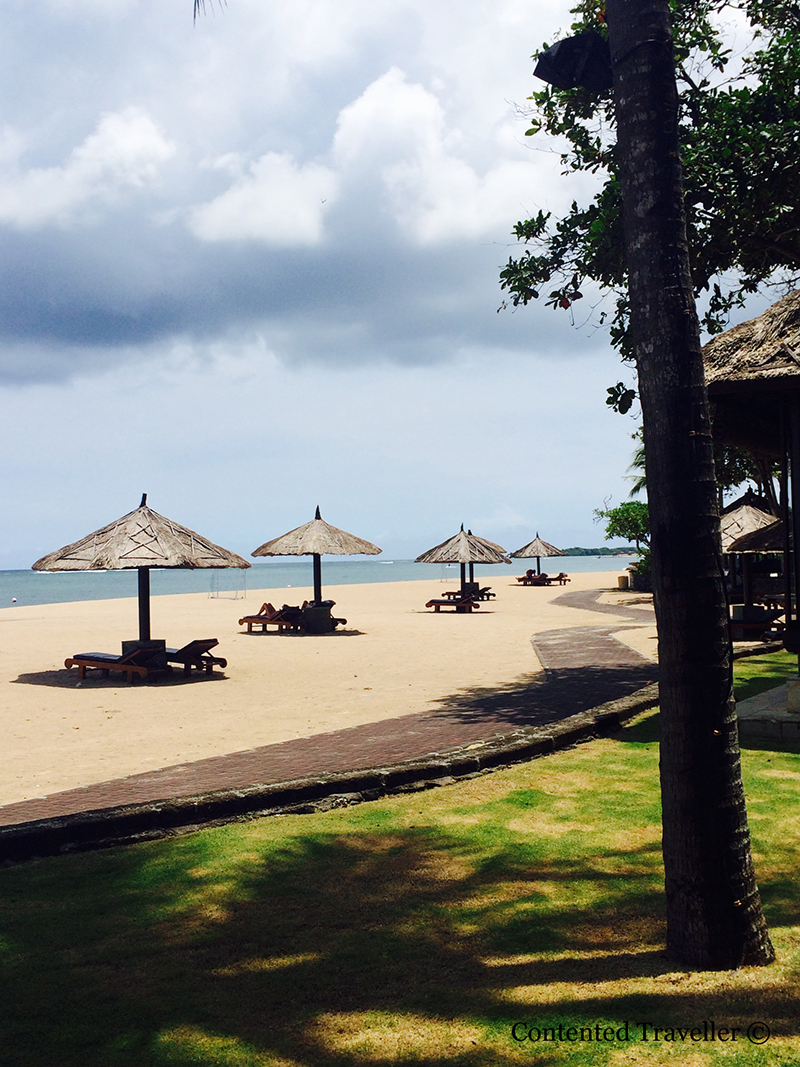 We then went to Jenggala Ceramic. This is where bespoke home wares and pieces are handmade by Balinese artisans. John, the managing director, tells us that they are exceptionally talented. There is also a Japanese ceramicist in residence as the Japanese market is very strong for Jenggala Ceramics. You can see more about this in Jenggala Ceramic, Bali.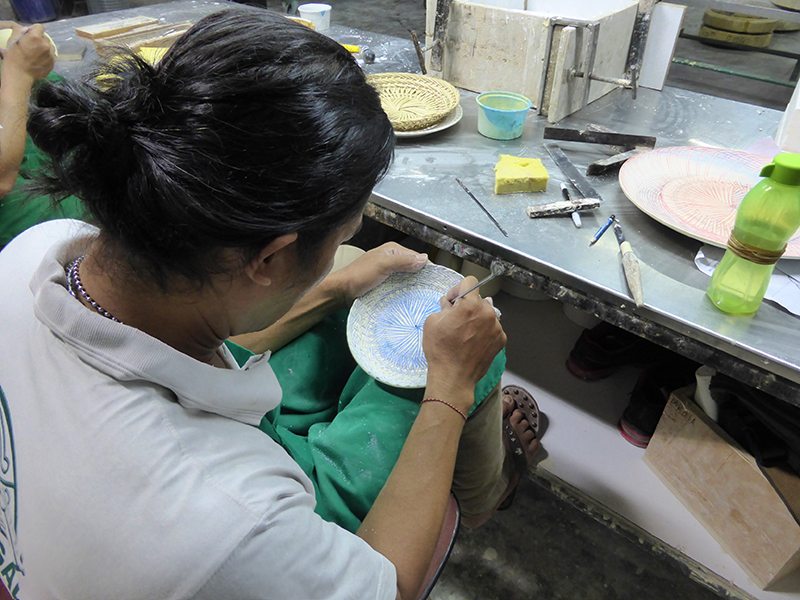 After lunch at Suku, we walked around and saw a wedding taking place at the Infinity Chapel overlooking the ocean.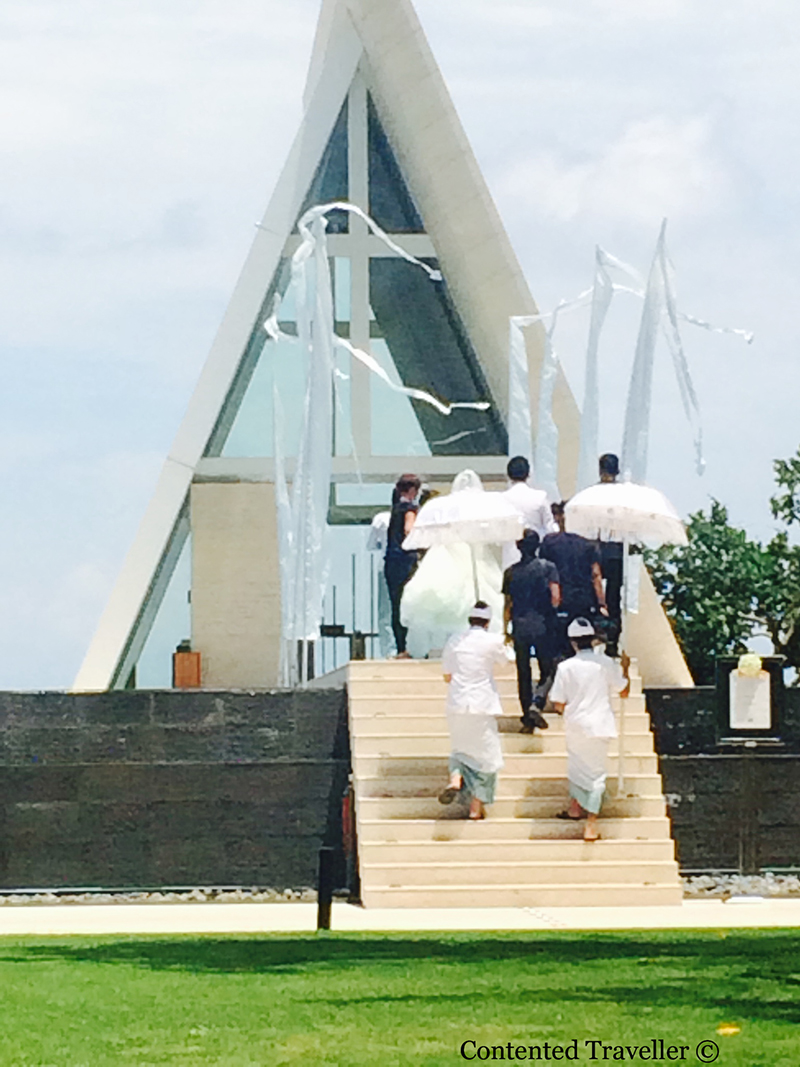 We then went for a swim before heading to RIN for high afternoon tea. Little did we expect such a beautiful and intricately done high afternoon tea. RIN offers traditional Japanese cuisine with an international twist, but they also do one seriously excellent afternoon tea.
While we should have gone immediately to the gym, instead, we were treated to a 1-hour spa and a 30-minute facial at Jiwa Spa. This was an outstanding experience. Gordon is obsessive about massages, and I also have learned to enjoy them. This is the best massage that I have had ever. Kudos to Indrayani, the lady who give me an Ocean Flow massage and an organic facial. She was outstanding. Gordon's must have been exceptionally relaxing as he snored throughout it. We decided that for the good of our health that we would walk along the beach after this before going out for dinner.
Our dinner that night was written as "Romantic Dinner – Bale". We headed to Eight Degrees South and here was a bale decked out with red roses, candles, flowing curtains and open to the ocean on one side and the lush gardens on the other. We were then asked to sit and wait for a minute. Then our host for the night presented me with a red rose, and we were taken to our bale. This is when we first met our Master Chef, Taufik Hidayat.
We were treated to a 6-course taster menu after being given champagne and treated like royalty. It was romantic, and it was extraordinary. This is where Conrad Bali is at it best, making sure people feel special and having all of those little touches that we and so many guests appreciate.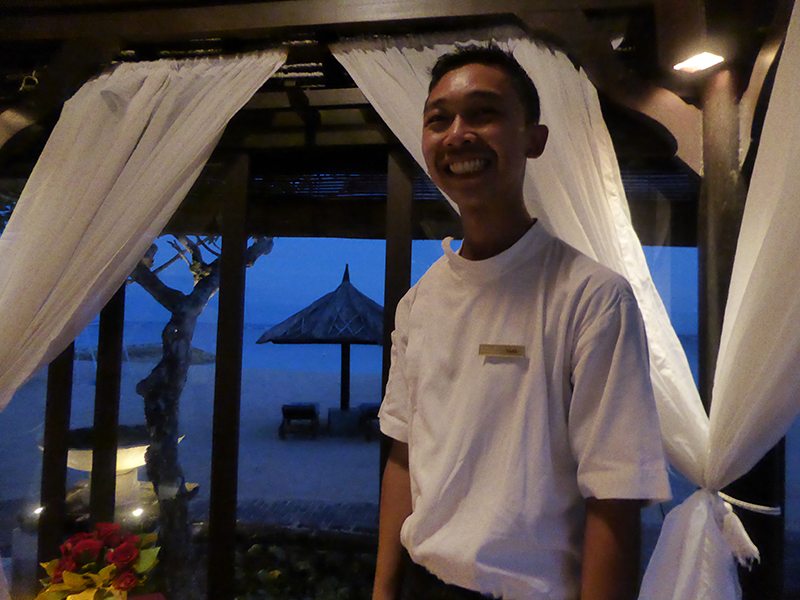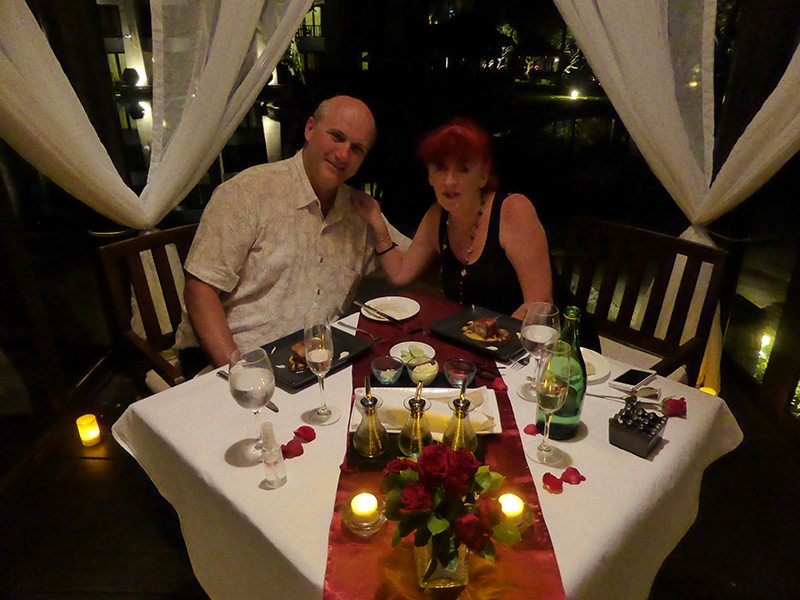 Day 3 Conrad Bali
We woke to a rainy day and got up early to walk the beach and see the sunrise. It was interesting watching the fishing boast and the crabs running on the rocks and sort of justified our obsessive eating. However, we were hungry and went to RIN for breakfast. Like the afternoon tea, it was outstanding. We ended up talking to the staff for ages about life in Bali, life in Indonesia before we realized that I had a private cooking class, and it was nearly 11am.
The cooking class was by Taufik Hidayat, and the dishes that we cooked were Tuna Sambal Matah, Indonesian Opor Ayam and Dadr gulun or Pandan Crepes with pisang karamel. The recipes, which Taufik kindly shared with me, will be in another article. During the class, we also met with Kevin Girard, Director of Business Development of Conrad Bali. As we cooked, we chatted about the resort and asked him what the biggest strength of Conrad Bali was. His immediate answer was the people. This validated exactly what we had determined also. Of course, we ate the lunch that we had cooked.
Life for us at Travel Writers
You need to remember that though all of this decadence, we have been working on writing about our experiences and keeping social media alive and kicking as well as completing various jobs and networking for the next. Yes we freely admit that we have been very fortunate but as a business, we have to ensure that our clients are also happy. What gives? Sleep actually. We exist on next to no sleep while we work and yet have the very best time. Travel writing is a good job, but the key is that it is a job and we are in a very competitive market situation.
We are presented, as 'Contented Traveller' the business, at all times, and we are very good at what we do, as Conrad Bali is very good at what they do.
We are two businesses working together. Conrad Bali is a perfect example of how two businesses can work successfully together.
What did we do next?
So what did I do next? I took a nap. Gordon woke me at 3.30pm to say that we needed to get ready to go to the Kecak Dance at Pura Uluwatu.
I got dressed quickly and went the 8 steps to RIN Restaurant who were waiting for Mr. Gordon and Miss Paula with our high afternoon tea.
See, we suffer to bring you the best advice that we can and we share by experience.
We were driven to Uluwatu and were able to explore the temple on the high and stunning cliffs. We avoided having anything stolen by the very cute but naught monkeys there. Then we watched this incredibly amazing dance as the sunset in the background. It was so hard to take excellent photos but see our account of this really very culturally interesting, and vibrant dance fire dance can be seen at Bali's Kecak Fire Dance, Uluwatu Temple.
Pity that they grabbed me out of the audience to dance with the demons, but if you have bright red hair and sit in the front row, it is going to happen. Check out YouTube, I am sure someone will post it, and you can see our own video as well.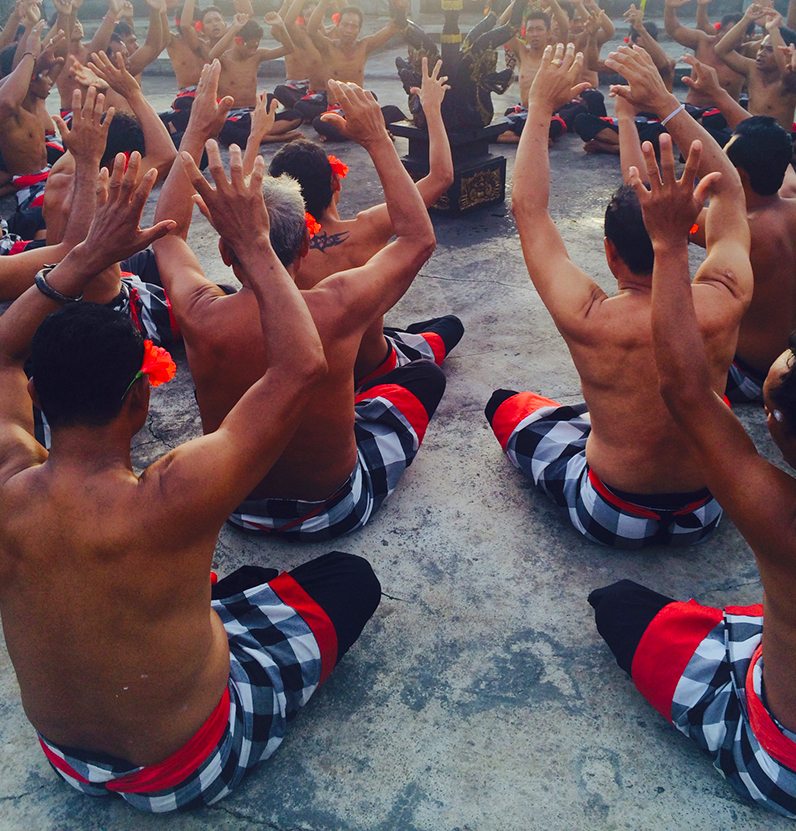 Our final night, but not our final activity was a quick dinner at Eight Degrees South and a quick goodbye to our delightful waiter Galagar.
Day 4 Conrad Bali
Yes, we started the day of with food and some delicious mangosteens. It was then time for Gordon to swim 350 meters around the lagoons to the main pool area.
After a bit of a swim we were treeted to one of Conrad Bali's signature Beach Picnic Hampers in a Bale overlooking the beach.
To say that they had given us a lot of food is an understatement. To say that the food was totally delicious was the absolute truth.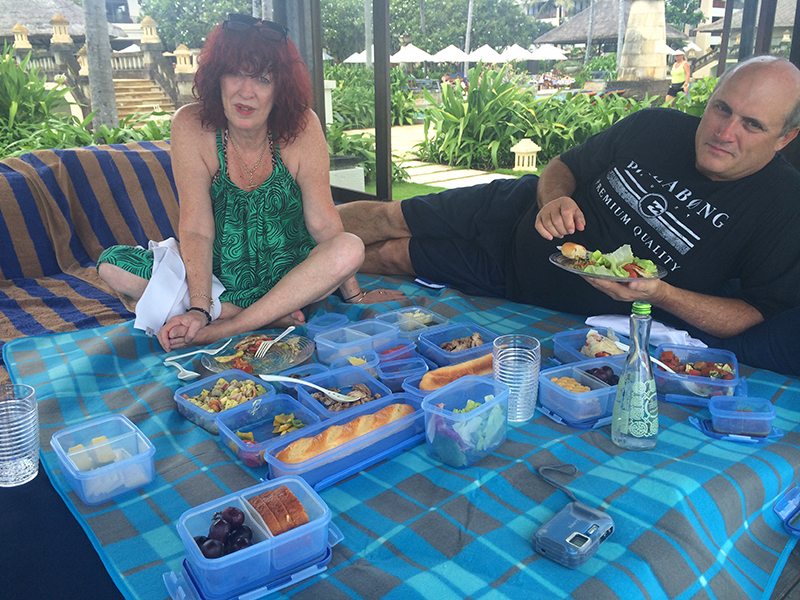 It was with a lot of reluctance that we left this very elegant resort and all of the friends that we had made there. Working with Conrad Bali was sheer pleasure and we appreciate the great efforts that they went to. We will – be back again and we are recommending you to everyone. Thank You.
3 Indonesian Recipes shared by Taufik Hidayat, Sous Chef at Conrad Bali