Les Catacombes, Paris are an immensely popular attraction and not as ghoulish as you may think. We didn't have tickets when we arrived on a brisk Wednesday morning because, according to the official website, tickets are not available online although since then I have seen them advertised. We were there in September, 2014.
Arriving at Les Catacombes, Paris
We arrived at Les Catacombes, Paris early in the morning, but a lot of people wake up even earlier. The queue was miles long. It wound around the block and through the park. I don't do queues well, something about being a little impatient. Also, seeing skulls in an under ground cavern was never high on my list, but as we compromise when we travel, and Gordon really wanted to see the catacombs, I dutifully went. Trust me that last sentence was dripping with sarcasm.
We walked around to the front to look at the entrance, me thinking I was out of this activity. Gordon heard a large man whispering that he had 2 tickets left for a small group tour at 12pm. My smart husband went and had a chat with him and bingo we had 2 tickets. I can tell you, the people near the front of the queue who had already been waiting for hours were pissed to say the least. It just happened that we were in the right place at the right time. Serendipity people.
Hot Tip
Every Wednesday, they offer door tickets for a group of 20 at midday. We were numbers 18 and 19. As we had half an hour to spare, we wandered over to a café and watched the queue – do nothing actually. As there are only 200 people allowed in at any one time, and the exploration takes some time, our friends at the front were still waiting when we got back from our café. I don't think they were happy.
Insider Tip: Go on a Wednesday morning; go straight to the front door and look for a man with tickets. He is big.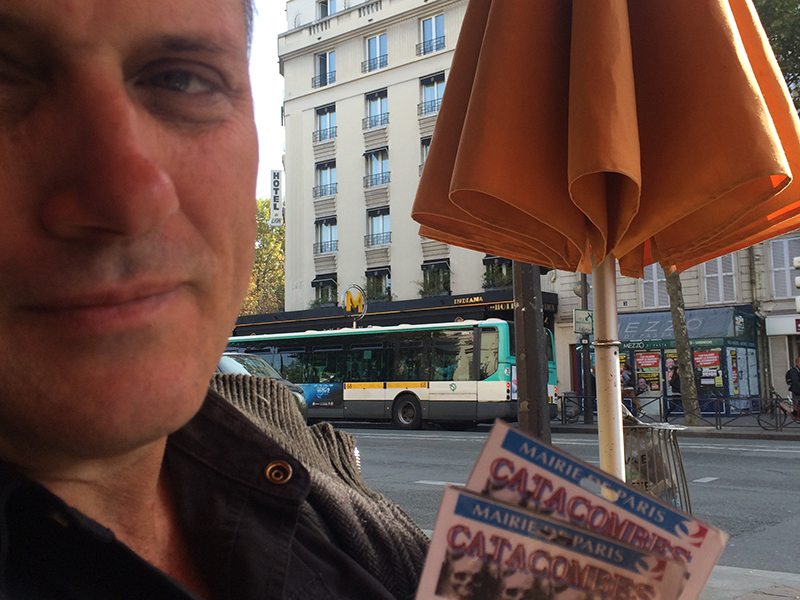 About the experience of Les Catacombes, Paris
We then all went in with a guide, which really is the only way to understand the Catacombes of Paris.
The Catacombes were created at the end of the 18th century. They hold the remains of some six million Parisians, whose bones were transferred from cemeteries where it was deemed too unhygienic and overcrowded to keep the remains there. Also, as Paris was expanding rapidly, they needed the land that the cemeteries were occupying.
From an archaeological and historical perspective and more so from a humanistic perspective, this ended up being an experience that I learnt a lot from. It would be macabre to say that I enjoyed it, but it did give a unique perspective to the Parisian people, and the history of the city.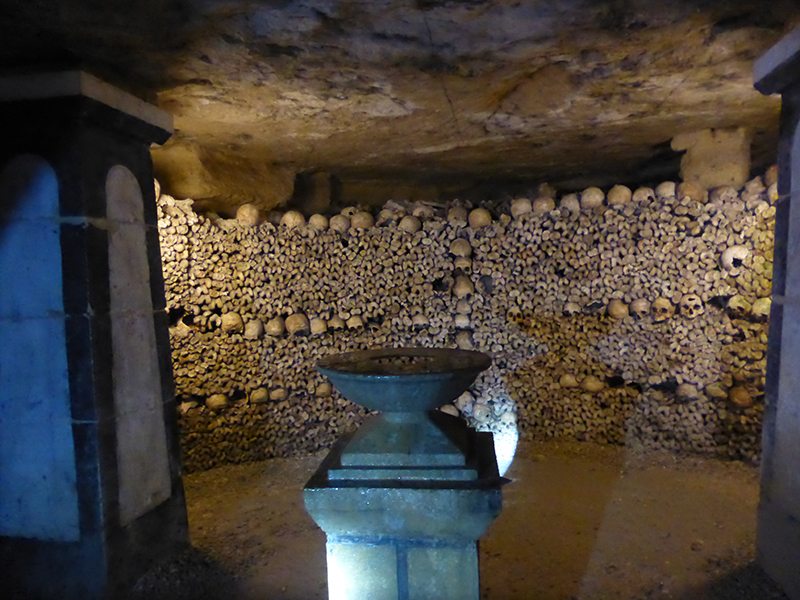 The quarry where you now see Les Catacombes, Paris were specially carved to house the remains. The bodies were exhumed from the cemeteries with great dignity and with enormous attention to respecting both the bodies and the families; some were generations removed.
The bodies were removed at night and were presided over by priests to ensure no disruption to after life beliefs. After these blessings, they were then moved to the current site in wagons covered in black veils. They were then respectfully and in a nod to Parisian style, artfully arranged to what we saw.
What made it not so macabre was the dignity that was shown to the remains. Kudos to Paris
I think that this is part of the history of Paris and an integral thing to see and to understand.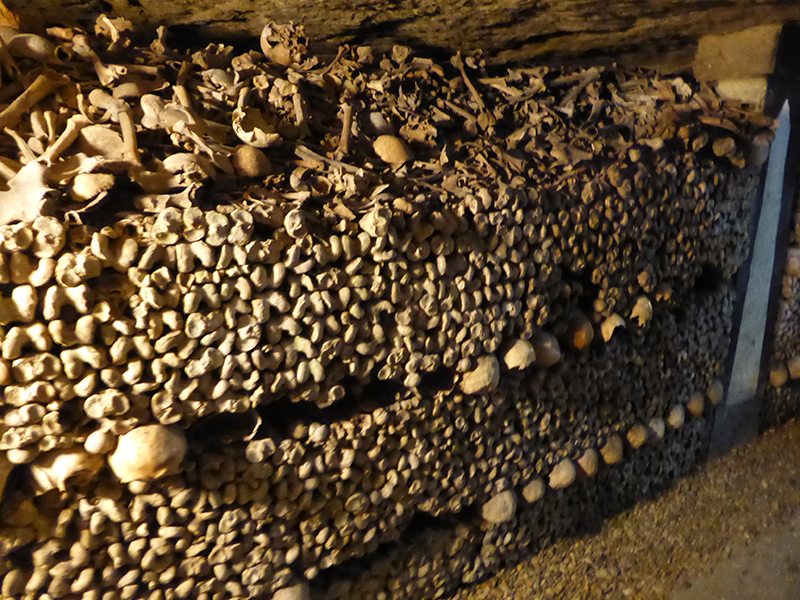 Need to know information about Les Catacombes, Paris
There are 137 steps down into the Catacombs and 87 steps up to exit. Going down is easier; coming up is a little claustrophobic
Distance covered: 2 km.
Duration of the tour: 45 minutes.
Temperature: 14°C.
No toilet facilities available. Animals are forbidden.
"The tour is unsuitable for people with heart or respiratory problems, those of a nervous disposition and young children."
Les Catacombes, Histoire de Paris
Address and Opening Hours of Les Catacombes, Paris
1, avenue Colonel Henri Roi-Tanguy, 14th arrondissement
Nearest Metro/RER: Denfert-Rochereau (Metro lines 4,6 or RER Line B
Opening Hours, Tickets, and Other Practical Details:
Open every day excepting Monday, from 10:00 am to 8:00 pm. (don't forget the Wednesday tip to avoid the queue)