Melbourne is known as one of the world's greatest street art capitals, and we share some of the best places to see street art in Melbourne, and provide a few thoughts on this enticing city. If you want to see what first time visitors to Melbourne should do, then this will help you.
Why is Melbourne so enticing?
The beauty of Melbourne undoubtedly lies in its backstreets and lanes, and the attitude of the people who choose to live there. Let's face it, most people who live in Melbourne, chose it because of the lifestyle, and I get that. Melbourne is where you find some of Australia's best coffee shops, and let's face it; I am a total coffee snob; some of the best bars, restaurants, and I love food, and quirky shops, and of course, some of the best street art. You can easily do your Melbourne city street art tour on your own because Melbourne is a very easy city to walk around. And the city will suck you in. Trust me.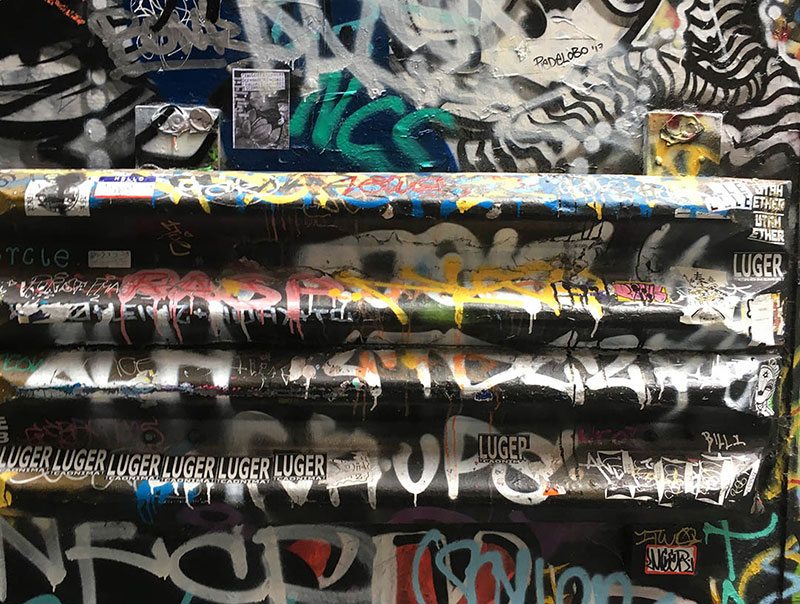 Why I like Melbourne
I like Melbourne because it is arty; and because it is Australia's answer to an (Aussie) European city. Melbourne has 'tude in bucket loads. I love the back lanes and alleys, and the somewhat affected attitude of the people, who are totally sure of their ability to select a wine that tastes like a chardonnay, but isn't a chardonnay and must come from a vineyard in the middle of Victoria. We have amazing street art where we live in Wollongong – 80kms south of Sydney – and we do get some of the Melbourne street artists to enhance our concrete walls.
The People who Live in Melbourne
The people of Melbourne are chic and urbane, and they know it. You have to hand it to the people of Melbourne, that they know their food, they know their wine, and they know their art. Most Melbourne cafes don't take bookings, and it is a Melbournian/ Melburnian thing to wait hours to get into them. (Which is correct out of curiosity – Melbournian or Melburnian? Tell me). At least, as you wait, you can always enjoy some street art, which envelops the lanes and backstreets, as well as indulge in some people watching, which is an art form in the city.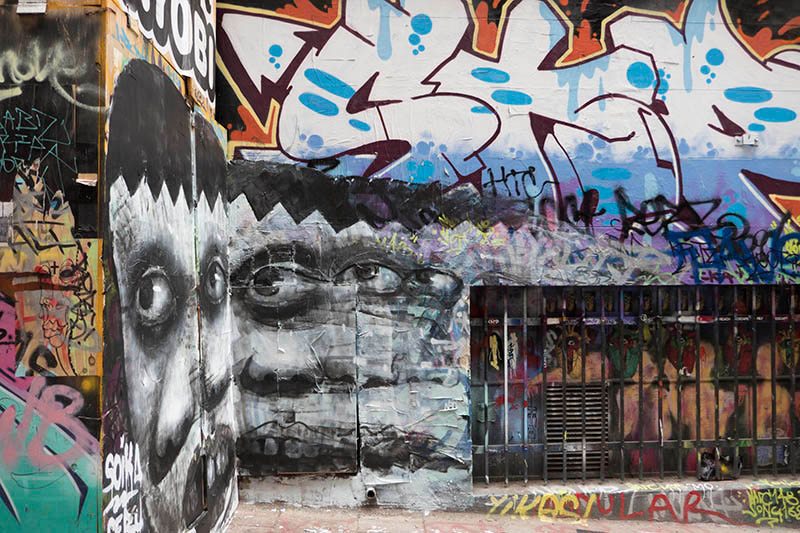 The Sydney – Melbourne Debate
The long rivalry between Melbourne and Sydney is undoubtedly responsible for this attitude. Sydney is geographically beautiful with its harbour, and fantastic weather. I like Sydney a lot, so I am a little divided here because I like Melbourne a lot. Melbourne is not an attractive city and has dodgy weather, but it is easier to get around than Sydney and makes finding the best food, wines, fashion and street art, that much easier. I think Melbourne knew they had to pull something out of the bag to compete, and compete they have.
Why Melbourne should avoid the Sydney Nanny State Syndrome
Melbourne has certainly capitalized on the ridiculous lockout laws of Sydney, which you can read about in this article I wrote about Australia being a nanny state. Melbourne's population is growing faster than Sydney's, and the prediction is that Melbourne will be the largest Australian city within 35 years as more people are becoming disgruntled with Sydney.
Melbourne is a lot more relaxed and 'cool' – think hipster.
To save you the time we are sharing the Best Places to See Street Art in Melbourne.
Hosier Lane

Hosier Lane is one of Melbourne's most famous street art laneways. The cobbled stone lane is a mecca for tourists, and that is because it is a laneway that is a living example of urban street art. There are murals and stencils, tags, and mixed media graffiti. Stairwells and grates and everything in between is adorned. This is a lane rife for selfies, and interestingly for beautiful brides in their white designer gowns, who love it for the photo opportunities that is afforded.
Head to Misty's for a cocktail or pre-plan and book into MoVida – Bar de Tapas Y Vino, with its graffiti exterior. This is one of the city's best tapas restaurants, that actually takes bookings…but book months in advance for this. You are in Melbourne for goodness sake.
Misty
Address: 3-5 Hosier Ln, Melbourne
Movida
Address: 1 Hosier Ln, Melbourne VIC 3000
Where: off Flinders St, opposite Federation Square
Degraves Lane
Degraves Lane is lined with hole-in-the-wall cafes and people eating, drinking coffee in the mornings, wine at lunch and cocktails after that. It is dark, and it is grungy, and it is fabulous. Degraves Lane is covered in street art and reminds me of Diagon Alley from Harry Potter. Definitely grab a tiny little table outside if you can, and enjoy this fantastic streetscape. RMB Cafe Bar, Cafe Issus, Mock Turtle Degraves are all recommended, but you probably cannot go wrong with any you choose – because this is Melbourne and if you are not up to Melburnian standards, you will be finished in no time.
Where? Between Flinders Lane and Flinders St, through Campbell Arcade
Union Lane
Union Lane is awash with colour and oversized murals, which was initially a part of Melbourne's Graffiti Mentoring Project in 2008. This is a mishmash of talent, crap, and tags, but regardless it is another selfie haven, though it does smell of piss in the laneway, so undoubtedly at night it might be a little seedy.
Where – you will find it in a lane coming from the main mall in front of Myers.
Beanie Lane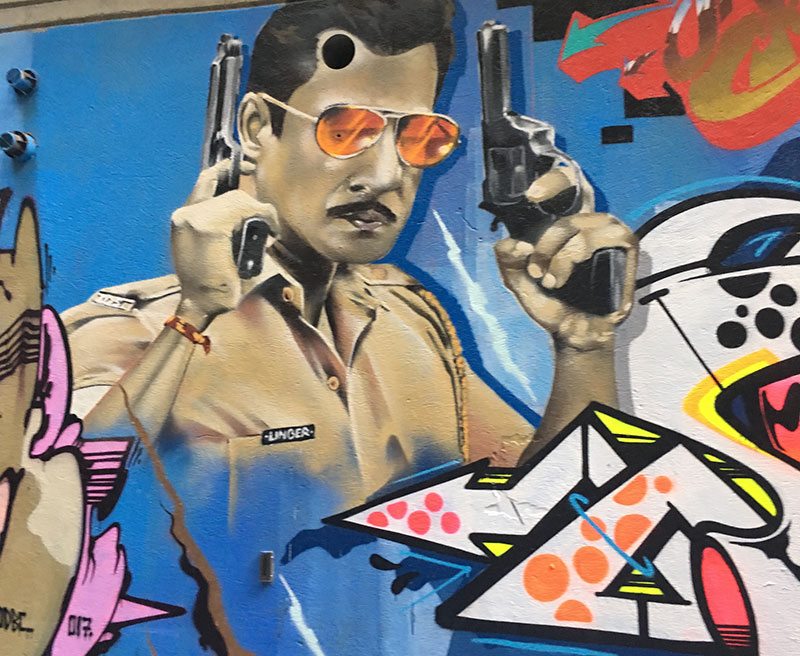 There are some nice pieces heading into the Spice Market Bar and Nightclub, next to the Grand Hyatt Melbourne. The street art on Beanie Lane introduces you to the spice route that is showcased inside the club. PS, we stayed at the Grand Hyatt, so it was an easy find for us.
Where? Next to Grand Hyatt Melbourne on Russel Street
Caledonian Lane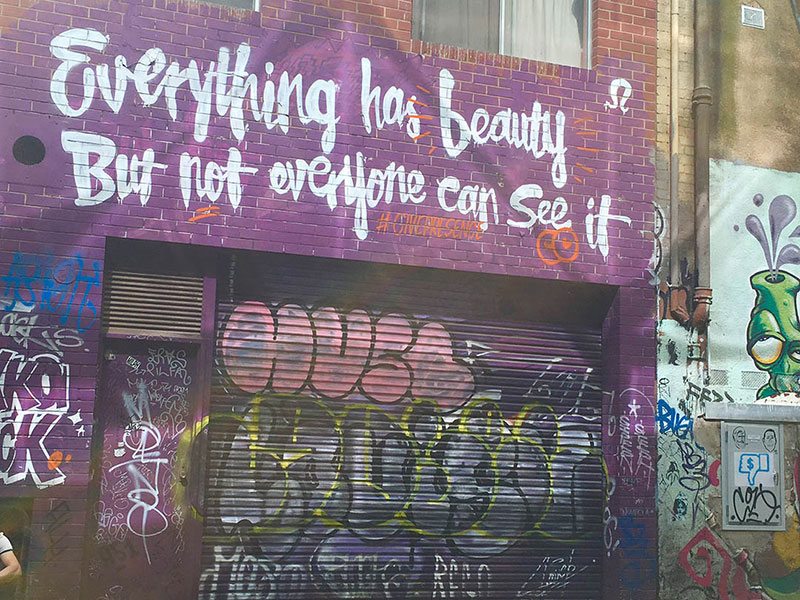 Caledonian Lane was once the original home of the St Jerome's Laneway Festival but was ruined when developers needed vehicular access to a new shopping mall. There are still some pieces worth seeing here, so take a look at this lane
Where? Between Little Bourke and Lonsdale Street.
ACDC Lane
Named after the Aussie legendary band AC/DC this lane is home to some of Melbourne's wonderful pieces of street art, not to mention some great bars and eateries., Cherry Bar is a definite Melburnian place to have a cocktail. ACDC Lane is again quite grungy and between the bins from the cafes and bars are some very nice pieces. With fellow travel writer Jean of Traveling Honeybird
Duckboard Place
Next to ACDC Lane is Duckboard Place where you will see some beautiful pieces of street art in Melbourne. These are next to some incredible hole in the wall cafes and bars, and lots of people waiting to be seated at one of the trendy restaurants.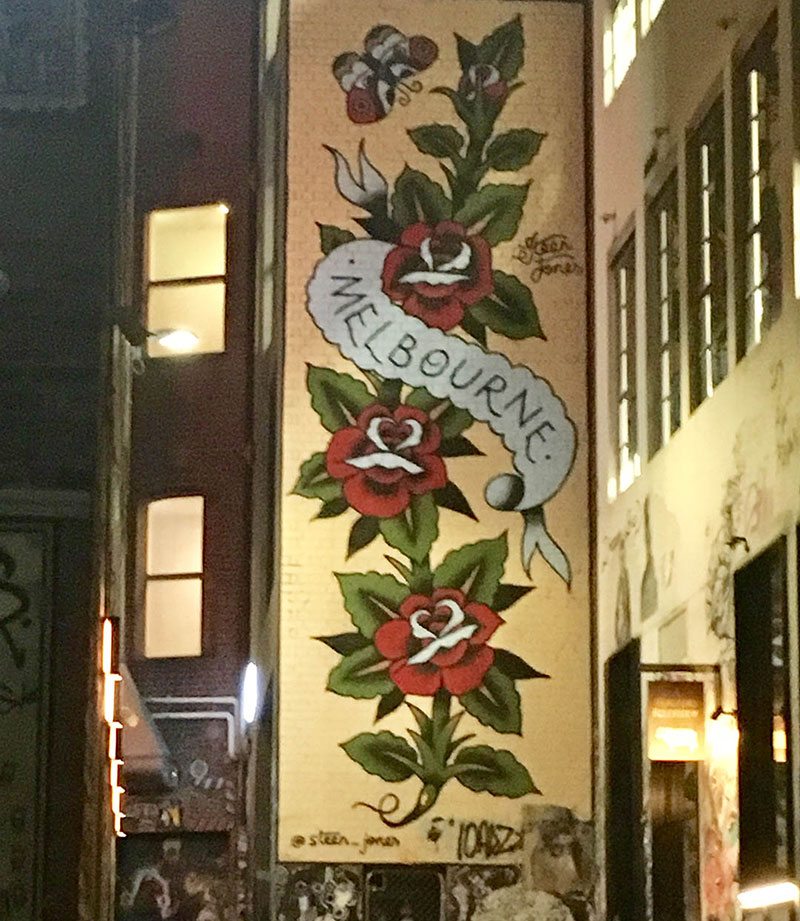 Stevenson Lane, which becomes Tattersalls Lane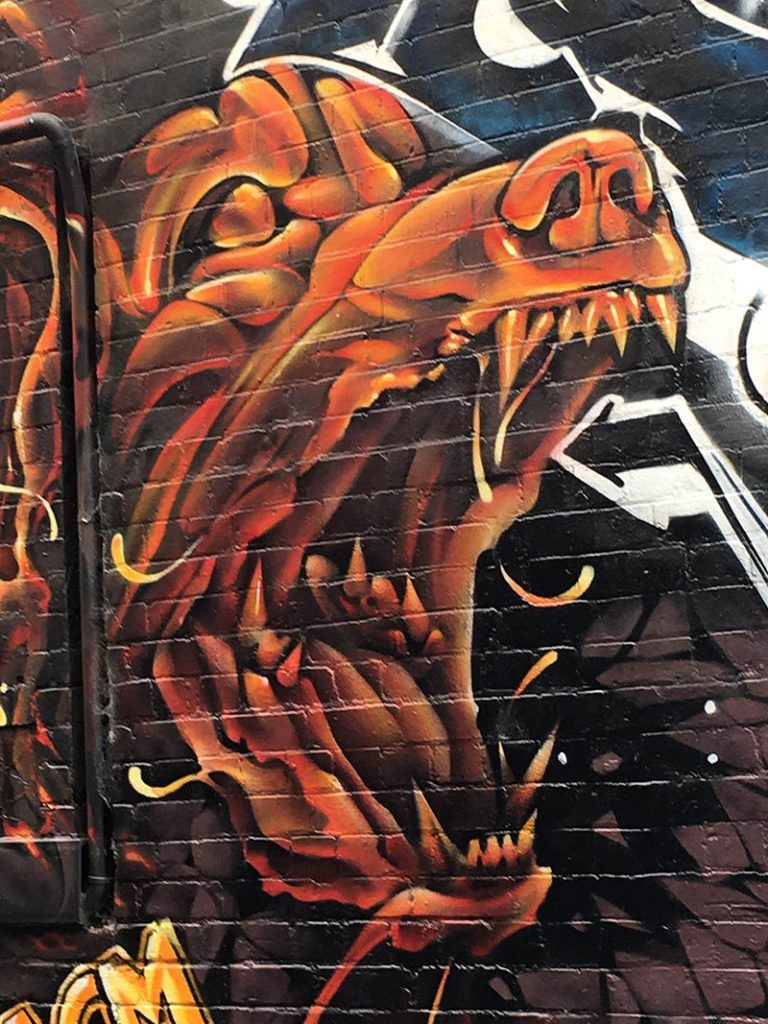 Where? Off Lonsdale St
Drewery Lane and Sniders Lane
This lane changes name somewhere along the way. We got confused so work with us here.
In Drewery Lane at the rear of Legacy House, a mosaic artist named Sankar Madison has been creating long walls of ceramic tiles and mosaics. Sankar is a mosaic artist who has worked with children to create their tribute to Legacy, a charity organisation that supports families of defense force personnel who have been injured or killed. These are very touching tributes. Because it is Melbourne, after you are moved emotionally, look for Sister Bella bar and/or Session 8, which you can't miss as you will hear the music from down the laneway.
Where? Near the corner of Swanston and Lonsdale
Sniders Lane
These are all so close that it does get confusing, so look for this piece of art.
Where? Near the corner of Swanston and Lonsdale
As I said before, I like Melbourne. I like the culture of the city, I like the appreciation of food and wine, and I like the street art. How would I go living with the snottiness of the people? Yes, I would be fine I think. These are just some of the Best Places to See Street Art in Melbourne, but trust me there are more. There is a reason that many people flock to Melbourne, and the street art is a part of this vibrancy of this eclectic, cosmopolitan and chic and pretentious city.
Weekend Travel Inspiration
Link your travel article to this blu button and comment and share on others.
[inlinkz_linkup id=694286 mode=1]