It came very close to the wire as the whether we would even get onto the plane to go to TBEX Manila. TBEX is the world's largest gathering of travel bloggers, writers, travel industry professional and social media influencers. There are 3 conferences held annually in North America, Europe, and the Asia-Pacific region, each attracting 600-1000 attendees from all over the world, and from all walks of life.
There were a lot of reasons for our questioning whether we should go to TBEX Manila.
We had registered to attend – after we had been on Media Fam Trips earlier in the year to both Sulawesi and Raja Ampat. The many wonderful people on these trips put up very persuasive cases for why we should attend. Words like professional growth and networking were bandied about. Truth be told, I had seen the pictures of TBEX Bangkok in 2015, and it looked like one hell of a party. So armed with our friend's advice, and the fact that we do like a good party, I registered for Gordon and me to attend.

Not all quiet on the Western Front
Ok, things at home had started to unravel. My mother fell critically ill with two brain haemorrhages just six weeks out from TBEX Manila. It was the day we returned from a week working in Bali. This required her immediate hospitalization. We knew, as she did, in her more lucid moments, that she couldn't go home once she was released – and it was always an unknown quantity as to whether she would make it.
While we were at the hospital daily, and this included my 3 siblings; we also needed to make plans for residential care, as we remained positive. This is where I have the most amazing friends. One phone call and a hell of a lot of serendipity, and we had secured the last place in a very nice residential care facility. Mum had expressed that this is what she wanted and needed.
It probably stands to reason that going to TBEX was a long way from a priority for us. But as you know we did go.
So Why Did We Go?
We went to TBEX Manila for a number of reasons. Mum was safe in hospital, bar for that one escape. Ok, here is what happened. When you have brain hemorrhages, you also have delusions, and trust me Mum had some beauties. One day she was very distressed at what she considered were people breaking into the hospital. I calmly explained that they couldn't break in, or even get out, as there was a green button that had to be pushed.
Blow me down. which is Australian for 'can you believe this', but the next day my sister and I got a phone call from the hospital that this crazy woman had done a runner (escaped). She had used the green button. Funny thing was when my older sister arrived later in the day; my mother explained that it was my younger sister who had shown her how to use the green button.
So I think you can get the drift. We were tired – emotionally and physically.
Gordon was, as always, the best husband and went through all of this with me, as he still is now. We needed a break, AND it was work. The day after my mother fell ill, my sister who lives locally, had to go away to a financial conference, and was gone for a week. She needed to continue her work as we did ours. We had worked it out that while I covered for her, then she would cover for us, if we went to TBEX Manila. Work is work.
Could TBEX value add to our business?
Despite all of this shit going on, our hearts were still not in TBEX Manila. We did discuss at length, what we could get out of the conference, that we have not been able to get for ourselves.
Part of our job in being travel bloggers is to attend professional development conferences, and to keep up to date with how to deliver the best possible information to our audiences. We also were working for companies, and also were trying to network to further our offerings. Travel blogging is a job, Ok, it is a great job, but really it is such a competitive industry you need to be on top of your game, at all times
We also wondered, did we really want to meet any of our virtual friends in real life anyhow. People are not always the same in person as they are from behind their screens and this proved to be true again at TBEX, but from the most unlikely sources. The majority of people I am happy to say, proved to be amazing, and will remain friends for a long time. You all know who you are.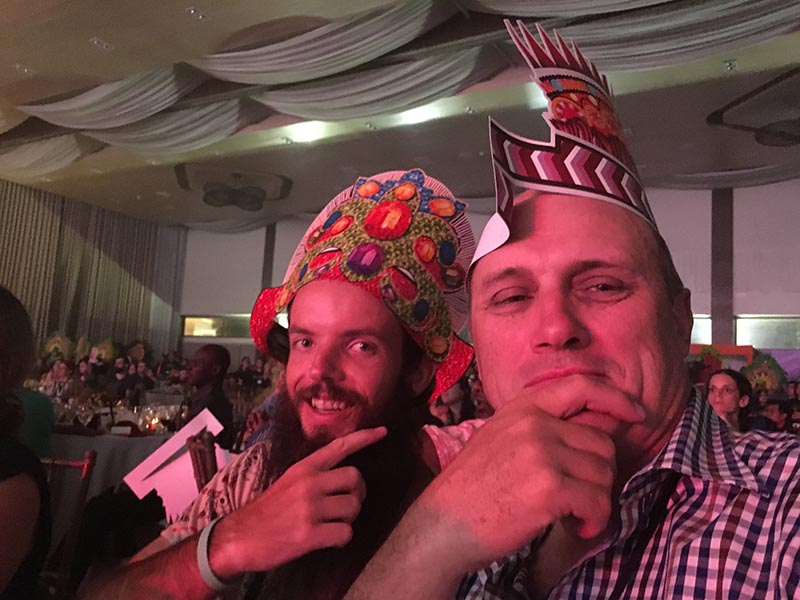 Jub of Tiki Touring Kiwi with my Gordon
So we went..with a lot of guilt
So let's recap picture:
tired from sick mother (don't go to TBEX Manila)
figured we knew enough, and we do run a successful business (don't go to TBEX Manila)
we were working with companies and therefore had commitments, and we take that seriously (go to TBEX Manila)
we had opportunities to get better at our craft. (go to TBEX Manila)
vote: 50/50
Mum was to be released from hospital on the 12th October to start the next chapter of her life, and we were flying out on the 11th. I love my siblings.
Heard of Catholic guilt? Yep? and I had it in bucket loads…
So what happened at TBEX?
Tuesday 11th October
Flight over was easy. Cebu Pacific Air was great, and I am not just saying that. They were. Then we hit the crazy manic, shithouse Manila traffic. I was losing my shit for sure. Walked into Hotel Jen Manila and they could sense our exhaustion. They whisked us to the 19th floor and wined us and dined us, and we let them. We needed all of the pampering we could get. We were happy to see one of our friends from a Media Fam Trip at the hotel, and that was comforting.
Stay: Hotel Jen Manila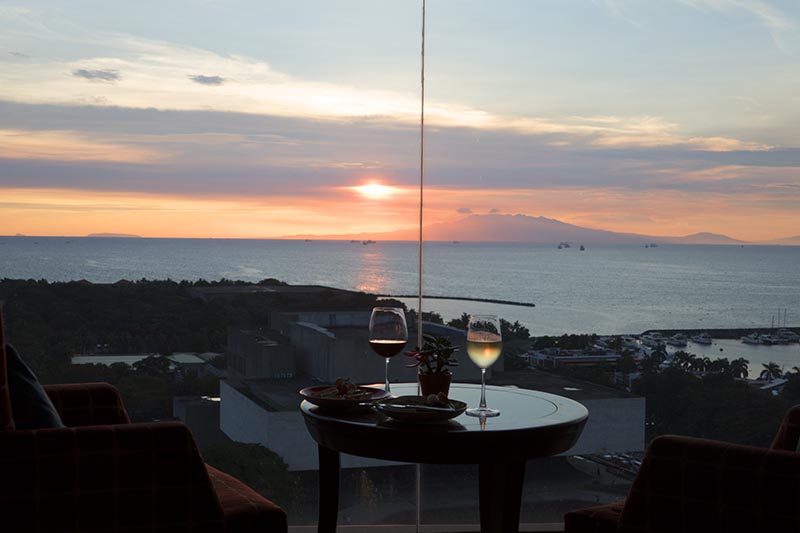 Wednesday 12th October
We explored the hotel, met the staff and generally budged (were lazy) the entire day, except for a trip to the ridiculous and OTT SM Mall of Asia. I think we were also stressed, as we knew this was the day that Mum was being transferred to her new forever home, and we knew it was a big deal. There were many phone calls, many texts, and many photos that day, and then we did start to relax …a lot.
Thursday 13th October
We did our registration for TBEX, with an air of excitement. Then we faced the traffic again – but at least this way we got to have a good look around because you do not move very fast. This was when the yin and yang of the city came to distress me. The abject poverty to the OTT recreation of the Grand Canal in Venice, replete with Rialto Bridge astounded us. It was hard to fathom the dichotomy of Metro Manila. But we did eventually understand that is it the people that make this place applying, and you can read about it here.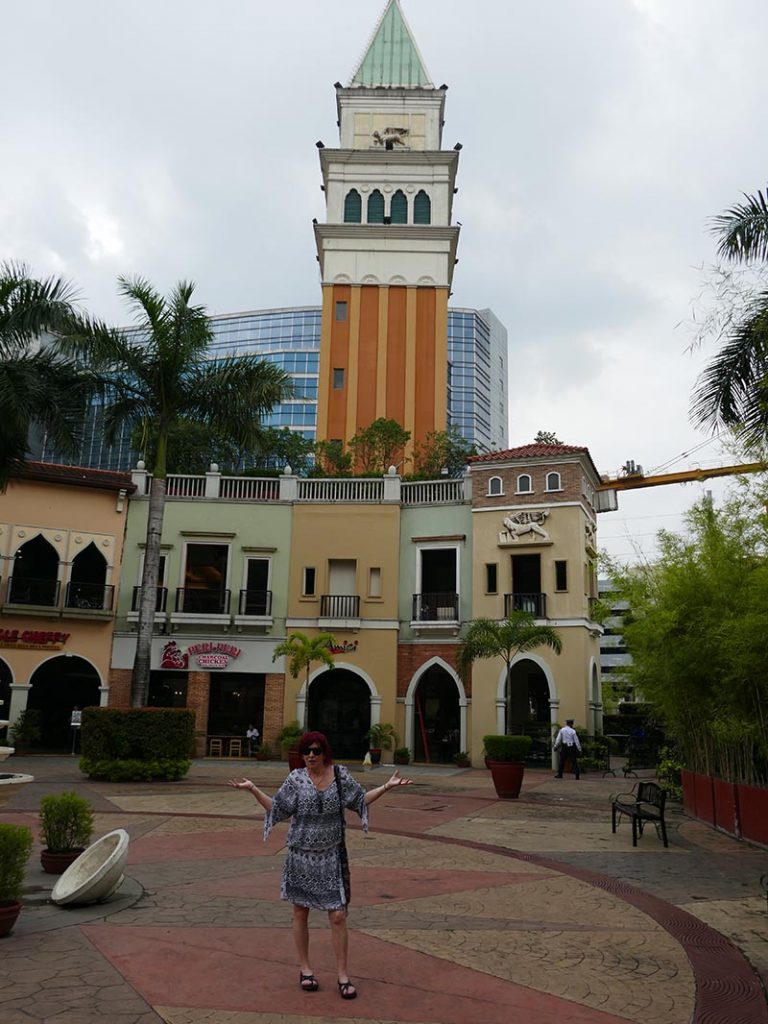 That night more of our friends from previous Media Fam trips came to our hotel, and that was good. Very good. People we had only known virtually also came. This was very very good. The hotel staff came, and this was excellent, and they wined and dined us a lot, and that was also very much needed and appreciated.
Friday 14th October
The next day we went on a Pre TBEX Fam trip to Intramuros, and that was incredible.
When the guides name was John Elton, his sisters' Carly Simon and Carole King, and his brother John Lennon, then you know it is going to be a good day. What uber cool parents, I say.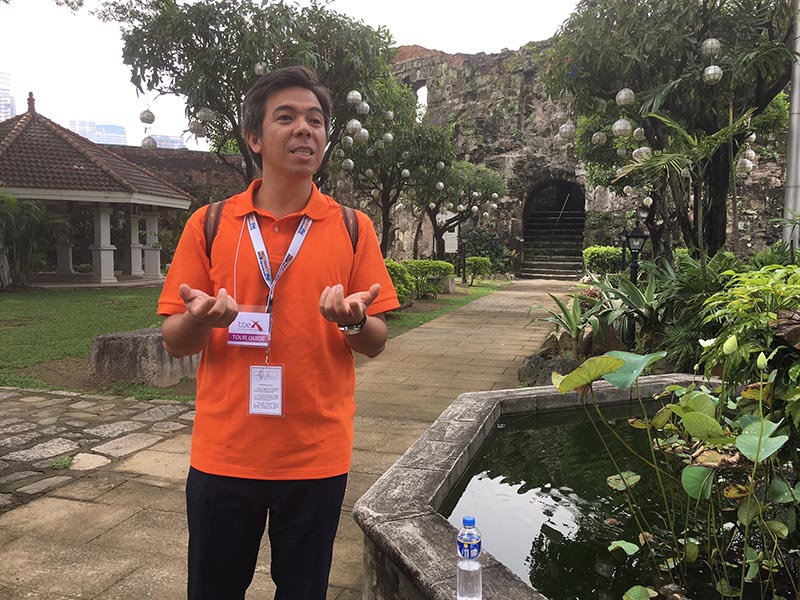 We rode in a horse-drawn carriage from Castillan Tours Manila, and the driver's name was Henry, and the horse's name was Richard, and they loved one another. We ate cheese and jackfruit ice cream and purple yam ice cream and discovered more about the Spanish in the country. It was a good morning in a lovely part of the city. We needed to discover that Manila had a soul…and that is it's people.
In recognition of its efforts in protecting the Spanish colonial architecture in Manila, the Intramuros administration was honored with the Heritage Prize 2015 by the Association of UNESCO World Heritage Cities of Spain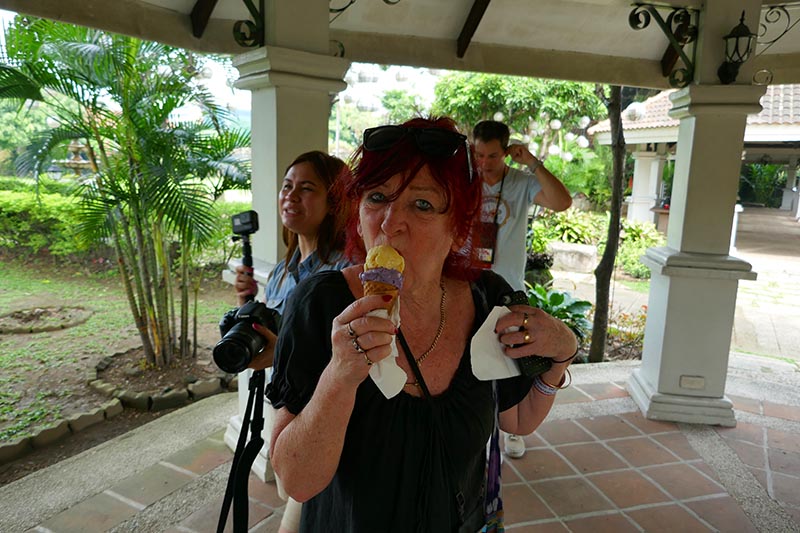 We then returned to the hotel in a good zone, ready for the TBEX opening party. Held at The Blue Leaf Filipinos, it was the perfect venue for this event. Oh, what a night it was …if you think of an Olympics Game Opening Ceremony then you are on the right page. Music, dancing, culture, foods, meeting people in real life and then dancing ourselves ..it was a great night.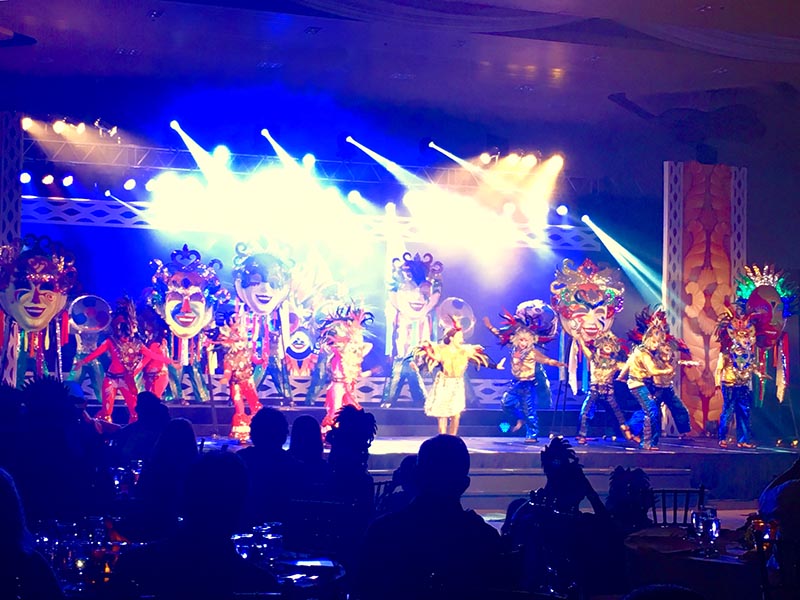 After that, the people of the super new lux resort Kandima in the Maldives invited a few of us to a private booth at Chaos Night Club in the City of Dreams Complex. Did we go? Hell yes, and did we party the night away? My word we did. And we had a fantastic time.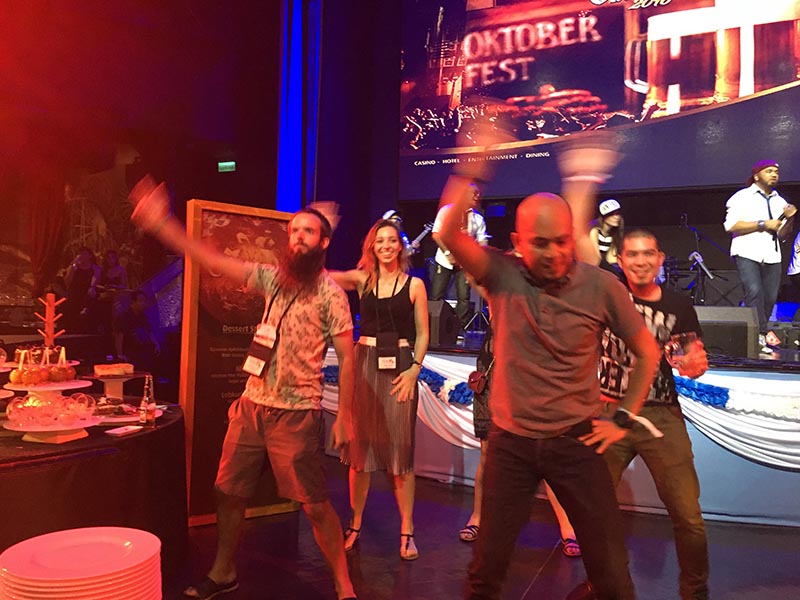 Saturday, 15th October
We woke bright and early and were in a good place to go and learn more about the blogging world. Other than I should have worn my ski gear to the PICC, the Philippines Convention Centre – it was that cold from the air conditioning, it was an interesting day. There were some standout lectures or classes or whatever, and there were some that fell flat. Gordon and I separated to find out as much as we could. I remember him coming back after one class, and saying "you should be doing this"; I think my response was "blow it out your arse" or something equally as delicate.
In fact what I took away from the day was that we do know what we are doing,and that in itself was validating. BUT we did learn things at each and every class we attended, and that is also very good. You want to be able to take something away that is of value to your readers, and of course to your own business, and that happened. The morning tea, lunch, and afternoon tea breaks were all extravagant affairs and are a part of our very negligible registration cost. It was a good chance to meet more people, and to – as they say – network – or schmooze.
I wasn't going to single out anyone for an outstanding, informative and entertaining delivery but I changed my mind. Shane Dallas of the Travel Camel was amazing. His workshop on Google+ was an A++.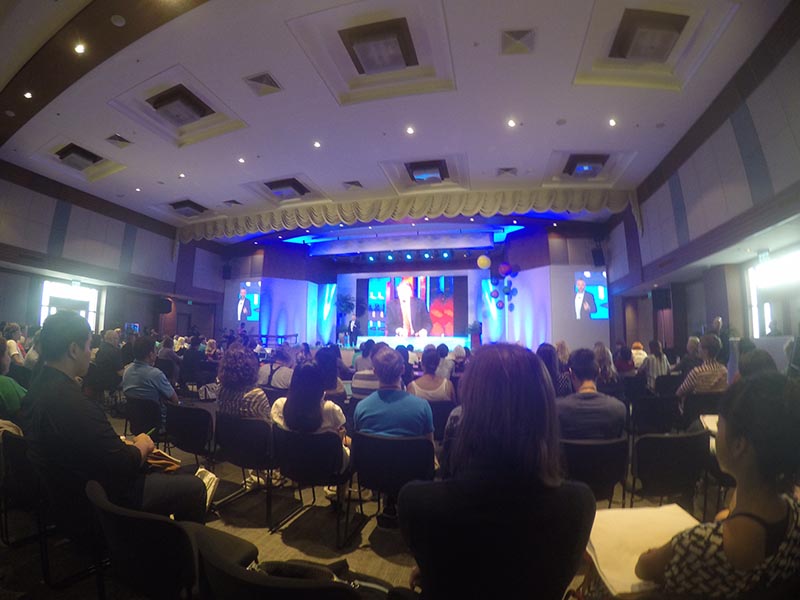 Saturday night was the Travel Massive Party
The Travel Massive Party was organised by the event organizer extraordinaire Jean Bean – my friend Jeanette. If ever I have seen a person who should be doing Events Management it would be her. This was held at Long Bar, Fairmont in Makati, which is styled after the original Long Bar at the Raffles Hotel, Singapore.  She introduced us to two wonderful MarcComm's; Jose of Hyatt City of Dreams, and Margaux of Raffles and Fairmont. This led them to arranging to adopt us for the day on the 17th October.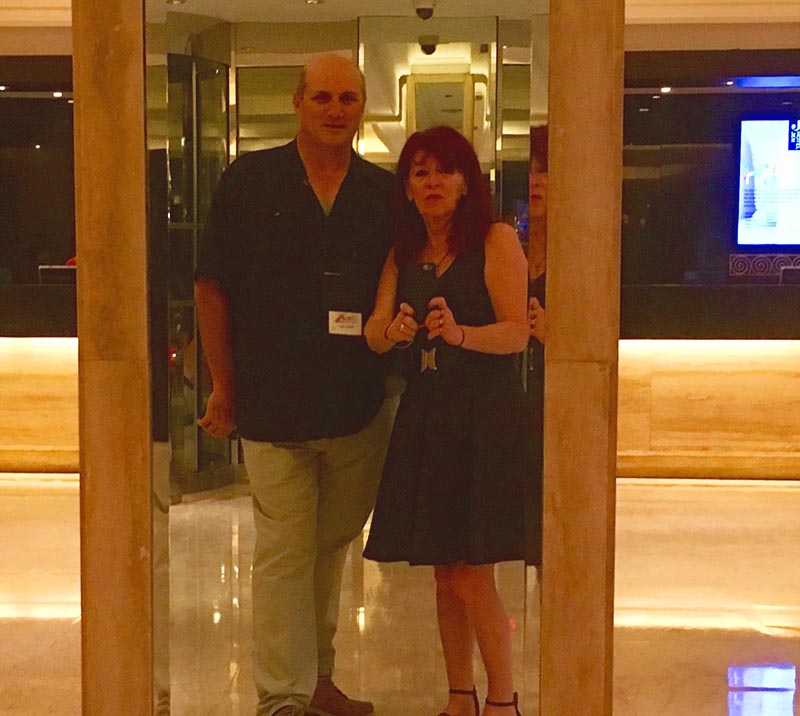 Sunday, 16th October
Very much like the first conference day, we took at least one little thing away from every class we went to, and you and I know that they aren't classes, but sharing sessions or something equally as PC. For lunch, the amazing Tourism Promotions Board Philippines treated us to an incredible stand up traditional Philippine lunch. Boy, I love these people. I haven't mentioned that they used volunteers from the local college for the entire time of the conference, which actually extends way past the two days. What an asset to the country as a whole, and what a way to be introduced to Pinoy charm and hospitality. I am still gobsmacked by the tourism board and the volunteers.
We had what are called speed dating appointments during both afternoons to tell people why we are so fabulous (smiley faces). As it turned out, we interviewed many as to whether they were a good fit for you – our readers. In many cases, you just meet them in a social situation and tell them who you are and what you do. You don't need to do a big spiel because they are going to check you out thoroughly anyhow. TBEX is not intimidating – it is pleasant and easy to meet people – socially and professionally.
Closing Party of TBEX Manila
If you think we thought twice about going to yet another party, you would be so wrong. We were heading back to Chaos nightclub, where we had partied with the Kandima people, for ..wait for it ..an Oktoberfest. Oh, what a night …. Food, beer, dancing, meeting new and different people. It was the best night, as all of them had been. It was a big, big night, and we needed it.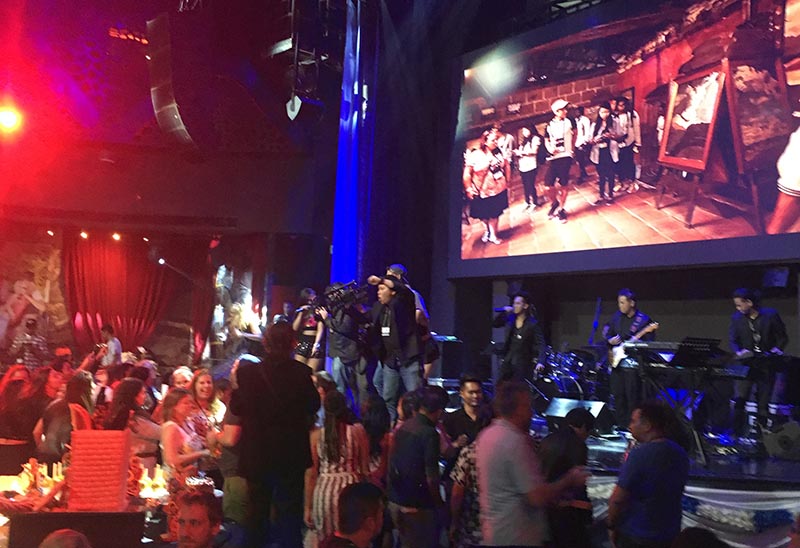 Monday, 17th October
Yes, we woke up tired, but totally totally exhilarated. We had already decided after the first night of the Opening Party and the Kandima Party at Chaos that we had made the right decision to come to TBEX Manila. This day was a day of being shown all around the City of Dreams, of being wined and dined, and of actually of spending a day with two people we would class now as friends. We clicked when Jeanette introduced us, and we were besties again when we met. This is when it is hard to keep a business and a personal persona, so we thought – stuff it, we just like Jose and Margaux and their company. We saw the Hyatt, Nobu, and Crown Towers after an enormous and wonderful lunch with Jose. The Philippine people like to eat. We then went to Raffles Makati to meet Margaux and have an art tour of the Fairmont and Raffles, and then a Spanish feast to follow. We will work with them shortly as professionals, and we will play with them as friends.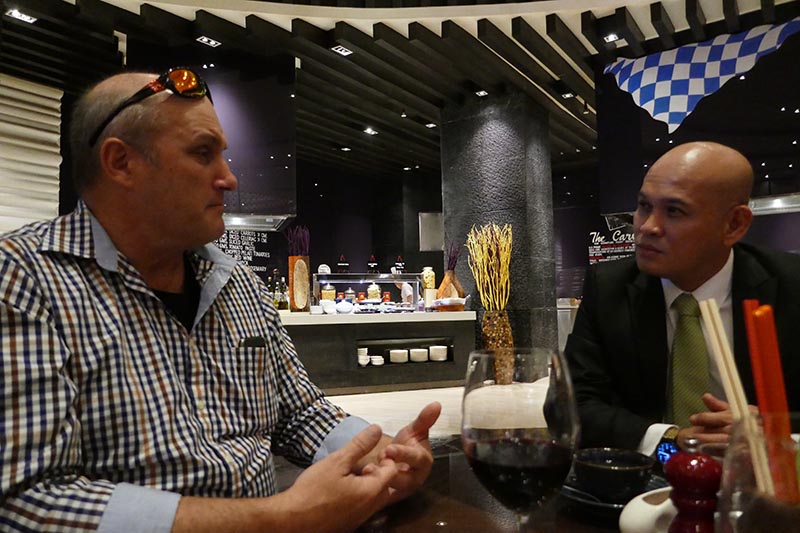 Tuesday, 18th October
It was my birthday in Manila. Hell, I told every man and his dog I think, so that Gordon might remember and he did. He woke up, said Happy Birthday, and went back to sleep. I was delighted knowing that I can guilt him out on anything. The Hotel Jen Manila staff throughout the day presented me with three cakes, singing to me and making me feel special because that is what they do very well. Think back to our 1st day, when we came in like crazy stressed out Aussies. We spent the night at our favorite place, the 19th floor of Hotel Jen Manila and then we left to catch our plane.
There was no traffic particularly on our way to the airport, but the queues at the airlines were long with people trying to exceed their baggage allowance, and Cebu Pacific Air saying, no. Good on your Cebu for sticking to the rules and making the people do the correct thing.
Back to our version of reality
I slept the whole way home, which is hardly surprising. It had been a big few months. We stepped off the plane, got through customs and because we are totally spoilt brats, Blacklanes had asked to drive us home to Wollongong, from Sydney – and we let them. Gordy slept, and I talked to my family.
We threw our party clothes and bags inside our front door, had a quick look at the beach, and headed straight to see the mother.
We are now in the process of packing up Mum's, and our life's possessions as we all left things at the family home as it is no longer needed. We are visiting and trying to help Mum get settled in a new and unusual environment. It isn't easy.
In conclusion to Why We Didn't Want to Go to TBEX
We needed to go personally, and we needed to go professionally. We did learn a lot. Even if we couldn't attend all of the sessions because there were clashes, the speakers have generously shared their notes, and as I go through them I am learning more. Check out how our Facebook has improved thanks to Eden Rudin's notes.
Would we go to TBEX again? Yes, we definitely would, but this time we will WANT to go. We will want to attend, so we can discover a destination, we want to have experiences, to party, to network, and to learn from other people. We will even apply to speak at a TBEX conference ourselves.

We went to TBEX … and we liked it .. we went to TBEX .. Just to try it … and we liked it.
How and Who?
Weekend Travel Inspiration
1. Link one of your inspirational travel photos or stories to this post by adding your info below.
2. Copy and paste our badge and a link to this page.
3. Please visit some of the other wonderful travel bloggers, read their posts, and leave a comment.
4. Please include the hashtag #wkendtravelinspiration if you share on Twitter.
[inlinkz_linkup id=661728 mode=1]