A reader recently asked us how to spend Three Days in New York City after reading our article, It is OK to be a tourist in NYC. Now that it a lot of pressure, as the city has so much to offer. We came up with this full-on three day itinerary, and hope we have done justice to giving them some memorable experiences in the Big Apple. This is a very energetic itinerary, but we are hoping that people can make some choices from our recommendations. There are options included as well as some extra suggestions at the end to swap and change the itinerary around.  There are more NYC travel tips here.
Updated, September, 2018
Before you Get to NYC
Buy a New York CityPASS because it saves you a lot of money on entry fees to lots of iconic sites, which we will be recommending you visit. It will cost adults $114US, but will save you a lot of admission fees, and skip the line/queue privileges, and trust me you want that.
Arriving for 3 Days in New York City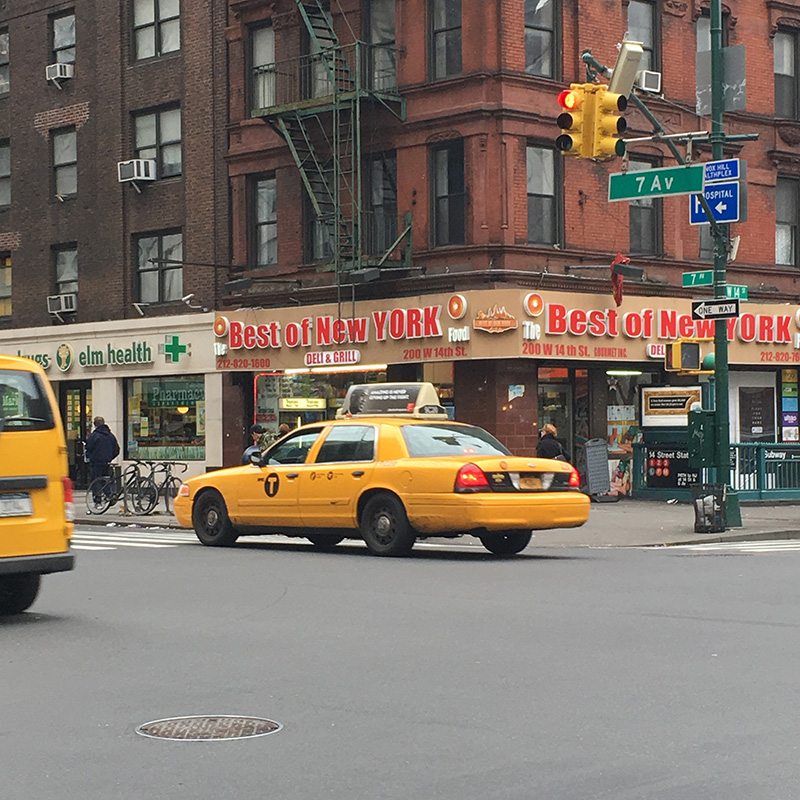 If you come from the JFK airport, the easiest way is the get a flat rate taxi, at $52US, though it comes to $59US once the toll at the Manhattan Bridge. Of course, Uber is also a popular choice, and we did try the Super Shuttle. This shuttle service was perfect in San Francisco, but we waited for a long time for other passengers at JFK, which is a pain but at $14US a consideration.
If you come from Newark airport, the taxi rates are metered. A better way is to get a shuttle that comes in at about $50, or the Super Shuttle.
If you arrive by train at Penn Station, or by bus at the Port Authority, you need to consider whether it is better to walk or to grab a taxi. The traffic in NYC can be slower than you dragging your bags through the crowds.
Staying in New York City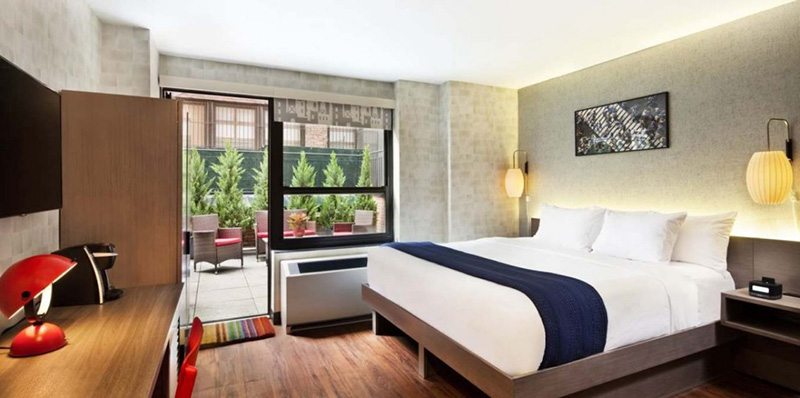 With a limited time, you want to be in a central position yet not is such a manic area that you feel overwhelmed when you walk out the door. Because we recently had five wonderful days in New York City, and a couple of days later in our road trip in the USA and Canada, it is with great confidence that we recommend The Paul Hotel NYC. This is a hotel that is way bigger than the shoeboxes that you get in NYC, particularly if you get the Terrace room. The Paul Hotel NYC is located in a district called the NoMad Neighborhood, which is nestled between Madison Square Park and the Flower District. It was perfect for location, perfect for service and perfect for NYC ambience.
If that doesn't suit, there are lots and lots of hotels in New York City to fit your need. Check out prices here.
Address: 32 W 29th St, New York
Day 1 of How to Spend Three Days in New York City
Explore Times Square and Grand Central Station
The reality is Day 1 is getting to the hotel, and settling in. Now it is time to see what all the fuss is about, by going to what are two of the most iconic sites in the city.
Head to Times Square.
This is where you can overdose on neon signs, advertising, naked cowboys, cartoon characters who will try and rip you off to get a photo with them. This is where you can go selfie mad everywhere and gaze at the ball that comes down to signal the start of each new year. Times Square is busy, frenetic, crowded, colourful and one of the best introductions to the city that never sleeps.
As the city that never sleeps, after you have gazed in total amazement and astonishment at Times Square, head to Grand Central Station.
New York's Grand Central Terminal
Why would we send people to a train station when they have just arrived? Because New York's Grand Central Terminal is so much more than a train station, and Penn Station and Grand Central Station are two different places. Grand Central Terminal is a work of art. You and many others will gaze t the ceilings transfixed by the opulence of this train station and know why it is called grand. You should then treat yourself to some oysters at the Grand Central Oyster Bar & Restaurant, and start people watching, as New York City was made for this pastime.
Grand Central Station: 89 E 42nd St, New York, NY 10017, United States
To get a MetroCard or not?
While you are there, you might like to get yourself a MetroCard, because even though you will do a lot of walking, sometimes you will need to catch the metro to give yourself a break. If you have children, this would be a definite factor.The cards come at $31 for a 7-day pass, or wait and do the Pay-Per-Ride, which costs $2.75/ride when you purchase multiple rides. Otherwise, it costs $3 per ride.
Day 2 of How to Spend Three Days in New York City
Go to Statue of Liberty and Ellis Island
Get up early and make your way Battery Park, NY to catch the First ferry from the mainland at 8:30 am. There will be a long queue, all day every day. Use your New York CityPASS. It will take about 3 hours to see both. The Statue of Liberty has to be photographed, and Ellis Island is where you will learn about the immigrant experience coming to the US. To save queuing, and the queues are long, get your tickets beforehand.
Or Catch the FREE Staten Island Ferry
If you just want to see the Statue of Liberty, then take the Staten Island Ferry, which is cheaper and gives just as good a view of the Lady Liberty. The Ferry runs 24 hours a day/ 7 days a week.
Where: St. George Ferry Terminal is located at 1 Bay Street
Cost: $0 – free service
Visit Wall Street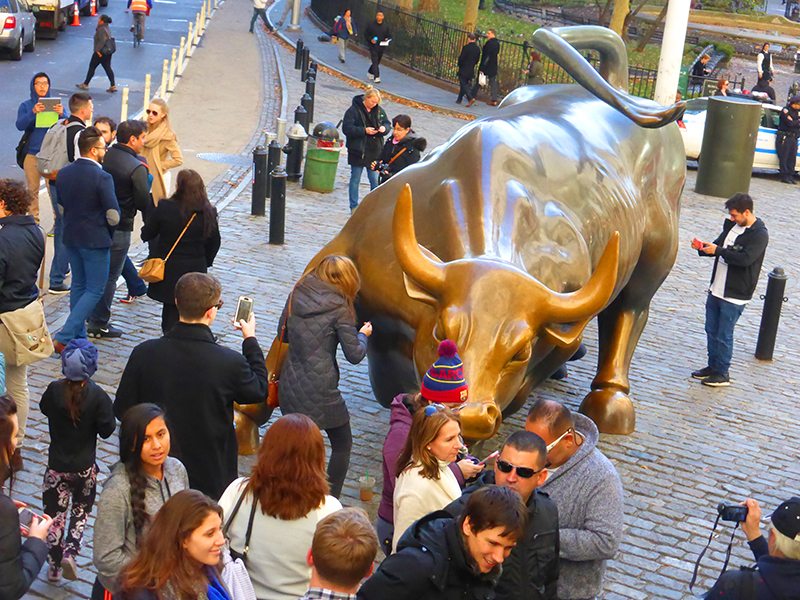 After you have seen the Statue of Liberty and Ellis Island, meander through Wall Street, the financial district of NYC. Take a selfie with the bull, because it is NYC and NYC is selfie heaven. And if you rub the bulls appendage, it will theoretically bring you good luck and fortune.
Have Lunch
Eat at Adel's Halal Food stall, cnr. of Front St and Maiden Lane in the Financial District and try the chicken, lamb and falafel combo on spicy rice.
Go Shopping
Go to 5th Avenue, which is lined by high-end fashion stores, such as Prada, Armani, Versace, and Gucci. The enormous Apple store is also located on 5th Avenue.
Enjoy Dinner in New York City
Have a pre or post-Broadway dinner at any of the Theatre District cafes or restaurants. It may well be a matter of where you can get in. However, it is New York and you cannot go wrong with pizza. Recommended and tasted Carve, 760 8th Ave
Catch a Broadway Show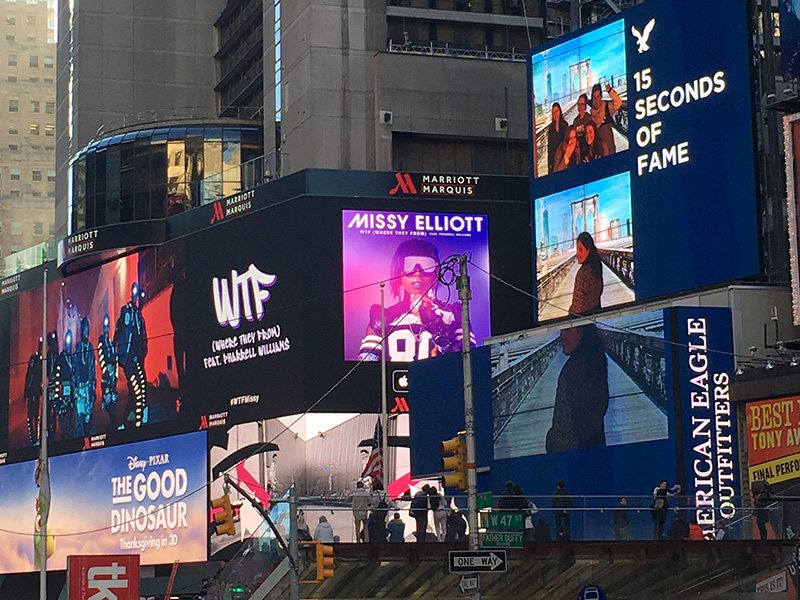 In the early evening make your way to Broadway to catch a musical or play. This is New York, and New York is a fantastic place to see a show. Grab the app: TodayTix — Last-minute theater tickets (Broadway + more)
App: https://itunes.apple.com/us/app/todaytix-last-minute-theater/id648450205?mt=8
Day 3 of How to Spend Three Days in New York City
Marvel at the Metropolitan Museum of Art (MET)
Visit the Metropolitan Museum of Art. It is located on the Museum Mile on 5th Avenue. As the biggest museum in both North and South America, it can become easy to get immersed in the collection.. The museum's massive collections include paintings by Vermeer, Van Gogh, Monet and Rodin.
Website: http://www.metmuseum.org
Address: 1000 5th Ave, New York, NY 10028, United States
or Visit the Museum of Modern Art (MoMA)
MoMA is the Museum of Modern Art and is full of some of the most incredible and bizarre modern arts. It is well worth the visit, and id time were not an issue, see both the MET and MoMa. Remember MoMA is free on Fridays between 4:00 and 8:00.
Address: 11 W 53rd St, New York, NY 10019, United States
Website: http://www.moma.org
Do Lunch
Many cafes around and within both the Met and MoMA.
Pay respects at World Trade Center and the 9/11 Ground Zero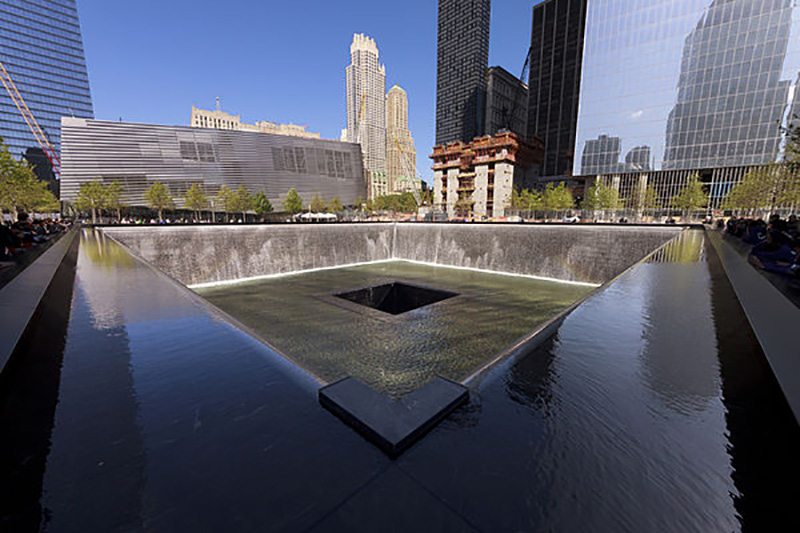 Visit the 9/11 Memorial Museum, included in you CityPass. The historical exhibition has three parts: the Day of 9/11, Before 9/11 and After 9/11. It is a moving experience, but well worth while. Buy tickets to skip the line for this experiences.
Cost per adult: $24 without CityPass
Website: http://www.911memorial.org/museum
Address: 180 Greenwich St, New York
Wander Central Park during your Three Days in New York City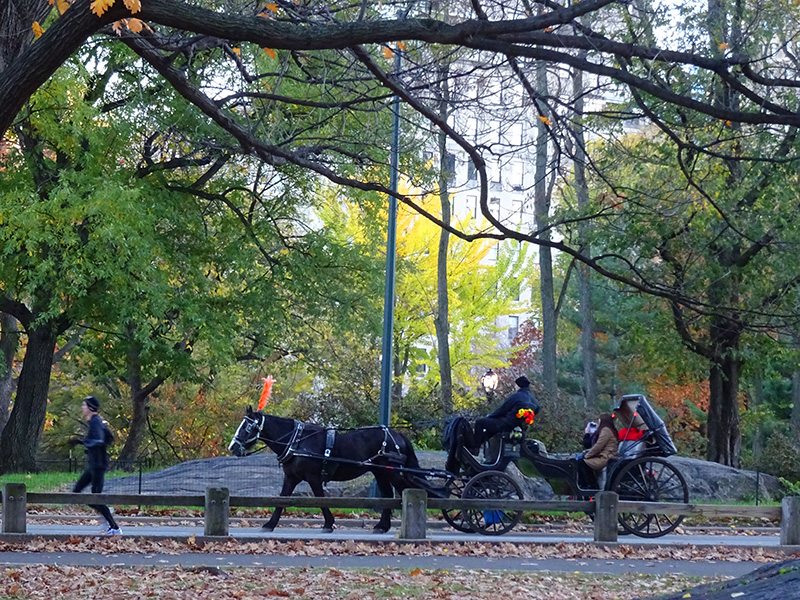 Take a leisurely walk, or catch the subway to Central Park, the city's green lungs. Spend the afternoon walking around, enjoying the contrast that the park provides to all the surrounding skyscrapers. Watch some street performers, sit down on a bench next to a picturesque lake or try to see all the sculptures and monuments in Central Park. Have a nice break and see the characters that make up the city. Be really decadent and do a helicopter ride over Central Park.
Splurge on Dinner
Eataly is the largest Italian mecca of cafes, deli, restaurant, and groceries at 200 Fifth Avenue. You will be overwhelmed with the choices, but you cannot go wrong with anywhere you choose here.
Address: 200 Fifth Avenue
Website: http://www.eataly.net
Look at that view from the Rockefeller Center
You probably will wander past the Rockefeller Center one morning as you go through Times Square and see crowds of people out the front. This is where the Today Show is filmed and where you can stand in front and watch the show, and hope the camera pans to you gazing in. You could even see Jimmy Fallon from The Tonight Show in the elevator. However, going to the "top of the rock" is another fabulous vista over NYC at night time, and gives you the Empire State Building in your photograph. Go the Top of the Rock on a flexible date pass
Address: 45 Rockefeller Plaza, New York, NY 10111, United States
Website: https://www.rockefellercenter.com
or Empire State Building
Use your New York CityPASS. Get a skip all the lines pass, you will be happy.This historic 1930s art deco building is a landmark in New York City, and the views of an evening are spectacular.
Address: Fifth Avenue between West 33rd and 34th Streets.
Website: http://www.esbnyc.com/visit-empire-state-building

Other Options on How to Spend Three Days in New York City
Walk the Brooklyn Bridge – a 25-minute walk and then explore Brooklyn and Queens
Visit the American Museum of Natural History – if you have seen the movie, Night at the Museum movies you will know this place.
Walk the Highline – the converted train track that is now an urban walking park.
Take the Night-Time bus tour – and see New York City in all of its glory.
Go to a bar in The Meatpacking District
This is a big and exciting city, and a city with endless things to see and to do. This is a suggested itinerary for How to Spend Three Days in New York City.