I found visiting the Ho Chi Minh Mausoleum in Hanoi is just a little intimidating. In saying that however, I think that it should be on your must do list in this beautiful capital city of Vietnam.
While I don't believe that you always need to see everything in a country, there are some things that I definitely have on my list. For some reason, probably to do with being a history teacher, this was one. However, it is not everyone's idea of fun to see a preserved body in a very heavily guarded communist building, but ….. Ho Chi Minh, regardless of political beliefs, was a very important person. His idea revolved around the necessity to free his people from those who had wrongly ruled them for so many years. He had wanted to help his people.
Ho Chi Minh is referred to as or Uncle Ho by the people of Vietnam. Not everyone loved him, but many did and do and any visit to Vietnam will be testament to his continued influence, as his face is literally everywhere. Uncle Ho was the founder of the Democratic Republic of Vietnam,
On his death in 1969, he had left instructions for his ashes to be buried on the hills of the North, the Center, and the South of Vietnam. Yet, others thought better …. and the communist government at that time decided instead, to construct the Ho Chi Minh Mausoleum modeled on Lenin's mausoleum in Russia and was it was first open to the public in 1975. They had it erected in the centre of Ba Dinh Square, where Ho Chi Minh read the Declaration of Independence on September 2, 1945, establishing the Democratic Republic of Vietnam.
You can hardly miss this imposing and stark building, nor can you miss how heavily guarded this mausoleum is.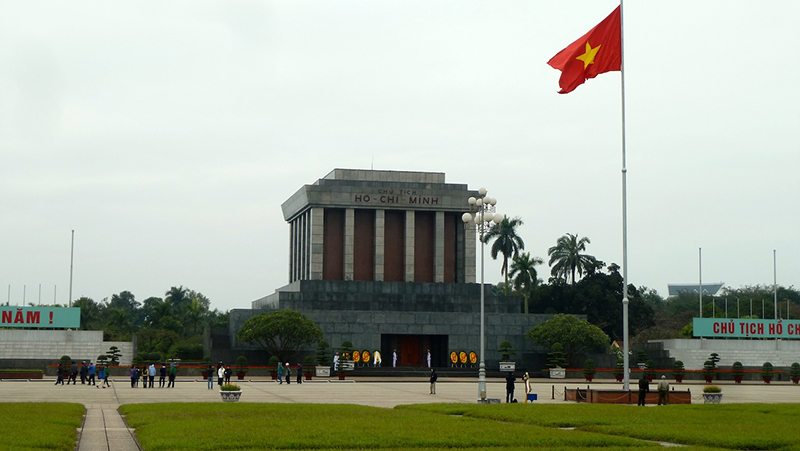 You are first greeted … by the white guards. Here, you hand over your bags and cameras and pretty much anything. You must be dressed appropriately as you are going to a grave to pay your respects to Ho Chi Minh, the revered man of Vietnam. That means long pants, covered arms, no hats … you will be denied entry if you slightly falter with anything. This is not a time to crack a joke, have a laugh or a chat as you wait. Remember this is a solemn occasion. I must admit to feeling very nervous and very anxious and wondering, did I really want to see a body.
We were then marched across the large courtyard in total silence and then we were allowed in. By this time, I thought I would faint with fear. There are guards everywhere and not a sound from anyone as we were all undoubtedly as scared as one another.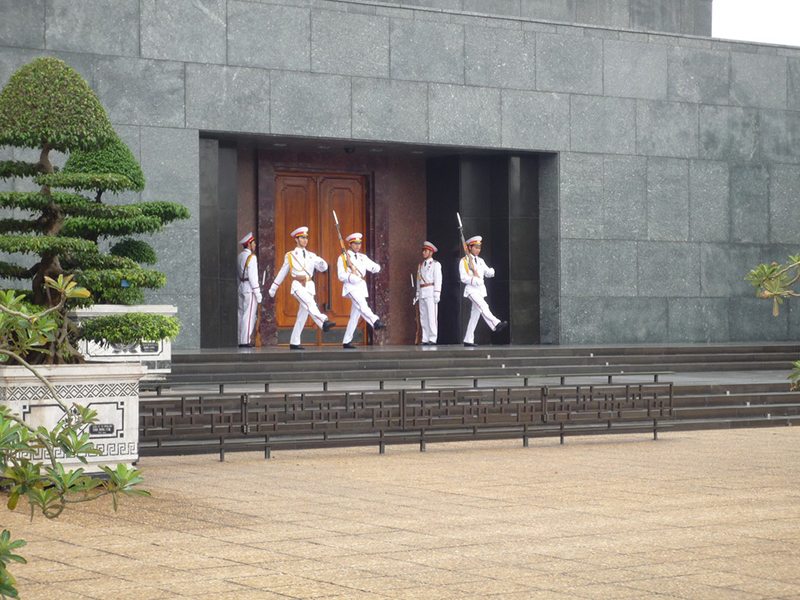 You then walk around and see Ho Chi Minh lying in a glass case ..like seriously ..what was I thinking? You have less than a minute in total silence. At about the 35 second mark, I looked and he was wearing khaki clothes and sandals, and looked .. sort of … like he was asleep .. sort of ..
Then you are marched out into the sun to try to absorb this very interesting yet quite bizarre experience.
Outside, you can see his popular quote "Khong co gi quy hon doc lap tu do" translated as "Nothing is more precious than independence and freedom" on the top face of the mausoleum … and you think, that really is true.
The Ho Chi Minh Mausoleum is intimidating yet worth visiting.
[easyazon_link asin="078688701X" locale="US" new_window="default" nofollow="default" tag="wwwcontentravel-20″]Ho Chi Minh: A Life[/easyazon_link]
[easyazon_link asin="1466482672″ locale="US" new_window="default" nofollow="default" tag="wwwcontentravel-20″]The Selected Works of Ho Chi Minh[/easyazon_link]