When you visit Bunbury, Western Australia you will notice that it is the warm and hospitable people who make your visit special. Ok, it is also the thriving food and wine scene, the amazing street art, the beaches and the epic sunsets. Let us share our experience when we visited Bunbury, Western Australia.
All we knew about Bunbury was that it was a foodie and street art destination, south of Perth, and that a fellow travel writer Jo Castro of Lifestyle Fifty lived there and that she and her husband were lovely. That was enough.
We met them on a Media Famil trip in Melbourne, where we sampled Curtis Stone's new menu on board the Golden Princess Cruise ship. If you are wondering what a Media Famil trip is, it is a Media Familiarization trip, offered to media on behalf of an organization to get the media familiar with their destination and services. They are also called Press Trips. They can be either a group or an individual Media FAM trip.You can read more about them here.
Why we were in Bunbury, Western Australia?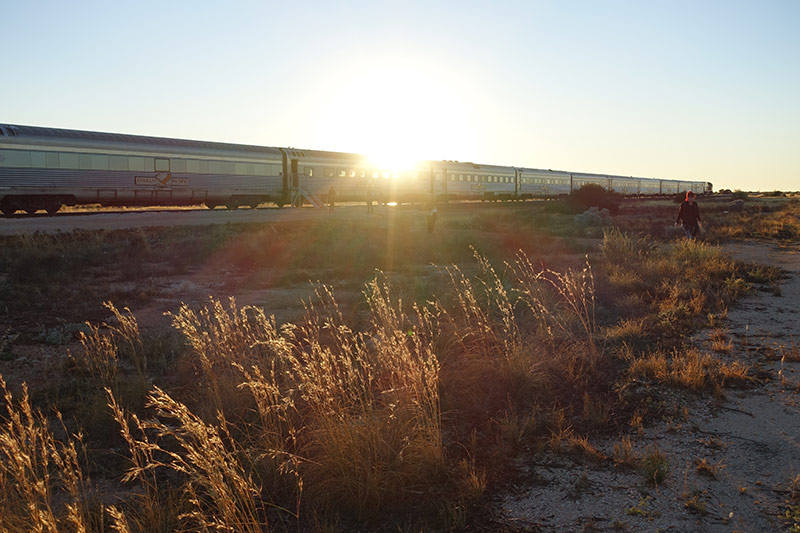 Being from the east coast of Australia, we really didn't know a lot about the West Coast of Australia, (ok, Gordon did) but we were there to experience the great rail journey; the Indian Pacific train trip which would take us from Perth to Sydney, a journey of some 4,200 kms, over 4 days and 3 nights on an all-inclusive hedonism journey through the most unique landscapes on the planet. You can read about it here. We decided to spend a few weeks exploring Australia's South West before our epic train trip.
How we came to work with Australia's South West?
We saw an ad on TravMedia, the travel industry's social media network, connecting media and public relations professionals worldwide for an opportunity to work with Bunbury Tourism, or more correctly, Australia's South West,  and decided that as this was touted as a food, wine and street art destination that we would apply to work with them, as this is exactly what we and our readers love.
Where is Bunbury, Western Australia?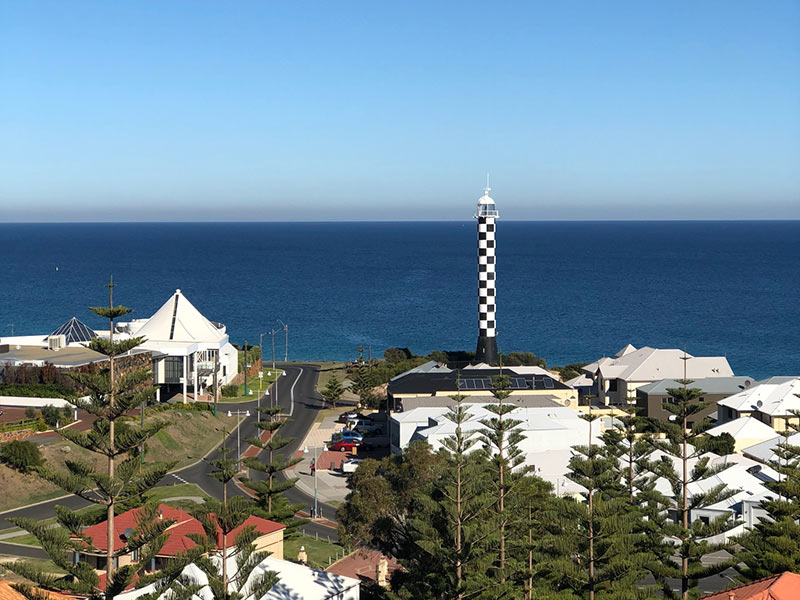 Bunbury is a coastal city in Western Australia, situated 175 kilometres (109 mi) south of the state capital, Perth. It is the state's third-largest city. We hired a car to explore this region.
"The face of Bunbury has changed in an incredible way. Once seen as just an industrial port, Bunbury has received an injection of edgy boutiques, intimate wine bars and top-notch restaurants, mostly thanks to a group of hip, young entrepreneurs who decided to transform their city into a place they wanted to work and play." Source
We ate, we drank, we watched the sunset, and we made friends in Bunbury, Western Australia, and in other areas also.
We had an itinerary for our visit to Bunbury, created for us by Australia's South West Tourism.
You must go to Café 140 when you visit Bunbury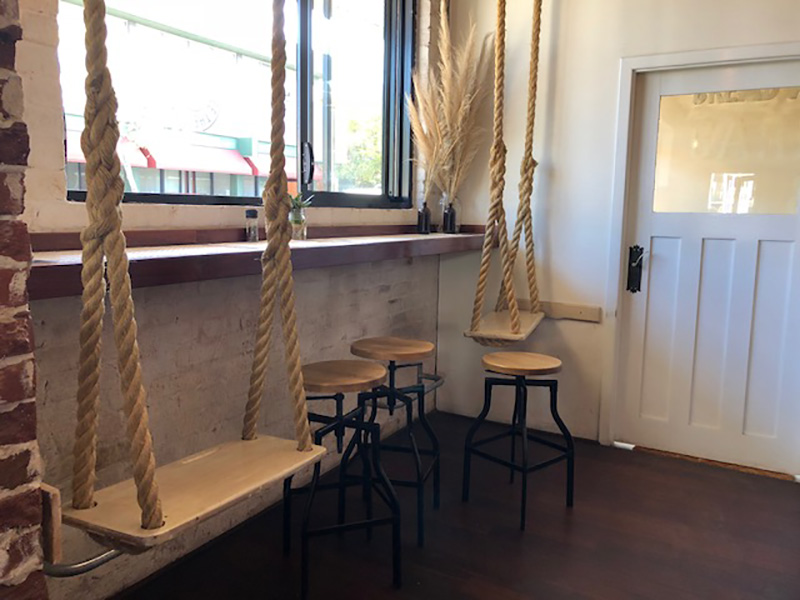 Our itinerary had us at Café 140 on the final of our three days. We realised that we would not be able to do lunch, and also get our hire car back to Perth by 2pm. So, we rang the owners and asked if we could move our luncheon forward three days. Easy as, and the best move we could have made.
We pulled into Bunbury and headed straight to this chic little bustling café at the end of the main street , Victoria Street Bunbury. While we feasted on our meals, we could smell the tantalising aromas from their bakery next door.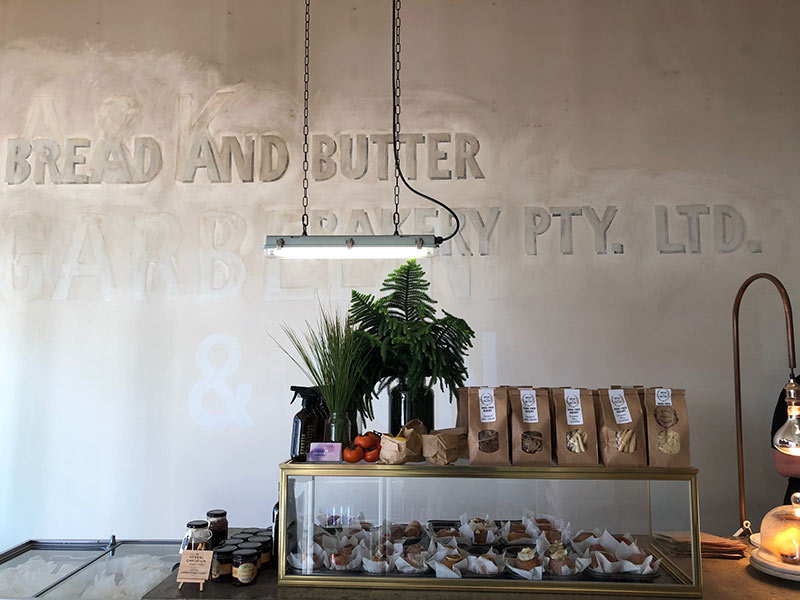 Must try …. cured pork kedgeree omelette, – an Indian inspired kedgeree with cured pork, homemade mango chutney, and yoghurt. Gordon is still raving about Kristy's ( the chef and owners) creation. I went with another winner, the Roast Vegetarian Toasted Sandwich (I am not vegetarian) but the combination of pepperosti, olive and mushroom tapenade, caramelised onion and cheese on woodfired 'bread and butter' white organic bread had me drooling.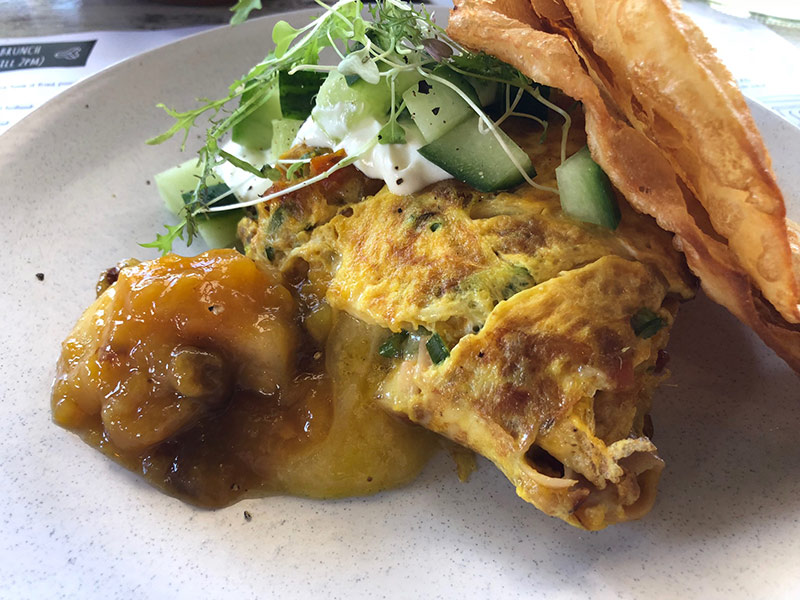 A little history as to why we needed some loving in Bunbury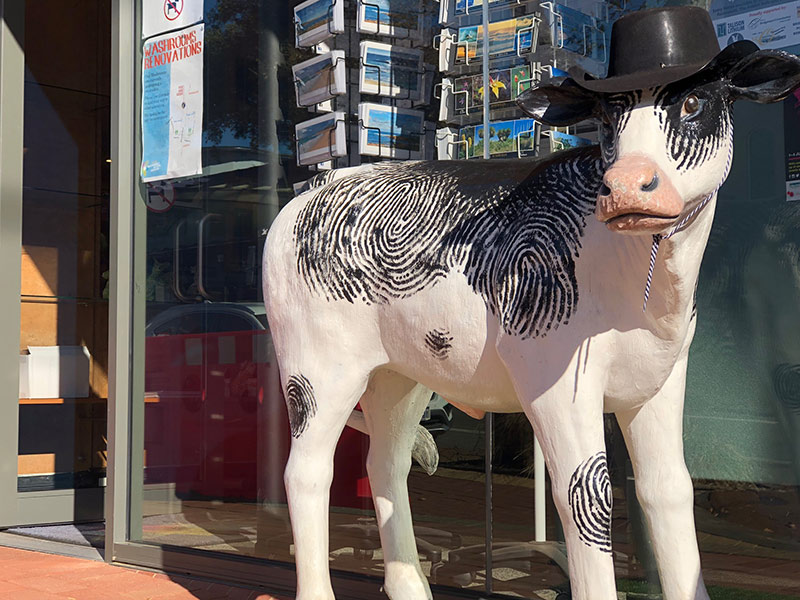 After eyeing off the owner Alex, we decided it was time to introduce ourselves. Let me digress a little. We had spent the previous three nights in the delightful Margaret River … the wine epicentre of Western Australia. Unfortunately, we were burgled as we slept on our last night. Cameras, cash, all taken but thank goodness not our precious computers. Apparently, they are too hard to hock (sell on the black market). We still liked Margaret River regardless, as the people were lovely… as was the wine. Can you see a theme happening here?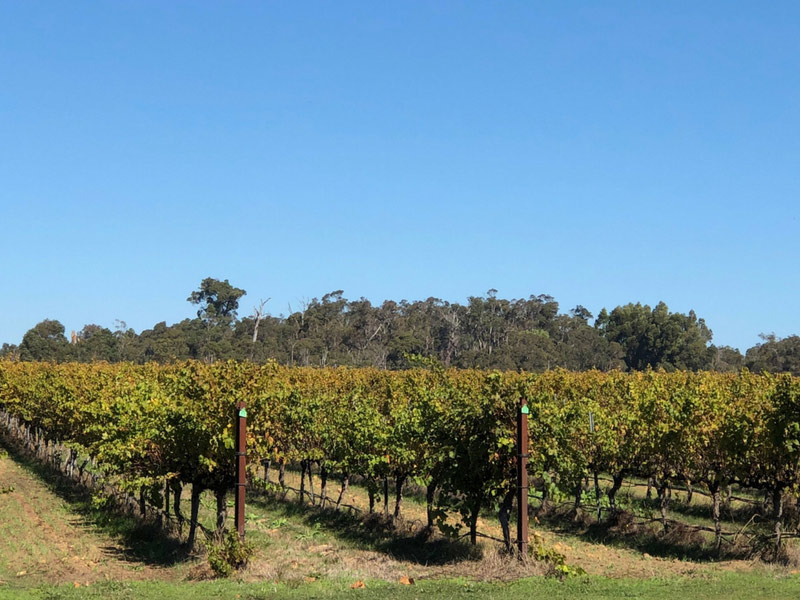 Meeting Kristy and Alex of Café 140
When we drove the 99km north to visit Bunbury, Western Australia all I wanted was a wine, to drown the loss of our photos more than anything else. The gorgeous waitress at Cafe140 was all over it after we told her our pitiful story and had wine on our table immediately.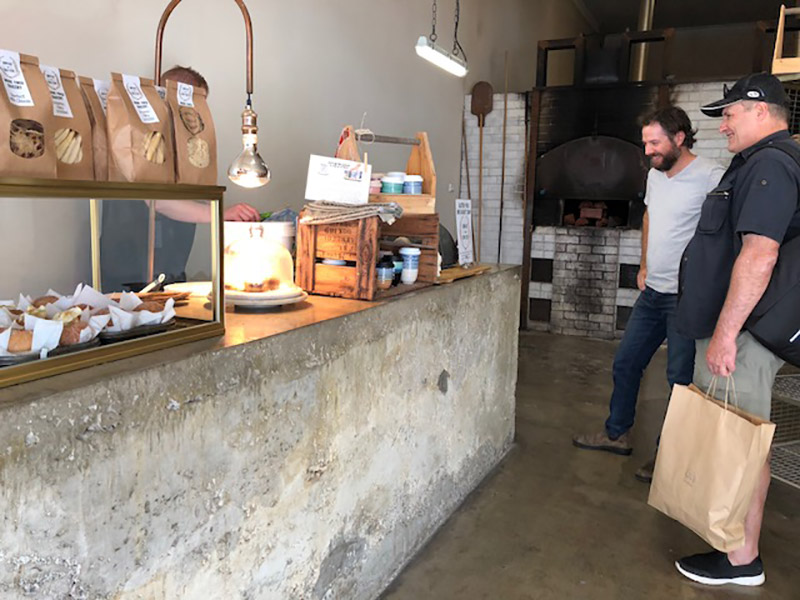 Fast track to meeting one of the owners Alex. His partner/wife is Kristy Garbelini, (who we me met the next day and loved immediately,) and then he was sitting with us, drinking Sexy Red and making us feel a damn sight better about our situation then we had when we arrived.
To say it was an instantaneous friendship would be an understatement. We talked, we bonded, we explored the bakery, we walked away armed with a goody bag full of their rye bread, pies, crostini and a lot more. When you visit Bunbury, Western Australia, it is the people who will keep you coming back.
Go to the Market Eating House when you visit Bunbury, Western Australia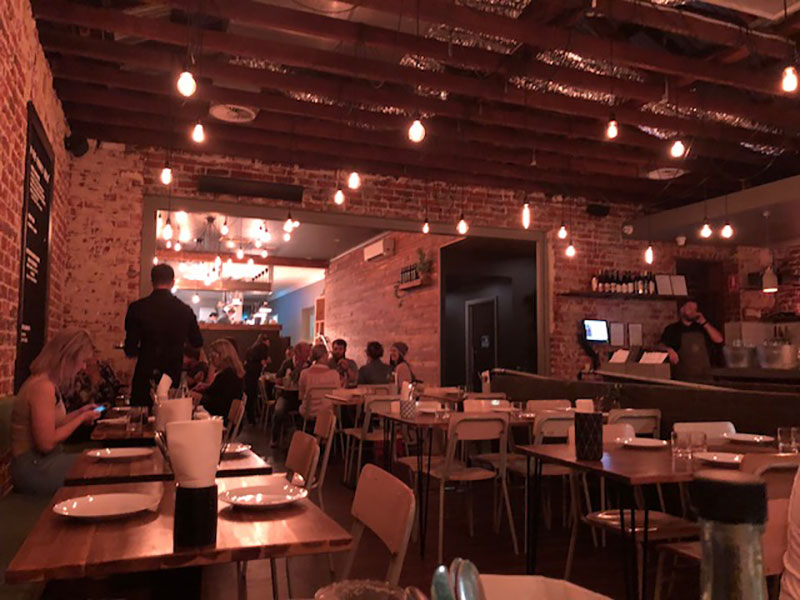 That night we went to a Market Eating House at 9 Victoria Street. Not only was the food superb, but it was the service that had us raving. Brayden … well done you.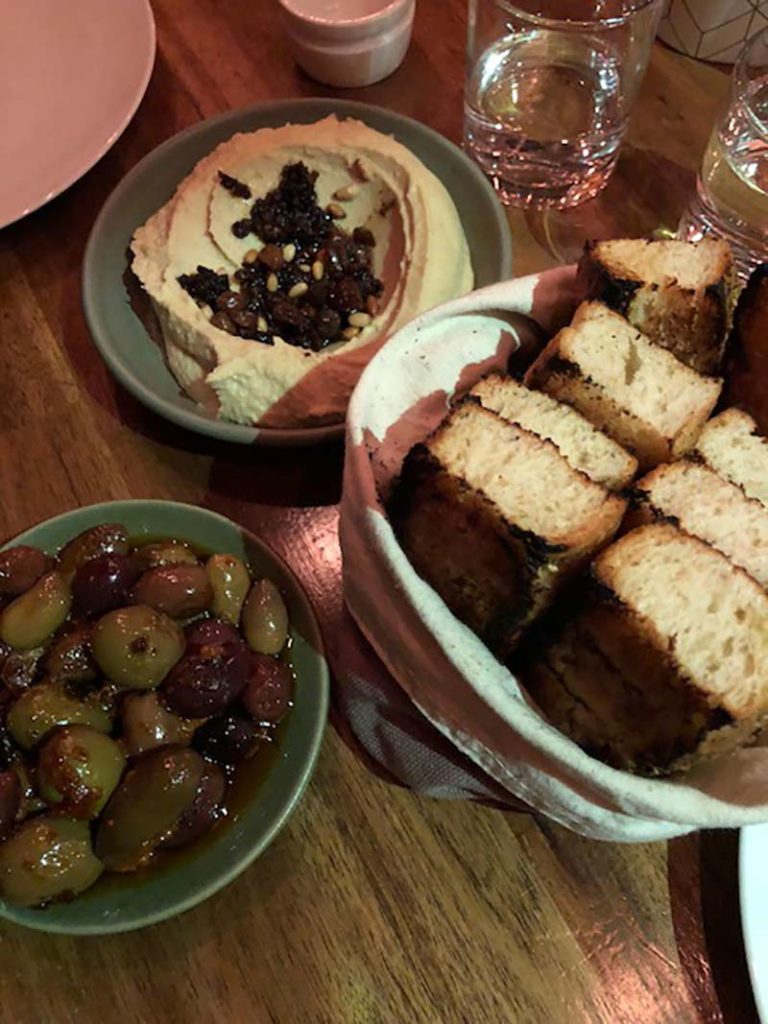 They say that they " aim to create a venue that is welcoming and accessible, letting our values and way of life be known through our food, service and hospitality. A custom made charcoal grill and wood fired oven takes centre stage in our kitchen, exploring one of the most honest relationships, that of food and fire". Well they delivered on all fronts. Magnificent food, awesome service, and just a good feel. Visit definitely
And back to Café 140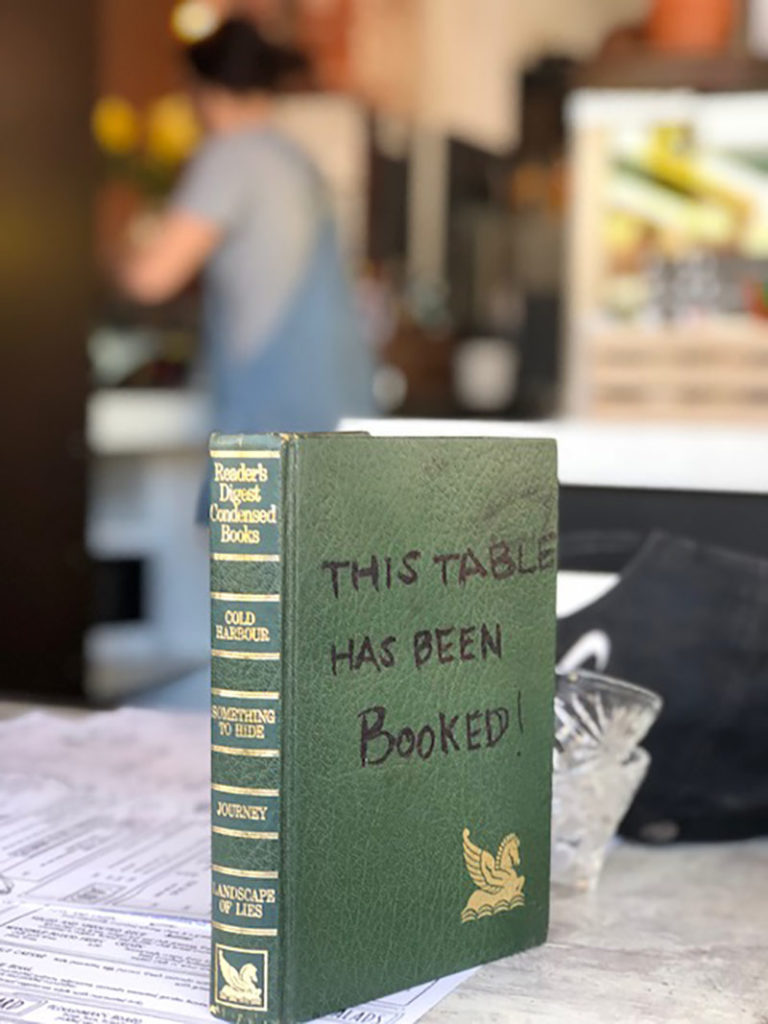 Bunbury's Cafe 140 lays claim to the best coffee in Western Australia. Now, as inveterate Australian coffee snobs, and having only had wine the day before, it was a no-brainer that we would return to Café 140 and see if this was true. Score – Kristy, the owner and chef of this fantastic café, was on site.
It was an instantaneous love affair with this feisty little Sicilian. We protested that we actually only wanted coffee as we were off to a winery for lunch. Try telling an Italian that you don't want food when you visit Bunbury, Western Australia. The only thing we didn't get was a photo with Kristy, because we were too busy talking.
You have no chance in hell of winning this one. In front of us was the most delicious quiche, meringues, macarons … because hell, we weren't hungry were we, until we tried Kristy's food, and yes, the coffee is exceptionally brilliant. Again, we walked away with food because that is what these Italians do.
Not only that, but Kristy asked us what we were doing for dinner. We rattled off a few restaurant names, and then she said NO. I will be making you both a ploughman's dinner, and you will go to the beach tonight, watch the sunset over the Indian Ocean and have a romantic time, and get over your little issue. There is no arguing with the generosity of this woman.
You have to visit Gnomesville outside of Bunbury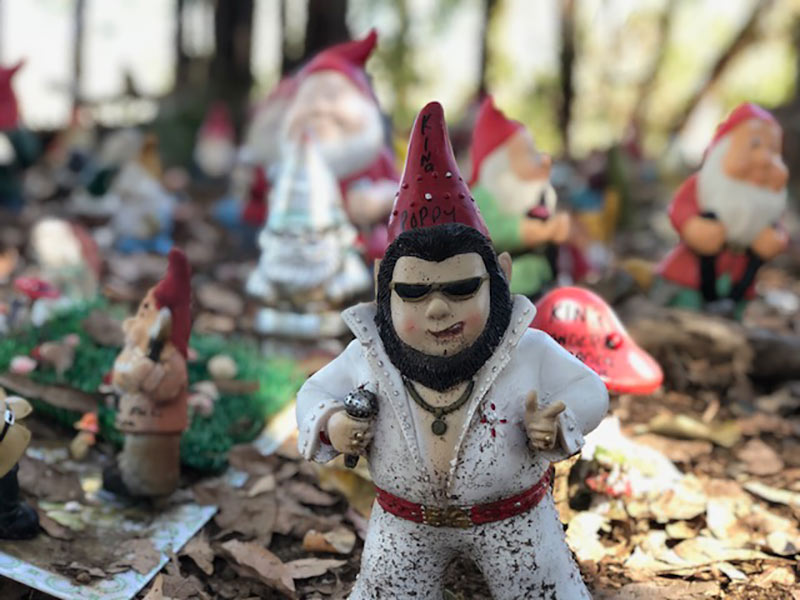 There was no way we were not going to Gnomesville, home to hundreds and hundreds of yes …gnomes. Located in the stunning Ferguson Valley, it is a pilgrimage not only to visit Gnomesville but also to take a gnome and allow him/her to reside in a dedicated place for gnomes.
The gnomes started to appear as a silent protest to the building of the roundabout. They were removed from the roundabout to the side of the road, and thus Gnomesville became  village, and a popular tourist attraction. There are thousands of gnomes from all over Australia, and from all over the world.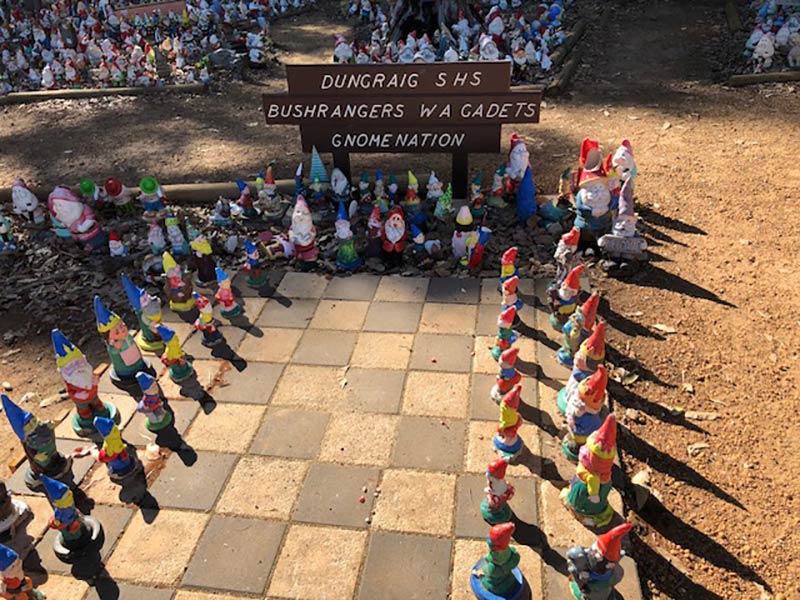 Gnomesville is located on the Eastern Junction Roundabout of Wellington Mill Road and Ferguson Road in Wellington Mill, Western Australia 6236.
It's the people and the gnomes of Bunbury, Western Australia who will keep you coming back.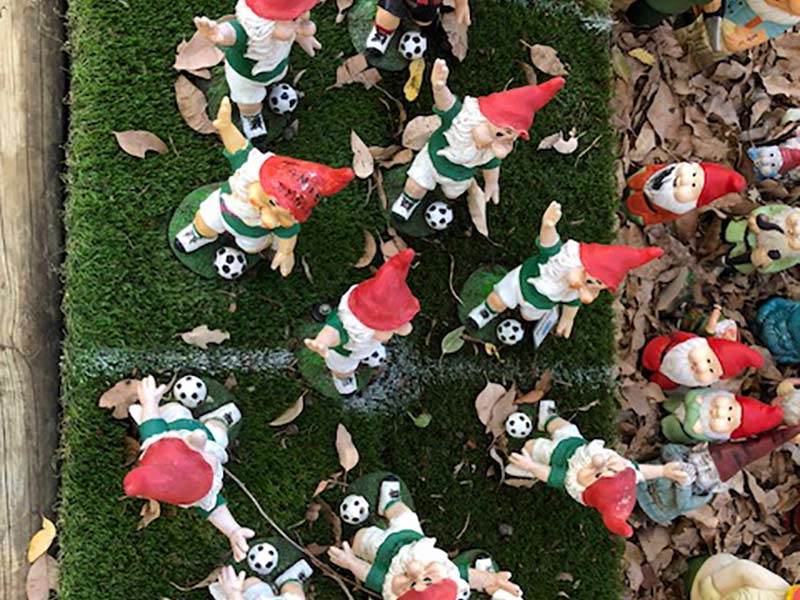 Visit Green Door Winery & Café, Ferguson Valley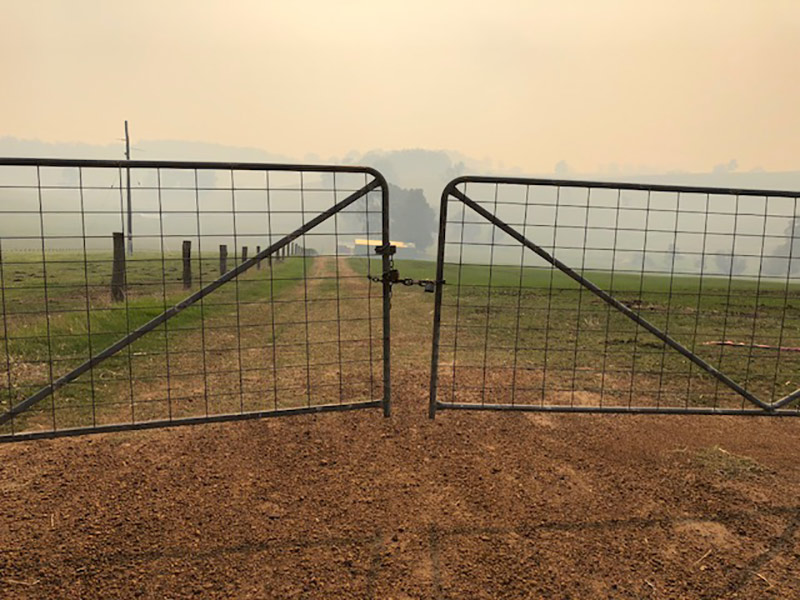 Green Door Vineyard & Winery is a small boutique vineyard & winery run by Ash and Kath Keeffe in the Ferguson Valley. Green Door Winery & Café is just 35 km from the coast of Bunbury. Their vines produce fruit primarily of Spanish and Italian origin. As we love Spain, this worked for us.
The wine sampling was unique, with delightful little carafes of each of their signature wines, and perfect explanations from our hostess, whose name escapes me, and I feel embarrassed. Suffice to say she knows the Green Door Wine and is a yoga teacher also.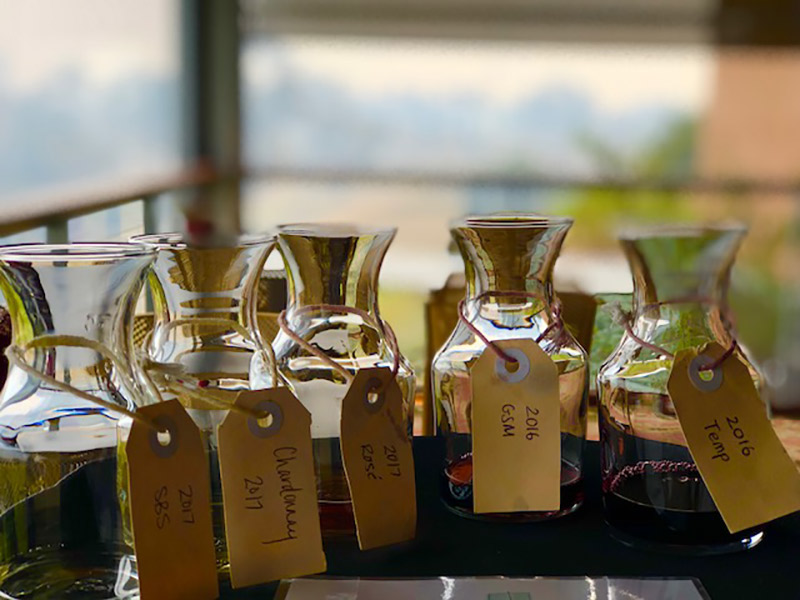 Ask about why the winery is called the Green Door and you will soon see why, when you enter and see the amazing green doors, albeit from Morocco, which are prominent in the restaurant. Renowned for the wines, the food, and outstanding views over the Ferguson Valley, not to mention the most hospitable service and you will see why I keep coming back to the mantra that you visit Bunbury, Western Australia for its food, wine and its people.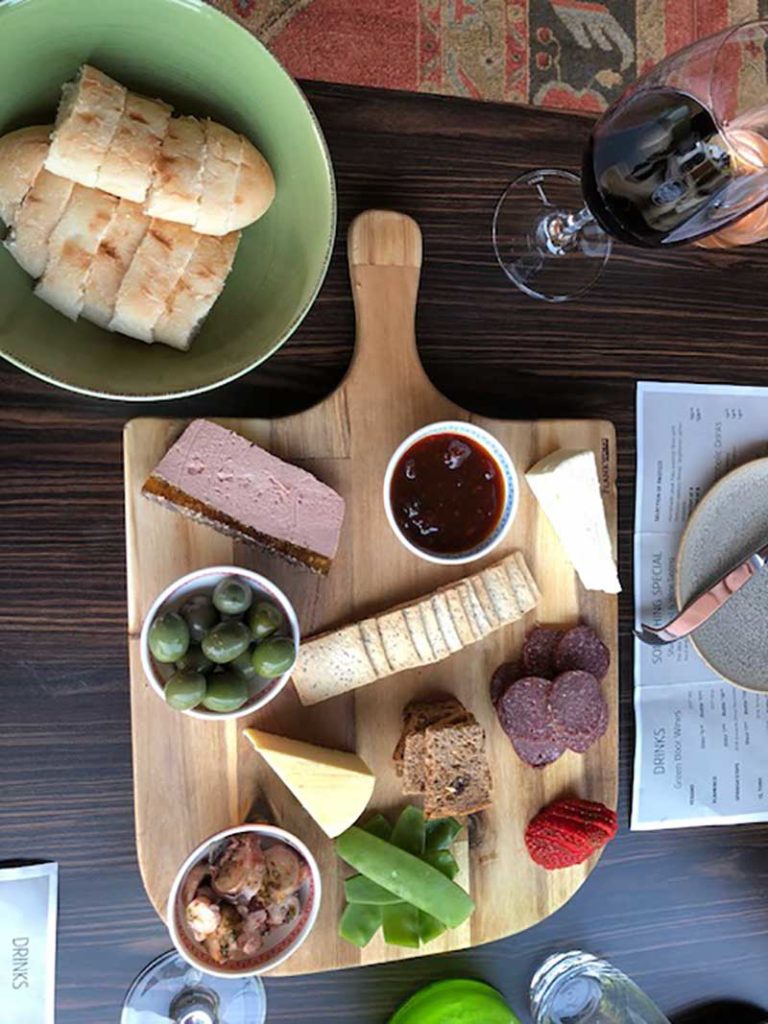 And then there is the street art when you visit Bunbury, Western Australia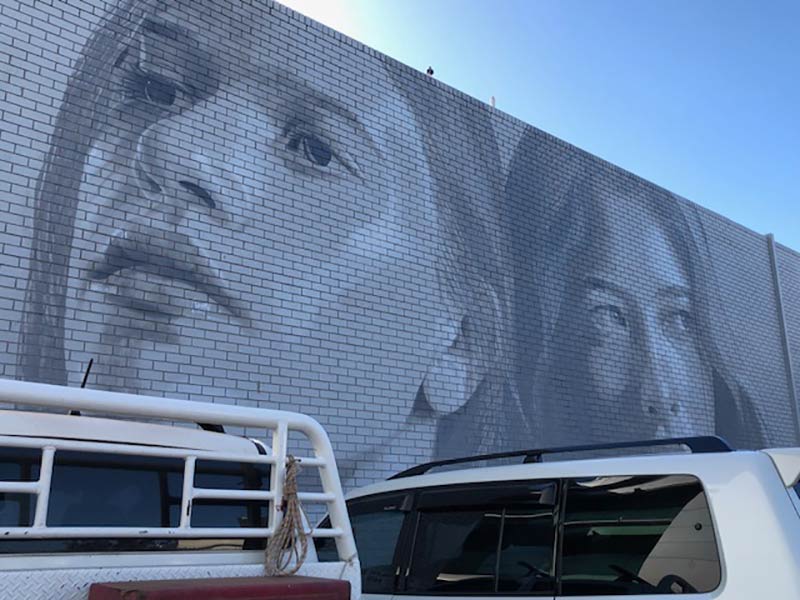 Not only is Bunbury a foodie place, but the street art in Bunbury, Western Australia is what adds to the ambient and cool feel of this city. The city has talent. Check out some of the amazing street art we discovered while wandering the very pleasant streets.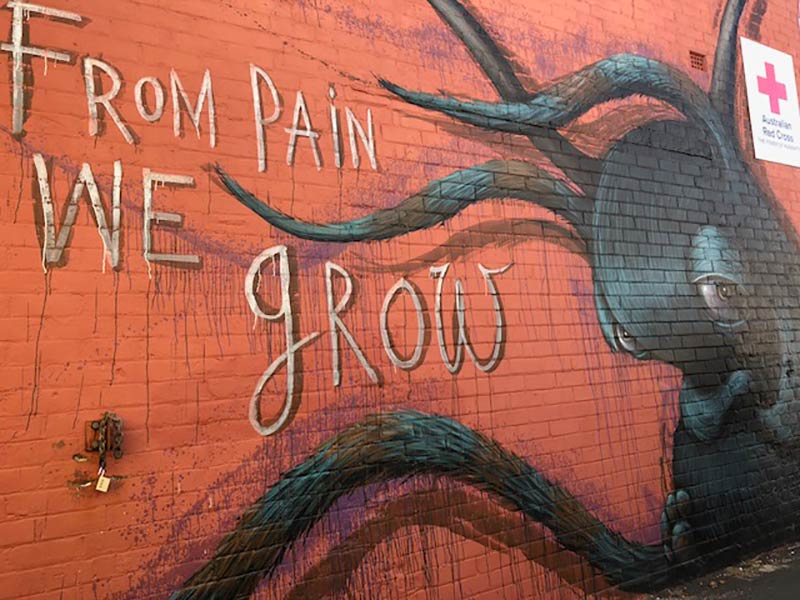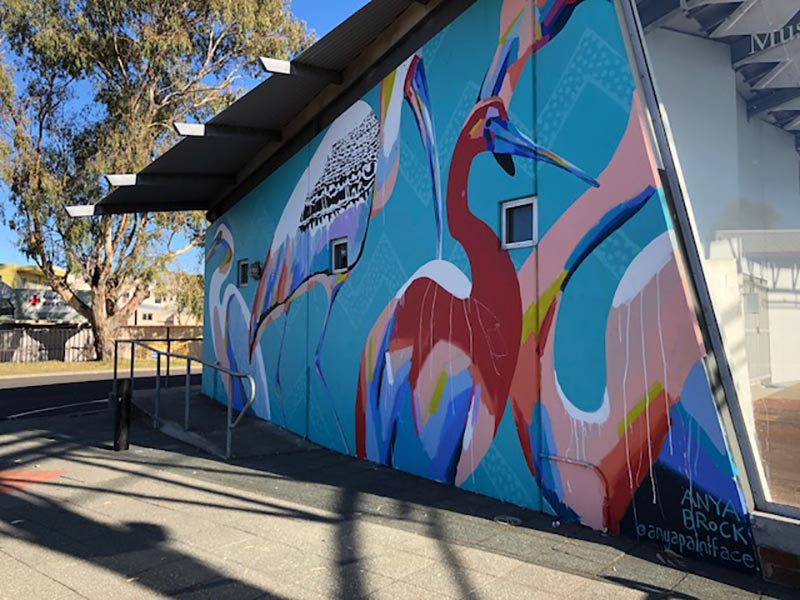 A romantic ending to our visit to Bunbury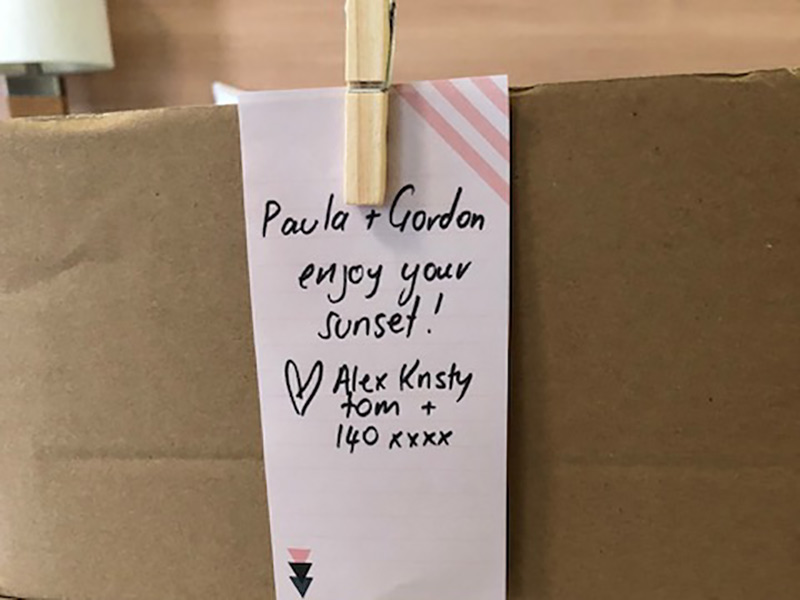 Later that day we returned to our home away from home Cafe 140 to a ploughman's dinner that defied description, replete with Sexy Red wine, fruits, meats, homemade breads, cheeses, persimmons, and an epic sunset over Bunbury, Western Australia. Yes, it was romantic. Yes, it was a complete picture of a place we recommend you visit.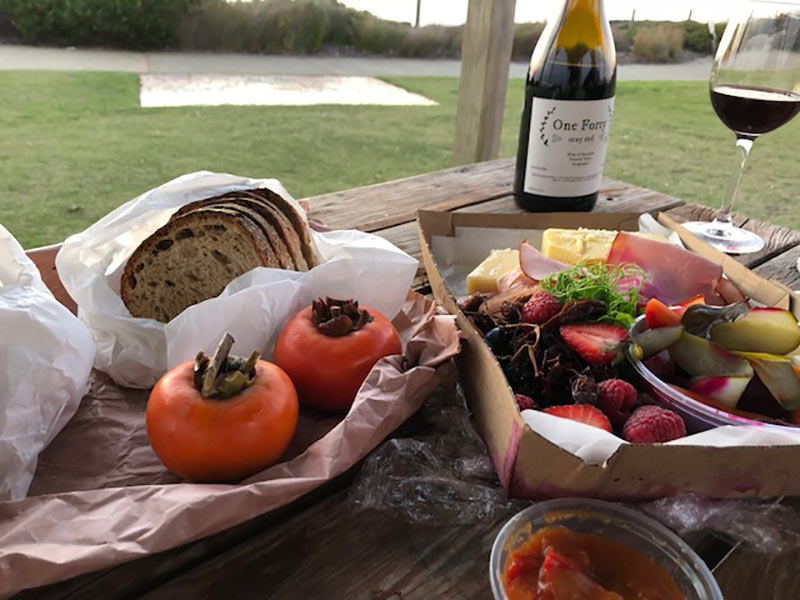 Where to stay in Bunbury, Western Australia
Then you visit Bunbury, Western Australia stay at the Mantra Bunbury Hotel, which is located in the heart of Bunbury's heritage precinct, overlooking beautiful Koombana Bay and just metres from the beach and the town's cosmopolitan shopping and cafe strip, the hotel is a popular choice for people visiting Australia's south west of Western Australia. The hotel is very interesting as it is part of the wheat silos development, featuring 70 contemporary studios and apartments with all the modern conveniences a traveller now needs. Pools, tennis courts, great grounds to wander, and lovely rooms, many with balconies. Great for couples, families and for multigenerational travellers.
For latest price and reviews from Trip Advisor, click here.
We were the guests of Australia's South West, and all opinions are our own. australiassouthwest.com
I'll repeat it' It's the people of Bunbury, Western Australia who will keep you coming back. You need to visit Bunbury, Western Australia for the food, the wine, the art, the epic sunsets and the people