If you are looking for a luxury resort in Seminyak Bali, then have a look at Peppers Seminyak Bali. This is one of the top places to stay in this urbane and chic area of Bali. I immediately thought of my friends having a girls' getaway in Bali, with the villas, the amazing food and the spa treatments.. I then thought of multi-generational family getaways and them having a fantastic time together, because the rooms, that we enjoyed were designed for more than just a couple. But we were not complaining at this decidedly stunning villa compound for the two of us. Peppers Seminyak Bali is one of the top places to stay in Seminyak.
The Villas are Luxurious Balinese Compounds
These villas were designed in the style of the Balinese family compounds. The complex of villas runs north to south, and are based on Tenganan, the Bali Aga village that until the 1970's, was known by anthropologists to be one of the most secluded societies of the Indonesian archipelago, hence the location down the long laneway. These are ultra luxurious villas, with total attention to everything that the modern traveler wants and expects, like complimentary WiFi access in villa and public areas. This definitely a luxury resort in Seminyak, Bali.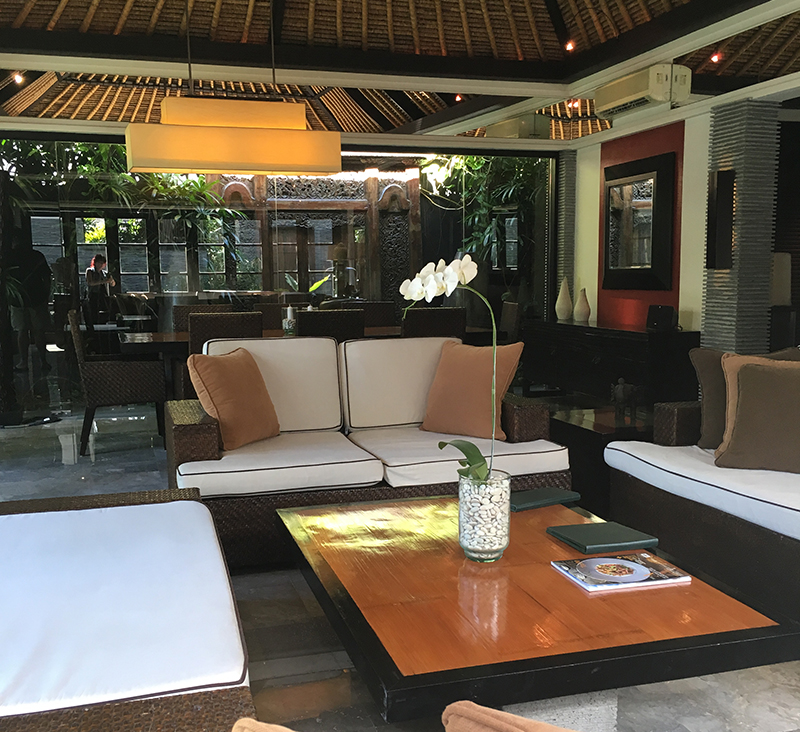 There is nothing wrong with a couple like us having such luxurious accommodation, but it did scream for more friends to join us in such lux surroundings. Our villas at Peppers Seminyak, Bali screamed for us to host a cocktail party, and screamed for us to share this amazing place with others.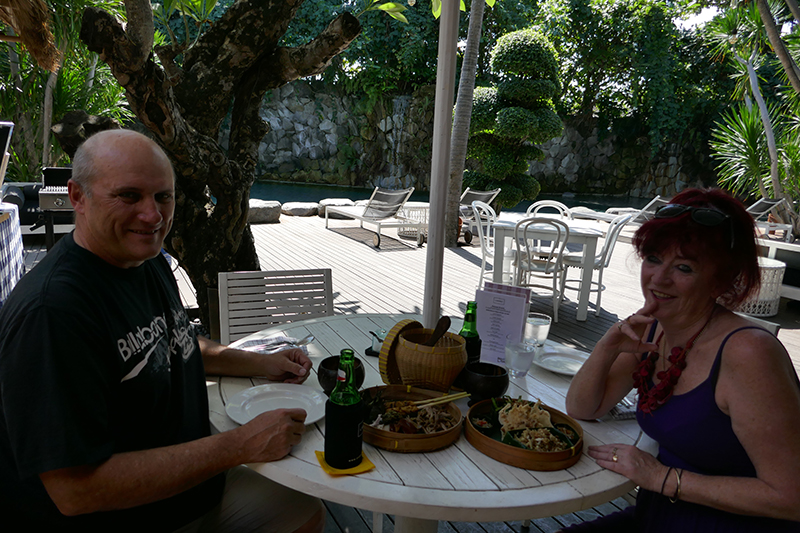 Location of Peppers Seminyak, Bali
Peppers Seminyak, Bali is situated in the uber trendy Seminyak area. The resort is at the end of a very long lane, sufficiently far away from the frenetic action that characterizes Bali, and I say that in a good way because I love this manicness of Bali; but I also like to be able to retreat from it too. You might like also like to read 54 Do's and Don'ts When Visiting Bali.
Peppers Seminyak Bali is a private oasis of solitude, yet within walking distance – or an ultra cheap taxi ride – to the action. It is close to the shopping precincts, chic cafes and restaurants, the beaches and the action of the over the top Potato Head Club, and Ku de Ta, both hot spot places in Seminyak.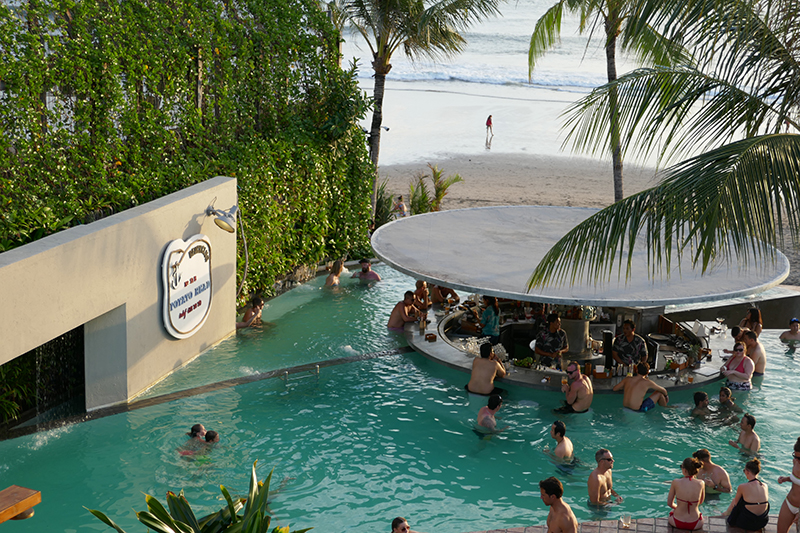 About Peppers Seminyak, Bali
In 2014 the Mantra Group of Australian hoteliers made a wise decision and announced that what was known as Sentosa Seminyak, was to be rebranded and added to its stable, to be known as Peppers Seminyak Bali. Knowing the Peppers brand in Australia, we were aware that what they do, they do with total style and class so we knew that what we would experience would be special, and it was.
These are privately owned villas, which the Mantra Group manage. The Mantra group do a lot more than managing these divine properties, as they have added many of the facilities that one expects in a high-end luxury resort, and this is most definitely high end.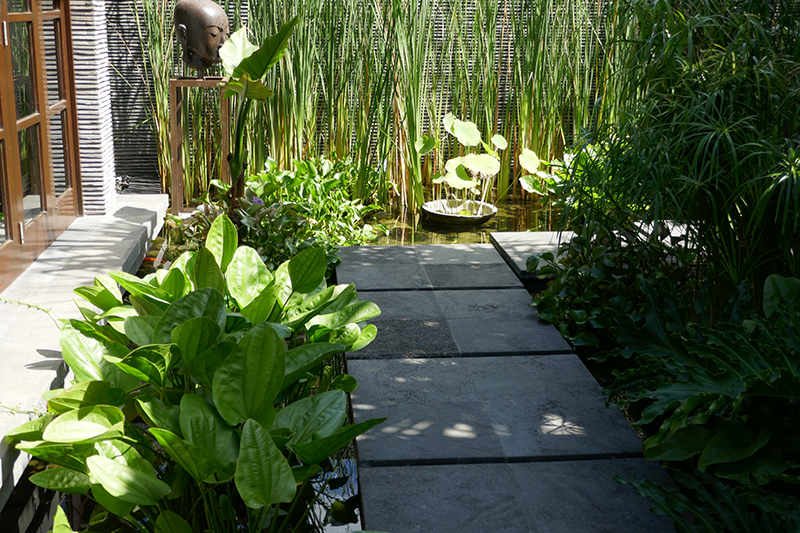 Our arrival at the hotel.
We arrive at Peppers Seminyak, Bali to be greeted by very unusual architecture. It appeared to be a concrete block but was apparently glass reinforced concrete breeze blocks for the main building facade walls. Look, let's be honest I was not a fan of this and nor of the reception area. May as well get my one criticism out of the road early on in this article. However, once you walk through this, you are then greeted by a 35-meter pool and rock wall with waterfall, surrounded by the gleaming white furniture of The Laneway Restaurant. Marry this all up with the surrounding lush tropical gardens that scream Bali, and you soon forget that concrete.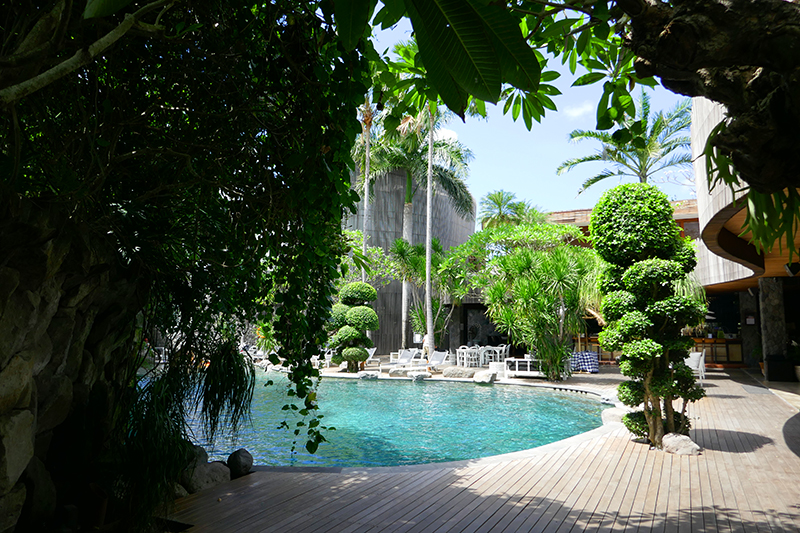 Our stunning villa complex at Peppers Seminyak, Bali
We are taken by golf cart to our villa. Peppers Seminyak covers a lot of territory.
All villa complexes are surrounded by large rock walls, giving them intimacy from each other, making them ideal for both short breaks for girls' getaways and perfect for family getaways. You cannot see anyone else and cannot hear anyone else.
What goes on inside your villa complex at Peppers Seminyak Bali, stays inside your villa complex.
This is why it has become the choice for some famous people, seeking privacy and luxury.
There are 1, 2 3, 4 and five bedroom luxury villas, most with a private swimming pool, and a cabana known as a Bale, for relaxation, massages and chilling out.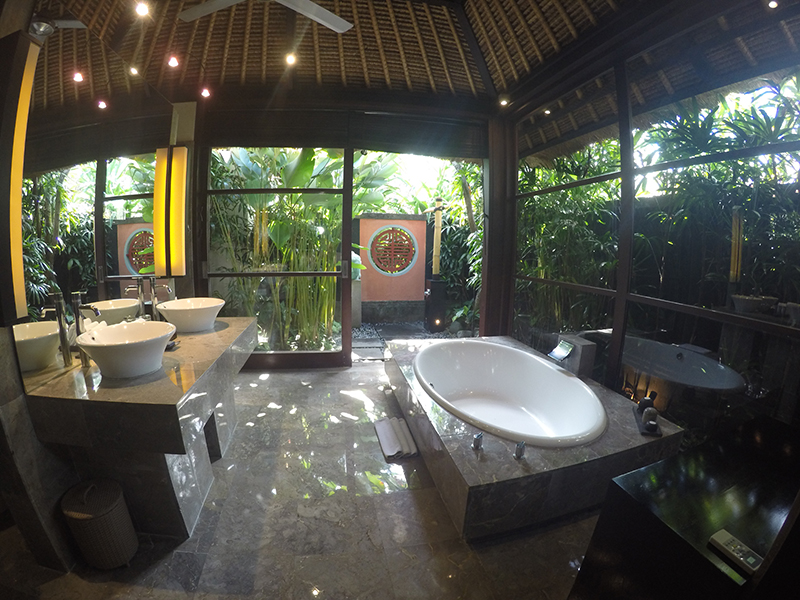 Eating at The Laneway Restaurant, Peppers Seminyak Bali.
You will never go hungry ever, as you start your day with a choice between the a la carte menu and the buffet breakfast, but truth be told you can have both, and truth be told some little piggy did. That would be me. The service here at The Laneway Restaurant is exceptional, and we can talk with the staff, who are very professional while making you feel very wanted.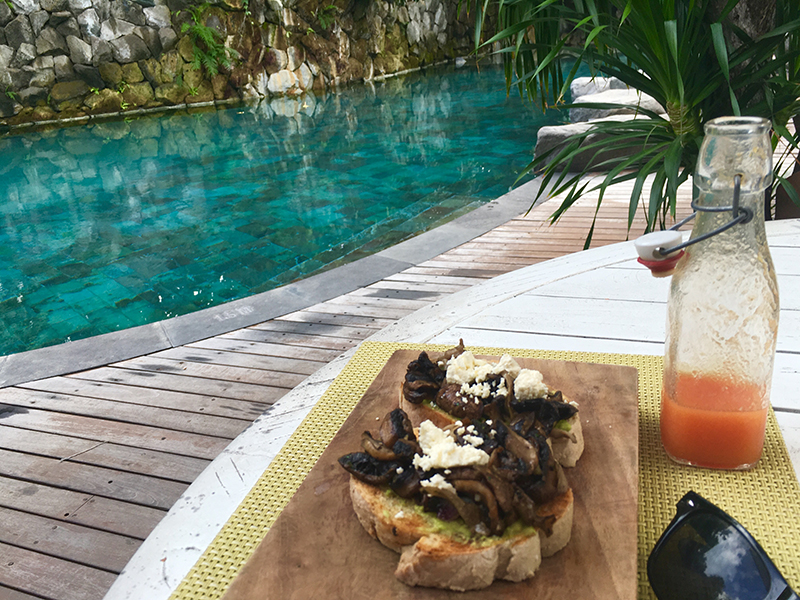 We also dined there for the Saturday Balinese Brunch and enjoyed Bali's signature dish, the Babi Gurling or Balinese suckling pig.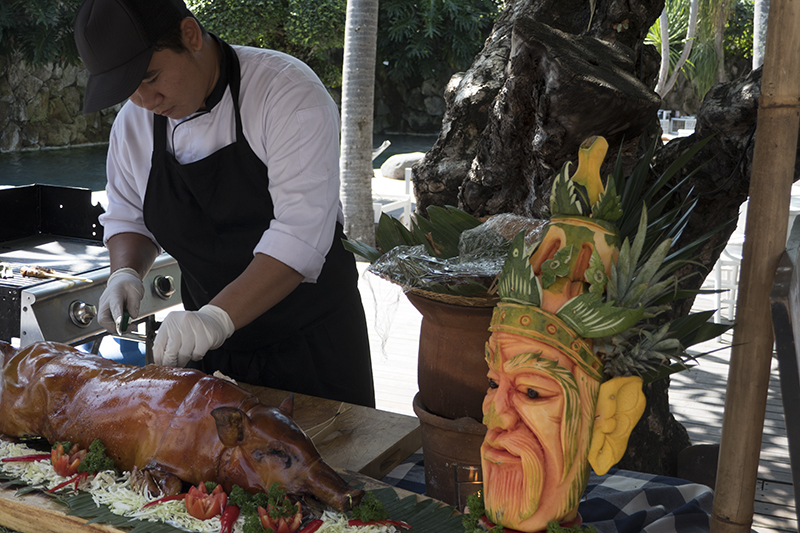 With this brunch, we also had the Jukut Kalasan or long bean with Balinese spices, the Lawar nangka young jackfruit with pork, anf Jukut Ares, a baby banana trunk soup. We also ate The Satay Lilit Ayam, or minced chicken satay, the Tum ikan of steamed fish wrapped in banana leaf.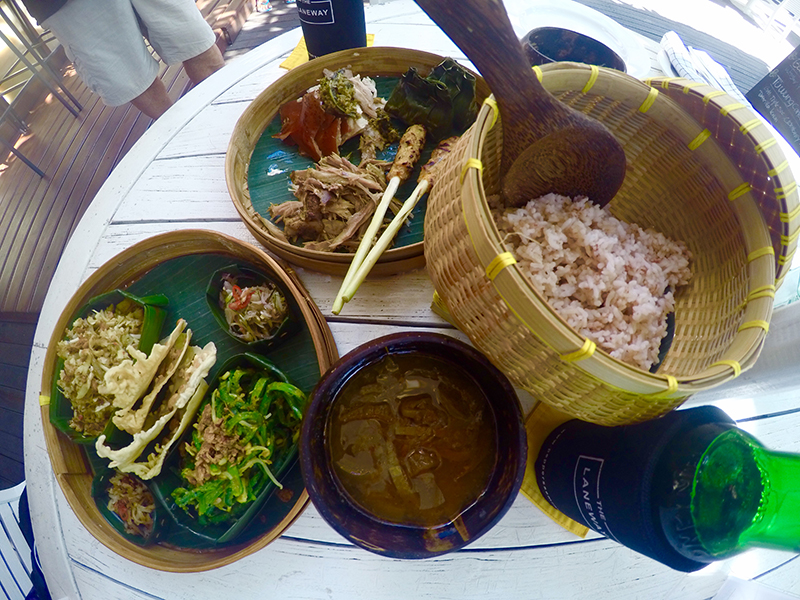 We followed this with Pisang goring – deep friend banana fitters with vanilla cream, Bubur inin, a sticky black rice porridge with sweet coconut milk, which was fantastic. Because food is important, we also had the Jaj wajik, or steam sticky rice with pandan fragrance and sweet jackfruit. We followed this up with a game of pool.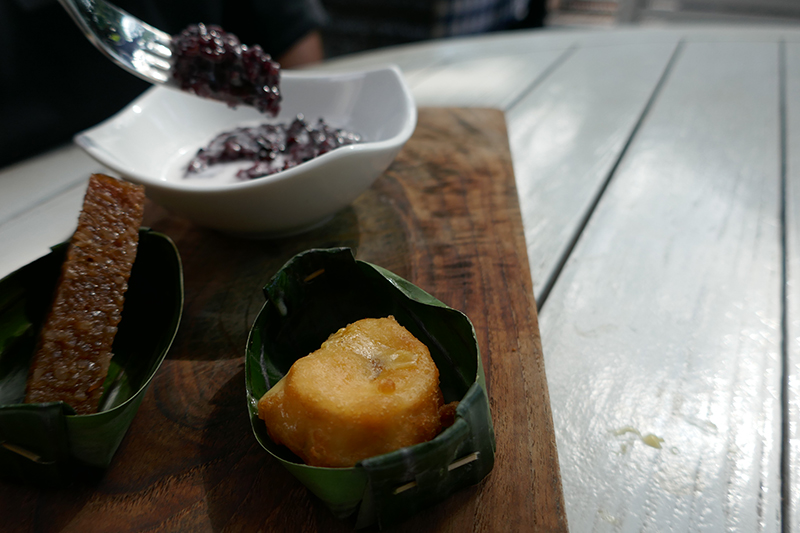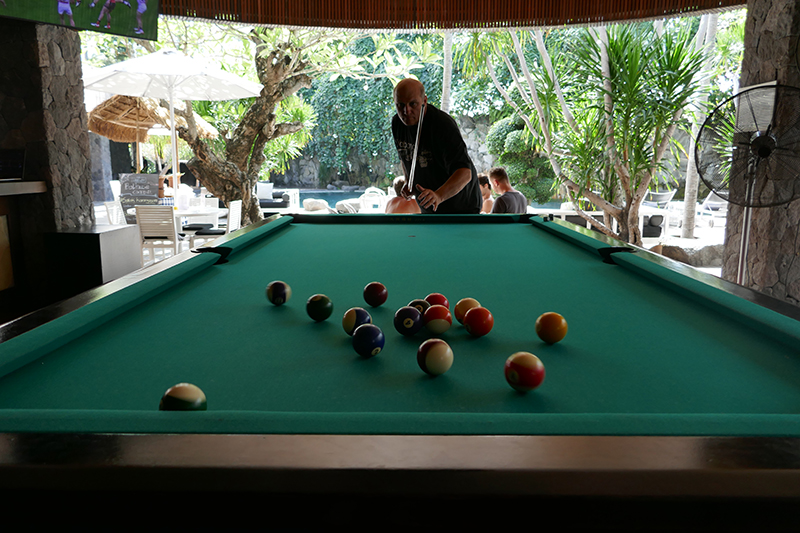 By sheer chance, we were also there for the Sunday Market which showcases local produce and wines from the area, and it was fun to see where Peppers Seminyak, Bali is taking this local market idea.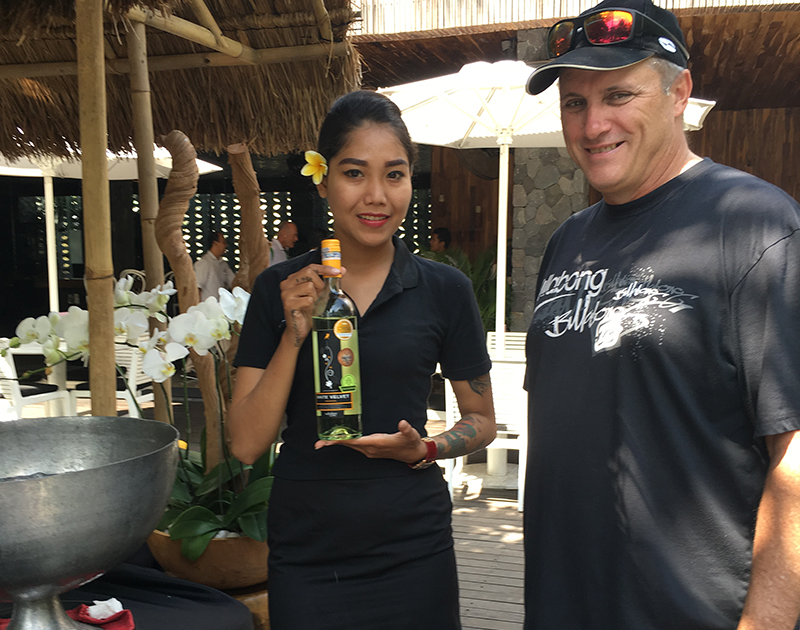 The Spa at Sentosa
Nothing screams Bali more than having a daily massage – from street vendors to luxurious spas treatments at high-end spas like The Spa at Sentosa. We were treated to a full body Balinese massage, which was so relaxing that I believe I heard someone snoring next to me. There is also a gym on site, but we didn't feel the need to stress ourselves out.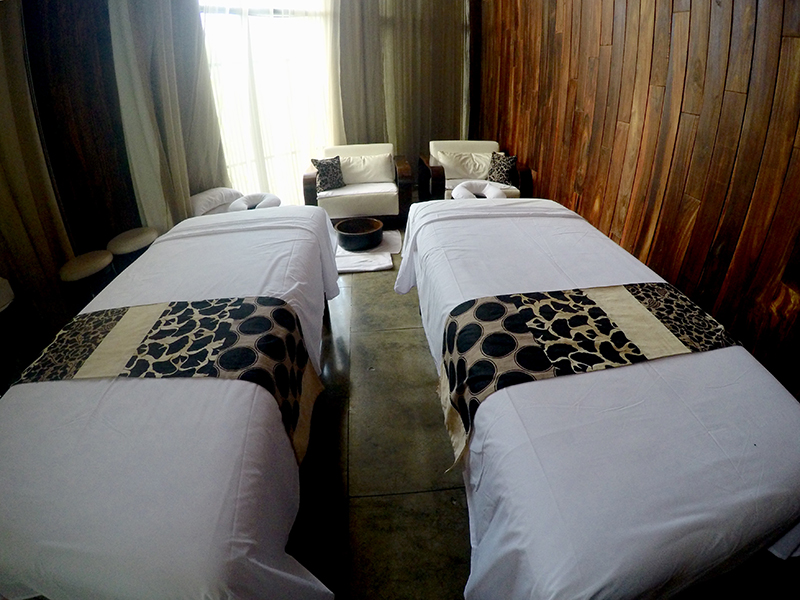 Bali knows how to Provide Service
The standout, besides the utterly stunning villa complexes, is the service. We have spent a lot of time this year working with the Ministry of Tourism of the Republic of Indonesia promoting lesser known destinations in this amazing archipelago of islands. We have had the distinct pleasure of visiting such destinations as Manado, Saparua Island and the incredibly pristine marine park of Raja Ampat in West Papua Indonesia. We also know that the benchmark for service lies with the Balinese. The Balinese have that lovely way about them that makes you feel, well ..special. When these destinations open up to the world as they already are, it is this total attention to the customer that the Balinese have down to a fine art, that they want the others to emulate. Everywhere that we have traveled in Indonesia, we have met people who are lovely; it is just that Bali has it down to an innate fine art. They are just really nice people, which I have said many times in previous articles, and nothing has changed my perception.
Peppers Seminyak, Bali is the ideal place for many people. It is a luxury resort in Seminyak, which is ideal for a girls' getaways, undoubtedly for family vacations, and also for those who like a little peace and quiet, love great food and decadent massages. It is an ideal luxury resort in Seminyak for people who have no issue with being pampered.
What you Need to Know to Get to
Peppers Seminyak Bali
Flying to Peppers Seminyak Bali from Australia
Tigerair Australia is a budget airline offering the best deals to get to from Australia to Bali. Tigerair Australia currently departs from Adelaide, Melbourne, and Perth. The flight time from Adelaide is 5hrs; from Perth, it is 3hrs 40mins and from Melbourne, it takes 6 hrs and 25mins. All flights are quicker on the way home. What you save on airfares, you get to spend on yourself.
You won't get Champagne and Caviar on Tigerair Australia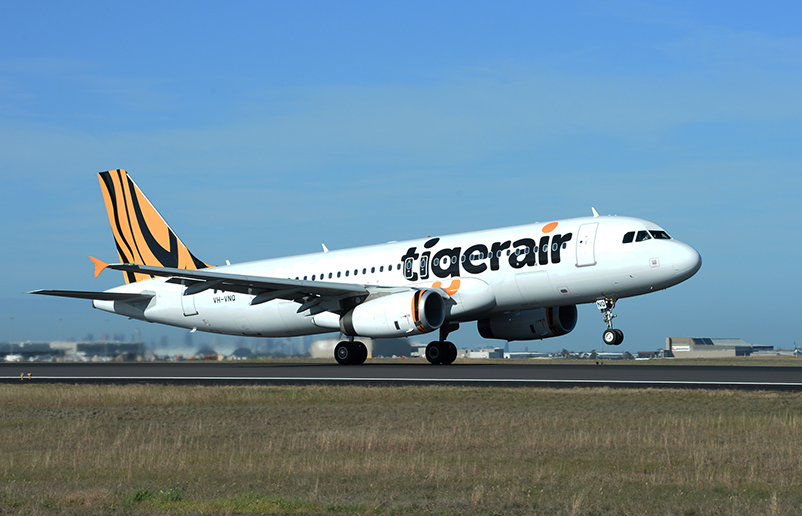 Getting to Peppers Seminyak, Bali from Ngurah Rai International Airport, Denpassar, Bali
It is cheaper to get a Blue Bird Taxi outside of the airport than to use the authorized taxi service in the airport terminal. It will cost you between 130,000 rupiah, which is about $13AU. Don't pay any more than 150,000 ($15AU), despite the taxi drivers telling you about the traffic, which they are correct about. While it is only 13kms away, it will take you about45 minutes to get there …because the traffic is literally that bad, particularly on some nights like Saturday. But, give them a tip, because I like the Balinese people and you will too.
Peppers Seminyak Bali
Jl. Pura Telaga Waja, Petitenget, Seminyak Bali 80361, Indonesia