These are 54 Do's and Don'ts When Visiting Bali. Bali is known as the Land of Gods, and the Balinese believe that Heaven is Bali and that Bali is Heaven, and indeed, in the lush tropical vegetation, they have a distinct point. 90% of Balinese are Hindu and around five per cent Muslim, which is quite different to the rest of Indonesia. The Balinese people are some of the nicest, most pleasant and tolerant people in the world. Get to know the real Balinese, and your trip to this intriguing island will be an enriching one.  These are your  Etiquette Tips for Travelers in Bali, Indonesia
This is not intended to be negative, nor indeed turn you off the beautiful island of Bali, it is just a reminder that when you visit another country, there are certain things you need to be aware of when you are a responsible tourist.
Editor Note: updated February, 2018
To check all of the amazing things to do in Bali, click here.
A Little Respect
Do NOT take drugs into Bali. This is no laughing matter, as they do execute people as happened to two Australians who were executed in Bali in 2015. This is all of Indonesia and Bali, where the death penalty exists, and there is little tolerance for drugs, and rightly so.
The Balinese will ask you about world politics and what you think about executions, and terrorism because they seem genuinely interested in world events. However, this is the time to be very politic and avoid discussing such sensitive issue. While the Balinese are different in some respects from Indonesia, they are still Indonesian and bound by Indonesian laws and restrictions. Just be careful.
Do NOT buy drugs in Bali, and have no doubt – you will be offered them often. The answer is "No, Thank You".
You will be offered everything including Viagara when you are having your breakfast in the morning. If you want to run the risk of what could be in that capsule, then that is up to you; but I would be highly suspicious of this.
Do expect that it will take a long time to get through customs and immigration at the airport. For some reason, it takes forever. However, if they are being meticulous, then that is a good thing and means you will be safer on the island.
Read: Getting through Customs – a harsh look at realities.
Do not touch the head of a Balinese person, not even a child. The head is considered a sacred part of the body.
When entering any Hindu temple in Bali, and many are open-air temples, and you will need to wear a sarong ( a travel packing essential) and a sash. Many temples will have these at the entrance. Don't expose too much of your upper body out of respect. Don't point your feet to the altar in the temple either.
Do take your shoes off when entering a temple or a person's house. You will know because there will be shoes everywhere outside.
Do leave a donation at the temple…because it is the right thing to do, and good karma.
If you are menstruating, do not enter a temple.
Do not use your left hand when giving money or a business card, if you can help it. Many Balinese, however, have been exposed to a lot of Western cultures and do understand south paws.
It is hot in Bali, but please keep your t-shirt on when walking the streets, for the sake of the modest Balinese and for my sake, because many of you just look dreadful.
Do realise that Bali is close to Australia, and while the majority of Australian visitors are really good, there are a lot who give us a bad name.
Don't point with your index finger. Again the Balinese are becoming more used to these Western gestures but theoretically you shouldn't.
Do try and avoid walking on the ceremonial offerings in the street. Dogs walk over them, but if you can, and they are everywhere, try not to as a mark of respect to these deeply spiritual people
Do enjoy the many ceremonies that take place in this spiritual country. This is part of the beauty of real Bali.
Do be careful if you pick up a lady late at night, because the lady may well be a lady-boy.
Do learn some Balinese phrases, like Selamat pagi, good morning, and Terima kasih – thank you.
Food and Drink
Don't eat Western Food. You are in Bali, and the food is fresh and very good. Enjoy the tropical fruits, and more.
Don't drink the water, and be a little careful about which bottled water you do buy. Many people have bottle capping machines. It pays to take a water filtering bottle with you. You can always boil the jug to remove issues from the water.
Enjoy the local Bintang beer. It is refreshing, and Bali is humid.
22.. Do be careful when ordering any drink other than a Bintang, as it may be watered down or even something        different, and this will make you ill.
Do go to a cooking school in Bali. You will love it
Read: Cooking Balinese food
Do make a relationship with one of the beach beer sellers, and try and return to the one place. Once you are ripped off once, they won't rip you off again. Ditto the hair braiders, the nail painters and a lot of other hawkers. Once you have paid for a service once, they do not tend to hassle you again. You will also get to know local people and learn more about them and their culture.
Be aware that there is a strong move by the Muslim Indonesian government to ban the sale of beer to small retailers, and this may mean the beach bars will be affected.
Do eat at the warungs, the local Balinese cafes. The food is cheap, and the food is good.
You don't have to tip as service charges are already included. But, as previously stated, if you can afford to go to Bali, you can afford to be a little generous.
Read: A Guide to Tipping Around the World
Avoid Bali Belly and it is a real thing by being careful with what you eat. if you can't wash it, peel it or cook it, don't eat it. Be careful what you wash it in.
Don't avoid Kuta, it is changing, and changing for the better.
Read: In Defense of Kuta
Read: Kuta's Only Market Brunch, Bali
Shopping in Bali
Do haggle with the market owners, it is expected. Don't be horrible though and rip someone off. If you can afford to go to Bali, then you are a lot better off than many of the local Balinese people.
Bali has the most unusual lot of t-shirts, some purely disgusting but others relatively funny. If you have to buy one, then don't wear it, but if you do, expect to be recognised as a tourist and probably an Australian bogan one at that.
Read: An Australia subculture – Bogans.
Do be careful with the hawkers/salesman who are often Anglo-Saxons, who want to show you a hotel and give you a free night , or a week of free nights. and that you have won something and then take you for a long ride to try and sell you something or other. They will approach you the minute you walk out of your hotel. Politely and persistently say, "No, Thank You".
Don't get annoyed when you are hassled at the volcano, or when you go to see the Kecak dancers, or any other tourist place by the hawkers. They need to make a living.
Safety in Bali
Wear your helmet when you hire a scooter, which you inevitably will. You will more than likely get booked by the police of you do if you don't.
Do be careful when you offer the police money to pay off your fine for not wearing your helmet. This is common practice to try and buy your way out of trouble. Sometimes it works, and other times it doesn't.
You are going to need an international drivers license or if you don't have one of these, you will need to get a Balinese driving license, which you can get in Denpasar. Many people don't bother, and thendeal with the fine that they weill inevitably get. Check your insurance policy, to see what they do cover.
Use your horn to honk a lot. There is no road rage in Bali; it is a means of indicating that you are overtaking or trying to get some type of attention. Don't get cranky if people are honking at you.
Do make sure you have travel insurance. There are many accidents in the surf, on scooters and from dog bites.
Be careful when getting a tattoo. Some tattoo artists use textile chemical dyes which are not suitable for use on the human body.
Be careful when you swim at the beach. The beaches can be filthy from tidal conditions coming from other islands in Indonesia. January and February at Kuta, Legian, and Seminyak are to be avoided.
If you are surfing in Canggu, Echo Beach and other surfing hot spots, you will be with fellow avid surfers from all around the world, and that is good. Beware of the strong waves, unpredictable currents and exposed rocks however. Talk to other surfers before entering the water. Surfers are very helpful people.
Read: The UN of Surfers: Canggu and Echo Beach, Bali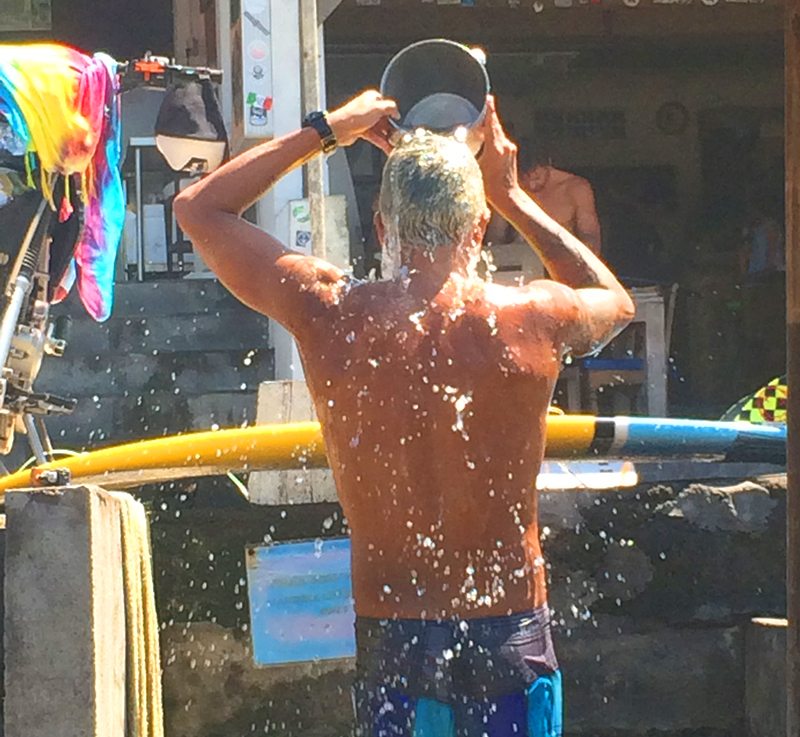 Internet in Bali
The internet reception in Bali, in the main, is not too bad. Most cafes will have free wi-fi. Expect in some of the inner areas of the island like Ubud, that it can drop out now and again, but it is better than many other countries we have been to.
Balinese Animals
There are dogs everywhere, and some of them don't look too healthy.
Be respectful of the turtles on the beach, they are endangered, and you will see Balinese trying to help them
The monkeys on the island, particularly in highly touristy spots like Ubud and Uluwatu Temple, are cunning thieves and will steal the sunglasses from your head, and anything else they can get their hands on.
Read: Ubud, Bali. If you don't like art, good food, monkeys – then this is not for you
Read: Exploring Uluwatu Temple Bali
Read: Kecak Fire Dance, Uluwatu Temple, Bali
Transport
Do use motorbikes, scooters, taxi's and tour guides and also hire a driver, but make sure that your rate is set in concrete before you go.
Local buses are also OK.
Some Suggestions on other things to do in Bali
Do go to Ubud, it is a special place, and definitely not ruined by tourists IMHO.
Read: Has Ubud Bali changed since That Book and That Movie?
To escape the midday sun in Kuta go to the movies, and sit back in arm chairs, while waiters serve you in your seat.
Do get a beachside position, maybe at Jimbaran Bay or Seminyak and enjoy the music, the Bintang and some of the most epic sunsets you will ever see.
Re. Mt. Agung. It's the highest volcano in Bali at 3,200 meters above sea level. Do watch the warnings for the volcano erupting – it seems to be having a few issues lately.
Do realise that they are not joking when everyone says, they are called Ketut. All Balinese males share the same four names – Wayan (the eldest), Made (2nd eldest), Nyoman (3rd eldest) and Ketut (4th child syndrome). If there is a 5th boy, they start again at Wayan.
Do understand that in Bali, OHS (occupational health and safety) is merely a suggestion. It is incredible to watch.
Do realise that you photos will not turn out great because of the humidity that gets in to your camera
As Bali is a tropical island it rains. Here are some ideas of what to do when it rains in Bali. Wondering what to pack for a vacation in Bali, click the link.
Bali is a lovely island in Indonesia, and these 54 Do's and Don'ts When Visiting Bali are a guide to enjoying a very rich cultural island.
Have you any other suggestions?
Join our thousands of followers on Pinterest