It was by great fortune that we found Murni's Houses, Ubud, Bali who had given us carte blanche to pick wherever we wanted to stay in Bali and we chose 6 nights at Murni's Houses. This is all part of our Travel Series, Bali for Baby Boomers. We found Murni's Houses but also found out that Murni is a living legend in not just Ubud, her hometown, but in all of Bali.
"Ask for Murni's when you arrive in Bali and your driver will know right away where to take you. The only thing he might ask is whether you want a place to stay, or eat or shop or a spa—or if you just want to meet Bali's most gracious living legend. There is a Murni and every day she's in Ubud making new friends.
Straight away our interest was piqued about both the lady and the many businesses that she owns throughout Ubud and the reverence that she is held in. We quickly booked with FlipKey, knowing that we were on to something unique and we were right. We also had read that Richard Gere, Richard Branson and David Copperfield the magician have visited Murni's, so we thought that Gordon and I might just join this illustrious cast.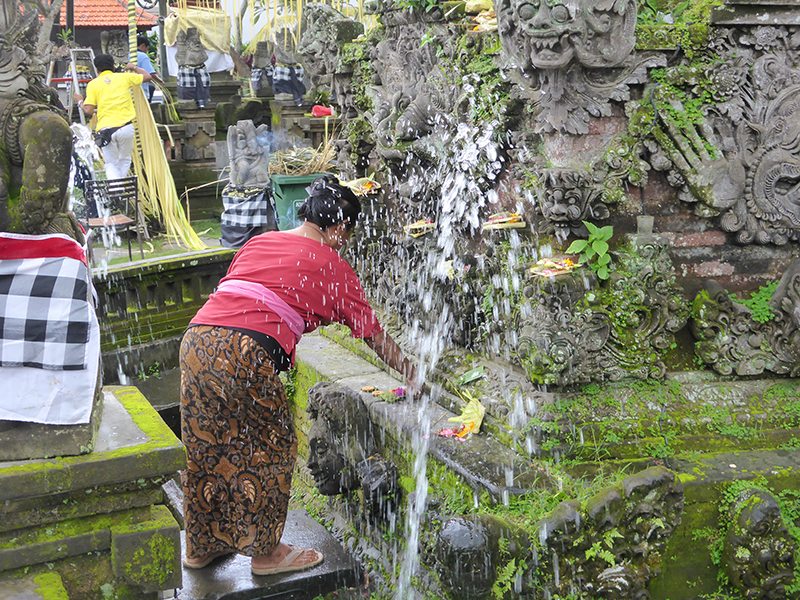 About Ubud
Ubud is Eat. Pray. Love territory and a book that I have yet to read, though I did see the movie and discussed whether Ubud had changed since that book and that movie. We have been here before and we have noticed the increase in visitors. That actually takes nothing away from this amazing place. Ubud is an artistic and culturally rich regency with its own king and royal family. Many tourists come here as do many expats seeking the alternative lifestyle. Food abounds and you would be hard pressed to find better foods than dining at streetside warungs. It is the home of art and you cannot avoid the skill of the Balinese artisans. It is also home to yoga, massages and all things alternative. You should head to the Sacred Monkey Forest at the end of Monkey Forest Rd. This is a magnificent jungle sanctuary, that is full of mysticism and lots of monkeys. The best way to see Ubud is to walk. Walk a lot, have a meal at a local warung and then treat yourself to a massage. It works.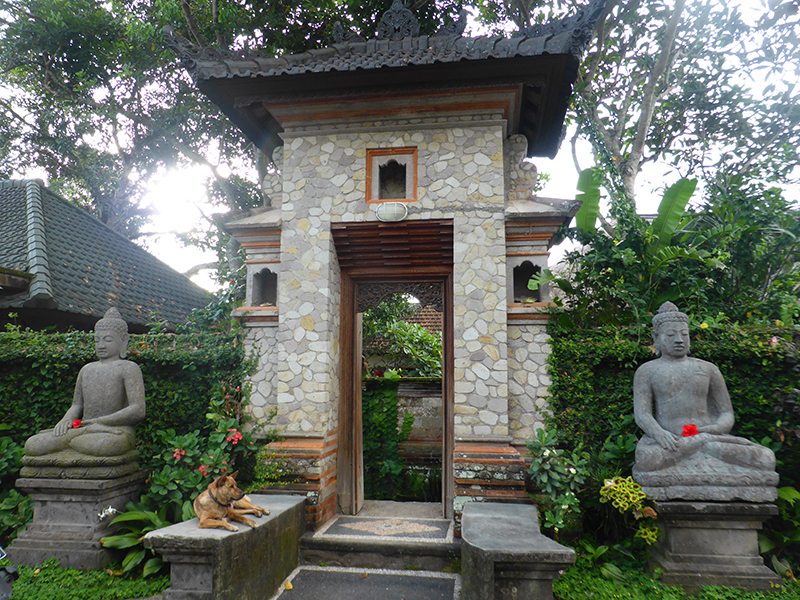 Our first impressions on arriving at Murni's Houses.
This is a traditional Balinese compound where the houses are set in amazing gardens. Often referred to as the Villas of the 33 statues, there are waterfalls, and lush gardens and you hear the sounds in the distance of village life. There is Balinese art everywhere and there is serenity about this compound. There is also seclusion despite being a couple of minutes from the main road of Ubud.
That is what we celebs crave ..privacy yet accessibility. Just joking,… about us that is.
Our traditional Balinese rooms, and we did have a number of rooms, and our outdoor areas overlooked the gardens yet protected us from the occasional Ubud rain storms. We loved it. We had Wi-Fi and were well taken care of, being given ginger tea to help a cough I had developed in the snow in Japan. This is a Balinese cure all and these herbal medicines known are known as 'jamu'. (Turmeric and lemon grass also work)
This gave us a very real local experience meeting with the people who work here and getting to know a little more about the real way of life for the Balinese.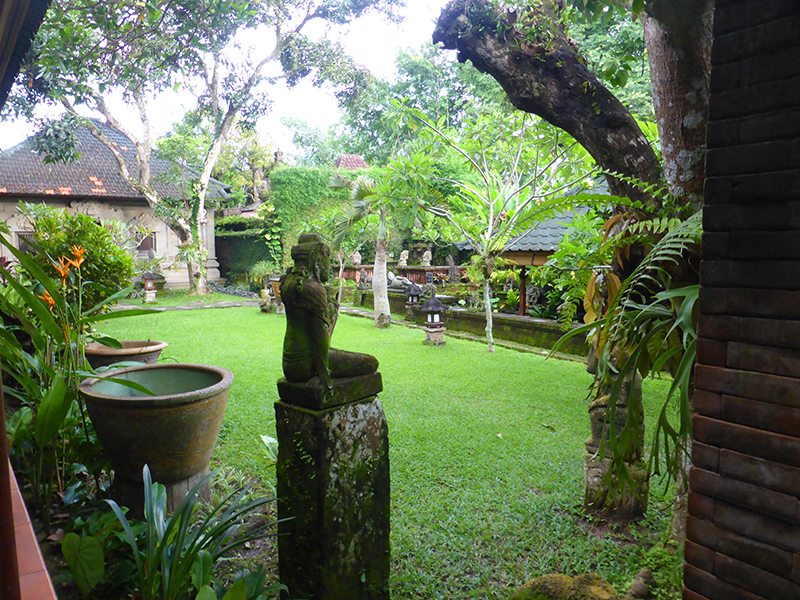 More About Murni's Houses
In the early 1980s Murni started to build these open-air pavilions amongst the lush gardens and next to open fields. It is here that you can attest to her eye for tradition and art with the fountains and the statues everywhere you look.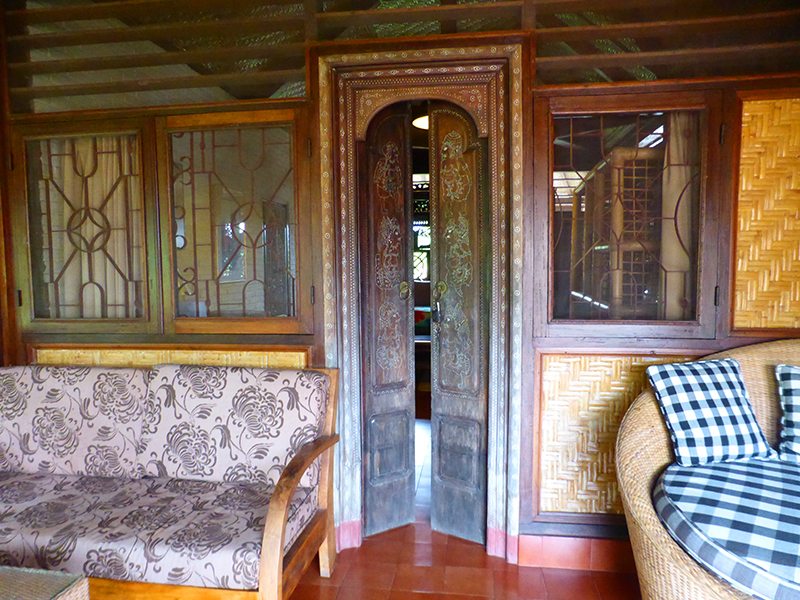 About Murni the Lady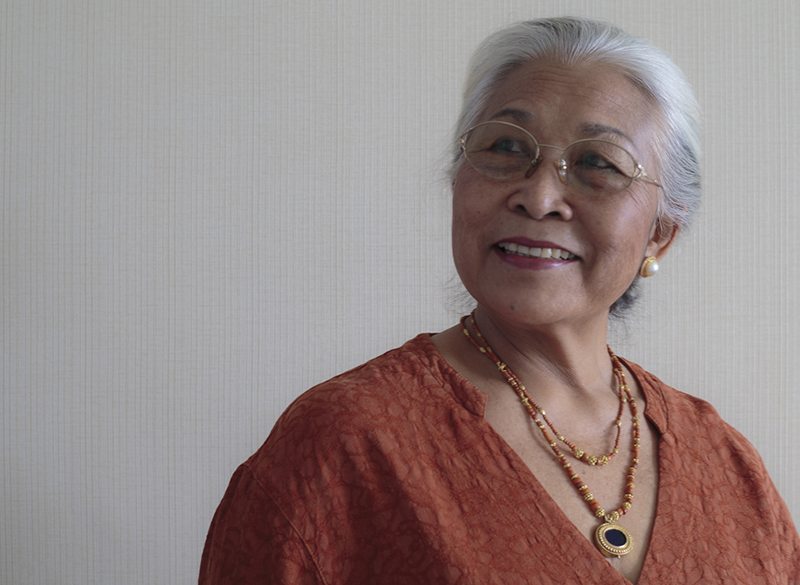 Ni Wayan Murni was born in Penestanan, Bali about 9kms from Ubud to a farming family so it is no wonder that hard work comes naturally to her. During the early 1970s she owned 4 shops on Sanur beach. It was here, selling sarongs, that she actually sold some to president Sukarno and Mick Jagger of The Rolling Stones. This was not to be her first brush with fame, and Mick has some serious street cred.
She returned to Ubud and opened a shop and here she used to make her husband soup and a sandwich for lunch. Tourists stopped and wanted to have some too and that is how Ubud's first real restaurant, Murni's Warung, came into being. This institution has seen its fair share of celebs and tourists coming to savor her signature dishes. Try the famous Balinese smoked duck. Murni's Warung is like her style in all of her ventures – traditional Balinese. There are four levels that cascade down a steep hillside overlooking the Wos River. The thatched roofs, traditional open wooden architecture, and a vast collection of stone carvings gives you a very Balinese experience. Talk to Ketut and he will share with you what it is like living in Bali.
This is where Murni has stayed true to herself throughout all of her business ventures, warung, shops, houses, villas and spa; you get the authentic Bali.
She was also the first person in Ubud to open two antiques shops in the 80s and 90s. These galleries showcased many antiques, textiles and costumes and other pieces that she knew were special. Nowadays, many of the prized pieces are in Murni's Warung,
Murni is active in the arts and culture scene of Ubud, and has lectured in the US on Balinese textiles.
She also plays in a women's gamelan group at important religious ceremonies.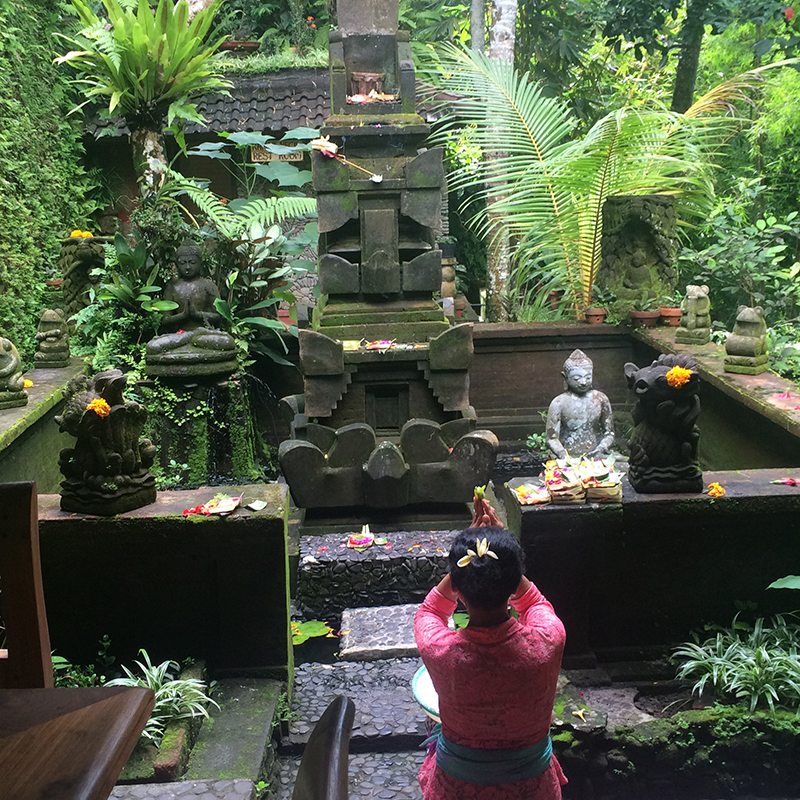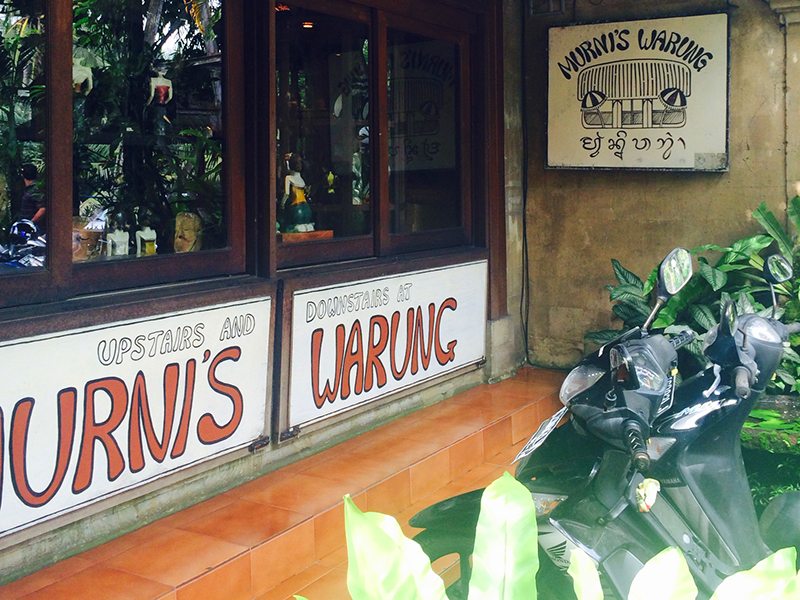 Tamarind Spa
Murni has also created Tamarind Spa at Murni's Houses, and this spa was listed as the top spa in Ubud on Trip Advisor within 3 months of its opening. It is here that she continues with her ethos of everything Balinese, with traditional Balinese massages located within the stunning and serene gardens and waterfall. It is not the cheapest massage that you can get, but the staff are trained and located as it is in the art garden, it is a total experience.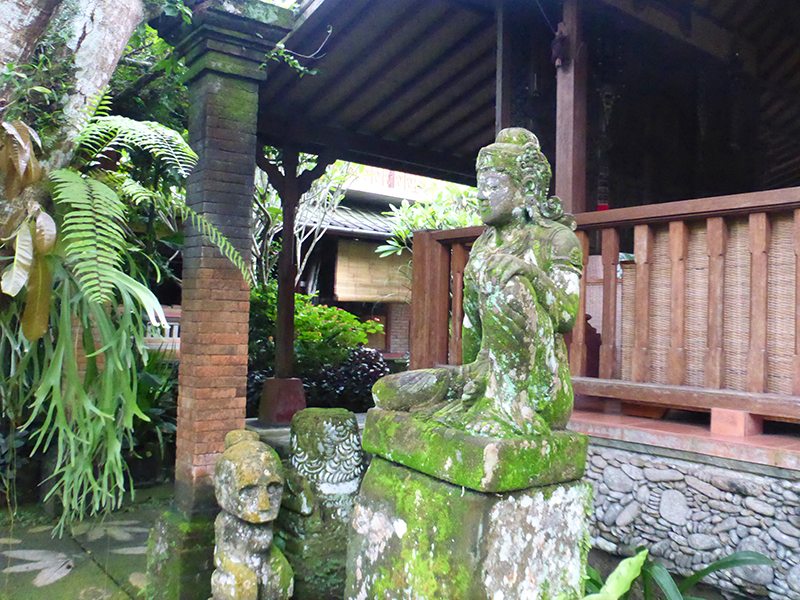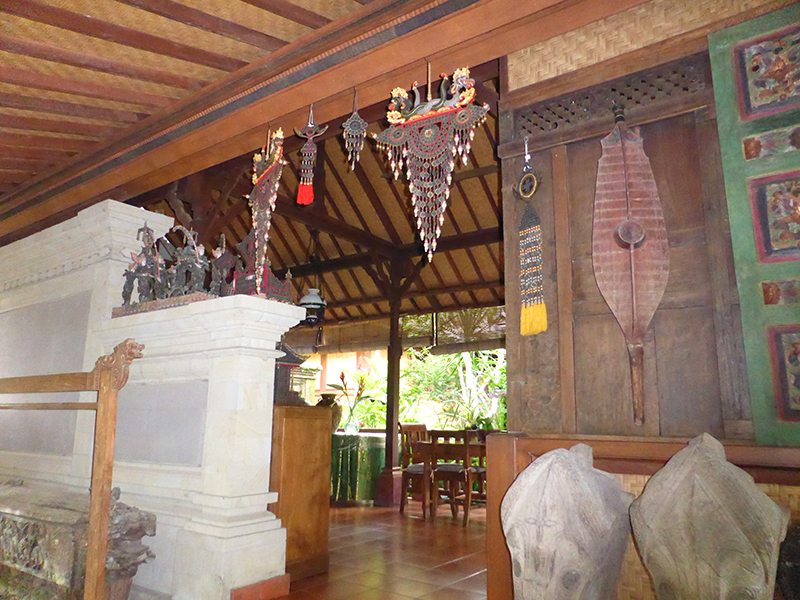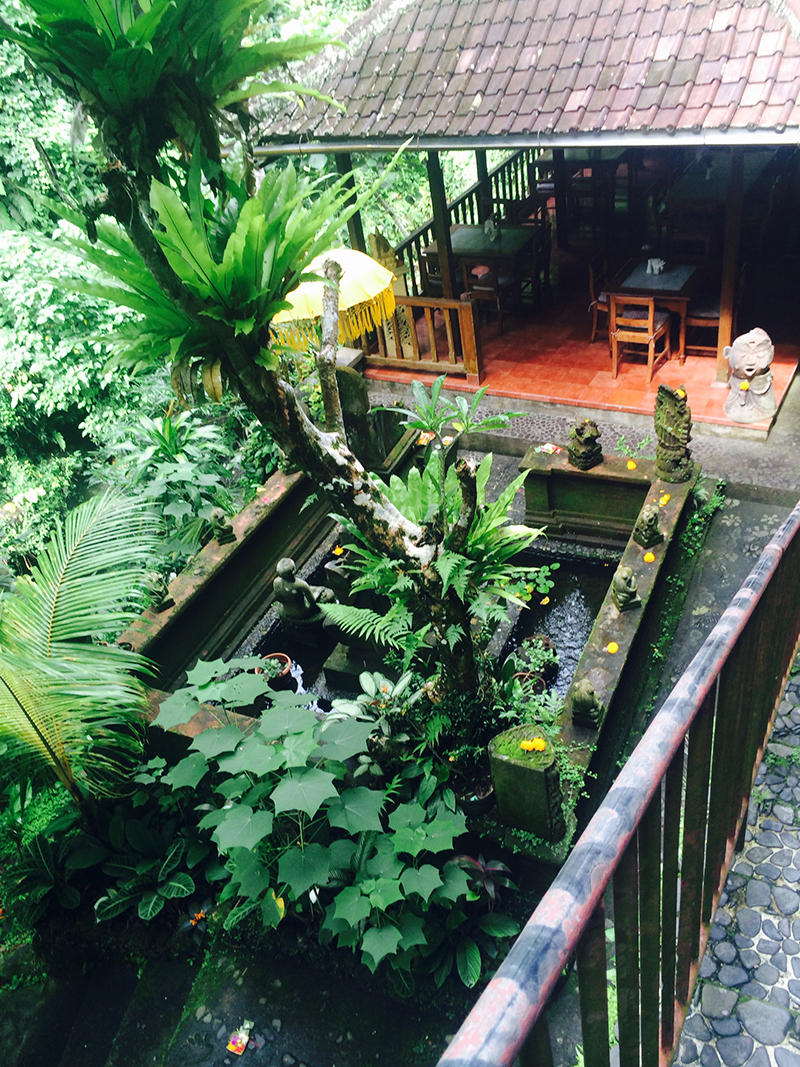 Thank You to Flip Key by tripadvisor for making this property available to us for 6 great nights. Great find, highly recommended and a perfect inclusion for our Travel Series.
Read more about our experiences in Ubud, Bali
If you don't like art, good food, and monkeys then then might not be for you
Has Ubud changed since that book and that movie?
eOasia – Find the Best Things to Do in Asia
,