Food was a very significant part of stay at Conrad Bali. We were wined, dined, given picnics, high afternoon teas, had a master chef make us a romantic dinner, had choices for breakfast, lunch and dinner at the various restaurants located within the expansive and stunning grounds of Conrad Bali.
We have always maintained that food is integral to our travels as it gives us not only the opportunity to taste new and different food, but is also an excellent way to meet people, as we did at Conrad Bali. It was here that the staff gave me ginger and lemon grass tea to cure a cough, and here that we met some delightful people.
We will share the also the very special romantic dinner that we were treated to.
Welcome to Our Food Trip at Conrad Bali
Conrad Bali have 5 dining areas.
Rin specialises in Japanese classics and is where we were privileged to have innovative breakfasts and totally decadent high afternoon teas.
Eight Degrees South, because Bali is eight degrees south of the equator has a total beachfront setting as well as traditional Balinese pavilions and romantic bales. It is also where our favourite chef, Taufik Hidayat reigns supreme.
Suku features traditional Asian cuisine and is where you are able to see the Balinese cultural shows.
East is a located in the beautiful lobby and is the place to be to see the stunning colors of the sunsets as you sip on a cocktail. It is also here that you will see both traditional and contemporary art, and where many exhibitions and performances take place.
The Azure Bar and Kiosk is located near the lagoon pool and is a laid back place to enjoy the sun.
There is also the Conrad Suites Lounge where those staying in these rooms can partake of afternoon cocktails and canapés.
Breakfast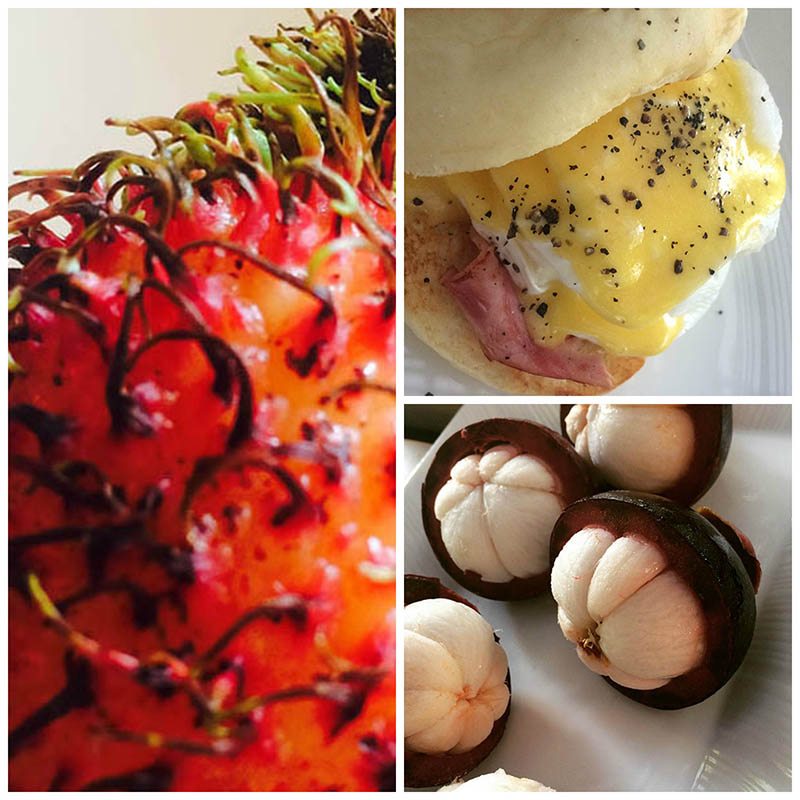 Lunch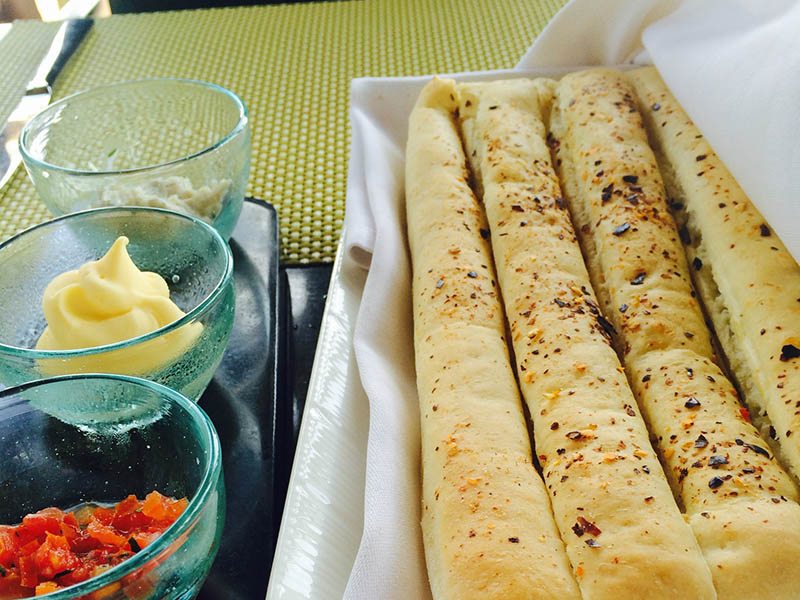 Home made and totally delicious bread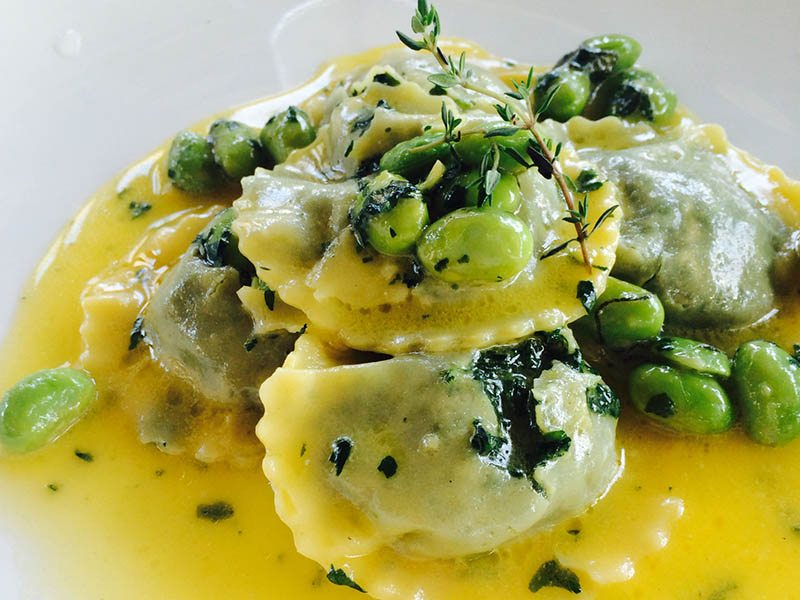 Home made spinach ravioli, edamame butter and sage sauce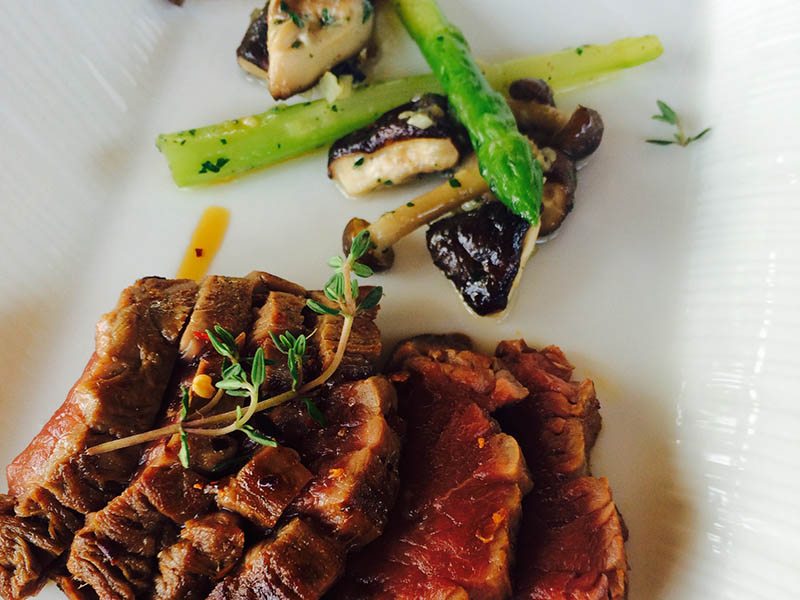 Braised oxtail with Balinese spices, sambal math potato, and beef balado ragout style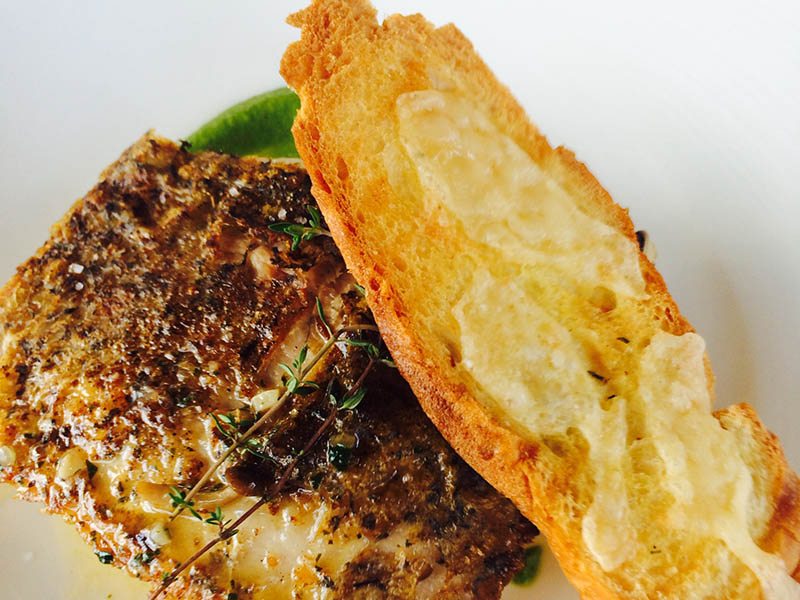 Pan roasted snapper with parmesan crouton, zucchini shiitake, asparagus and herb oils
Cocktail Hour & Canapes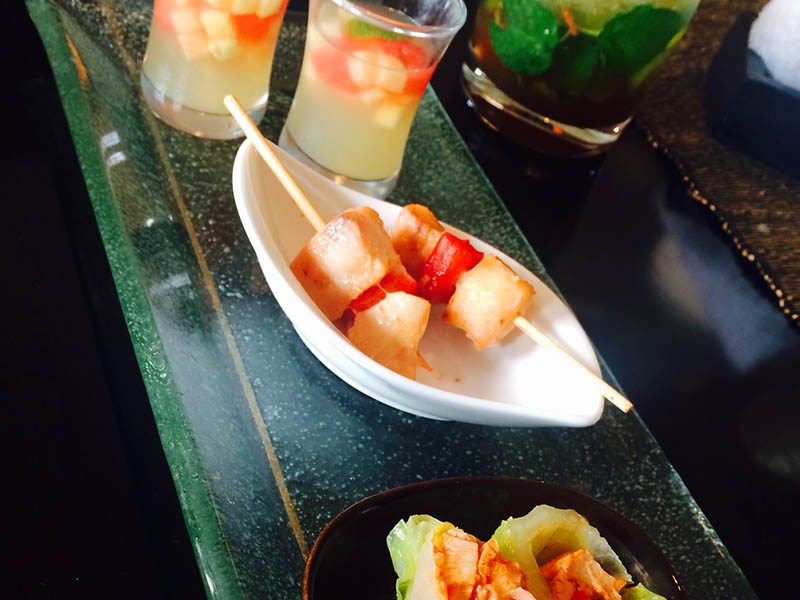 Dinner
We also had the pleasure of being the first people to try the new Tasting Menu at Conrad Bali's Eight Degrees South restaurant, in the lush grounds of this stunning resort.  Conrad Bali is a very elegant and very friendly resort where the staff are as happy to be there as the guests.
The menu was designed by Taufik Hidayat, Sous Chef at Conrad Bali. You can see some of his other recipes at this link  and have a try at cooking some Indonesian food yourself.
Who is Taufik Hidayat
Taufik is an immensely talented and passionate chef, having been the runner-up in Masterchef Indonesia, 2012. He has serious street cred as a chef, having worked in prestigious restaurants in Europe and most recently in Abu Dhabi and Dubai. His current position allows him to experiment with the available ingredients and to create the masterpieces cheap cialis online that we were so fortunate to eat.
Taufik comes from a family who has a love for cooking, and he shares this loves, telling us that he has been by his grandma's side since he was 5 years old. He tells us that he doesn't speak as well with his words as he does with his cooking. His modesty is undisputed as is his talent.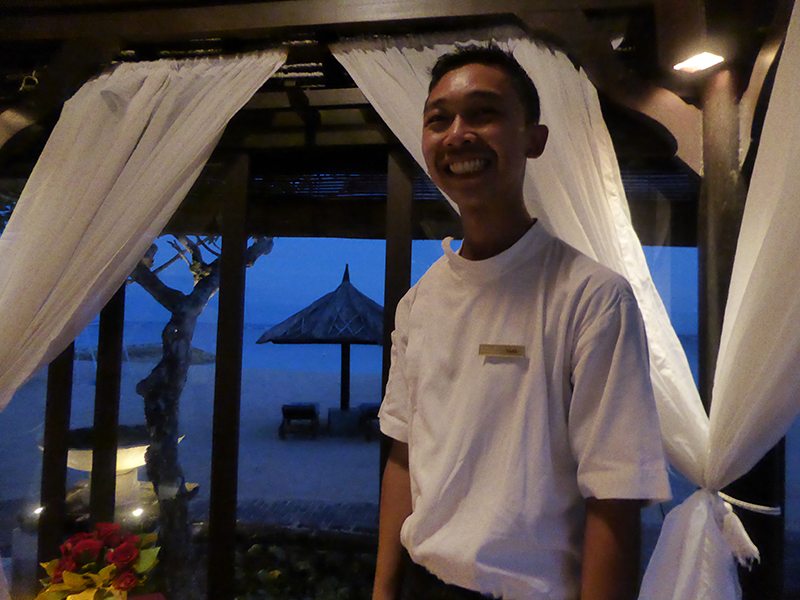 Romantic Dinner
Our tasting menu was courtesy of Conrad Bali and we were treated to a romantic dinner in a bale set on the edge of the magnificent gardens and bordering the Indian Ocean. As the sun set on the other side of the island, it reflected on the waters and did indeed create a romantic atmosphere. We arrived, and I was presented with a red rose and this is what Conrad Bali does best – makes each and every guest feel special.
Conrad Bali is elegant, and the staff are very happy to work here and to shower the charm, and all of the small and important touches for the guest. Eight Degrees South restaurant is named after the fact that Bali is 8 degrees south of the equator. Clever isn't it.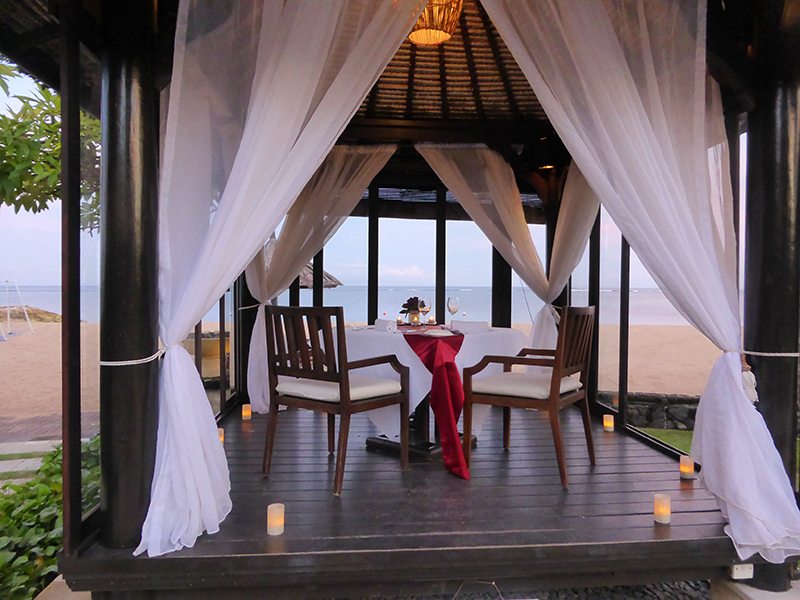 We were led to our bale, which was lit by candlelight with white draped curtains to show the views into the gardens and onto the ocean. The table had red flowers and more candles, and the red sash lay across the crisp white tablecloth. Our bale manager made sure that we felt special – spoilt would be closer to the mark. We felt totally pampered, and we did love it. We were bought champagne and then we had the pleasure of the chef, Taufik Hidayat, coming to discuss the tasting menu with us.
What a charming man he is, as were the manager and the shy but very attentive waiter.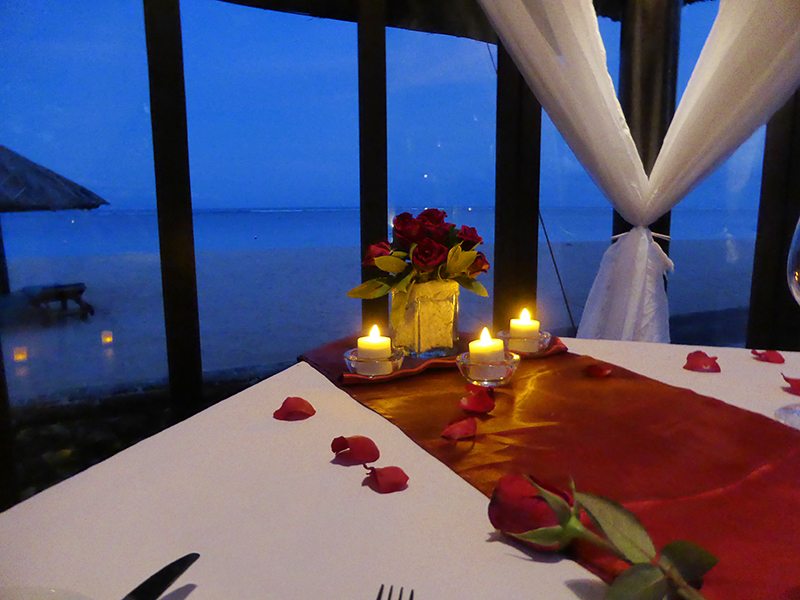 We were privileged in that the chef came to see us at times through the evening where we had the chance to talk to him some more. I am having a master class with him soon and am totally intimidated. You will certainly read about it.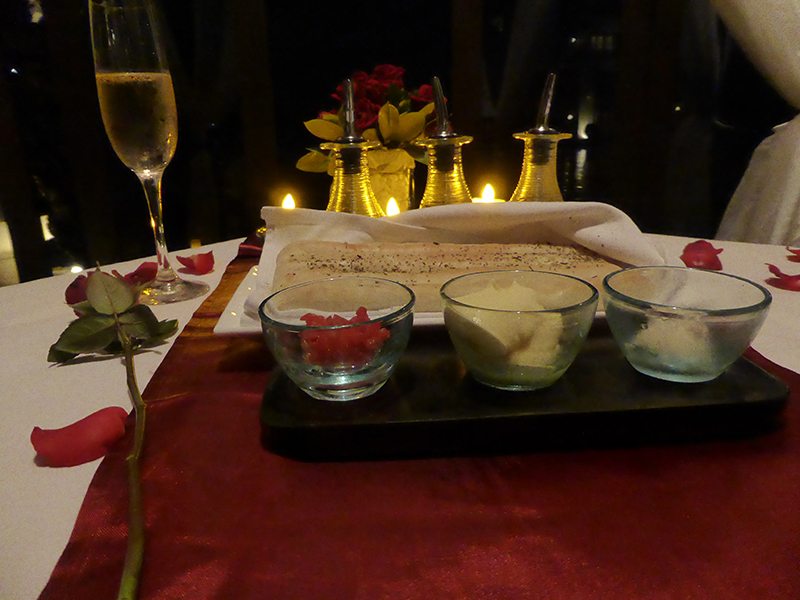 This was our magnificent menu and again, a huge thank you to Conrad Bali for the privilege of this unique dining experience. To Taufik Hidayat, we are in awe of your skills, and to the staff at Eight Degrees South thank you for treating us so very well.
Our first course arrived and was a watermelon soup with crab meat in it.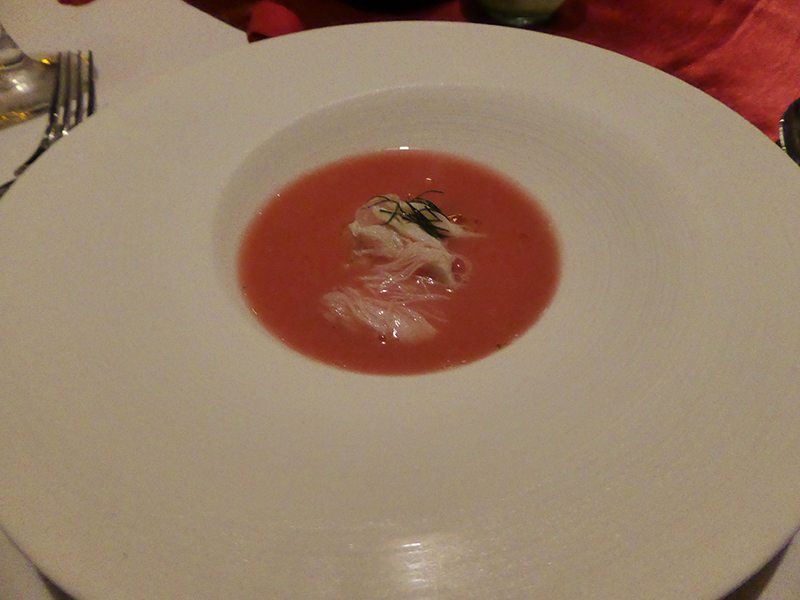 Our second course was scallops ….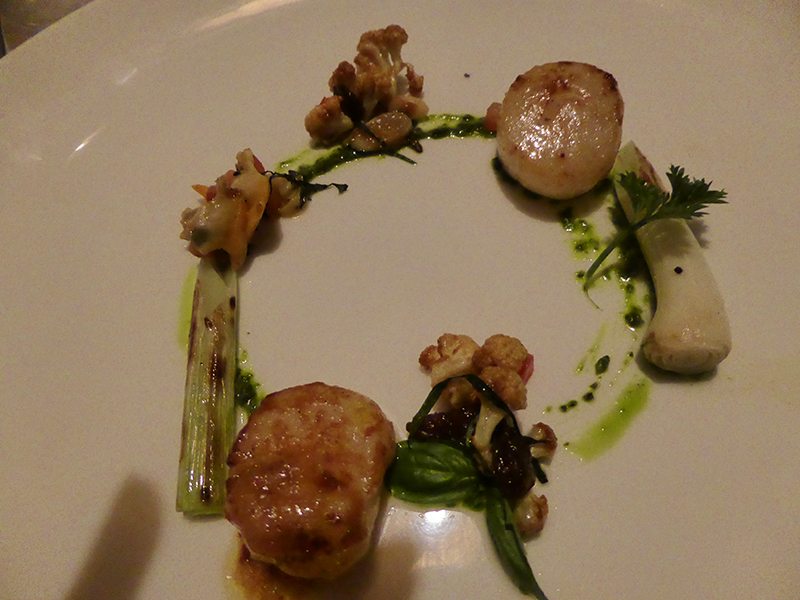 3rd – sorbet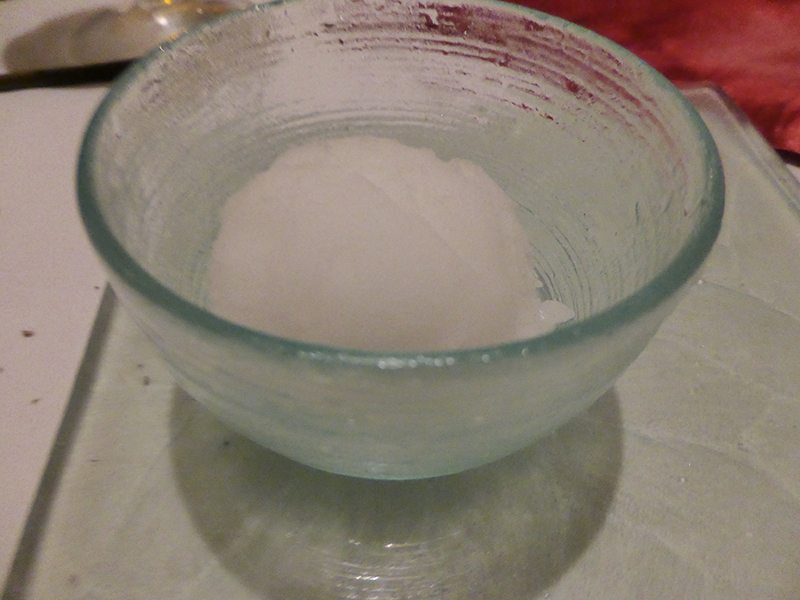 4th pork belly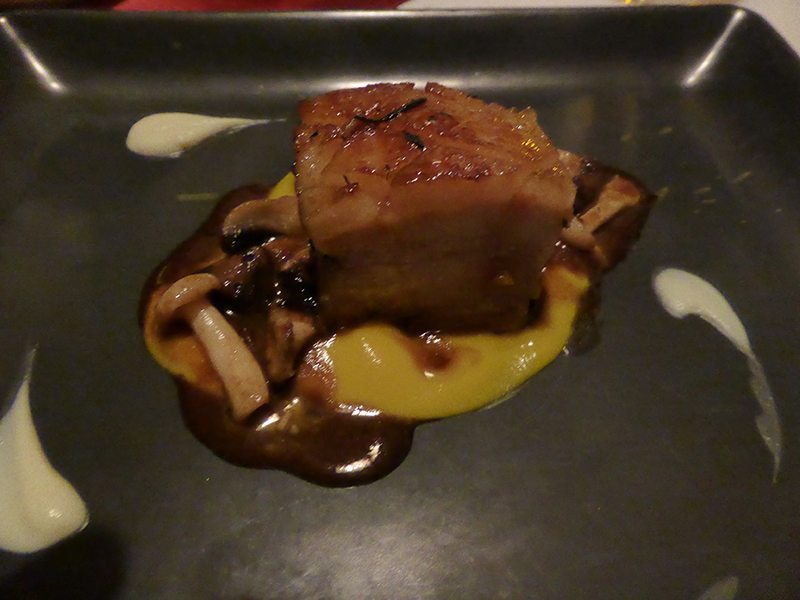 5th – steak cooked 3 ways – one had been cooking at 63 degrees since the morning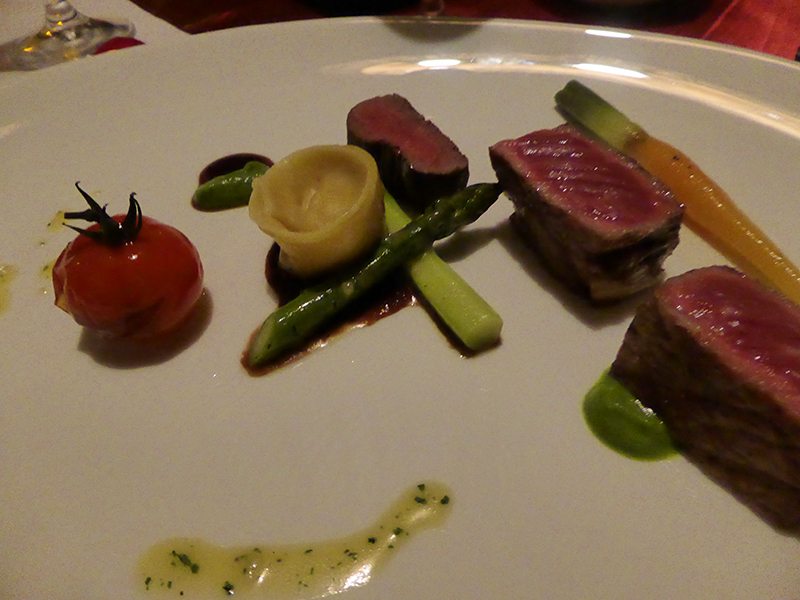 6th – 3 sweets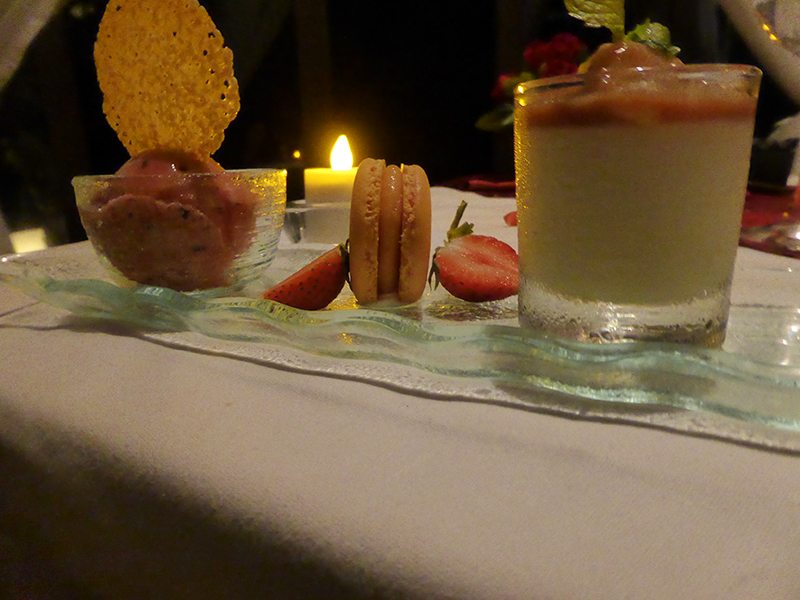 Satisfied and very happy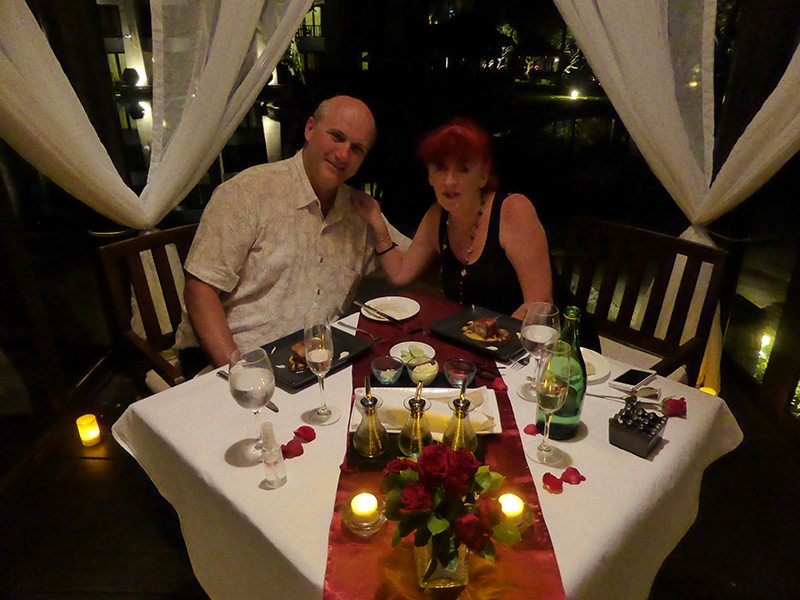 Cocktails at sunset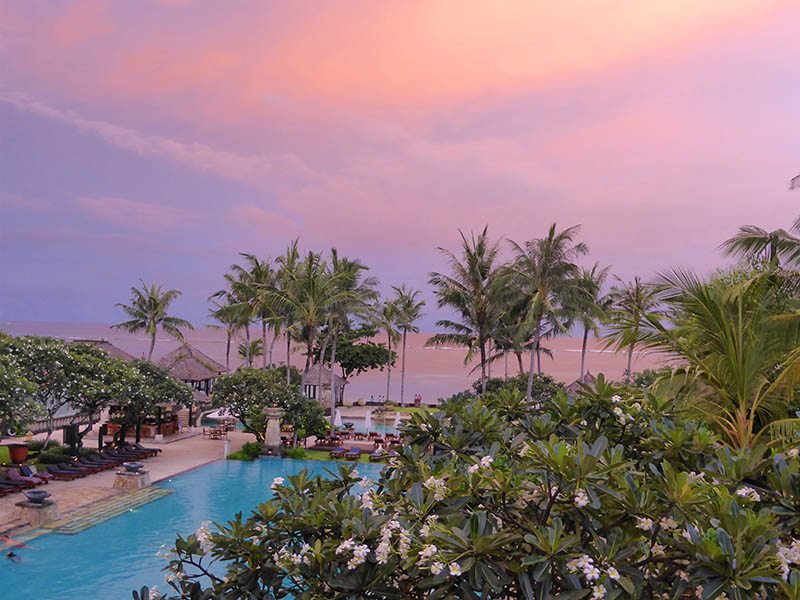 Cooking Class
See the recipes that we were kindly given by Taufik Hidayat here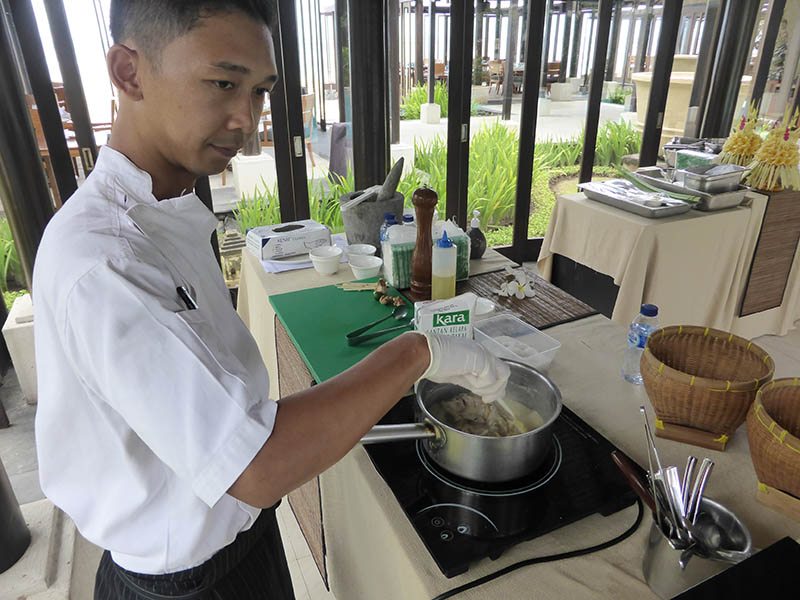 Romantic Picnic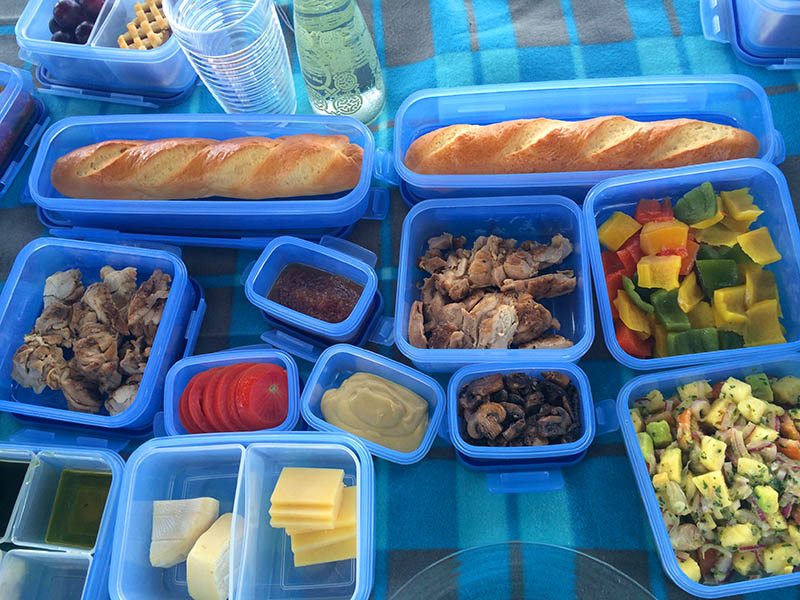 We were the media guests of Conrad Bali and all opinions our own. All weight issues are own too.