Tokyo is a fascinating city, and despite its reputation as being a very expensive city, you will be pleasantly surprised at the Top 15 Free Things to Do in Tokyo.  With Japan's ancient traditions and culture, and it's frankly bizarre side –  you can see a lot of Tokyo without spending a cent, including eating and drinking for free. Let's look at the top free things to do in Tokyo.
Top 15 Free Things to Do in Tokyo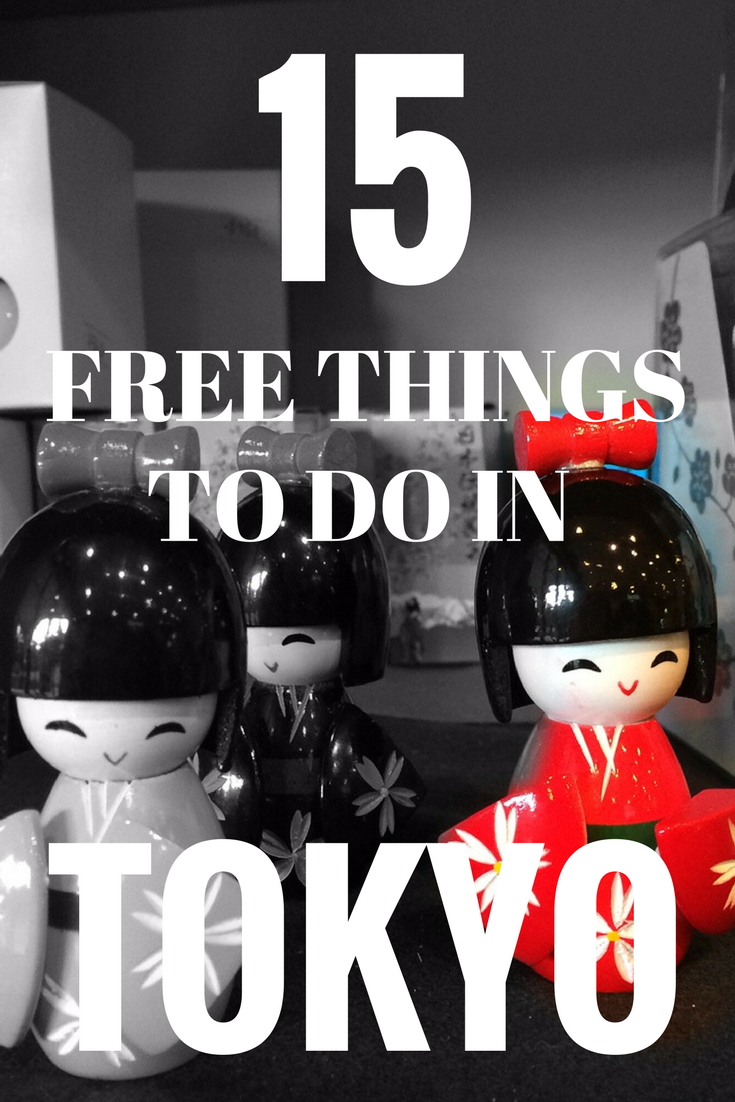 1. Get a Volunteer Tokyo Guide
This is the best investment you can make before you go to Tokyo. Organize to get a Volunteer Tour Guide, which is free. Yes, it would be lovely if you paid for their lunch, but the service to get a locals knowledge of their own city is invaluable. I have written a post with all of the details on how to get a Volunteer Tokyo Guide, so have a read and try to organize this in advance.
2.Visit Sensō-ji, One of Tokyo's oldest temples – Free
Sensō-ji is the oldest temple in Tokyo and also known as Asakusa Kannon. It was founded in the 7th century. It is believed that the smoke from the huge incense urn in front of the temple has healing powers, so when you visit you'll probably see people rubbing the smoke all over their bodies, and maybe you should too. There are a lot of street vendors selling traditional rice crackers and Japan's famous black sesame ice-cream.
Location: 2-3-1 Asakusa.Opening hours: Main hall open daily 6.00am-5pm
3. Pay your respects at the Meiji Shrine – Free
The Meiji Shrine is a huge Shinto dedicated to the spirits of Emperor Meiji and Empress Shoken. It covers around 178 acres in the middle of Tokyo and is free to visit. You should bow when entering through or leaving from the shrine archway, called 'Torii.'
Location: 1-1 Yoyogi-Kamizono-cho.Opening times: Daily from sunrise to sunset.
4. Enjoy one of the many festivals in Tokyo
Japan and Tokyo are very big on festivals, and you can see them occurring all of the time. During these festivals, you will see costumes, processions, food stalls and live entertainment. The Sanja Festival is held on the third weekend every May at the Asakusa Shrine. Another amazing festival is held in Kyoto, and the Fire Festival in the ski resort village of Nozawa Onsen, is not to be missed.
5. Go people watching at Harajuku
Harajuku is famous for showing you Japan's counter culture, and Sunday is the best day to see this all happen. Here you can see many cosplay outfits, as well as some of the extreme teenage fashion.  It is best to sit at Takeshita Street where it all started, and just watch the parade of costumes. Read more about why young people from Tokyo like to dress up.
6. Cross the road at the Shibuya crossing
You have not been to Tokyo until you cross the road at the Shibuya crossing – the busiest pedestrian crossing in the world.
7. Visit Yoyogi Park for more free people watching in Tokyo
In Yoyogi Park, one of Tokyo's largest parks, you can see a great variety of interesting characters as you stroll through. Local bands play, people practice martial arts, and street performers entertain the crowds.
8. Try some FREE Sake
The Japan Sake, and Shochu Information Centre information center offers FREE samples of sake, as well as explaining about the history of sake to you. Listen before you hit the nihonshu tasting area.
Japan Sake and Shochu Makers Association Toranomon Bldg 1F, 1-6-15 Nishi-Shinbashi, Minato-ku
To learn more about sake before you go for your free sake, read this.
9. Visit Tsukiji Fish Market for free
Tsukiji Fish Market is One of the largest fish markets in the world, and a very popular spot with locals and tourists who don't mind getting out of bed early. You'll be able to sample the freshest sushi and sashimi for FREE.
Location: 5-2-1 Tsukiji, Chuo-ku. Opening hours: Mon-Sat 5am-11am, closed Sundays and some Wednesdays.
10. Play with the gadgets in Tokyo for free
The Sony Showroom offers the opportunity to play with the latest Sony products for free. You can even try out the latest PlayStation software on a giant, high-quality monitor. Throughout Tokyo, you'll find some other showrooms which are free to visit including the Panasonic Centre and Honda Welcome Plaza and more.
Location: 5-3-1 Ginza, Chuo-ku. Opening hours: Daily 11am-7pm.
11. Explore the shops of Akihabara for free
Akihabara is also a mecca for electronic geeks, and for lovers of anime and manga. Akihabara is known as "Electronic Town," Akihabara is also well known for its video games and computer goods. The free Tokyo Anime Center on the 4th floor of the Akihabara UDX is the place to get your anime hit.
12. Explore Tokyo's beautiful gardens and parks for free
You can visit Tokyo's beautiful gardens and parks for free. You will see beautiful Zen rock gardens, bonsai trees, and many of these gardens are free. Ueno Park is famous for relaxing, and also hosts a selection of museums and a zoo and is free to visit. Most parks in Tokyo are free including Higashi Gyoen Garden in the Imperial Palace,
13. Visit any Food Hall for Free Food Samples
You nearly don't need to pay for any food when you visit Tokyo. Just visit any food hall, and enjoy many of the free food samples. They are forever handing out food, and you could live off this.
14. Get spectacular free views of Tokyo from the Tokyo City Hall
The Tokyo Metropolitan Government Building or Tokyo City Hall rises 243 meters above the ground.  The free public observation decks are on the  45th floor, and it is only a  55 second trip from the bottom up. On a clear day you can see Mount Fuji.
Location: 2-8-1 Nishi Shinjuku. Opening hours: Daily 9.30am-11pm.
15. Visit a sumo stable for free in Tokyo
Sumo wrestlers training at one of Tokyo's 50+ sumo stables. Sumo wrestlers live and train at stables and over 50 stables in Tokyo. They are free to visit when the wrestlers aren't involved in tournaments, so you can go along and watch their early morning practices.
To learn more about watching a Sumo Wrestling Match, and to purchase your tickets to a tournament, read this article.
Further Reading on Things to do in Tokyo
How to Get from Narita Airport to Tokyo
These are the Top 15 Free Things to Do in Tokyo. Let is know in the comments of any other free things to do in Tokyo
And some amazing tours that will cost you a little