We arrived at Rabbit Hill Inn, in the Northeast Kingdom of Vermont in the mist and the rain. It should have been snowing because I like snow and Vermont and snow are a match made in heaven. The surrounding towering mountains that we know were towering over us, could not be seen. We watched the road carefully making sure that no moose jumped out at us. It was a wretched drive in reality.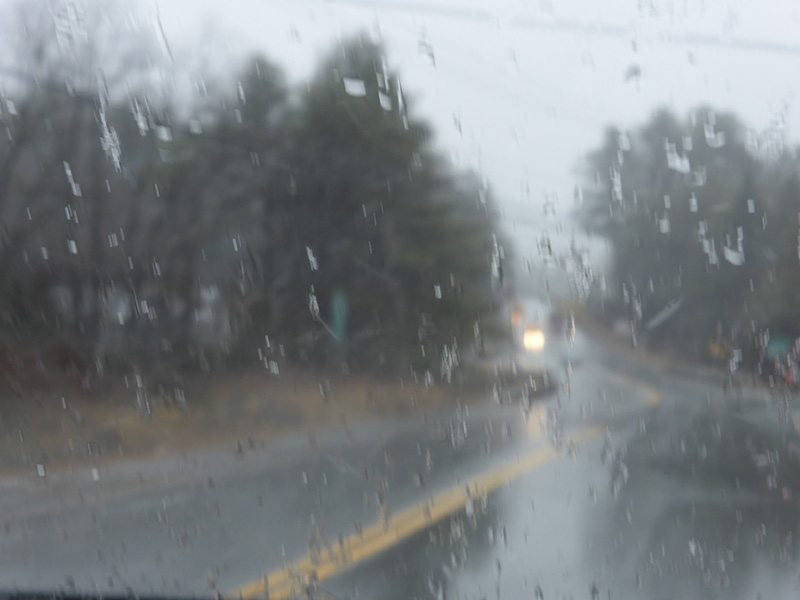 Our GPS seemed to have a mind of its own and took us across dirt roads deeper and deeper into the forest. No mist or rain, however, could stop us from seeing the brilliant white village in this reclusive part of Vermont. And this brilliant white village consists of our home for 2 nights, the Rabbit Hill Inn, so named because of the plethora of rabbits both inside and outside of this white Greek Revival building. Rabbit Hill Inn is our 5th Inn visit and is part of the Distinctive Inns of New England because it is special.
It was with great relief that we arrived in one piece, and entered the very cheerful and large inn, decorated for Christmas and with the open fires greeting us. We were happy to walk into the warmth of the inn. It made me feel like I was in an episode of the Gilmore Girls.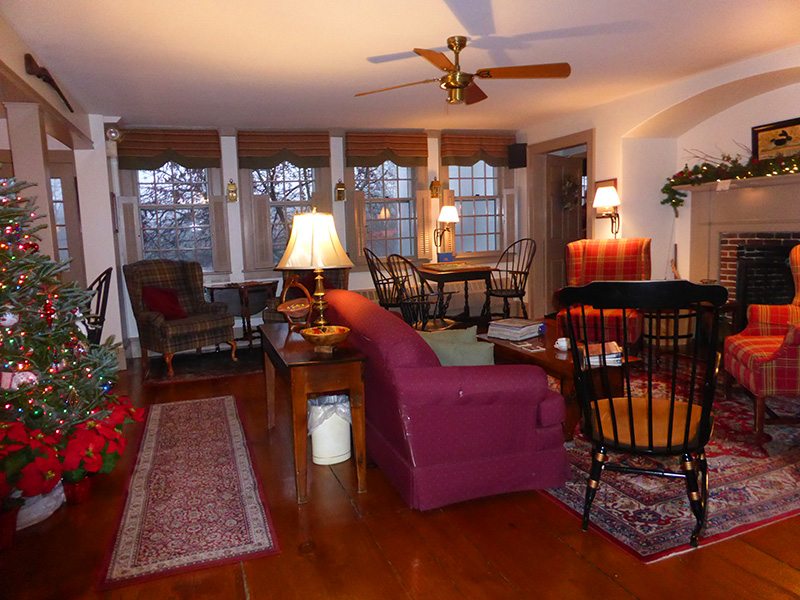 History of Rabbit Hill Inn in a nutshell
Rabbit Hill Inn has been welcoming travelers since 1795 when it was known as The Samuel Hodby Tavern. This was the major stopping place for travelers and traders between Canada and the American harbors of Portland, Maine, and Boston, Massachusetts. It is 2hrs 40 mins to Boston, and 2 hrs 40 mins to Montreal.
It was here that they came to rest and to have maybe an ale or two. So it has the history of knowing that weary travelers arrive and need a place to relax on their journies. In 1919, Mr. & Mrs. J.W. Davies purchased the entire town. He refurbished all the homes painting them white with green shutters. And that is how this area became known as the "White Village of Vermont."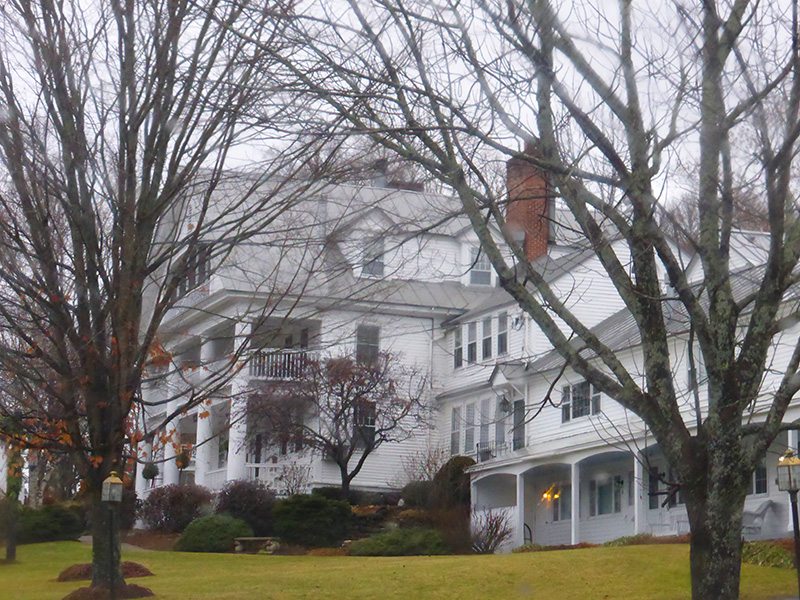 About Rabbit Inn
Brian and Leslie Mulcahy, have been the innkeepers since 1994, and Leslie gave us that Good ole' New England welcome when we arrived. She showed us around the Federal-period parlor, the dining rooms, and the book nook as well as the plethora of games activities to wile away a wet weekend. There also happens to be a pub on site, the Snooty Fox. I can only guess how the relationship is between the rabbits and the fox.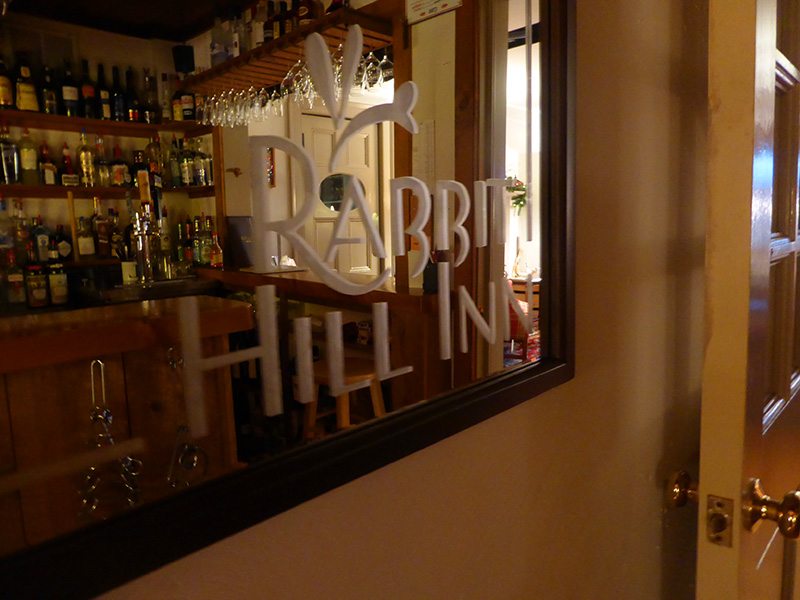 I spied the High Afternoon Tea waiting for us and made sure that I was sitting fireside enjoying the treats after we had unpacked. Cakes and tea spoke to us after our drive.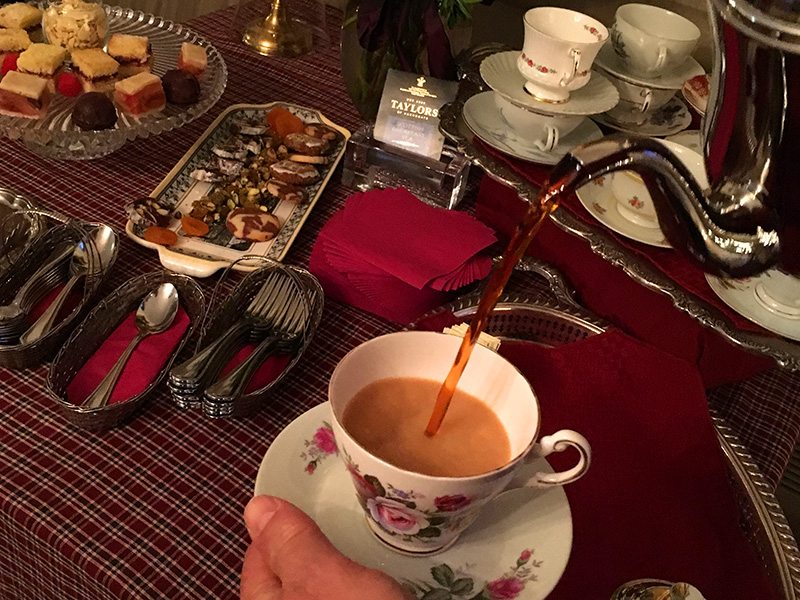 There are 19 rooms in the 1795 Main House, and the Carriage House. Each room is themed and beckons you to return and to try another. Music has a four-poster bed and fireplace, while Rose overlooks the gardens and woods.
Our room is the Cedar Glen, and it was once in the old ballroom wing of the main house and has the Vermont feel. This is like a cedar hunting cabin in the woods and it is, it just happens to be inside a very luxurious inn. We may have had views of the White Mountains of New Hampshire, but mother nature was in a foul mood during our visit. I know we had a visitor to our room as soon as we arrived or even left the door ajar. The inn cat seemed intent on meeting the new arrivals and deciding whether she liked us or not.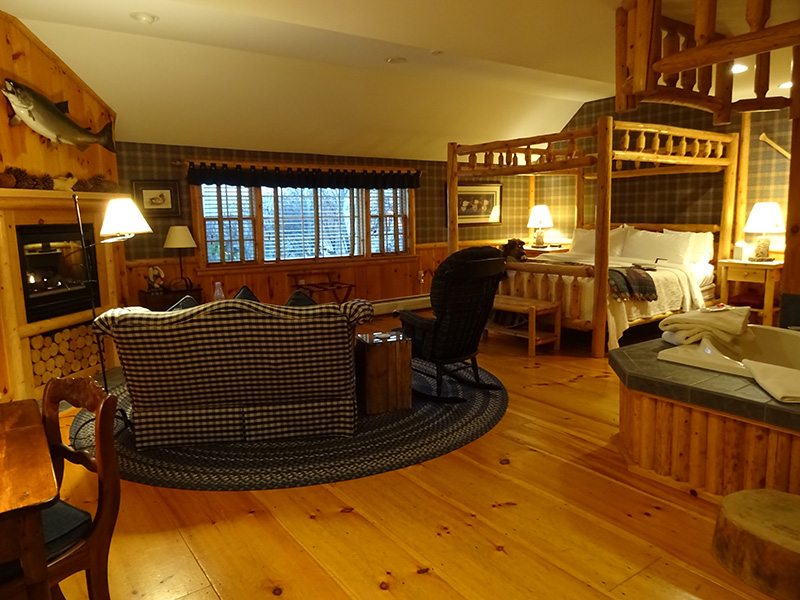 I immediately see the two person whirlpool tub and agree that this has that cabin in the mountains feel about it and that a hot bath would be the perfect relaxant. The gas fireplace had a lounge in front of it, and there was a desk and a lounge. There is no TV because we are communing with nature though the discourse is not necessarily what we had hoped for.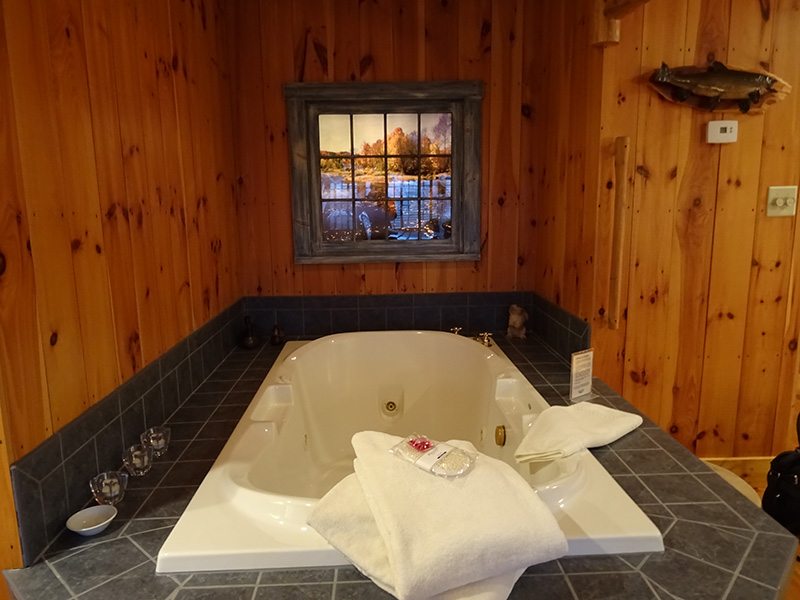 What other People say
Two books of guest's comments were left for us in our room at Rabbit Hill Inn, in the Northeast Kingdom of Vermont. These were the comments of the guests ranging from September 2011 until the day before we arrived. The consensus of all of the guests was that Rabbit Hill Inn is the place to come away and to relax, in many instances to recuperate, to enjoy romance and to mend things that have been broken. The inn appears to be a panacea for many things.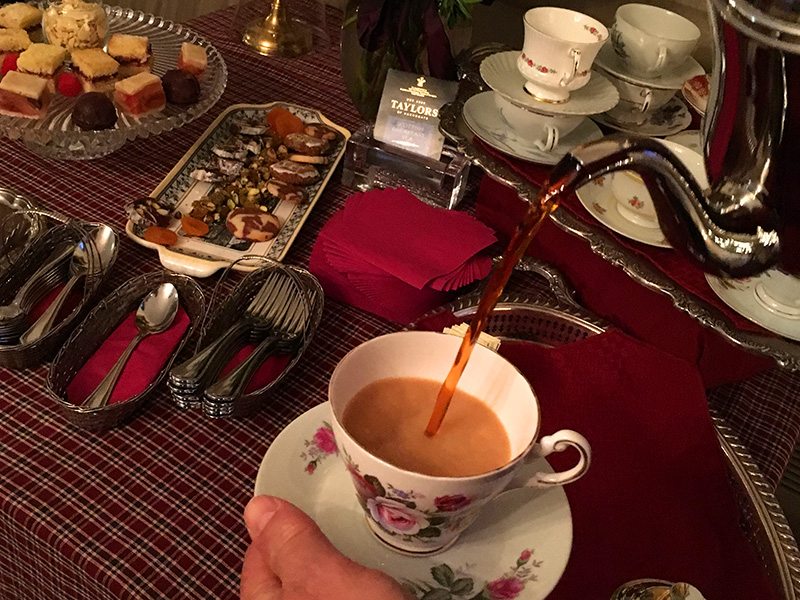 The Northeast Kingdom of Vermont. Say What?
I will be honest with you. I have never heard of the Northeast Kingdom before. Yes, I have heard of Vermont and in fact dreamed about coming here, so it was with great delight that we are staying in Vermont. The Northeast Kingdom received its name over 50 years ago in honor of its sheer splendor. Leslie tells us as we ask about this that it is more beautiful and has fewer tourists than other parts of Vermont.
The White Village, which we could see through the mist and the rain, is one of the most photographed locations on the Vermont side of the Connecticut River because it is unique and well, white.
The Northeast Kingdom also has eight state parks and is an outdoor lovers playground. The Kingdom Trails are rated as one of the top five mountain biking networks in the world. There are many lakes in the region, but, unfortunately, we see enough rain from the sky to take advantage of nature' playground.
In winter, the White Mountains would indeed beckon skiers, and, of course, we were watching the weather guide hoping to at least play in the snow, but it rained with just a light dusting of snow teasing us.
There are other things that we can recommend doing, should the weather be a little temperamental.


Photo courtesy of Tim Sackton Flickr, due to the weather.
Other things to do when the rain sets in.
Eat the Breakfast at Rabbit Hill Inn.
There is nothing like a home cooked and plentiful breakfast on a wet day. From cranberry stuffed muffins to banana yogurt with the Rabbit, Hills own granola, to light fluffy blueberry pancakes washed down with coffee, and the chatting with lovely ladies serving us. Both are local girls, one hailing from Littleton and the other from St Johnsbury, both towns equidistance from Lower Waterford. These girls know their areas and are passionate about their green mountain state of Vermont.
On the 2nd day I had grits. This is the 1st time this Aussie girl has had grits, with poached eggs and bacon and it won't be the last.
Eat the Dinner at Rabbit Hill Inn.
This is divine cooking. It is the perfect flavour combinations from an obviously talented Chef. I will let the pictures explain what I mean.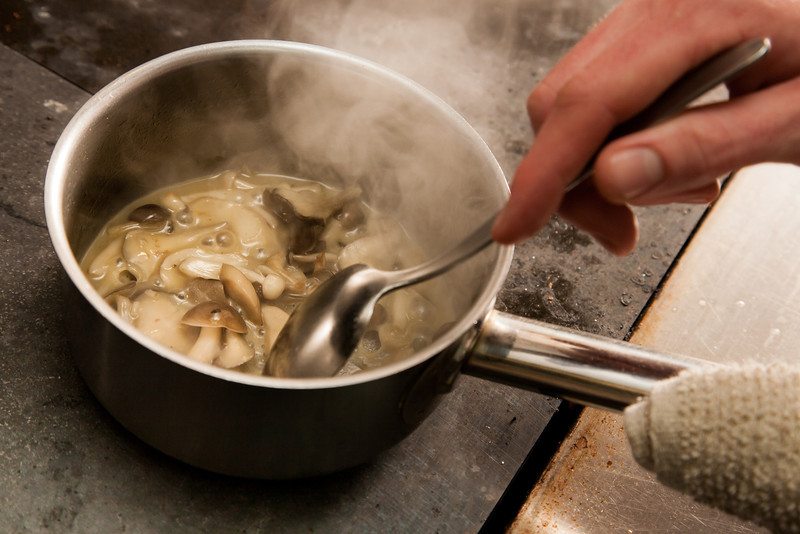 Explore St Johnsbury
This is an attractive town with some of the most impressive architecture, from the houses to the public buildings. The Fairbanks Museum and Planetarium is one such notable building and within it, is one of the finest collections of Natural Science, Historical, and Ethnological Exhibits.
It was here that we saw our first moose, and I was very happy it was stuffed. These moose are a lot bigger than I had anticipated and one that we would not like to encounter on the road. This is also the first teaching museum in the United States and was founded by Franklin Fairbanks in 1891.
Two brothers, Thaddeus and Erastus Fairbanks founded the Fairbanks Scales manufacturing company in 1830 in St. Johnsbury, Vermont and the son of Erastus, Franklin Fairbanks is credited with much of the towns architecture and development.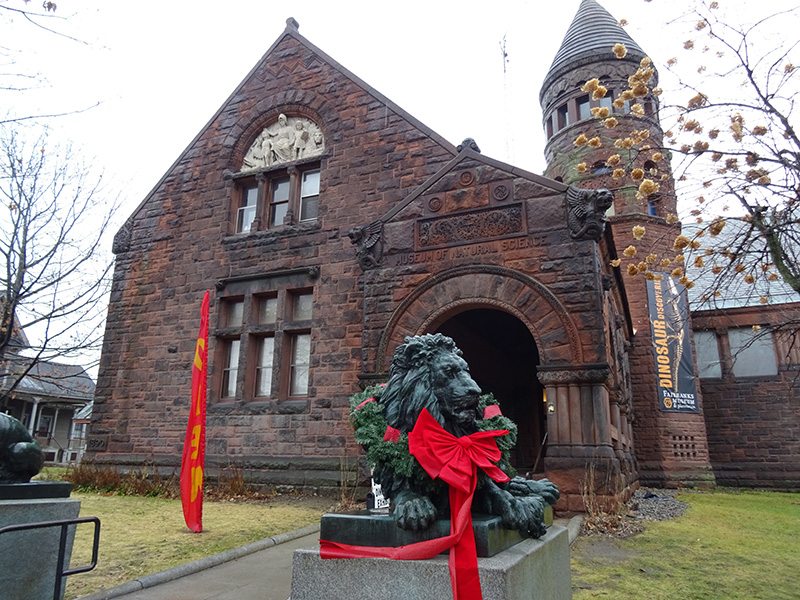 After our cultural morning with the curator, and Executive Director, Adam Kane, we went to a coffee shop he recommended called Cafe at Gatto Nero and played backgammon as you do on a cold and wet day.
Dog lovers will revel in visiting Dog Mountain and discovering the Stephen Huneck Gallery & Dog Chapel, dedicated to canine friends.
Unfortunately, St Johnsbury Athenaeum was not open when we visited but it is significant because of its architecture. Within are American landscape paintings and books from its original role as a public library and free art gallery.
Read more
St. Johnsbury Vermont – What a Charming Town
Explore Littleton
Nearby Littleton, which is actually in New Hampshire, is a mix of museums and antique shops as well as places like Walmart should you get that desperate urge or need to recharge your AT&T card, as we did.
Chutters is in the Guinness Book of Records for having the Worlds Longest Candy Counter. Try the fudge as there are more varieties than I knew could ever exist. It is located in Main Street, which also has a lot of the antique ambiance one associates with a small town. There are some significant buildings along the history trail in Main Street, and the streets around, each making a photograph in itself.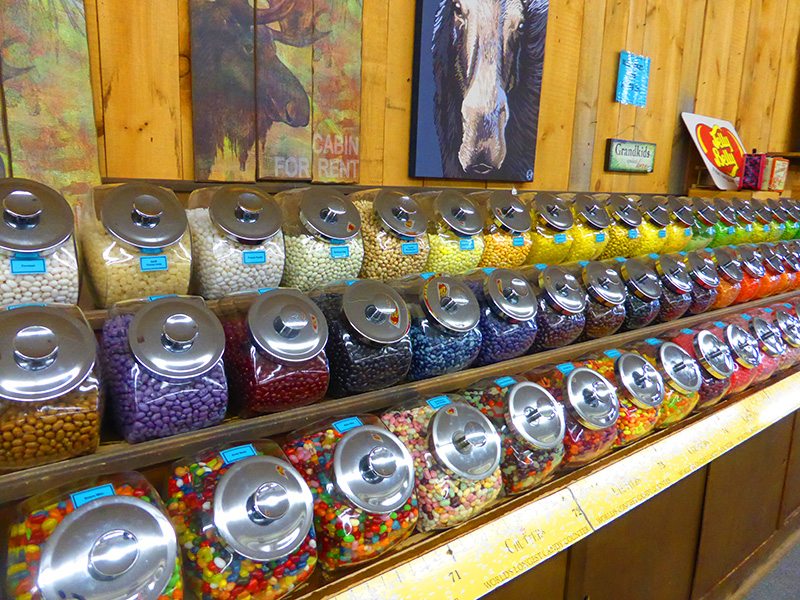 Of course if it weren't raining, you would head to the Franconia Notch State Park for a trek. We did see another covered bridge but frankly it was raining, with a light amount of snow falling, so we didn't kiss under this one.
There is an excellent Belgian beer and pizza place to sit back listen to some music, drink some authentic Belgian beer and have a great pizza called Schilling Beer Company.
Come Back to Rabbit Hill and Chill Out
We enjoyed exploring, and we also enjoyed returning to have a bath, some afternoon tea and a grudge match of backgammon. There was light snow falling again, and it reminded me of why I wanted to come to Vermont.
Rabbit Hill Inn
Address: 
48 Lower Waterford Rd, Waterford, VT 05819
The other Distinctive Inns of New England that we visited
It is just so pleasant at Harbor Light Inn, Marblehead, MA
So many 1st's at Manor on Golden Pond, Holderness, NH
Memorable at Captain Jefferds Inn, Kennebunkport, ME
Just Bellissimo at Camden Maine Stay Inn