So many 1st's at Manor on Golden Pond, Holderness, New Hampshire
This entire trip in the USA and Canada has been a series of 1st's, and visiting Manor on Golden Pond, Holderness, New Hampshire was no exception. Yes, Manor on Golden Pond and that boring movie On Golden Pond are one and the same, the golden pond being Squam Lake.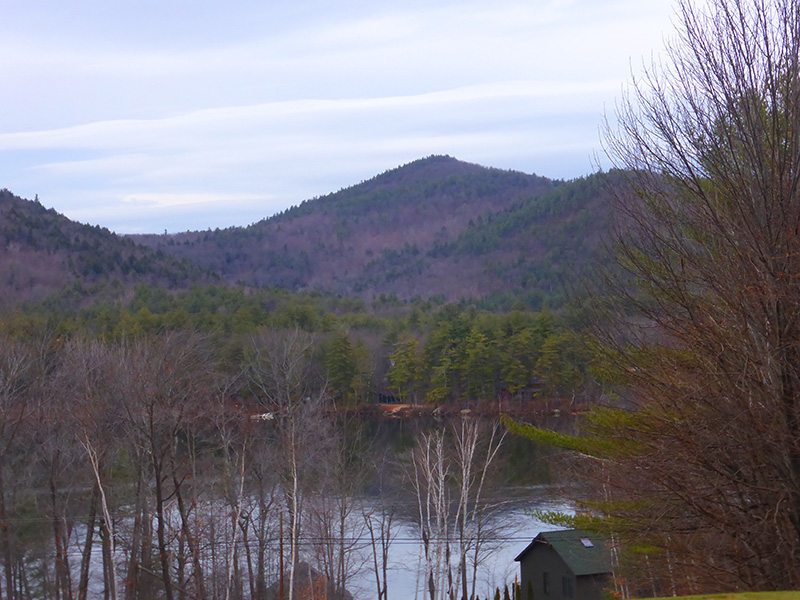 Our 1st Manor on Golden Pond Experience
We arrived at Manor on Golden Pond, Holderness, in New Hampshire and yes, this is the Golden Pond, immortalized in that dreadfully boring movie On Golden Pond that happened to win a lot of Academy Awards, so maybe I was the first not to like this movie. I did re-read the plot, and it is tenable and has some interesting quotes and seems more relevant when we were standing there as, Norman Thayer (Henry Fonda) and his wife Ethel (Katharine Hepburn).
There is something about walking into a large manor, set on 30 acres, and this is exactly what Manor on Golden Pond is.  It is a very welcoming first visual impression. If you read us regularly, and we sure hope you do, I have a thing for open fires, and there were many of them in the various large yet welcoming parlor rooms.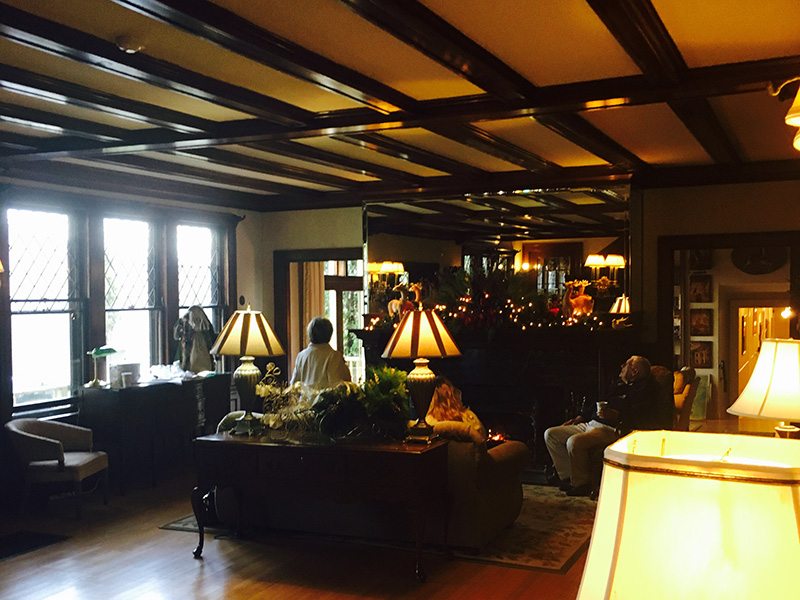 Hot Apple Cider was waiting for us as we looked around. Our rooms have the four poster bed, and that is always a great sign for a romantic few days. The open fireplace in our bedroom, and the overstuffed chairs by the fireplace helped a lot also.
We stepped onto the patio and here was Squam Lake spread in front of us, with the tree covered mountains surrounding it. Not a bad impression at all. From open fires, four poster beds to nature's calling card all in the one go.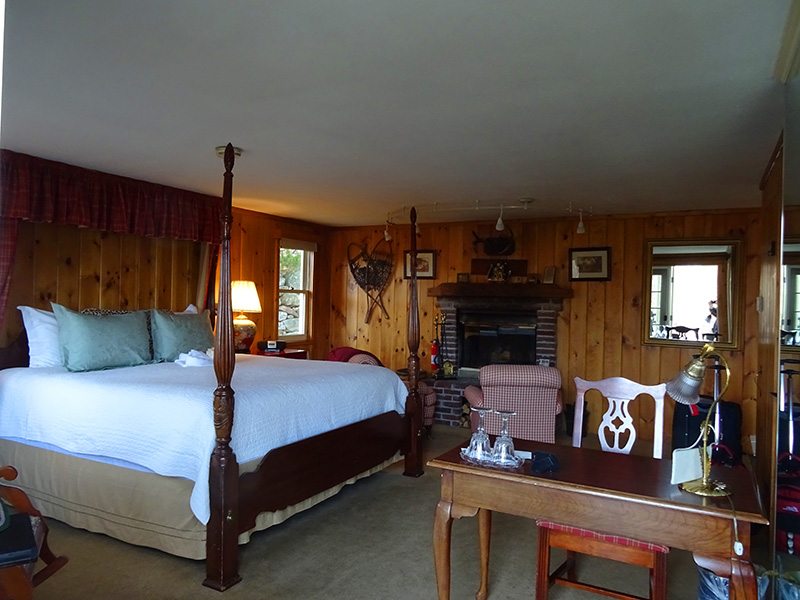 Our 1st Ohh moment
Manor on Golden Pond started as a love story at the turn of the 20th century. A wealthy Englishman fell in love with a beautiful debutante. He built her a magnificent country estate with sweeping vistas overlooking Squam Lake, right on Shepherd's Hill, in the Lakes Region of New Hampshire. He set this manor amid the tall trees that he and she loved so much. Unfortunately, his young wife died prematurely, and his next wife did not like the lakes and the mountains of the area. She preferred the city. This is where we stayed in Holderness, New Hampshire. The current owners and innkeepers, are Brian and Mary-Ellen who are keeping the vision alive of the young Englishman and his debutante.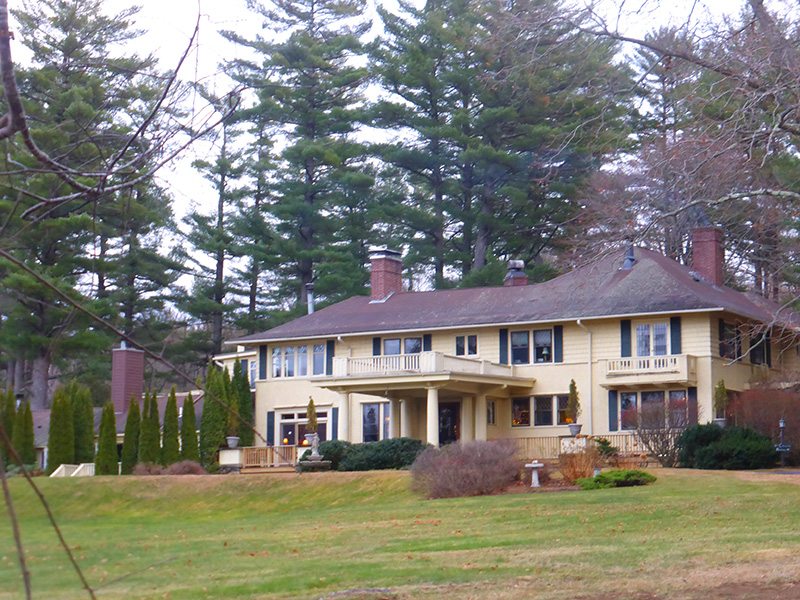 Our 1st views of Squam Lake
Squam Lake is that very attractive lake that featured in the movie, where the grumpy but lovable Norman befriends the kid, and goes after Walter, the fish. Squam Lake is more beautiful in real life than in the movie. It is like a plate of glass with the clearest and freshest of water. Squam Lake is a nesting site for the loons that open and close the movie. The loons are birds who favor living in New Hampshire. They are powerful, and agile divers that catch small fish in fast underwater chases but they leave when the lakes ice over, or they would give themselves a headache hitting the ice as they attempt to dive.
Ethel: Come here, Norman. Hurry up. The loons! The loons! They're welcoming us back.
This is where Manor on Golden Inn is located, overlooking this pristine Squam Lake, with the towering mountains of trees surrounding. The lake is not frozen over, so these legendary loons, are doing their thing. We looked for them from our patio each morning and evening and listened for their distinctive call, but the loons were not welcoming us at this time.
Out of interest, and courtesy of the Lakes Region of New Hampshire, Squam Lake Keeseenunknipee, meaning "the goose lake that was then shortened to Casumpa around 1779. In the 1800s, it was renamed to Asquam, meaning "water", which was then shortened to Squam. It could have been called Loon Lake – just putting it out there.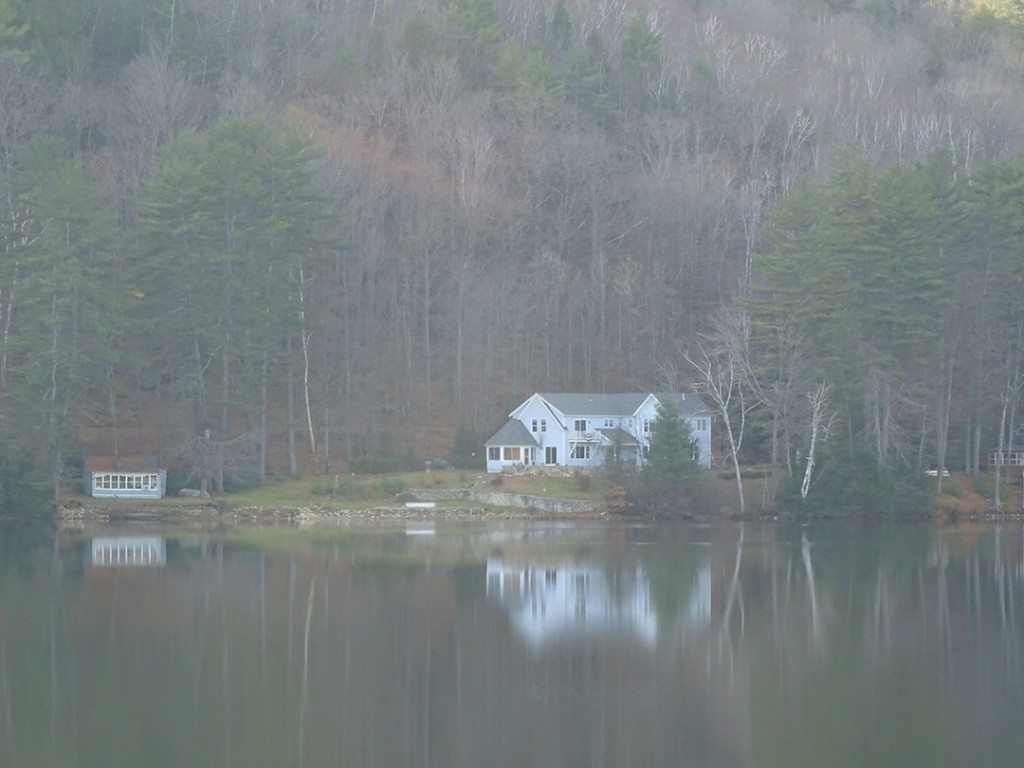 Our 1st realization that New Hampshire has a lot of trees and lakes
There are a lot of trees in New Hampshire, and just as many lakes to go with them. The state does not have trees for industry and because of the granite makeup of the ground, nor do they have arable land. There are also lakes and even more perfect lakes throughout the region. These are the one's that draw the city folk to this neck of the woods as they are a magnet for the Normans of this world who like the fishing and the water sports. The number of boats here, currently wrapped in plastic to protect them from the imminent and inevitably harsh winter, is mind blowing. It reminds me of a line from the boring movie,
Billy Ray: A canoe! Just like the Indians used.
Norman: Actually, the Indians used a different grade of aluminum.

Our 1st Thanksgiving
We enjoyed talking to other people at our 1st Thanksgiving dinner at the lovely dining area at the Manor on Golden Pond, and we were thankful of the experiences that we have had to date in this incredible job of being travel writers and working with the 12 inns of the Distinctive Inns of New England.
We were thankful for the most tender turkey with a cranberry accompaniment, stuffing, and mashed potatoes and greens The pumpkin pie was another 1st and will not be the last.
Later that night, quite late we wandered down to have a cup of coffee by the fireplace and to play a game of chess, and here were homemade cookies and strawberries.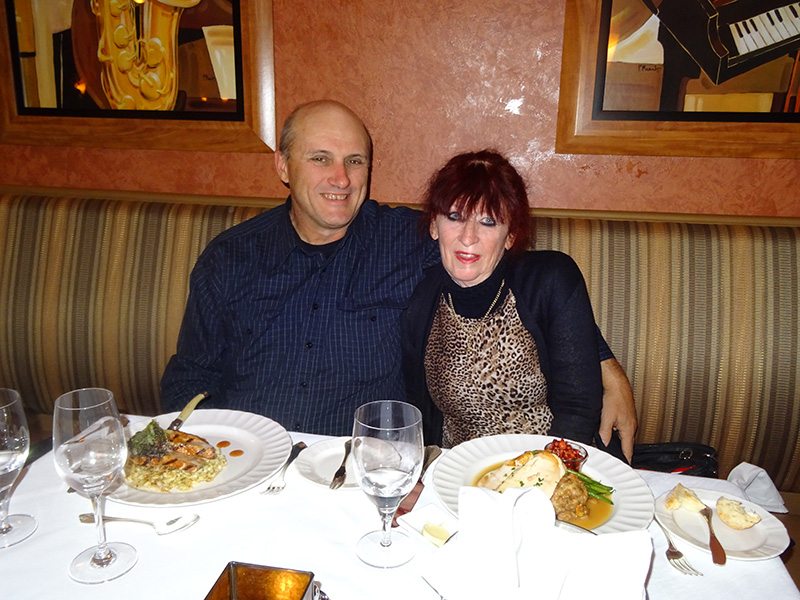 Our 1st Impressions of the Food
Good as in very good. We started with the a drink on the manors own Three Cocks Pub where dark wood, creates and ambient feeling.We knew we had eaten very well at our 1st Thanksgiving Dinner, and that we had enjoyed a late night supper. Our homecooked breakfasts were a la carte and yes I succumbed to maple syrup and apple french toast while Gordon had eggs. We may or may not have had some of the homemade muffins.
Each afternoon, there is a homemade afternoon tea. This is again a feast of goodness, crockery tea cups, little sandwiches, tarts and the moorish homemade biscuits.
The inns Van Horn Dining Room has been awarded the Four Diamond accolade signifying the finest of the menu.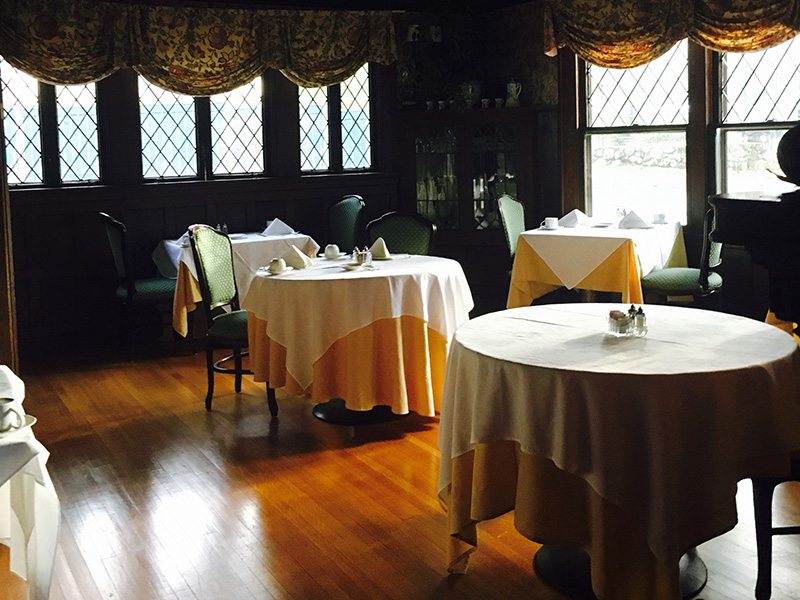 Our 1st Impressions of Exploring Around the Area
Our innkeepers could not have been more helpful in providing very accurate directions for some mountains treks, like West Rattlesnake Mountain. We went to the one of the oldest general store in the United States in Moultonborough, got lost on the back roads of the Lake Winnipesaukee, and visited Meredith, a lovely town in New Hampshire, that roars loudly when the Harley Davidson convention hits the town.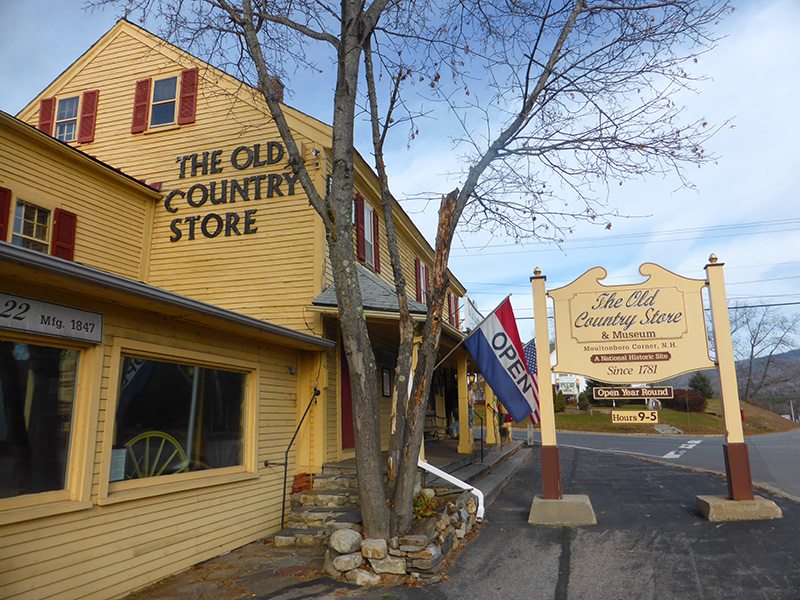 Our 1st Covered Bridge Kiss
We crossed the border from Massachusetts to New Hampshire. Here we saw our first covered bridge and had our first kiss under the covered bridge because that is the tradition. It wasn't our first kiss ever, but it was our first kiss under a covered bridge and our first kiss in New Hampshire.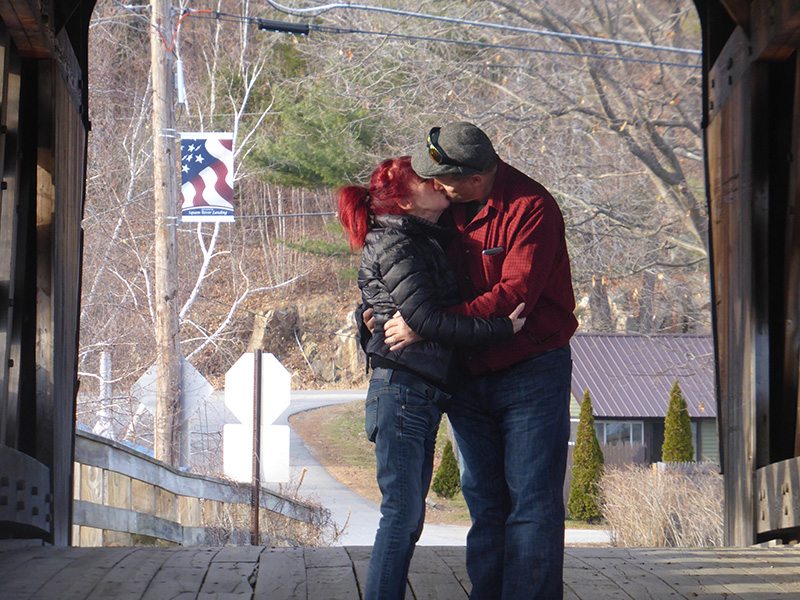 Our 1st trip to the USA and Canada
This was our 1st first trip to the USA and our 1st trip to Canada. This has seen us go from San Francisco on the west coast of America, to Niagara Falls, Montreal, Quebec, and over to the East Coast to New York City, and to the New England area. We have noted differences in each place that we have gone to, and we have noticed similarities, so make sure you click on some of the links above after you have read about our 1st's at Manor on Golden Pond.
We are visiting all 12 inns in the Distinctive Inns of New England and thank Marti Mayne, Mary-Ellen and Brian for their hospitality.
Distinctive Inns of New England (DINE), are 12 elite inns located throughout the six New England states.  This collection of luxury inns and B&Bs are carefully aligned to offer distinctive surroundings and bespoke experiences and hospitality. All are within an easy drive of one another.
Other Distinctive Inns we have visited
Read our about our first Inn, Harbor Light Inn in Marblehead, Massachusetts.