There are pro's and con's of Self drive vs. Train Travel, that is driving yourself or catching trains in Europe, however, we decided relatively early on that train travel is our preferred option. We have done both.
From our own experiences, we have looked at the positives and negatives of both self drive and train travel. Hopefully this will assist in your decision.
Positives
– Train travel in Europe is efficient. Of all of the countries we have been to date, the trains leave on time and arrive on time. That is a luxury, for us.
– Train travel is best for big cities, though in saying that if you get off at some little known places along the tracks, then you might get that village feel you were after or just something unexpected. Domodossola being a case in point.
– Sit back and watch the world go by on a train.
– Have a coffee or a wine in the dining car.
– Chat to locals in trains or other travellers
– Toilets are on board trains that are more often than not clean.
– Self Drive allows you to go wherever you want, stop whenever you want and explore at will
– Shove your luggage in the boot/trunk and take out what you need when you want
– A lot more independence when driving
Negatives
– Driving in unknown cities can be very stressful, it could even lead to arguments 🙂
– Train travel does not give as much freedom and flexibility to do what you want and explore where and when you want.
– Research into getting the best priced tickets for public transport can be time consuming.
– Driving on the wrong side of the road (Ok, we are Australian and for us that is difficultJ)
– Watching changes in speed zones and driving on unfamiliar roads
– Understanding the peculiarities of different road rules.
– Understanding the ramifications of infringements
– if the train breaks down, an avalanche covers the track as happened to us in Japan, then your plans can go awry r you are stuck on a train for a very long time
– Parking is expensive
– Parking is often scarce
– Cost of petrol (gas)
– Insurance is expensive
– The driver does not get to enjoy the views, as they have to concentrate on the road.
– Can't have a beer and drive
– Taking luggage off one train to get to the next
– some train stations are a little seedy so at times you can wonder about your safety.
– as a first impression of a place some, and only some stations, are not the best introduction.
– If you have interconnecting train trips it is a slight headache racing from platform to another. For us to get from Kitzbuhel to Zermatt we had 4 changes at Innsbruck, World, Zurich, Visp. Each however were seamless, so maybe this should go into the positive comments
– Train stations do not always have the same name as what you might expect. E.g., Ghent is Gand. That certainly threw us.
– Freeway tolls can be high and if you get on the wrong freeway/autobahn you may not have the ability to turn around. This happened to some people we met in Sorrento who took a wrong turn at Pompeii and ended up getting in at midnight while we enjoyed the leisurely 40 minute train ride there and got in at 4pm. We had left Pompeii at the same timeMake sure to leave from the POMPEII SCAVI station.
We still remain big advocates for train travel.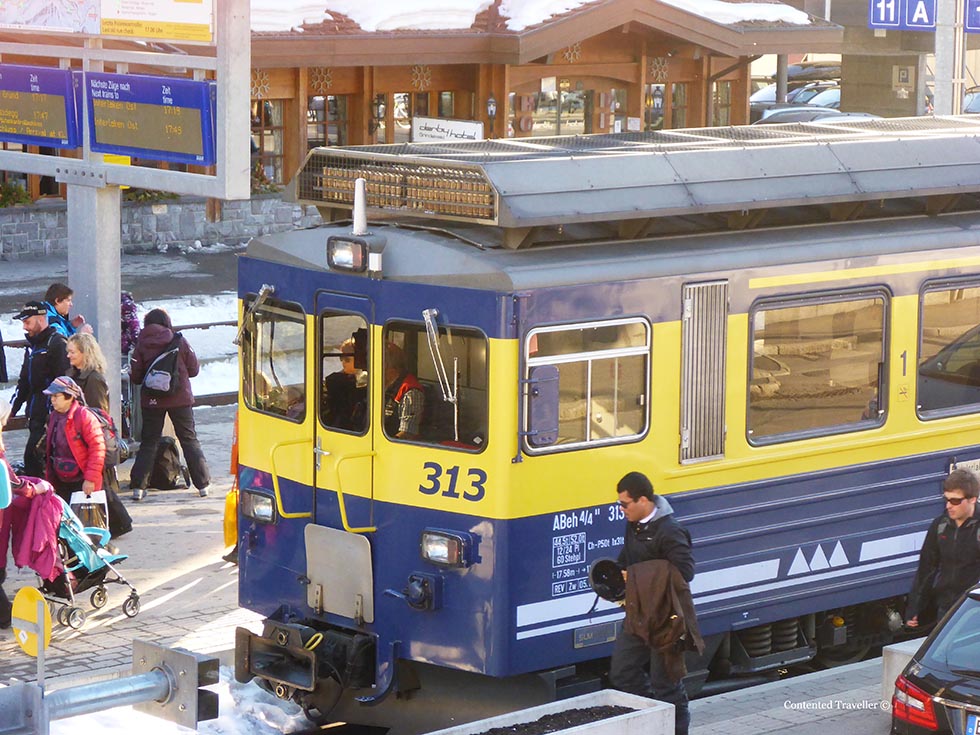 Some hints:
– Make sure that you get the platform information always from the railway attendants to help if having to change trains particularly if the window of opportunity is 3 minutes.
– Don't waste your money on 1st class; the difference is barely worth the money
– To explore further afield, get a bus or even hire a car for a day or two keeping in mind the parameters as stated above.
So in our view these are the positives and the negatives of self drive vs. train travel in Europe.
Any thoughts?