I didn't really like the Medieval Island of Rhodes in Greece. Rhodes  (pronounced rho-dos) is an odd little place, with a highly controversial history. Visiting the Medieval Island of Rhodes in Greece, to be quite honest, was not one of my favorite destinations. Sorry about that.
Rhodes is the 4th largest of the Greek Islands, and most other people like it. They like it for the undeniable history, the 300 days of sunshine, enviable beaches, and a full-on nightlife. I much preferred Mykonos, Santorini, Nafplion, Katakolon, and even getting scammed in Corfu, and I have included links as to why I loved these Greek islands better.
As I have said before, when you get one day to visit a place as you do when you cruise the Greek Islands, they need to impress you immediately, and in all fairness, you need to be in the zone. I think I was a little over visiting walled cities at that stage, having been very impressed with Dubrovnik and Kotor in Montenegro, so as per usual this is just my very subjective opinion of this much lauded medieval island.
Why Rhodes is a popular destination
With many beaches, Crusader castles, frescoed churches, and sun much of the year, Rhodes remains a popular getaway for many people. However, it is also a one day trip for the many many cruises ships which anchor there, and we were these visitors. While many visitors to Rhodes will head to the ruins at Lindos, we decided to explore the city of Rhodes itself.
The Brief History of Rhodes
Much of the island's unique character is due to the 213 years that it was occupied by the Knights of the Order of St John, and the Knights Templar, who played a key role in the Crusades and the history of the Mediterranean Sea. They were responsible for the nearly impregnable walls that surround the city. Rhodes is also famous, as according to legend, the Colossus of Rhodes spanned the ancient harbor of the town of Rhodes.  So, yes it has that historically interesting perspective.
What made me not like Rhodes so much?
In fairness, we got scammed quite a few times in Rhodes, and that sure didn't help with my impressions of this island. One would think that we would know better than to be scammed, but it happens to the best of us, so take it in your stride, but be prepared to let it colour your judgment of a place. I wanted to call this article, The Rogues of Rhodes … but … I didn't.
Rhodes certainly presented an imposing view as we sailed into the city. It did look daunting with the many fortressed walls, yet was softened by the swaying palm trees that lined the promenade. Boats of all sizes bobbed at the docks, and green parks were visible from where we were. I was excited to explore this island though a little overwhelmed with the stark medieval architecture.
Scam #1 in Rhodes in Greece – the hop-on, hop-off bus
We disembarked and saw a hop-on-hop-off bus, which is always a good idea when visiting a new place. We paid a very reasonable 12 Euro each to the company, who stated that we would have the opportunity to get off and on at 12 different places and that the tour would take an hour if we did the circuit. We got on the bus and plugged in our headphones, and nothing worked. It was not just us, but about 80% of the bus which could not hear any commentary.
Next thing the bus did not stop at any of the designated stops, until the second last stop, where the driver announced over the PA system that he would have a 5-minute smoke break. We had done the circuit in a record 15 minutes…and he needed a smoke breaK? I have no issue whatsoever in naming and shaming this company – Captain's Tours – Rhodes City Tours. Do not touch them with a barge pole.
What we did next
We walked around the moat of the walled old town of Rhodes, which was created over time by of the Knights Hospitaller of St John and the Ottomans, and has been accorded a Unesco World Heritage status. This was pleasant, though the imposing walls were, well ..imposing.
We Explored The Palace of the Grand Masters
We paid the entry fee to explore The Palace of the Grand Masters This is a restored Medieval Palace with intricate mosaic floors, many from the island of Cos.  This was the administrative seat and residence of the Grand Master of the Order of the Knights Hospitaller. It was built for defense for sure. In 1856 the Palace of the Grand Master and other monuments of the medieval city were severely damaged due to an explosion of gunpowder. Extensive restorations were made by the Italians during the years of the Italian occupation of the Dodecanese Islands from 1912-1947. Source
Scam #2 – Coffee on the Medieval Island of Rhodes in Greece
We went to have coffee to wait for the fortress walls to open at 12 pm. We stopped at a coffee shop and asked for a Greek coffee. The waiter who was very busy harassing passers by to eat at his restaurant told us that they didn't have time to make it for us and that a latte would do. Stupidly we just agreed. 30 minutes later we received a microwaved weak coffee with powdered milk. Now don't get me started on screwing with my coffee. I am Australian, and a self-proclaimed coffee snob. We paid our money and left a scathing review on TripAdvisor. Naming and Shaming, but do not go to Mama Mika Taverna.
Walking the Fortress Walls
The best views over the Old Town were from the medieval walls, which can be accessed from the courtyard of the Grand Master's Palace and costs an extra 2 euro. You must pay the extra money on top of the entry fee to the Grand Master's Palace, and I get that. People come to see both, but perhaps one ticket could be purchased for people wanting to do both, as Gordon did….
Be aware that you can only walk the walls from midday, and if you have heard of the saying 'only mad dogs and Englishmen go out in the midday sun,' be aware that it is hot.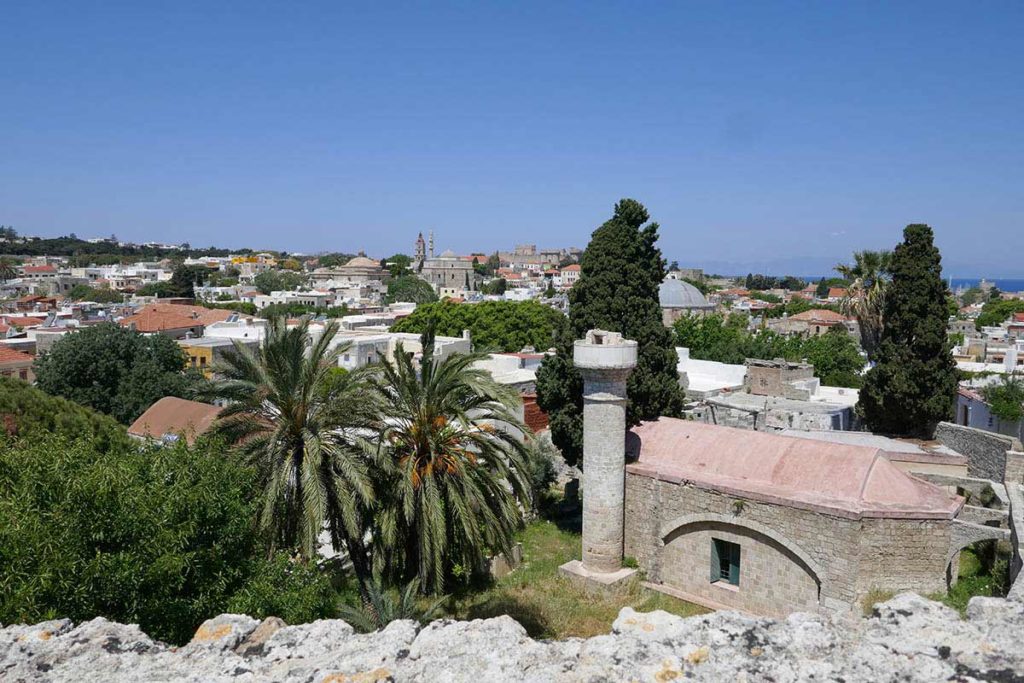 Lunch in Rhodes and Scam #3
We thought that lunch would redeem our impressions of Rhodes, because food and travel are one and the same.
While we had a reasonable lunch, it was nowhere near the quality that we had experienced in other taverns on other Greek Islands, or indeed in Athens itself. Everything was an added extra. It was the people next to us who got scammed. There were two young backpackers who ordered two gyros, the equivalent of a kebab, and two beers. When their bill came, there was an extra charge over and above for the chicken that the girl had. Then they were both slugged an extra charge each because their gyros had tzatziki on it. When I checked the menu, this was not an additional charge.
Ok, it was historically interesting, but I didn't really like the Medieval Island of Rhodes in Greece. I guess I just found the medieval city dull and the people taking advantage of others, just a little unnecessary. Please feel free to have a go at my subjective opinions of the Greek Island of Rhodes.