Japan has become a must ski and see destination, well known for its deep, deep powder, reasonable prices and unique atmosphere, people often ask about Skiing in Japan – 6 of the best places to go.
Skiing in Japan means saying no to high prices, long queues and a big hello to assured snow, more powder than you can imagine and an introduction to some of the friendliest people ever.
Updated, October, 2018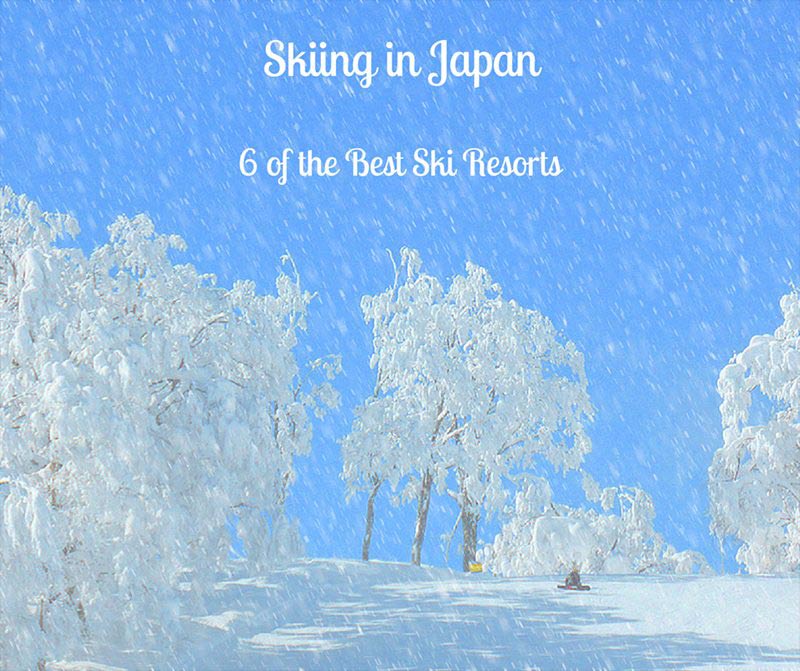 Skiing in Japan is more than just the on piste life, but a chance to explore new and different opportunities in this intriguing country.
Get prepared to be naked while taking an onsen, hone your chopstick skills and get ready to taste sake after your hard day ploughing through thick powder, both on piste and back country. Read about The etiquette of having an onsen in Japan.
Can you have an onsen if you have tattoos?
Also, Read about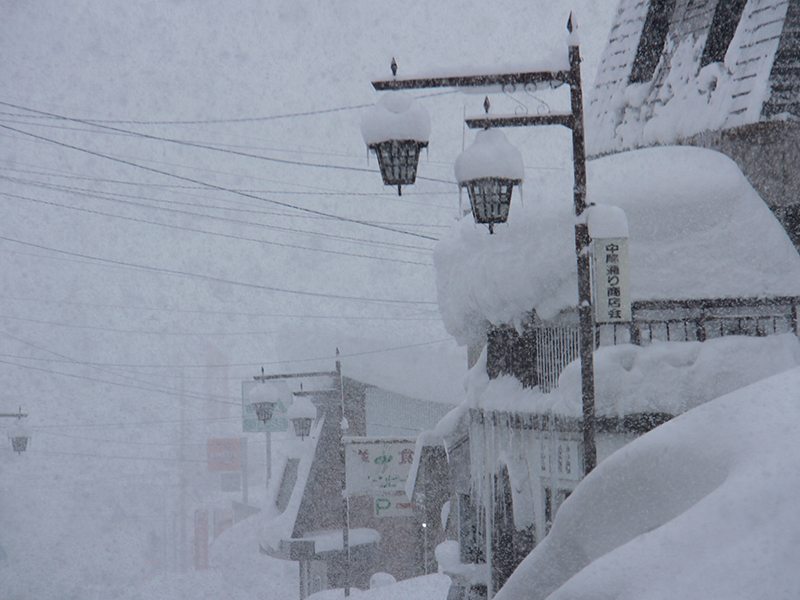 The Cost of Skiing in Japan
It is cheaper for us to fly to Japan to ski than it is to ski in our own country; (read about skiing in Australia, which is great but …) such is the competitive prices of lift tickets, ski hire, accommodation and food. The other big bonus is that the snow is guaranteed, the food is amazing and you are getting a very big culture dose.
What you will need to wear
It gets very very cold in Japan and if you click here, you will see the essential travel gear you will need to keep warm.
This is but a small selection of some of the most unique and popular resorts in Japan.
Skiing on the Island of Hokkaido
Niseko
The Niseko ski resort is located in Hokkaido, where there are seven ski areas, which are interconnected and able to be skied on one ski pass. Niseko has one of the highest snowfalls in Japan each year. Niseko is also a bit of a party central with many many bars, entertainment areas and cafes. It is however also a family friendly area, and there are different terrains for all level of skiers.
Niseko attracts a lot of overseas attention and is especially popular with Australians, be that good or bad.
Other resorts in Hokkaido are Furano, Sapporo Teine, Rusutsu and Tomamu and are all worth a good look at if you want to escape the masses at Niseko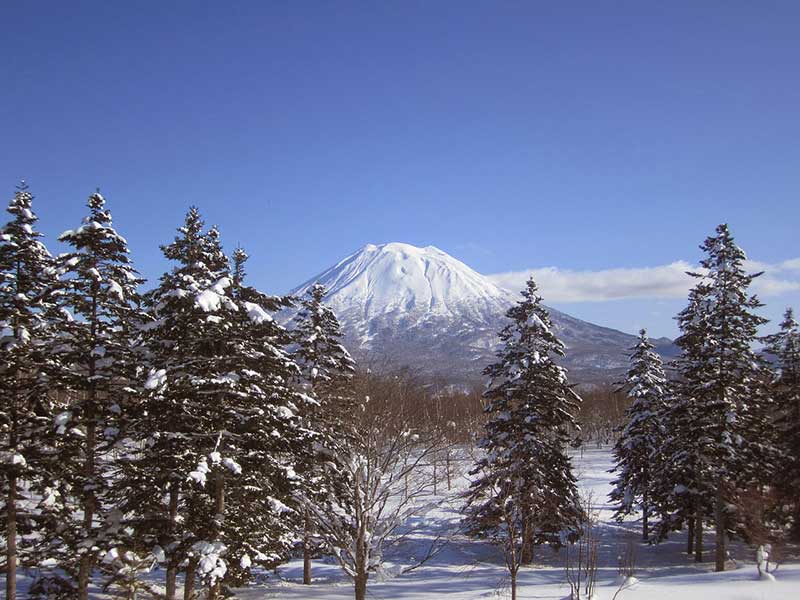 Getting to Niseko
It is easiest to catch a domestic flight from Tokyo where most people will land. Then Niseko is a two to three hour drive from Hokkaido's international airport, New Chitose Airport, just outside Sapporo.
The Local bus is the cheapest way to get from the airport to Niseko, taking about 3 hours.
Where to stay
Niseko Northern Resort An'nupuri
Ski in, ski out …. doesn't get much better than that. Check latest prices and reviews here
Kasara Niseko Village Townhouse.
Great for large groups, and skiers and boarders tend to be a socialable bunch, this townhouse is perfect. Latest reviews and prices here.
Skiing on the Island of Honshu
Zao Onsen
The Zao Onsen ski area is located in the Tohoku region of Japan in the Yamagata Prefecture, about 400km north of Tokyo on the main island of Honshu.
Zao Onsen is both a hot spring and ski resort.  There are 15 different slopes and 12 courses, catering for beginners to experts. There is a vertical drop of 881 meters and a 10km run to get your heart pumping… or your thighs really burning. Though you are not supposed to go off piste … well ..
There is off and on piste cafes and bars to re-fuel or to have a nap as is customary with the Japanese people.
At the top of the mountain, you will be able to see the famous ice monsters or snow monsters. Here the trees take on peculiar shapes due to the heavy snowfall and freezing winds.
These snow monsters are quite eerie yet are a major draw card to the Zao Onsen resort. You can get to the snow monsters via a ropeway and a gondola for both skiers and non-skiers.
Getting to Zao Onsen
The Yamagata Shinkansen train, or bullet train takes about 2.5 hours to get to the station, followed by a 40-minute bus ride to the Zao Hot Springs Resort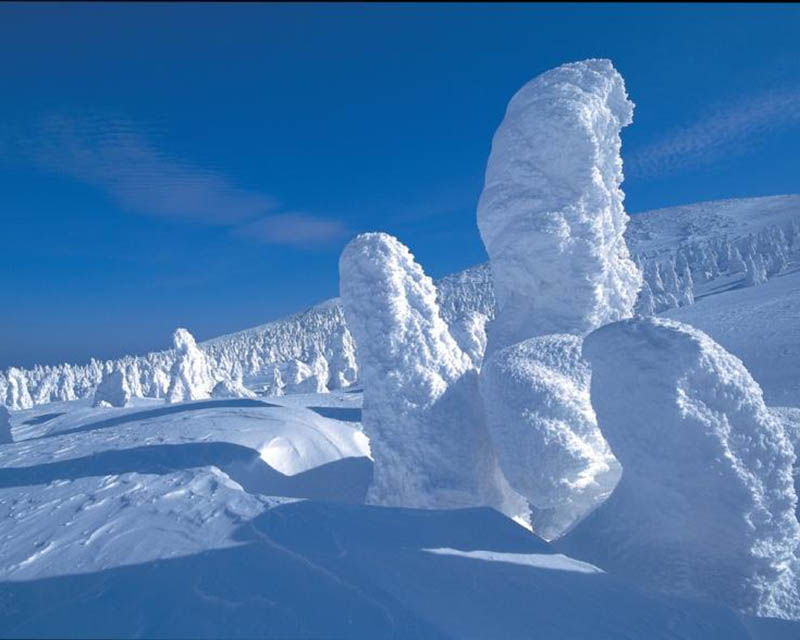 Where to Stay
Zao Onsen Tsuruya Hotel
Great Japanese meals, free shuttle service, and a cosy onsen. Latest prices and reviews here
Yamagata Grand Hotel
Clean and quiet hotel near the station which is what you want. Latest prices and reviews here.
.
Skiing Appi Kogen
Appi Kogen promotes their ski resort as 'Don't Worry be Appi! which is appealing from the get go. The snow here is superb and it has been called the St Moritz of Japan.
The Appi Kogen resort covers 282 hectares and has 21 slopes and 828 meters of vertical. Appi Kogen has some thigh burning long long runs, with 12 of them being 2km, and the longest being 5.5km. It also has a lot of beginner and intermediate runs, small queues and is great value for money.
Getting to Appi Kogen
The Tohoku Shinkansen Express, bullet train from Tokyo to Morioka Station takes 2 hours. From Morioka train station, there's a bus to Appi Kogen that takes about 50 -60 minutes.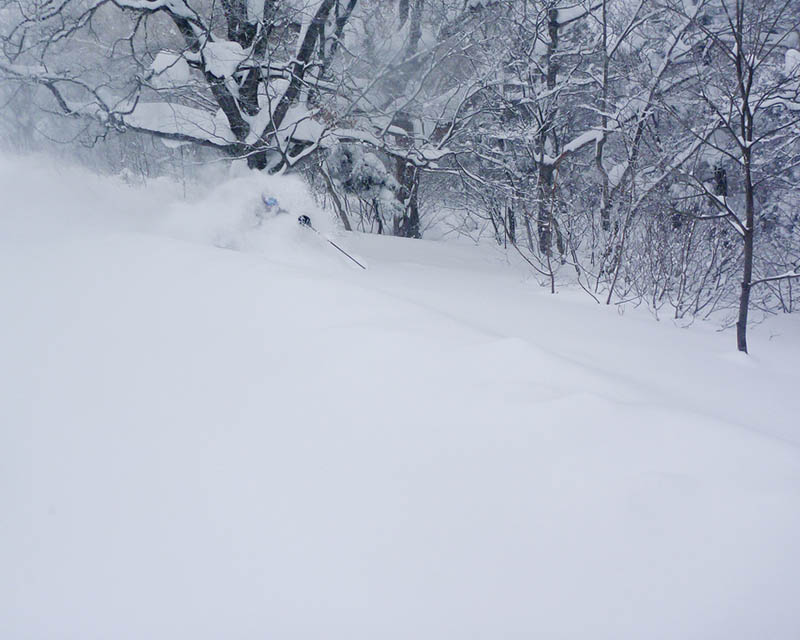 Where to Stay
White Rose Inn
Everyone loves the White Rose Inn because it is comfortable, cosy with great staff. Latest prices and reviews here
Shikikan Saito
Boutique onsen hotel, with great food too. Latest prices and reviews here
Skiing at the Shiga Kogen Resort
Shiga Kogen is actually 21 ski resorts all on one. It is situated in the Joshinetsu Kogen National park about 20km from Nagano. The Shiga Kogen ski area has varied terrains for all levels. Shiga Kogen, like Nozawa Onsen is not far from the Gokudani Wild Monkey Park where you will get up close and personal with snow monkeys of Japan
Shiga Kogen has approx half of the slopes suitable for beginners, about 40% for intermediates and the rest for the big boys, and girls.
Off piste entertainment at Shiga Kogen is mainly where you are staying or in the little Ichinose village, where there are a number of bars and cafes.
Getting to Shiga Kogen
From Tokyo catch the bullet train to Nagano, which takes about 100 minutes. Departures are pretty regular during the main part of the day.
Then take the bus; the bus trip takes about 70 minutes from Nagano to Sun Valley and another 10-15 minutes to Ichinose and Yakebi.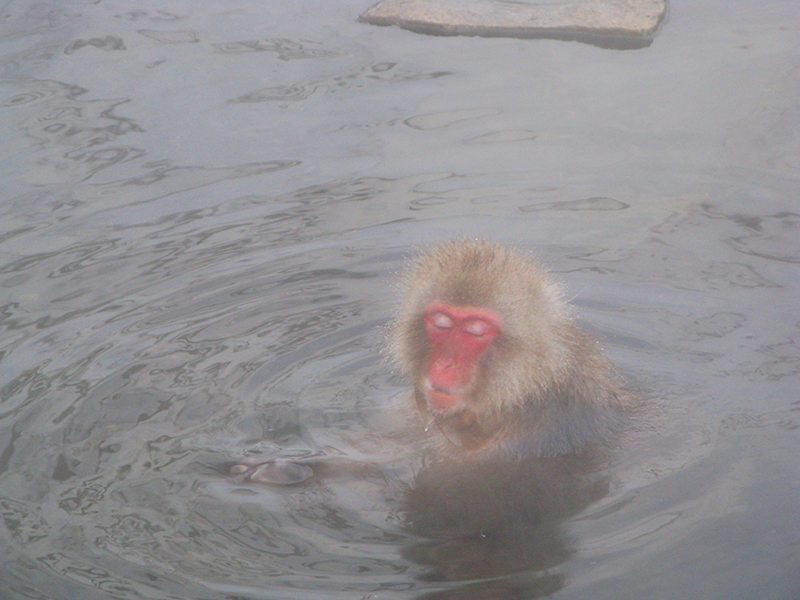 Where to Stay in Shiga Kogen
Shiga Palace Hotel
Footsteps away from the chairlift of two of Japan's premier ski resorts and finest mountains, Mt. Yokote (the highest ski resort in Japan) and Kumanoyu, home of the 1998 Nagano Winter Olympic and Paralympic games. A short walk from the Hotel's main entrance you will find the Suzurikawa bus stop. From here you can take a free shuttle to other ski areas.
Shigakogen Hotel Ichibokaku 
A 3-minute walk from the Kumanoyu ski zone, the hotel has a ski school, band also an onsen. Did I mention they have karaoke? Very local, very authentic.
Latest prices and reviews here
, if you can read Japanese – use Google translate.
Ski Hakuba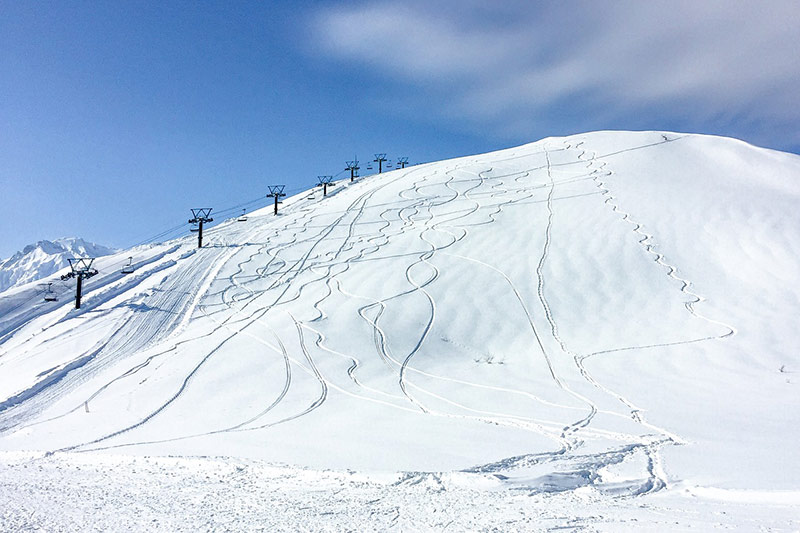 Hakuba has brilliant powder, lots of varied slopes and a very active social life both on and off piste. It is a very popular ski and snowboard town located in the northwest of Nagano Prefecture and really is party central with some seriously good skiing and boarding because of the immense amount of powder.
Hakuba's popularity means that there are a lot of accommodation options to suit all styles and budgets, yet you still get that Japanese experience.
The main Hakuba ski resort, Happo One, is great for families.
Hakuba has 960 hectares of skiable terrain, 135 lifts and lots of terrain parks.
Getting to Hakuba
Take a train from Narita to Tokyo, but easier still is from Ueno, then a bullet train, Shinkansen to Nagano, and then a bus to Hakuba. This is the fastest route. This will take about 3-4 hours through some sensational scenery, as you get deeper and deeper into the Japanese Alps. Make sure you buy a bento box from the hostess who serves on the shinkansen.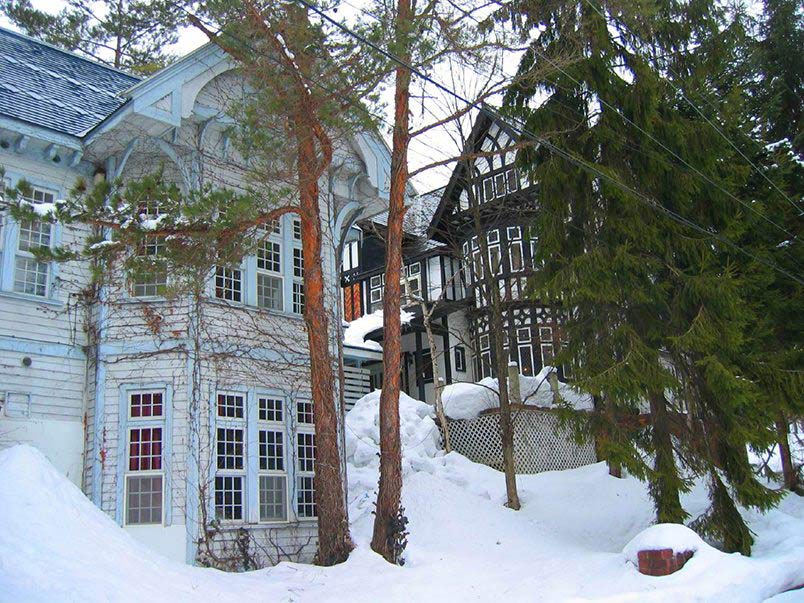 Where to Stay in Hakuba
From as budget to luxury as you can get in this very popular ski resort.
Pension Karunaju
budget and very traditional, great staff, close to ski runs, what more could you want. Latest prices and reviews here.
Hotel Sierra resort Hakuba
A little luxury here Hotel Sierra resort Hakuba, perfect location, great staff and a fabulous onsen. Latest prices and reviews here.
Skiing at Nozawa Onsen Ski Resort Japan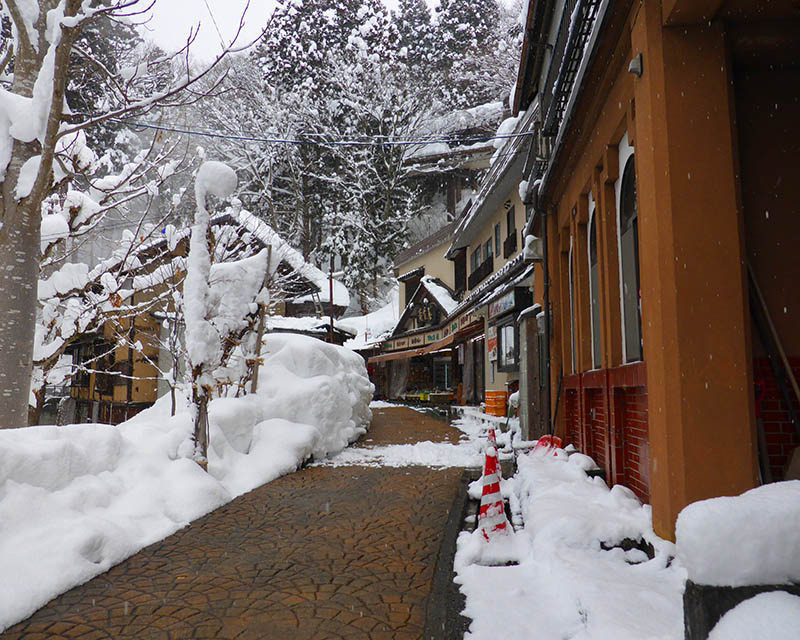 I have left the best to last as this is our village, where we go annually and everyone who goes there once – keeps coming back. We all have big mouths so we seem to spread the word and more and more people are now finding our village.
Nozawa Onsen is a hot spring and ski resort village near Nagano. Nozawa Onsen is considered to be the oldest ski resort in Japan, started by an Austrian in 1911, and another Austrian, Hanns Schneider introduced his Arlberg skiing techniques in 1930, which was to change the face of skiing. Nozawa Onsen also was home to the biathlon events of the 1998 Nagano Olympics, so it has some serious street cred.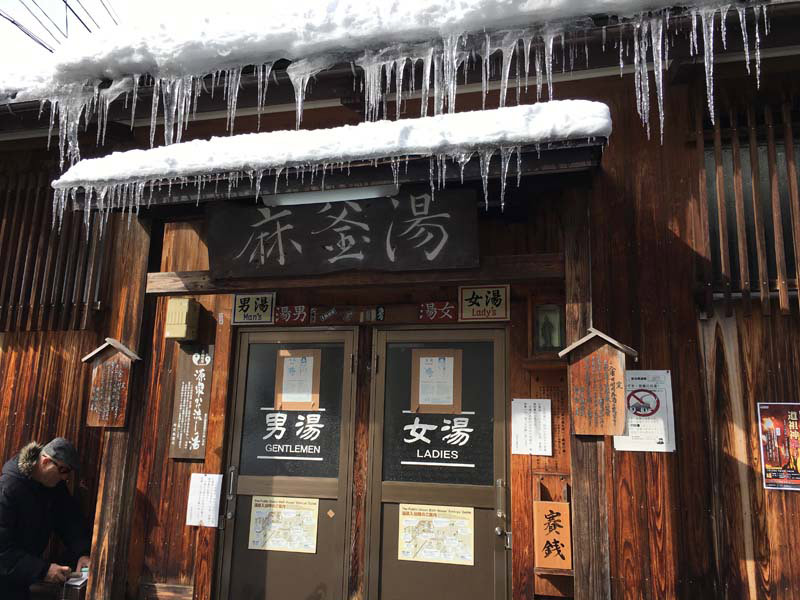 The villagers run the slopes and ensure that it is a very friendly and comfortable environment. The ski area is actually one of the largest in Japan covering some 298 hectares with 50 runs suitable for all levels, and a bonus is that there is guaranteed snow, with an average depth of 3.5 meters of mostly powder. There is also a vertical fall of 1085metres making for some very long runs. One of the runs for beginner to intermediate levels is actually 10kms. Snowboarders and skiers have a lot of choices and going off piste is really popular with daredevil skiers. Powder hounds are loving Nozawa.

Many of the runs are very wide and the slopes are not at all crowded, though a little more so on the weekends when the people from Tokyo arrive. It is rare to get a queue of more than a couple of people however.
On piste, there are many traditional Japanese cafes. What we found here is that the villagers are very welcoming people which creates a really good atmosphere. The Japanese have a great approach to après life. They go in for lunch, eat and then lie down and have a sleep right in there in the café.
The Dojosin Fire Festival, one of the 3 main fire festivals in Japan, is held in Nozawa Onsen on the 15th January each year. This is highly popular and requires booking well in advance to get to see this amazing site.
There are many places to stay in Nozawa Onsen, so have a look here for a start – places to stay
Getting to Nozawa Onsen
Updated, Catch the bullet train to Liyama – Nozawa Onsen Station on the Iiyama Line (about an hour) and then a bus to Nozawa Onsen. However, there is now a bus shuttle that goes directly from Narita Airport in Tokyo to Nozawa Onsen and details are available here.
How to get from Narita to Tokyo
Staying in Nozawa Onsen
Lodge Nagano
We 100% recommend Lodge Nagano or any of the properties that they manage with the villagers. Everyone else seems to agree with me also. Check out latest prices and reviews here. Great accomodation, fabulous staff, top atmosphere. Total package deal.
Grand Hotel Nozawa Onsen
If lodge living is not your thing, then try this delightful Grand Hotel in Nozawa Onsen. You can read reviews and get latest prices here.
Skiing in Japan is about brilliant powder, lovely people, and lots of culture. The queues are virtually non existent, lift passes are cheap, and ski hire is more than reasonable. The food is incredible and the entire skiing in Japan experience is unique and addictive.