It is difficult to come up with the Top 3 Places to Ski in Switzerland, as there are many so many best Swiss ski resorts. Skiing in Switzerland is a little different from other places that you may have skied before.
The Swiss do not take themselves too seriously when it comes to clocking up the runs to validate the cost of a ski and lift pass. They actually make skiing a lifestyle.
It pays to embrace local customs and traditions and to appreciate the sun decks, the gob smackingly awesome views, and the very good runs that you do occasionally enjoy. This is a mind-set that takes a little time to get used to, as in a nano second. Don't rush, sit back, embrace everything around you, and watch the beautiful people.
The scenery is a sensory assault on your entire system, and the people that you meet from all over the world are just -chilled.
There can be no order of which is better than another as they each are so magnificent that they will take your breath away. The Top 3 Places to Ski in Switzerland all are next to mountains that will blow your mind with their magnificence and their beauty. It won't however blow your budget if you are just a little careful about your costs. We will offer some suggestions so that you can rid yourself of these worries and just 'seize the day'.
SKI ZERMATT – BEST SWISS SKI RESORT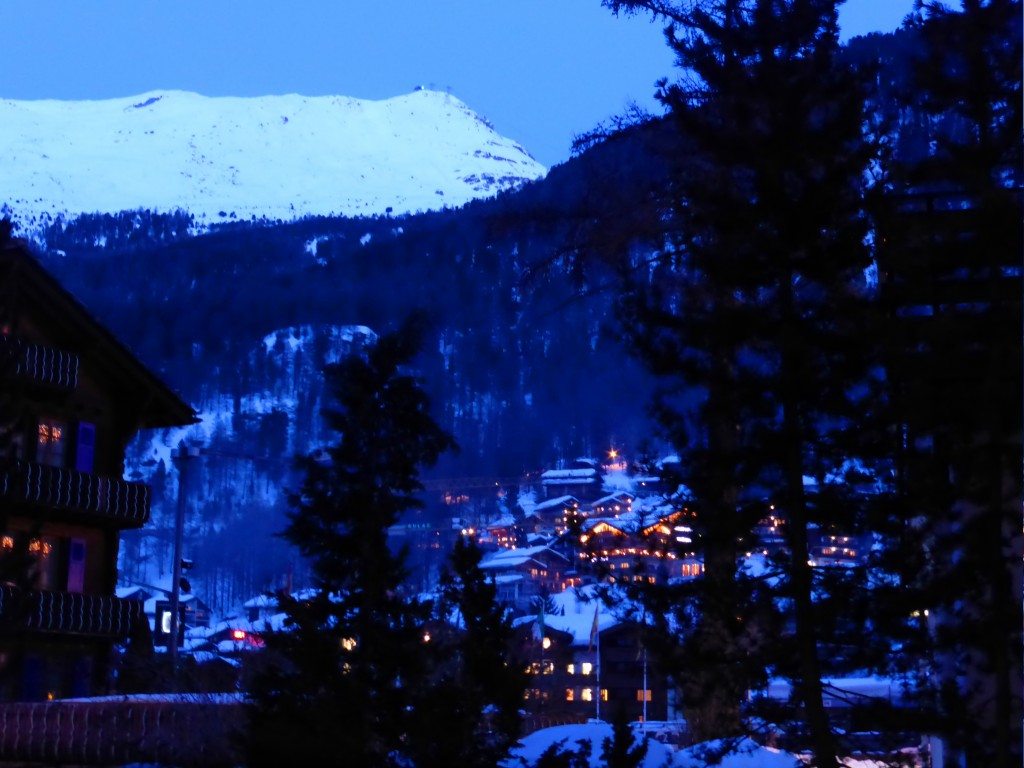 Any village that stands in the path of the mighty Matterhorn is special and Zermatt is all of that and more.
Zermatt in Switzerland and is nestled at the foot of the famous and magnificent Matterhorn at a height of 4,478 meters. Zermatt is a pretty sure bet with snow and therefore skiing is guaranteed for much of the year due to its high altitude. The winter season is one of the longest in Europe starting in early November and finishing in mid-May. Zermatt is well known as a resort for people who enjoy the finer things in life, and this is true. This is for everyone, just do some research.
There are pleasing, high and extensive slopes in four varied areas over the mountains. Everywhere you look there is spectacular high mountain scenery, dominated by the mighty Matterhorn. It has seriously good mountain restaurants as well.
This whole area is also a mecca for walkers all year round, not to mention the sledders as well.
Many people are found soaking up the sun and enjoying the views from and on the sun decks. This is a very popular pastime in Switzerland, so if you don't ski you never feel out of place.
Take the gondola to the Blauherd, which sits at 2571 metres, and have coffee first because you are living like a local. Do a run and then take the big gondola to Rothorn, which sits at 3103 metres up in the Swiss Alps. Have a play around there for a while. Go back to the village of Zermatt, and then take the electric bus around to yet another gondola to go up to Riffleberg for a late lunch and a good rest on the sun decks of the mountains. Relish the wide slopes that you have to yourself nearly.
Go to Gornergrat, at an altitude of 3,089 m above sea level, and to the 2nd highest observatory in Europe. From here, you can see the highest mountains in Switzerland, the Monte Rosa at 4,634 metres. The Gornergrat has been a top tourist destination in Switzerland for the last 111 years.
MUST DO IN ZERMATT
– ski into Cervinia, Italy for lunch
– Visit Hennu Stall at the bottom of Sunnegga where live bands play.
– In 2015, Zermatt will celebrate its 150th anniversary year with a lot of festivities from music, sport, culinary and folklore. Zermatt will be totally unplugged for 2015.
WHERE TO STAY IN ZERMATT
Book early no matter what. Let's face it Zermatt is not cheap. If you book through Hotels Combined that weill check the lowest prices across many booking platforms. Check here for the latest prices to stay in Zermatt.Look for a nice little mum and dad hotel where the prices are really very reasonable. Hotel Alpina is a lovely hotel with breakfast and so check here for latest prices. If you check out some villas on Flipkey, you will find some apartments that will sleep 4 for $400 making it 100pp per night, which is reasonable   for any ski resort in peak season. There will be no issues if you want to go totally lux, but again book early.
Luckily, Zermatt has the longest ski season in Europe.
WHERE TO EAT IN ZERMATT
To eat cheaply go to the Coop, it is very reasonable, and you can pick up lots of things to take back to your lodgings. If your finance permits, and you wish to pay homage to the man who conquered the Matterhorn head to Restaurant Whymper-Stube have cheese fondue. Again book at least two days before to get into one of the 2 sittings that they have each night. Totally worth it.
HANDY HINT ABOUT ZERMATT
Take your own water up the mountains and don't pay the big amount being asked. Wherever you are frequent the Coop.
BEST SWISS SKI RESORT – GRINDELWALD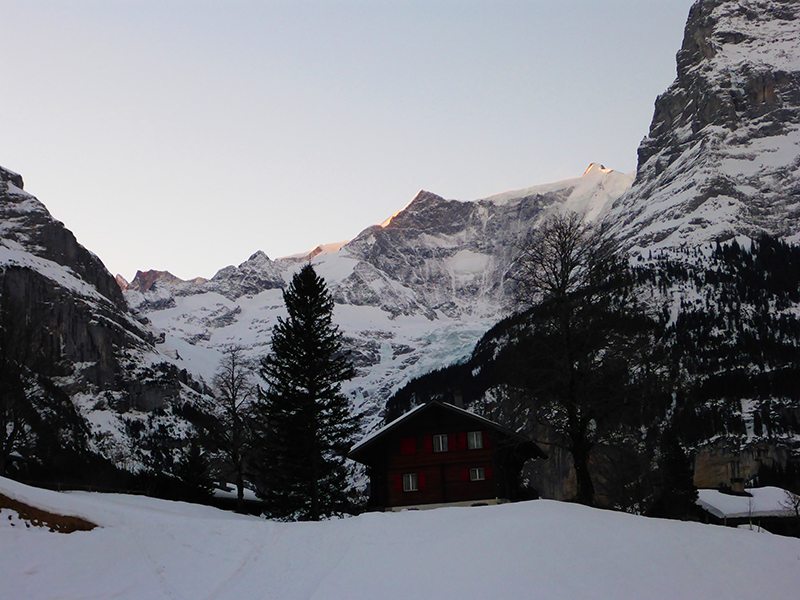 Grindelwald is one of the stunning villages of the Jungfrau Region. It is situated in the heart of Switzerland, in the Bernese Oberland, at the foot of the three famous mountains – the Eiger, Mönch and Jungfrau.
Catching a cog wheel train from Interlaken, you go through wooded remoteness to a stunning and cosmopolitan chic city.
Here you are met by these majestic mountains, where adjectives do not come grandiose enough to describe them, but also to a bustling hub of multiculturalism if accents are anything to go by.
From Grindelwald, you should definitely ski, in the Swiss way, at First. First is on the slopes of the Schwarzhorn and is a popular area to go skiing, hang gliding between the mountain and is also a popular hiking area starting from First and going to Lake Bachalpsee
It would not be very Swiss not to have lunch at the open air deck, with warm cozy sheepskins warming you. You can take a train to Kleine Scheidegg, which is a railway station on a very impressive plateau. This is a skier, sledder and walkers mecca. You will be greeted by some teepees for some strange reason, which adds to the magic of the place. From here you change onto the cogwheel train that takes you to Jungfraujoch, the highest railway station in Europe
MUST DO IN GRINDELWALD
The Jungfrau region is known as the top of the world for obvious reasons. much of which is associated with the Jungfraujoch, which is the cog railway line that has the highest railway station in Europe and is where you can get to the Top of Europe.
WHERE TO STAY IN GRINDELWALD
Hotel Alpenhof. Lovely people and nice clean and simple lodgings where it won't break the bank. Check here for latest prices. We stayed here and loved it. Alternatively check out some other hotels or rent a chalet on the valley side and take in the amazing views of the mountains. Latest comparative prices here.
WHERE TO EAT IN GRINDELWALD
Hmm – try some food in the street like the donuts being cooked outside the bakery. Often the hotels provide the home cooked meals that you need after a hard day of Swiss skiing. Also try Onkel Tom's tiny chalet at the east of town serving up excellent and enormous wood-fired pizzas in a cosy atmosphere.
HANDY HINT ABOUT GRIDELWALD
Do at least one higher altitude hike. Walking to the Bachsee is a good option, or hike from First to Schynige Platte if you're up for a challenge.
BEST SWISS SKI RESORT – WENGEN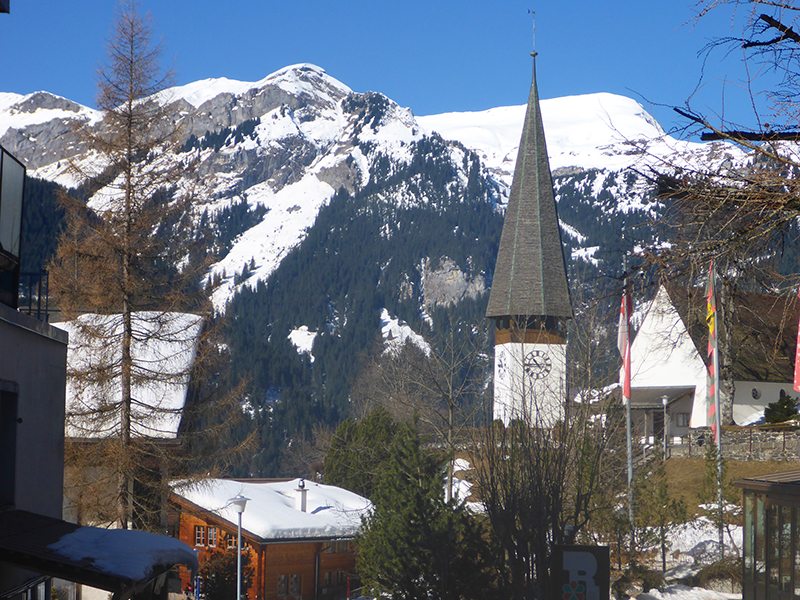 Getting to Wengen is one of the prettiest cog wheel train trips in the world. Wengen is also part of the Jungfrau region of Switzerland along with Grindelwald, Murren and Lauterbrunnen.
The three staggering mountains that dominate the Jungfrau region of Switzerland, the Jungfrau, Eiger and Mönch, tower over and around Wengen. These create an overwhelming backdrop to the stunning valleys and the beautiful villages of this area. Wengen is a picture postcard village.
Wengen hosts the internationally well-known Lauberhorn ski races, and it is on the route of the Jungfrau Marathon. This race is technically the most challenging downhill race and the longest race in the FIS World Cup circuit.
Wengen is also a gateway to Mannlichen via the Wengen–Männlichen aerial cableway, which is James Bond type transport.
There are some great hikes from here to Klein Scheidegg, or you can just sit on the terraces or lounge in a deck chair and admire the view.
MUST DO IN WENGEN
Mannlichen a massive party on the snow at a height of 2225metres surrounded by the magnificent Swiss Alps.
On a sunny terrace, a BBQ is happening, the red deck chairs against the white snow are incredible, as are the picnic tables and the people eating and drinking. All of this over looked by the Swiss Alps and the Jungfrau in particular.
WHERE TO STAY IN WENGEN
Club Med is located right at the base of the ski fields and the gondola, and is all-inclusive which can be very important as Switzerland is not the cheapest country. Check here for latest prices. Other hotels and chalets can be found here.
WHERE TO EAT IN WENGEN
Lots of lovely little coffee shops are to be found in this charming little village. With 1,300 people living in Wengen the population swells to 5,000 in winter and more who come as day trippers from Grindelwad, Murren and Lauterbrunnen. There are enough cafes and restaurants to cater for all budgets.
HANDY HINT ABOUT WENGEN
Eat at Mannlichen where you can smell the raclette bubbling away on the grills and the BBQ's are fired up, the champagne and the beer flows and the music pumps through the valley of the mountains. Oh yeah.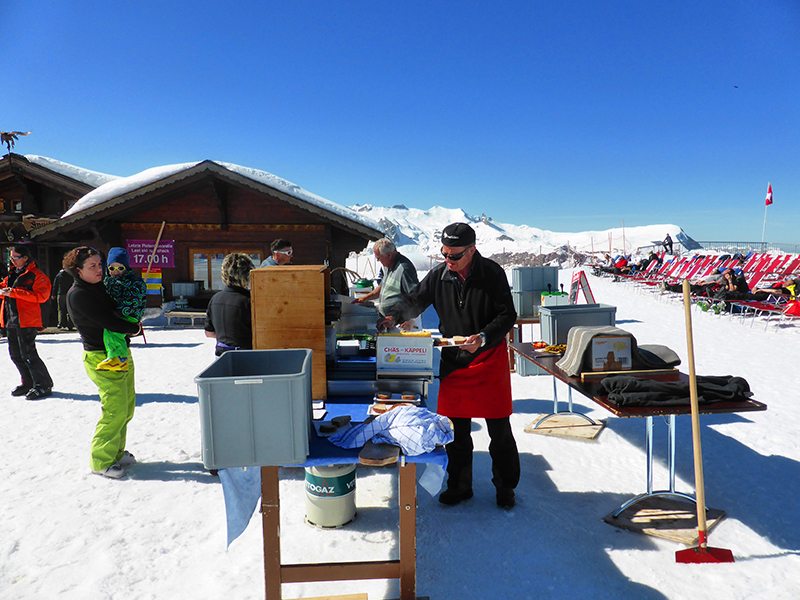 These are just our top 3 places to ski in Switzerland and 3 that are dominated by the spectacular mountains that surround them. There are many others in Switzerland well worth the visit. Getting into the mind set to enjoy skiing the European way, takes very little skill.