If you think I am going to tell you that Santorini is stupendous and that Exploring Oia in Santorini is one of the most amazing things we have done, and that you can do too; well guess what? You would be correct. Many people wonder how to spend One Day in Santorini and What to Do When Short on Time.

How we got to Fall in Love with Santorini
The accolades cannot fly off this page quickly enough. If you have been reading our latest posts, you will know that we have had one incredible experience after another on this, our virgin cruise with Holland America. We decided that the best idea for our maiden cruise of 29 days, would be to have as many shore days as possible, and we did. In point of fact, we had only three sea days and possibly could have done with more to be able to synthesize and appreciate the many stunning places we visited.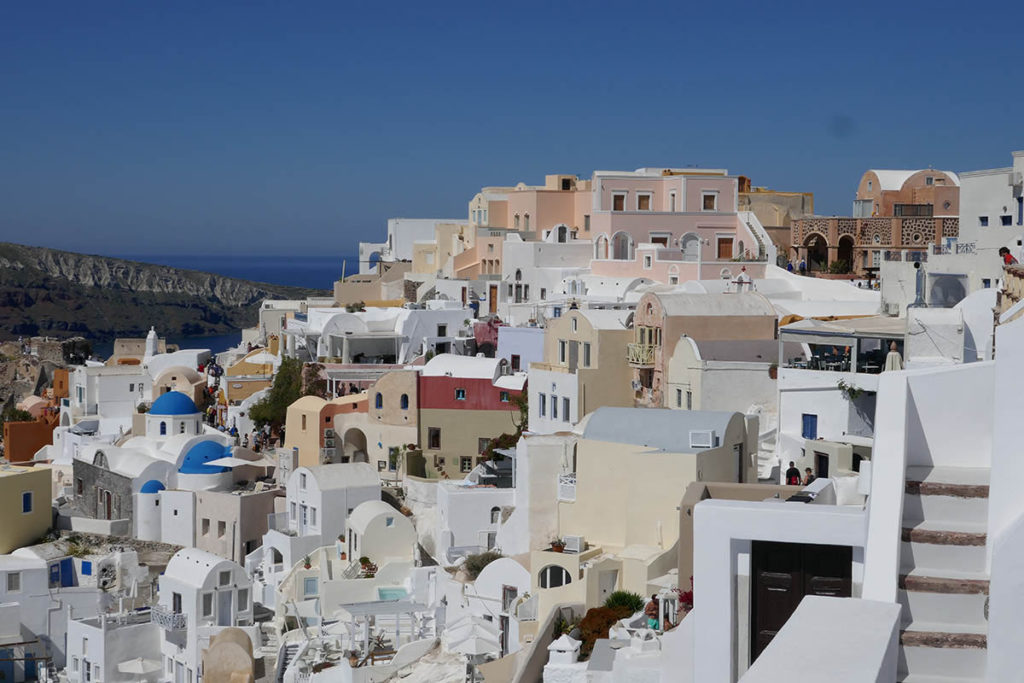 Where were we before Santorini?
We started in Dubrovnik in Croatia, went onto Kotor in Montenegro, and then started our Greek sojourn. Our first port of call was to Corfu, and then we spent time in the cute little village called Katakolon. We proceeded then to the amazing city of Athens, and a food tour, before heading to another adorable place called Nafplion. From there we went to the totally enchanting Mykonos, where we quad biked the island. We then got scammed in Rhodes, which frankly left me a little cold.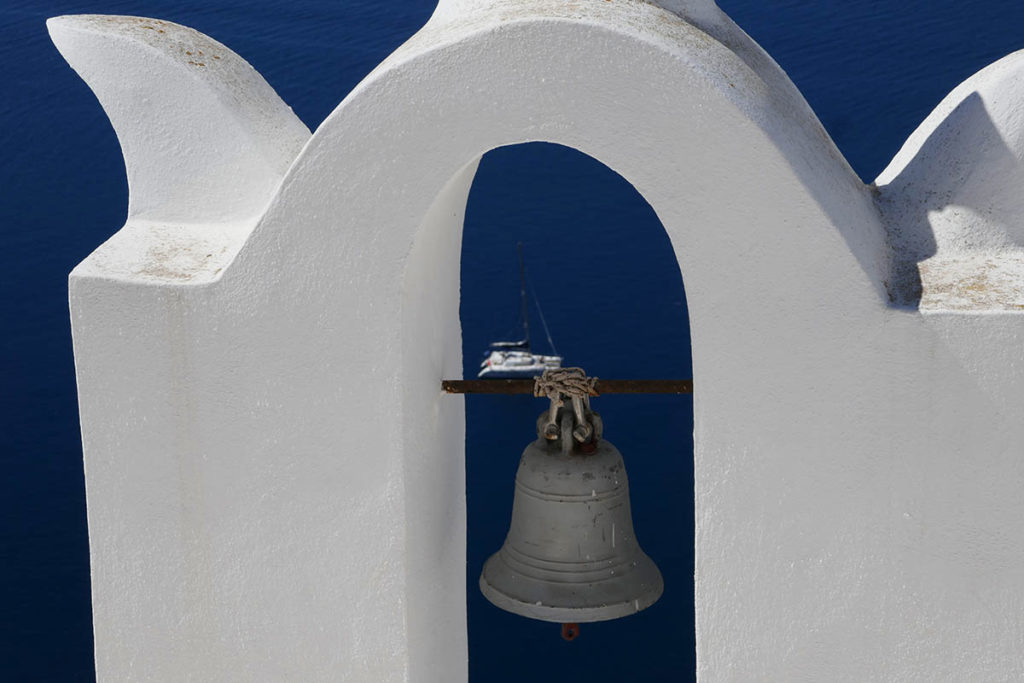 Getting to Santorini
Not everyone will arrive by cruise ship. Many will choose to take a ferry from Athens, which is an excellent idea. For all the information you need on how to take a ferry from Athens to Santorini, Greece, click the link for all details.
About Santorini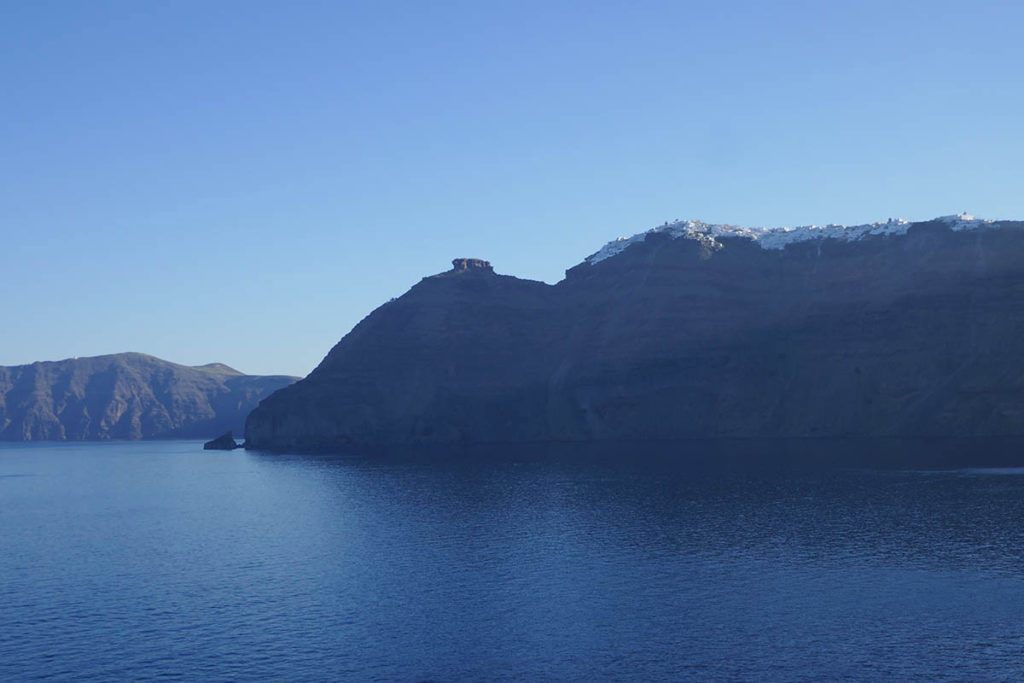 But then we got to Santorini, and specifically to the town of Oia (pronounced ee-ah). Oh boy. Much as Mama Mia was based in the island of Skopelos. I found myself thinking, humming, and saying Mama Mia .. a lot. And later on an extended cruise, we did do the Abba Museum in Stockholm. Of course, you want to read about that later.
Santorini is also known as Thira, and Fira is the main city of the island. The dramatically steep cliffs of the island are a result of one of the largest volcanic eruptions in recorded history. In 1600 B.C, the volcano erupted and created what we know now as Santorini. This was called the Minoan Eruption, and the island of Thira sank to the bottom of the caldera. Many people claim that this is the site of the Lost City of Atlantis, but it seems to be a heavily debated topic. You might like to read, Fire in the Sea: The Santorini Volcano A Natural History of the Legend of Atlantis, by Walter L. Friendrich.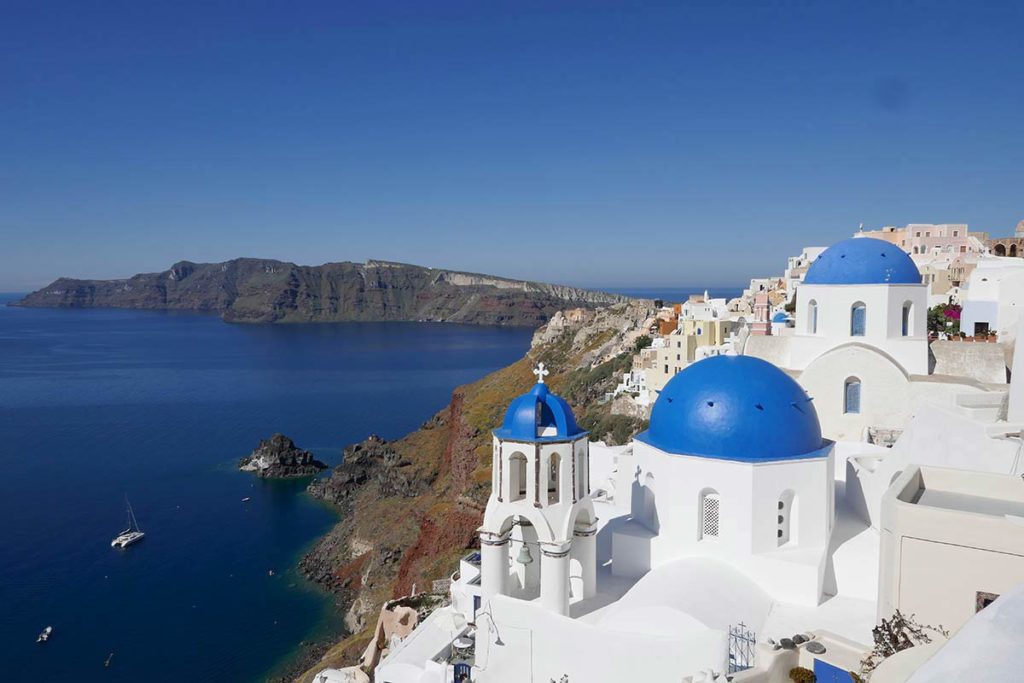 The Bay, where we anchored was once the highest point of the island and is now 1300 feet deep in some places. It currently measures 32 miles square. The cliffs rise dramatically up to 1,100 feet above the caldera, and the stunning white cliff towns of Fira and Oia are what we see when we first arrive by sea.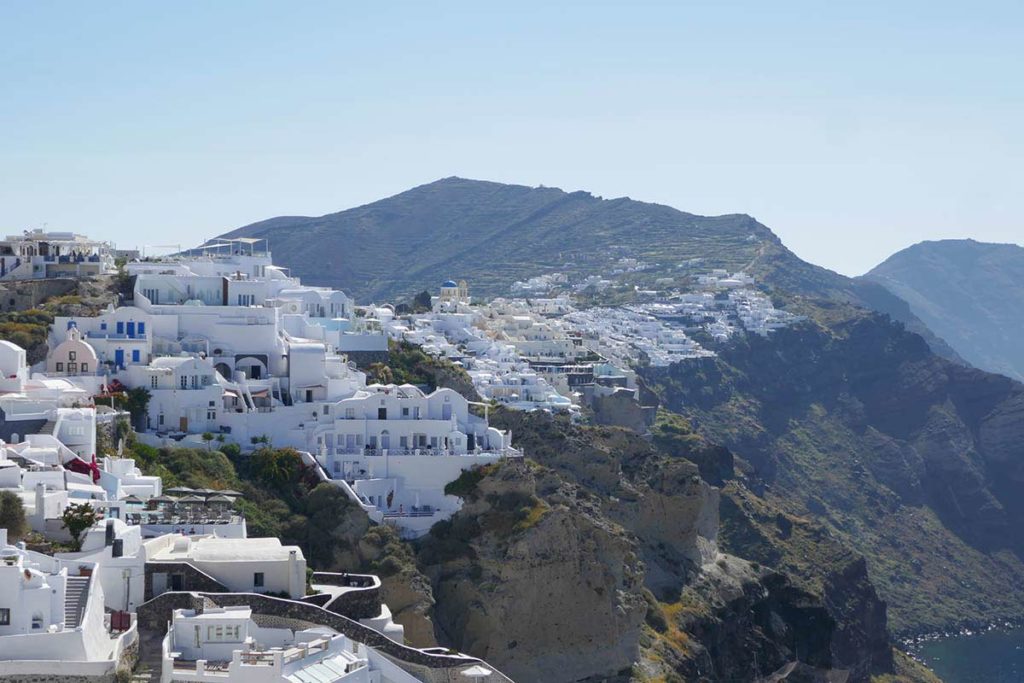 A Visit to Oia, Santorini, Greece
How to get to the towns of Fira and Oia.
By Donkey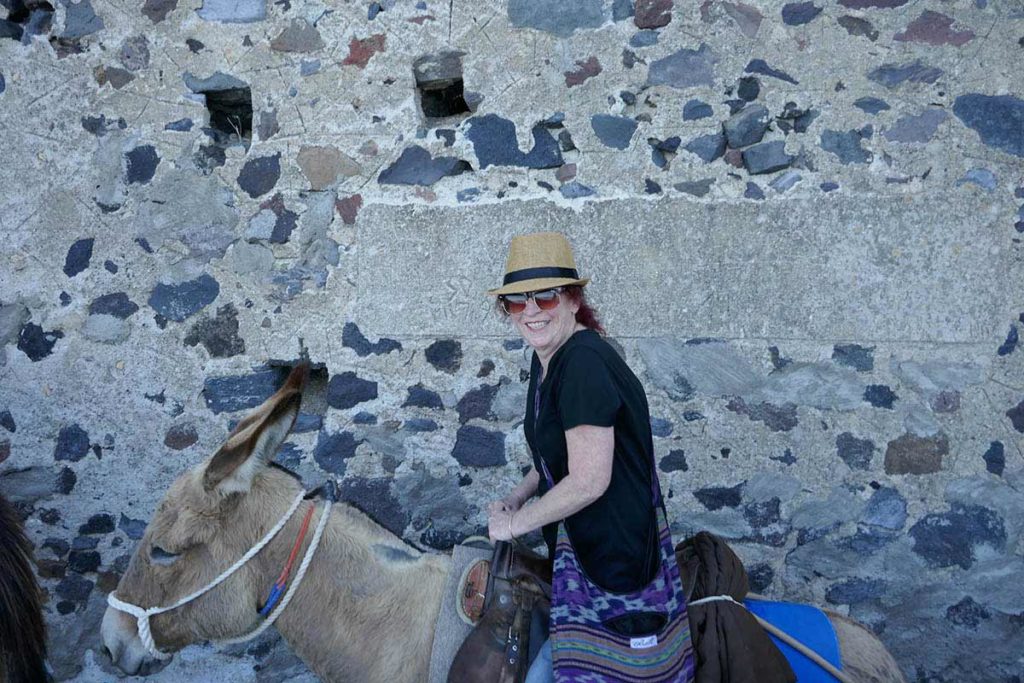 There are a couple of ways to get up the many many steps to Fira. The first is controversially by donkey. While many people may cry foul about this, we looked very carefully into it. The donkeys go up the hill only 2-3 times a day and are well looked after between trips. It is something that has been happening on the island for a long time, and not just for ferry and cruise tourists. The donkeys have been the backbone of trade on the island, and were the main means of transport, well before other modes came into play.
We did choose to go by donkey, and we did have an incredible and very Santorinian experience. There were no donkey trainers prodding the donkeys, but rather the donkeys made their own way up the steep hill, stopping when they felt like a break, and often at a precarious place which left me looking over the precipice. In traditional weddings in Santorini, the donkey will take the bride to the church and back to her house, and this is the Greek custom on this island. As an aside, Santorini's logo is the donkey.
Cost: 6-euro pp

By cable car or gondola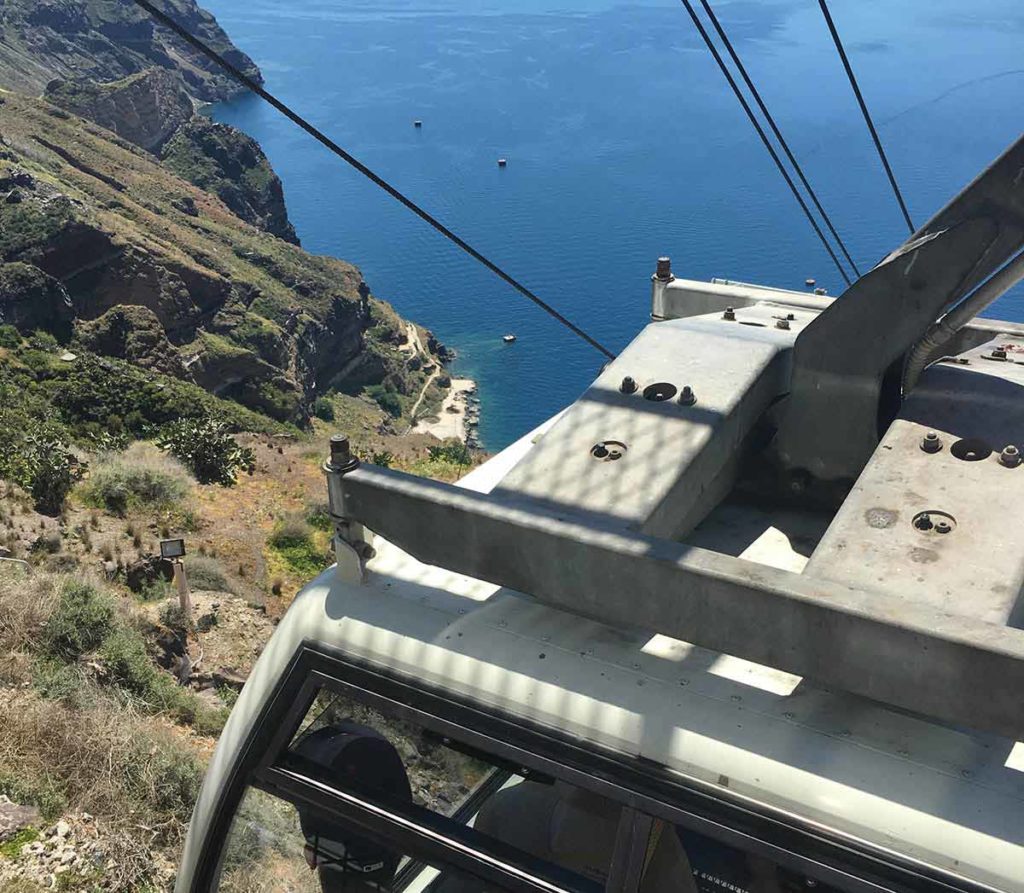 The cable car will take up to 36 passengers up the cliffs to Fira. We chose to use this on our way down for Fira to the Port of Athinios. The cable car/tram is about a 10 minute ride with panoramic views of the Santorini caldera. You can take many photos from the clear windowed tramcar. However, when we got there the line was long, and it was a hot day in the sun, so we should have walked down the many many steps.
Cost: 6 euro pp
By foot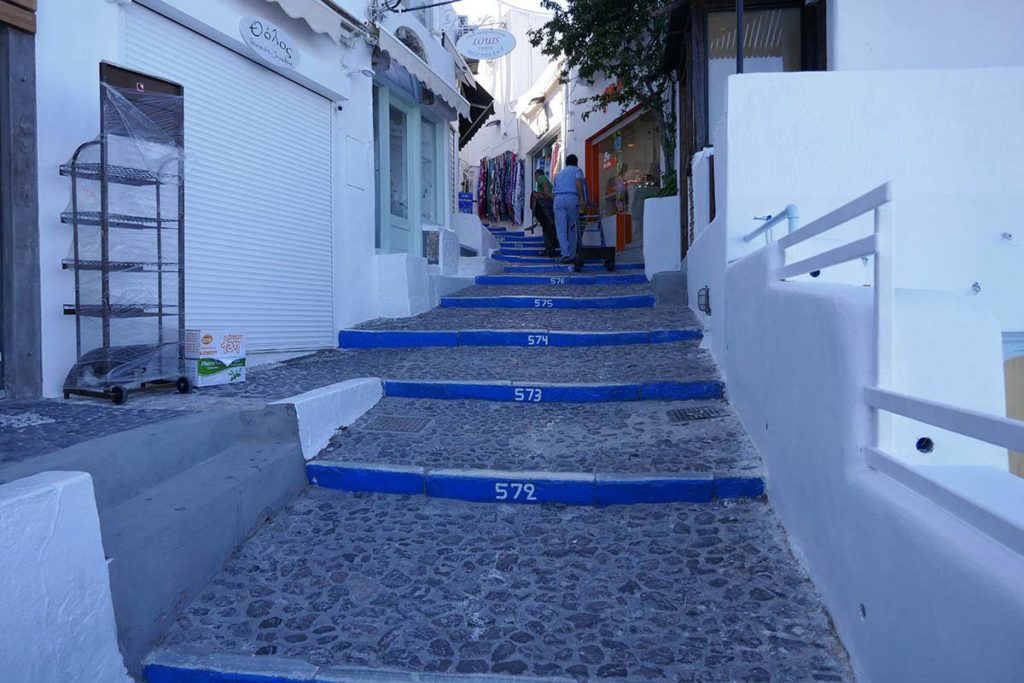 This requires a definite level of fitness, as there are there are close to 600 steps between Fira and the dock, and donkey poop covers the steps and needs to be negotiated carefully. While it can be done, you really do need to be fit and to be sure footed.
From Fira to Oia by bus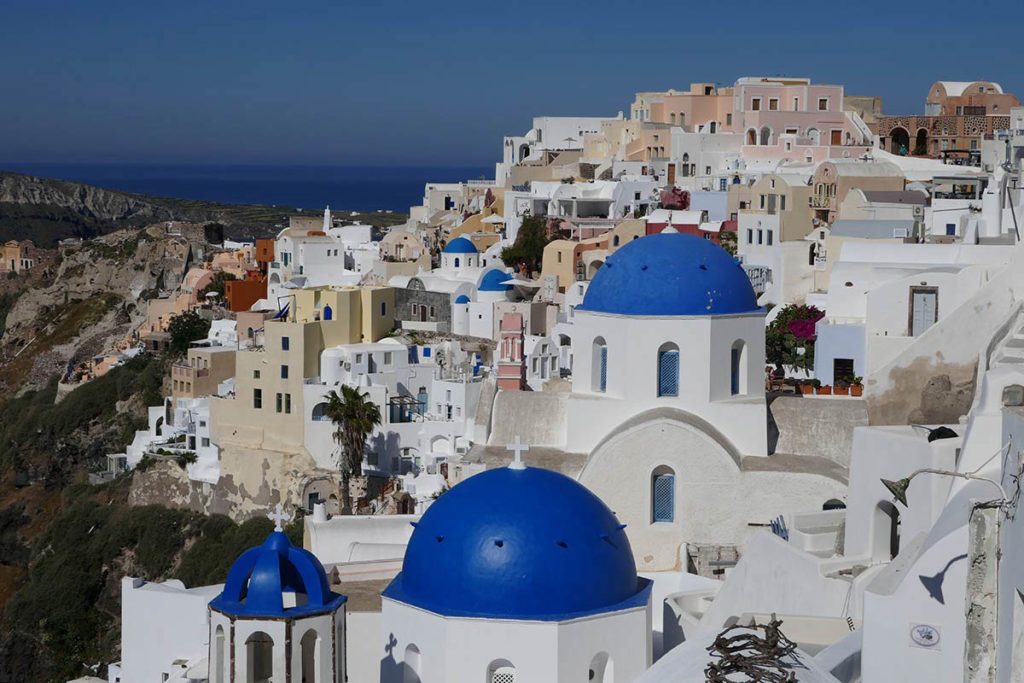 The local bus will take you between each city. We went to catch the bus but would have had a 40 minute wait. Rather than wait around, or spend time exploring Fira, we chose instead to get a taxi to Oia. We did, however, catch the local bus back from Oia to Fira and at 1.80 euro, it was a great value and a good experience. You will pay the conductor on the bus.
A good hint is to photograph the timetable between Fira and Oia, as they do not run as regularly as you might like.
Cost: 1.80 euro pp
By Taxi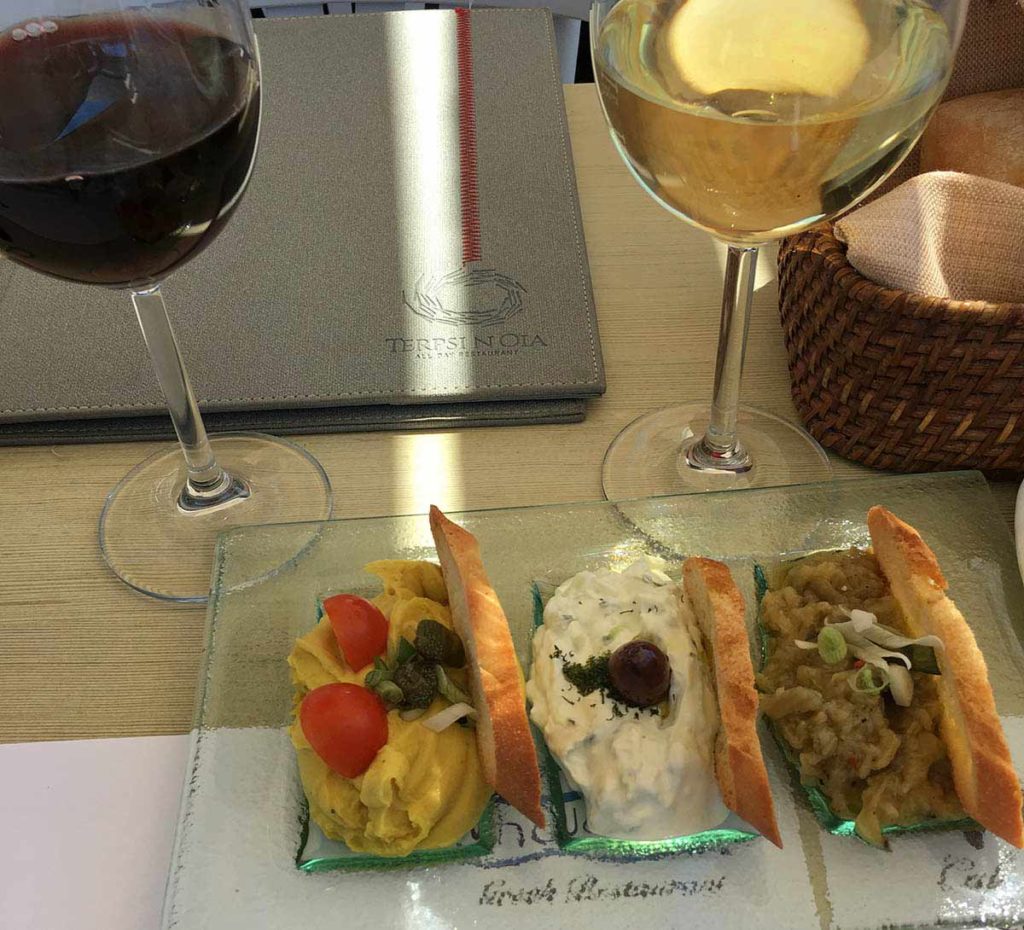 Our taxi did cost us 20 euro between Fira and Oia. It was great value as we got to talk with the local driver, who could answer our questions about the island. The population of Santorini is normally 15,000 people, but during peak season swells to triple and more than that. He also told us a lot of local Santorini food and wine, and where to go for lunch. Fava beans are a specialty, and if you think about Hannibal Lector, then you won't be the only one.
Cost: 20 euro per car
By Ferry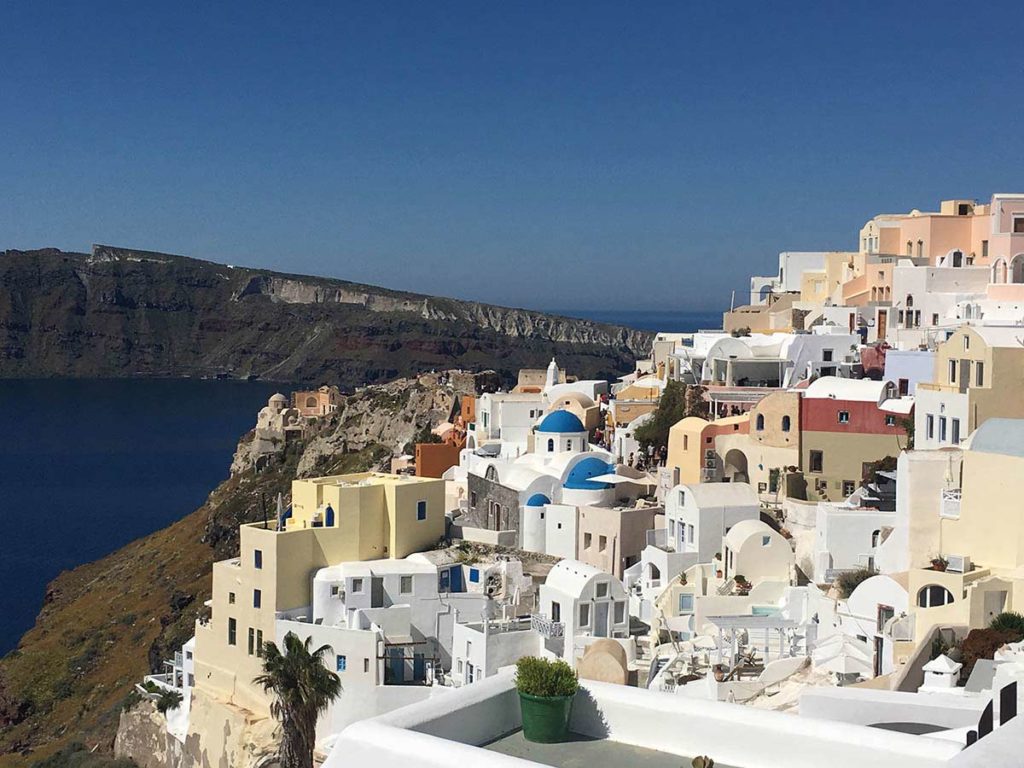 There are two ferries that will take you from the Port of Athinios to Oia. One is the traditional ferry and the other the high speed ferry. Be aware that you will still need to walk straight up, to get to Oia. There are 300 steps until you start Exploring Oia.
Cost: for latest information, check this website
ATV's
While we went around Mykonos on the ATV, and we considered it as an option on Santorini, it is probably not the best choice. Santorini is very hilly, with a lot of hairpin bends. It is also quite common for there to be ATV accidents here. Our taxi driver was less than impressed with tourists on ATV's, who were unaware of the terrian.
Cost: approx € 32,00 but most do not include the 24% tax
Now let's talk about Exploring Oia
Visiting Oia on the Island of Santorini, Greece was one of those amazing Greek Island experiences.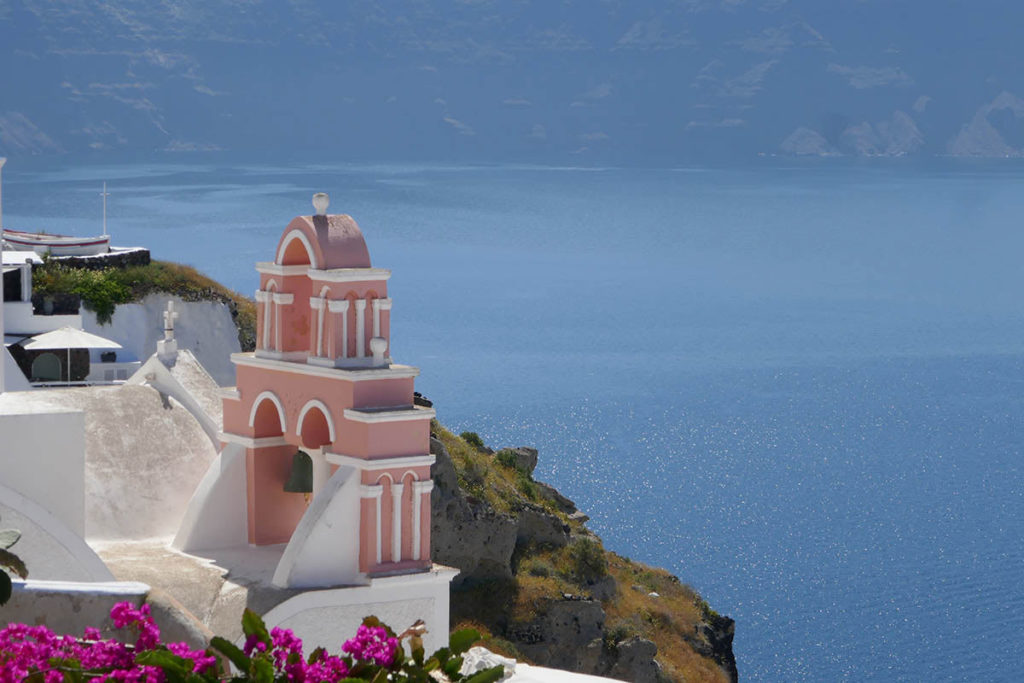 Oia is one the most photographed destinations in Greece and indeed the world. You will know it from the white washed houses, and the blue domed churches, all overlooking the caldera of the sea. It is impossible to get your fill of how very beautiful Santorini is, and why so many people visit here. After wandering the cobblestones streets and photographing every angle we could, we settled into a taverna.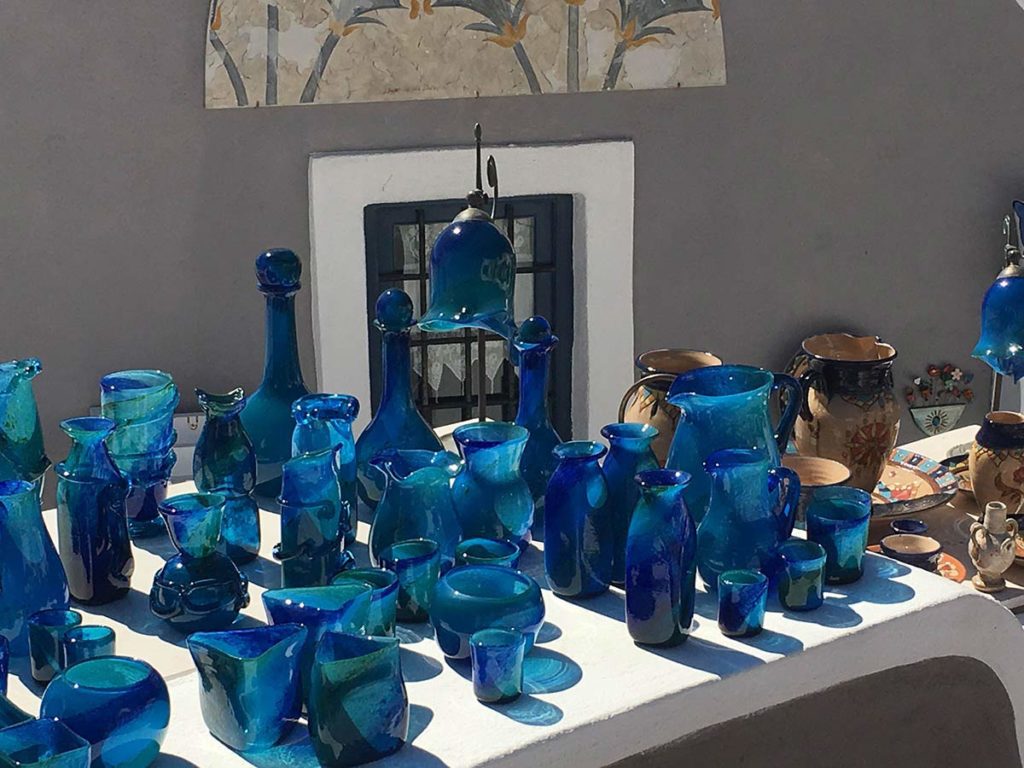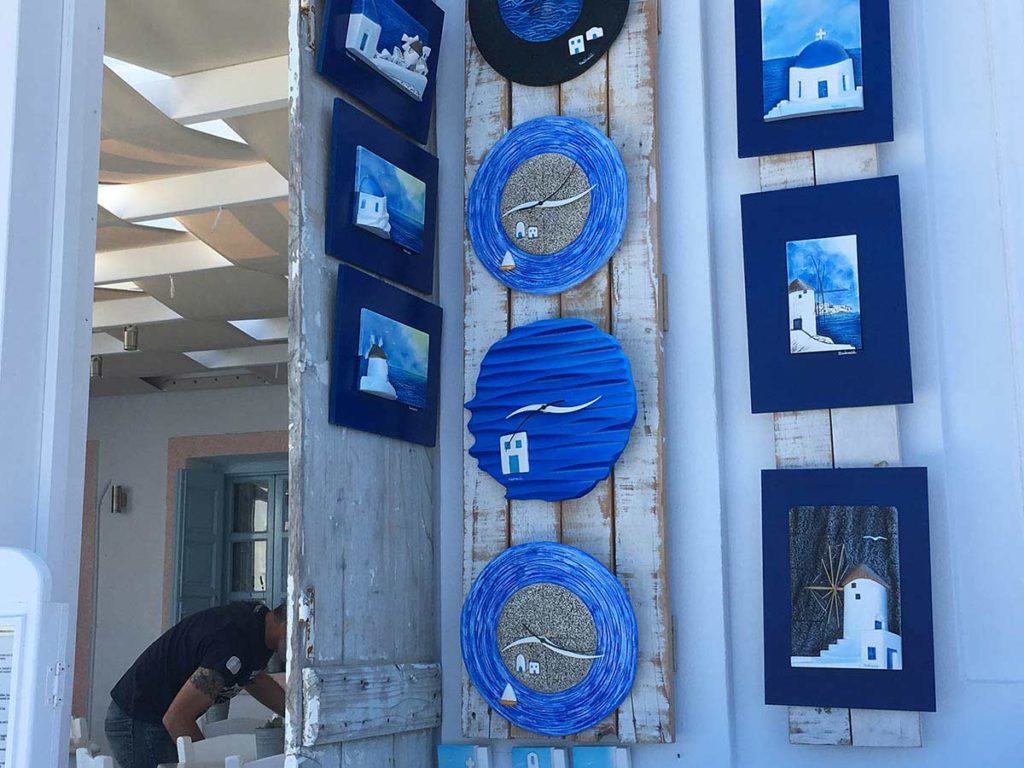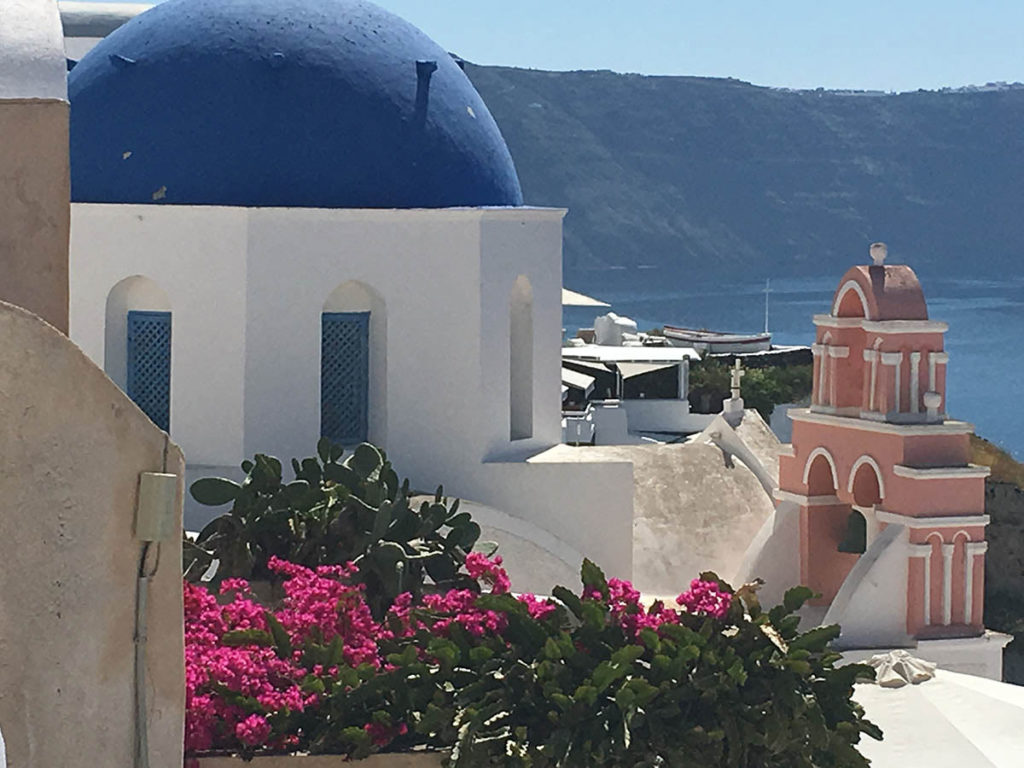 This is absolutely the way to enjoy Santorini and Oia. If you happen to be there for the magnificent sunsets, then I am envious. For us, we will stay on the island next time and not miss this experience. Here are some hotels worth considering, where many different hotel booking sites are compared to give you the most competitive price. Check here for latest prices on hotels and apartments in beautiful Oia in Santorini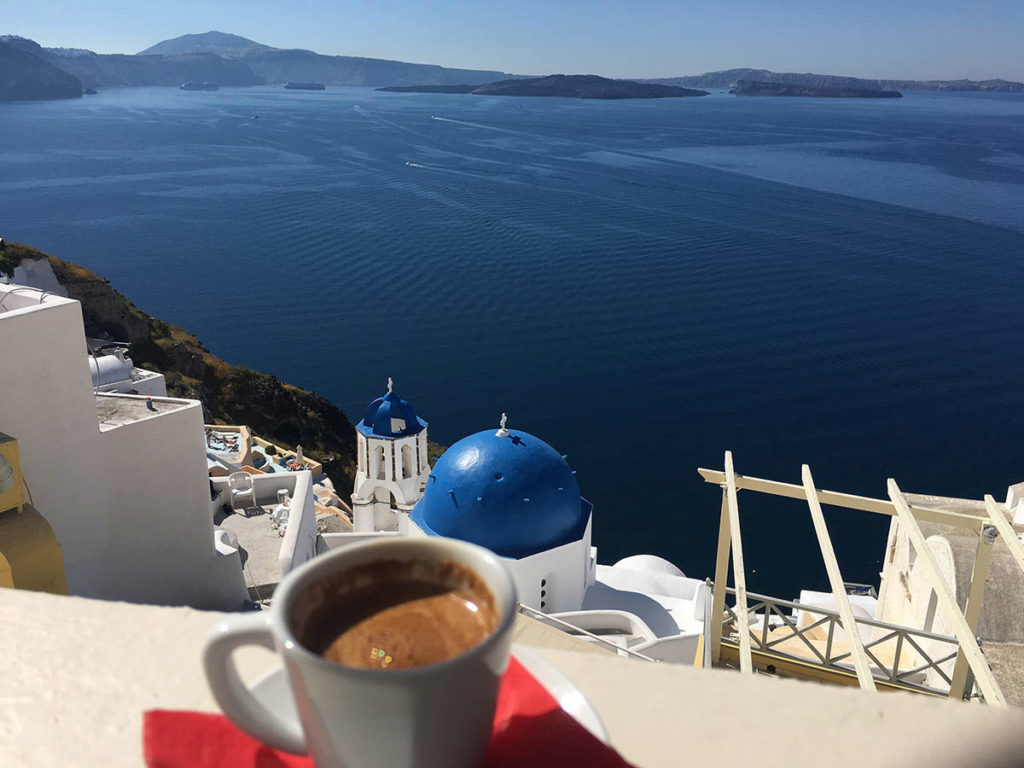 For us, we settled into Melenio Restaurant in Oia and proceeded to eat and drink the day away, as we stared in awe at this magnificent vista. We asked our waiter to evict us in time to catch the bus to Fira, and the cable car to the dock, and then the tender boat to the ship. He did.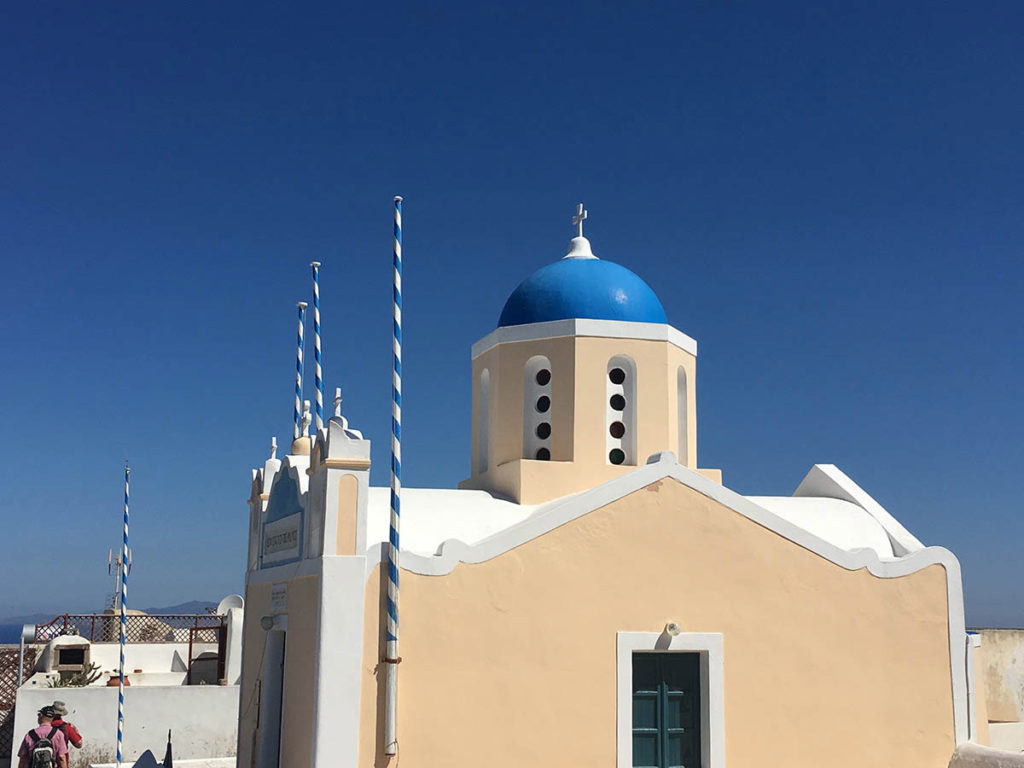 If you wonder whether Santorini is worth all the hype, well it is. Our day of Exploring Oia in Santorini, and falling in love with the place was one of our best experiences ever.