You would be surprised at the number of Places you are NOT allowed to take Photographs when you travel. Apparently, I have done many things wrong, some by accident and others by stupidity, but we will get to that one later on.
Before you say, "but I see these photos all of the time", remember that most of these are from companies who have paid big bucks, and have fancy lawyers to get all of their copyright and permissions in place. Try screwing with Getty, one of the world's leading suppliers of stunning photographs, and you will find out pretty quickly that they mean business.
For we mere mortals however, it does pay to be a little more aware of what you can and can't photograph without incurring the wrath of someone.
Have you done this?
Did you know that you are NOT allowed to publish night time photos of the Eiffel Tower? That's correct; you can take numerous daytime shots, and publish them on your social media platforms and your website, but you cannot publish night shots without permission. This is because of the Eiffel Tower light show makes this iconic structure a work of art. As a work of art, it has different copyright rules. Yes, I have taken and published these night time photographs because I was unaware of this regulation.
The Société d'Exploitation de la Tour Eiffel, who manage the Eiffel Tower, states. "Daytime views from the Eiffel Tower are rights-free. However, its various illuminations are subject to author's rights as well as brand rights. Usage of these images is subject to prior request from the Société d'Exploitation de la Tour Eiffel."
Airports
You just cannot ever take photographs at airport security checkpoints, bag screening areas, body security booths, immigration counters or through customs. It is just wrong anywhere in the world, and some places will have you behind bars in milliseconds. I know I have often wanted some shots for a story, but I have erred on the fact that I would never be a happy person in a prison cell. We have been strip searched in Sri Lanka, been caught in Japan with over the prescribed amount of alcohol/liquid, been taken to a security room in Sydney, and paid a 'bribe' fee in Indonesia. We have had an elephant taken from us because its penis was too big, and been generally through anything that anyone wants to throw at us…but prison ..no thanks.
Art Galleries and Museums
Ok, we all have done the tacky selfie in front of Mona Lisa in The Louvre in Paris …haven't we? Ok, I did. I was one of the hoards of people with their back to this stunning masterpiece by Leonardo da Vinci, but I wanted a photograph of her and me. This is allowed here, but not in most other art galleries and museums, and apparently photographing the pyramid out the front at night time is also a no-no.
I did do the wrong thing in Florence, when we went to the Accademia di Belle Arti di Firenze to see Michelangelo's David. I wanted a photo of his right hand which is out of proportion, and I covertly took it. Because justice bites me in the arse often, it was a blurry photograph and serves me right for disrespecting a national and international treasure.
There is a reason that many art galleries and museums stop idiots like me from taking photos, and that is to preserve the heritage of these works of art.
Street art is different however, and it is worth reading this.
Sistine Chapel
There is no photography or video allowed in the Sistine Chapel, and I didn't violate this because I was raised a Catholic and thought God would strike me down. There is a different reason, however than just the preservation of the stunning art, and the fact that the Sistine Chapel is a place of worship.
When the Vatican decided to undertake a comprehensive restoration of Michelangelo's art in the chapel, it was too expensive for even them to do it, and I thought that they were filthy rich. However, Nippon Television Network Corporation of Japan could afford it, and along with the money they also secured all exclusive rights to photography and video of the restored art in the Sistine Chapel. While this deal has expired, the "No Photos! No Video!" rule remains in effect for the Sistine Chapel.
You might like to read some other oddities about Vatican City, right here.
Mausoleums
A mausoleum is a monument enclosing the burial chamber of a deceased person or people, and influential people. I found visiting the Ho Chi Minh Mausoleum in Hanoi to be just a little intimidating, and we were definitely not allowed to take photographs inside, and nor would I have wanted to.
Don't even try it at Lenin's Mausoleum, because it is very cold in Siberia and that is where you could end up. The Taj Mahal is also a mausoleum in Agra, India and was commissioned in 1632 by the Mughal emperor Shah Jahan to house the remains of his cherished wife. Photos are ok outside but not inside. Stick to your Princess Diana poses out the front.
Mosques, Temples, Churches and Sacred Places
Most Hindu temples will ban taking photographs within the inner sanctum and so will many Buddhist temples, although this varies from one country to another. At the Nan Tien Temple in Wollongong, Australia where we live, certain areas are off limits for photographs, and as a place of worship and meditation, I say fair enough.
Photographing Muslim people at prayer in a mosque is tacky and not allowed. Photographing any people at prayer  anywhere is not on. Dan Brown's novel, The Da Vinci Code made Scotland's Rosslyn Chapel famous, and now you are not allowed to take photographs there, FYI.
You need to be careful when photographing sacred places, as there can be restrictions in place. These can violate the native title owners, and I know that there are many sacred Aboriginal sites in Australia, where photography is only permitted with the authority of the elders.
National Parks
I am not sure whether this applies all around the world, but in Australia, if you want to photograph in National Parks, and professionally use these photos, then you need the permission of the National Parks. You need to apply to be able to do this. When we were working in the Shoalhaven, Eurobodalla, and the Royal National Park near Sydney, we had to apply to take photos, and also get permission to use these on our site. In keeping with Australia being a nanny state, "The Australians have even found a way to copyright nature. Photography of Ayers Rock (Uluru and Kata Tjuta) is restricted." read more here.
Shopping Malls
These are privately owned, and some Shopping Malls get their knickers in a knot if you take photographs. I think they are probably after much larger commercial businesses than just the odd selfie eating an ice cream.
Government Buildings
It is forbidden to photograph The Pentagon in Arlington, Virginia, for example, and it was probably not wise that I shot/photographed the Parliament in Ankara, Turkey ..but that was nothing compared to me using their Wi-Fi, I guess.
People
This is tricky. You can take photos of most people in the street though common courtesy and their permission should be sought. The photo below, I did have the permission from the man in Palu, Indonesia ..but I don't always because in theory, I don't need to. Taking photographs of children is not the best thing to do without a written disclaimer from the parents, I would think. The best thing is to get a Photography Release Form, which, when signed gives permission to publish images of people, including children, as well as certain property. Check what the rules of each country are for these documents.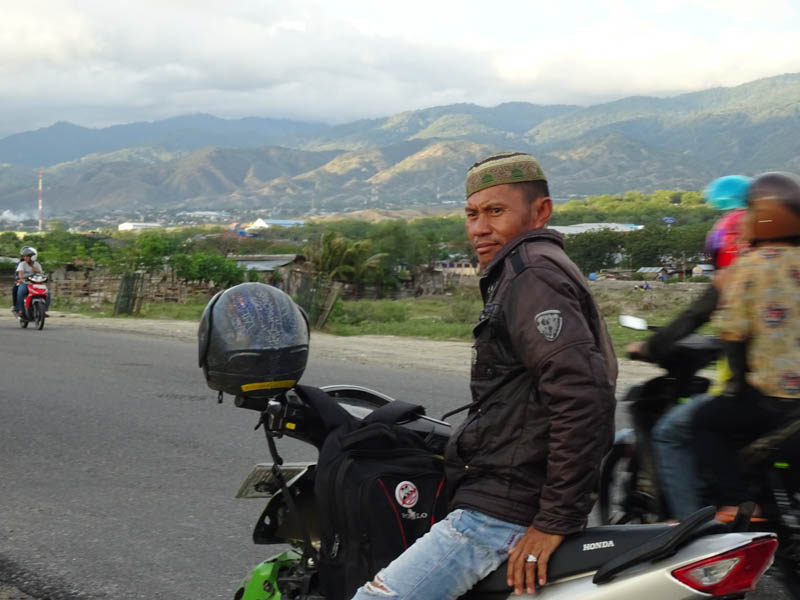 Places you just Don't Take Photographs
– power plants
– military bases
– nuclear facilities
– tanks
– submarine bases, and naval ships, and army bases
– some bridges and tunnels in various countries are also in the no-go zone.
My Stupid Move 
Now this is when I made a stupid move. We were in a city a few years ago, where the army had taken control of the city. They had set up their little fortresses everywhere and the soldiers were in them playing computer games on their iPads. I thought it was funny to take a photo of this. Gordon did not … and explained …at length … how dumb a move this was. He was right, and I was wrong, and we did some serious deleting.
So we have all probably taken some photographs that we were not supposed to, knowingly or unknowingly. These are just some of the places you are NOT allowed to take photographs when you travel, but more than that it is raising your awareness of some quite unusual ones.
Where else are you not allowed to take photographs?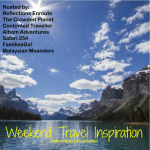 What inspires you to travel?
Link up your travel inspiration using the blue button below. Remember to link back to the collection on your blog.
1. Link one of your inspirational travel photos or stories to this post by adding your info below.
2. Copy and paste our badge and a link to this page.
3. Please visit some of the other wonderful travel bloggers, read their posts, and leave a comment.
4. Please include the hashtag #wkendtravelinspiration if you share on Twitter.
[inlinkz_linkup id=661719 mode=1]