You read a lot of Top 10 Things places to visit in different cities, and we have compiled a list of The Top 10 Places to Visit in the Top 10 Most Visited Cities in the World. Why? Because there are very good reasons why people want to see the most iconic things that major tourist cities have to offer.
You can't tell me you don't want to glimpse the Eiffel Tower in Paris, see the Changing of the Guard in London or do a bit of dune bashing in Dubai. Of course, you do. We all do. That is why these cities are the most visited cities in the world.
The Top 10 cities are based on Mastercard's seventh annual Global Destinations Cities Index. If you want to see the next 10, I have listed them at the bottom of this article, and will write about them later.
The Top 10 Things to do are based on what I want to see and did see in all cities – except for Seoul, which we haven't been to yet ..and it is #10. I did some research for my recommendations here.
Own the Fact that we are all tourists and most are travellers too.
This is a nod to the ridiculous debate between whether you a traveler or are you a tourist. People …we are all both. We DO want to see the iconic things that have made these places the most visited in the world, and then we also want to include experiential travel and have immersive travel experiences to help us to understand the cultural nuances of a place. You can have both and why shouldn't we all. I even let Mona photobomb me in the Louvre, because well ..that's what most people want to do. Gordon swears he was the only one facing directly at this famous da Vinci masterpiece.
So do not be intimidated that you want to see these international treasures.
Use this as a checklist if you like.
The 10 Most Visited Cities in the World
1. Bangkok – 21.47m
2. London – 19.88m
3. Paris – 18.03m
4. Dubai – 15.27m
5. New York – 12.75m
6. Singapore – 12.11m
7. Kuala Lumpur – 12.02m
8. Istanbul – 11.95m
9. Tokyo – 11.70m
10. Seoul – 11.20m
#1 Top 10 Places to See in Bangkok
Coming in at #1 was Bangkok, though this may change after the sad passing of the revered King Bhumibol. As the capital city of Thailand, Bangkok is a diverse city. From mega malls to the street markets, from rooftop bars and restaurants to the best street food, from temples to seedy bars, Bangkok has enough to keep everyone interested.
Hint: Stay near public transport. It is a big, hot city. You don't want to be walking too far.
1. The Grand Palace in Bangkok
2. Wat Arun in Bangkok
3. Floating Market
4. Khao San Road
5. Wat Pho
6. MBK Centre
7. Chao Phraya River
8. Chatuchak Weekend Market
9. Jim Thompson's House
10. Lumphini Park
Further Reading
What you Should and Shouldn't Do in Bangkok
Exploring the Floating Markets
Want to experience the biggest water fight ever?
#2 Top 10 Places to See in London
London is London. It is historic, chic, fun, and there are a lot of reasons to see this city. This multicultural city is full of parks, people, cafes, pubs, and some of the most iconic places to visit in the world.
1. Changing of the Guard
2. Buckingham Palace
3. Westminster Abbey
4. British Museum
5. Tower Bridge
6. London Eye
7. St Pauls Cathedral
8. Tower of London
9. Big Ben
10. Shakespeare's Globe Theatre
Further Reading
The Best Sim Card to have in London
More things you must see in London
Trivial Information about London
High Afternoon Tea of a red double decker bus
Exploring London via the Thames River.
#3 Top 10 Places to See in Paris
Paris is known as The City of Love and the City of Light with good reason. Paris lives up to all of the hype. It is a romantic city full of artists, poets, fashionistas, and tourists. You have to visit to understand why this city is so inspiring.
1. Louvre
2. Eiffel Tower
3. Moulin Rouge
4. Notre Dame
5. Arc de Triomphe
6. Champs-Elysées
7. Montmatre
8. Sacré-Cœur, Paris
9. Jardin du Luxembourg
10. Seine River
Further Reading
Is Paris worth all of the Hype?
Getting from the airport into Paris
What you should and shouldn't do in Paris
14 Different Ways to Explore Paris
Best area to stay in Paris
Skip the queue at the Catacombes
The Metro is worth it for lots of Reasons
#4 Top 10 Places to See in Dubai
Dubai combines modernism with traditionalism and city with desert. This is one of those cities that has two faces, the old and the new. To appreciate this, you need to see both and the best way is to see the Top 10 Places to See in Dubai
1. Burj Al Arab
2. Burj Khalifa
3. Palm Jumeirah
4. The Dubai Mall
5. The Mall of the Emirates
6. Wild Wadi Water Park
7. Camel Ride Safari
8. Dune Bashing
9. Dubai Gold Souk
10. Bastakia Quarter
Further Reading
Best Things to See and Do in Modern Dubai
Best Things to See and Do in Old Dubai
What to Wear When Visiting Dubai
What NOT to do when visiting Dubai
#5 Top 10 Places to See in New York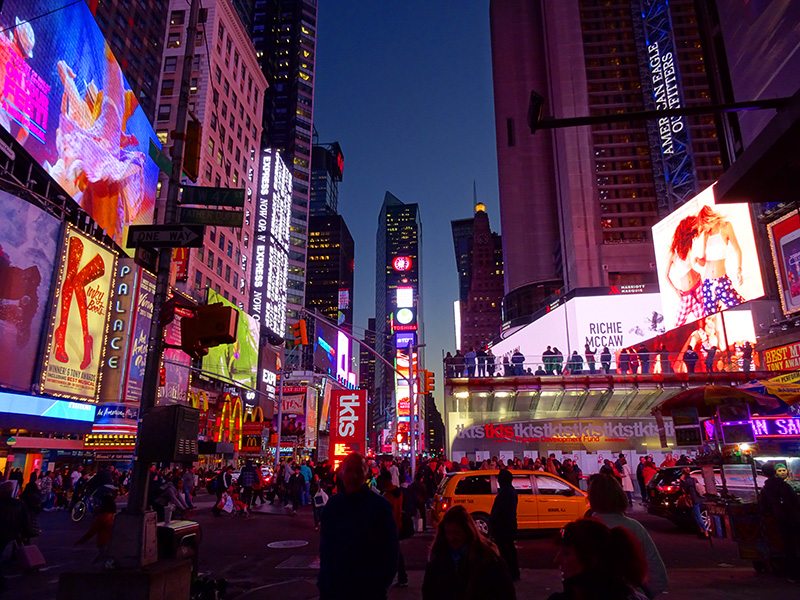 If you think neon lights and advertising are garish, then you will change your mind when you visit Time Square. This is where tourists hang out because it is fun. New York is full of OMG moments, and you come across the many iconic sites you know from books, TV, and movies.
1. Times Square
2. Statue of Liberty and Ellis Island
3. Empire State Building
4. Central Park
5. Rockefeller Center
6. Grand Central Terminal
7. Ground Zero
8. Museum of Modern Art
9. Metropolitan Museum of Art
10. Brooklyn Bridge
Further Reading
Where to Stay in New York City
A Weekend Itinerary
#6 Top 10 Places to See in Singapore
Singapore is one of the wealthiest cities in Asia and you get that impression as soon you arrive. While it may have a few rules you need to abide by, but the fusion of Chinese, Malay, Indian and indeed British, have made this a much-visited city. The food is fantastic, and there is a new restaurant and hotel opening up every other day.
1. Marina Bay Sands
2. Gardens of the Bay
3. Raffles Singapore
4. Sentosa
5. Chinatown
6. Little India
7. Singapore Zoo
8. Singapore Flyer
9. Jurong Bird Park
Further Reading
An Ex-Pats view of Living in Singapore
# 7 Top 10 Places to See in Kuala Lumpur
Kuala Lumpur is another Asian melting pot of cultures. With this comes incredible food. There are the malls to the markets, the mosques to the churches, and everything in between. Plus, Petronas Towers are that magnificent.
1. Petronas Towers
2. Bukit Bintang
3. Batu Caves
4. Islamic Arts Museum Malaysia
5. Menara KL Tower
6. Central Market, Chinatown
7. Sultan Abdul Samad Building
8. KL Bird Park
9. Sunway Pyramid
Further Reading 
#8 Top 10 Places to See in Istanbul
Istanbul is not the capital city of Turkey. That is Ankara. Istanbul is a fusion of both Asian and European culture. The Bosphorus River splits the city in two, and Istanbul is both on the European and the Asian continent. The easiest way to describe visiting Istanbul is that it is a sensory overload.
1. Hagia Sophia
2. Topkapı Palace
3. Grand Bazaar
4. Basilica Cistern
5. Blue Mosque
6. Bosphorus Cruise
7. Museum of Turkish and Islamic Arts
8. Galata Tower
9. Taksim Square
10. Ortakoy
Further Reading 
Eat A Fish Sandwich by the Bosphorus
What to See and Do in Istanbul
A Weekend Itinerary in Istanbul
#9 Top 10 Places to See in Tokyo
Tokyo is one of the most unique cities in the world, and not nearly as expensive as many people claim it to be. Japan have a unique culture and a very rich history that is in evidence in the temples and palaces. It is also the home of cosplay, manga, and everything that is unexpected. Love Tokyo.
1. Meiji Shrine
2. Tokyo Imperial Palace
3. Sensō-ji
4. Harajuku
5. Tokyo National Museum
6. Shibuya
7. Tsukiji Fish Market
8. Akihabara
9. Ginza
Further Reading
How to Get from Narita Airport into Tokyo
#10 Top 10 Places to See in Seoul
We haven't been to Seoul, though it is very high on our list. We asked fellow travel bloggers for their recommendation on what to see. From what I gather, Seoul is very modern, with a thriving fashion and art scene that things well and truly out of the box. They have insane music, and ganhham style probably did them a lot of good. Food, well Korean food is good elsewhere in the world, so I imagine the real deal will blow our minds.
1. Gyeongbokgung Palace
2. Myeong-dong
3. N Seoul Tower
4. COEX Mall
5. Bongeunsa
6. Heunginjimun
7. Cheonggyecheon (Stream)
8. Children's Grand Park, Seoul
9. Jamsil Baseball Stadium
10. Dongdaemun Market
Just out of interest, the next 10 cities in the Top 20 list were:
11. Hong Kong – 8.37m
12. Barcelona – 8.2m
13. Amsterdam – 8m
14. Milan – 7.65m
15. Taipei – 7.35m
16. Rome – 7.12m
17. Osaka – 7.02m
18. Vienna – 6.69m
19. Shanghai – 6.12m
20. Prague – 5.81m
I will write about these next time.
Weekend Travel Inspiration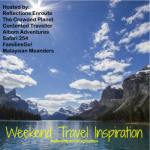 This post is shared for Weekend Travel Inspiration:
Link one of your inspirational travel photos or stories to this post by adding your info below.
Copy and paste our badge and a link to this page.
Please visit some of the other wonderful travel bloggers, read their posts, and leave a comment.
Please include the hashtag #wkendtravelinspiration if you share on Twitter.
[inlinkz_linkup id=661732 mode=1]
Join us our 16K+ followers on Pinterest